Deciding on the perfect season for your wedding is a crucial part of the planning process.
Winter weddings have gained popularity in recent years, and it's worth considering whether this season could be the ideal time for your big day.
As you weigh your options, it's essential to explore the advantages and challenges that come with saying "I do" in the colder months.
Winter weddings can provide a magical and unique experience for couples and their guests alike.
The season is often associated with a cozy and intimate atmosphere, making it a fitting choice for celebrating love
Festive elements and decorations can enhance the appeal of a winter wedding.
However, there are challenges that couples need to consider, such as potential inclement weather, limited floral selections, and ensuring the comfort of their guests.
Considering the pros and cons of a winter wedding is essential when deciding if this season is the right choice for your celebration.
Comparing the various factors with other seasons can help paint a clear picture of what aligns best with your preferences and vision for your special day.
Key Takeaways
Winter weddings offer a unique, cozy atmosphere for couples and guests
Challenges include potential weather issues and limited floral selections
Keep in mind guest comfort and compare the pros and cons of each season
Pros of Winter Weddings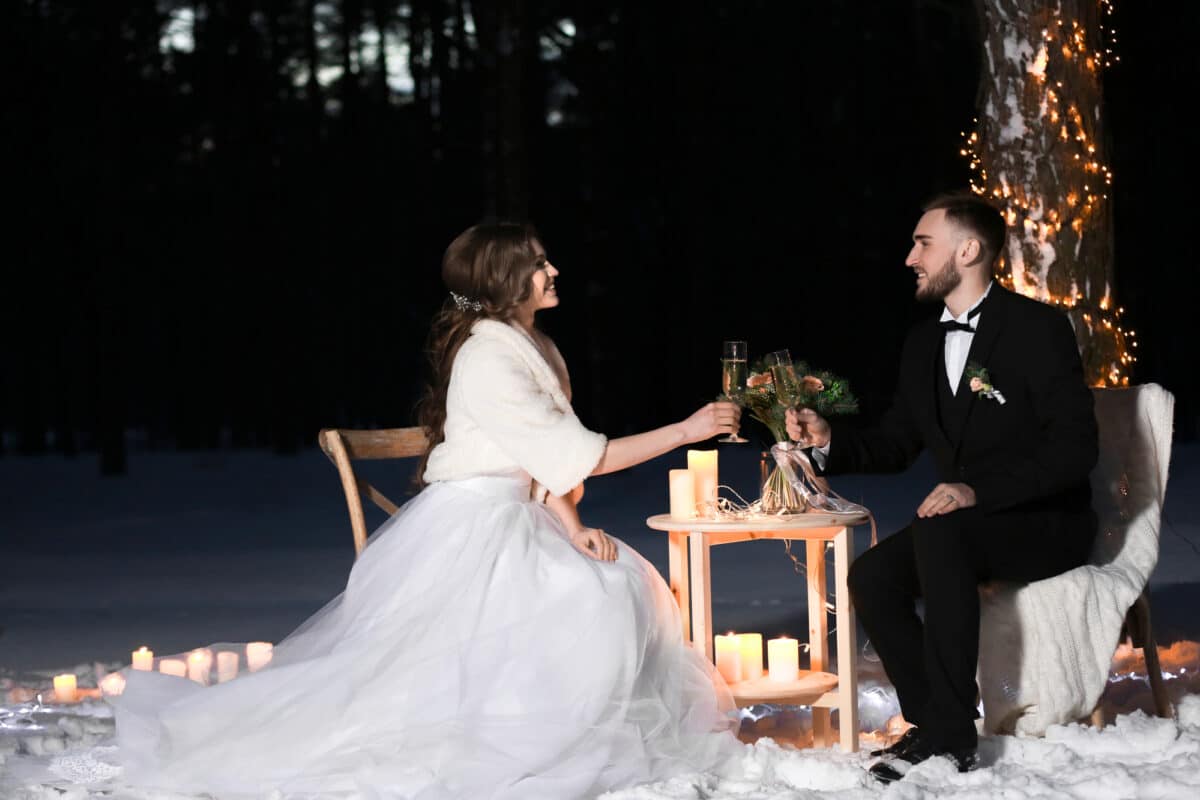 Cost Efficiency
Winter weddings can be more budget-friendly as they fall during the off-season. Many venues and service providers offer lower rates during this time, allowing you to save money.
Choosing a winter wedding date may also give you more bargaining power when negotiating with suppliers.
Availability of Vendors and Venues
As winter is considered the off-peak season for weddings, you'll generally find more availability in booking your desired venue.
With less competition for dates, you'll have greater flexibility in choosing the perfect day for your wedding.
Similarly, vendors like photographers, caterers, and DJs tend to have more open schedules during winter, which can make it easier for you to secure your preferred suppliers.
Unique Honeymoon Destinations
A winter wedding opens up opportunities for one-of-a-kind honeymoon destinations.
Whether you opt for snow-filled adventures in mountain resorts or escape to a warmer climate in the Southern Hemisphere, winter honeymoons can provide a refreshing change of pace from traditional beach getaways.
Off-Season Perks
In addition to cost savings, winter weddings can offer a unique experience for guests. The season's colder weather and shorter days create a cozy atmosphere, perfect for intimate celebrations.
Opting for seasonal decorations, like festive holiday themes or snow-inspired accents, gives your event a distinct charm that is best captured during winter months.
Furthermore, winter weddings can be a welcome break from the busy summer wedding season, allowing friends and family to enjoy a less hectic event calendar.
Challenges of Winter Weddings
Weather-Related Issues
Winter weddings can be magical, but the unpredictable weather may pose difficulties. Snowfall can cause travel delays and disrupt plans, affecting both the wedding party and guests.
Heavy snow or icy conditions can make outdoor venues inaccessible or unsafe for guests.
To handle these uncertainties, ensure contingency plans are in place and clearly communicate changes to guests in a timely manner.
Renting tents or heaters for outdoor spaces can create a cozy, comfortable environment to accommodate diverse weather conditions.
Limited Daylight Hours
In the winter season, daylight hours are typically shorter, which can affect the wedding timeline.
Schedule the ceremony, reception, and any potential outdoor photoshoots within the available daylight to optimize natural light, or invest in professional lighting to create the desired ambiance.
Consider providing bridesmaids and groomsmen with enough guidance for any group events or activities during the day to make the most of limited daylight.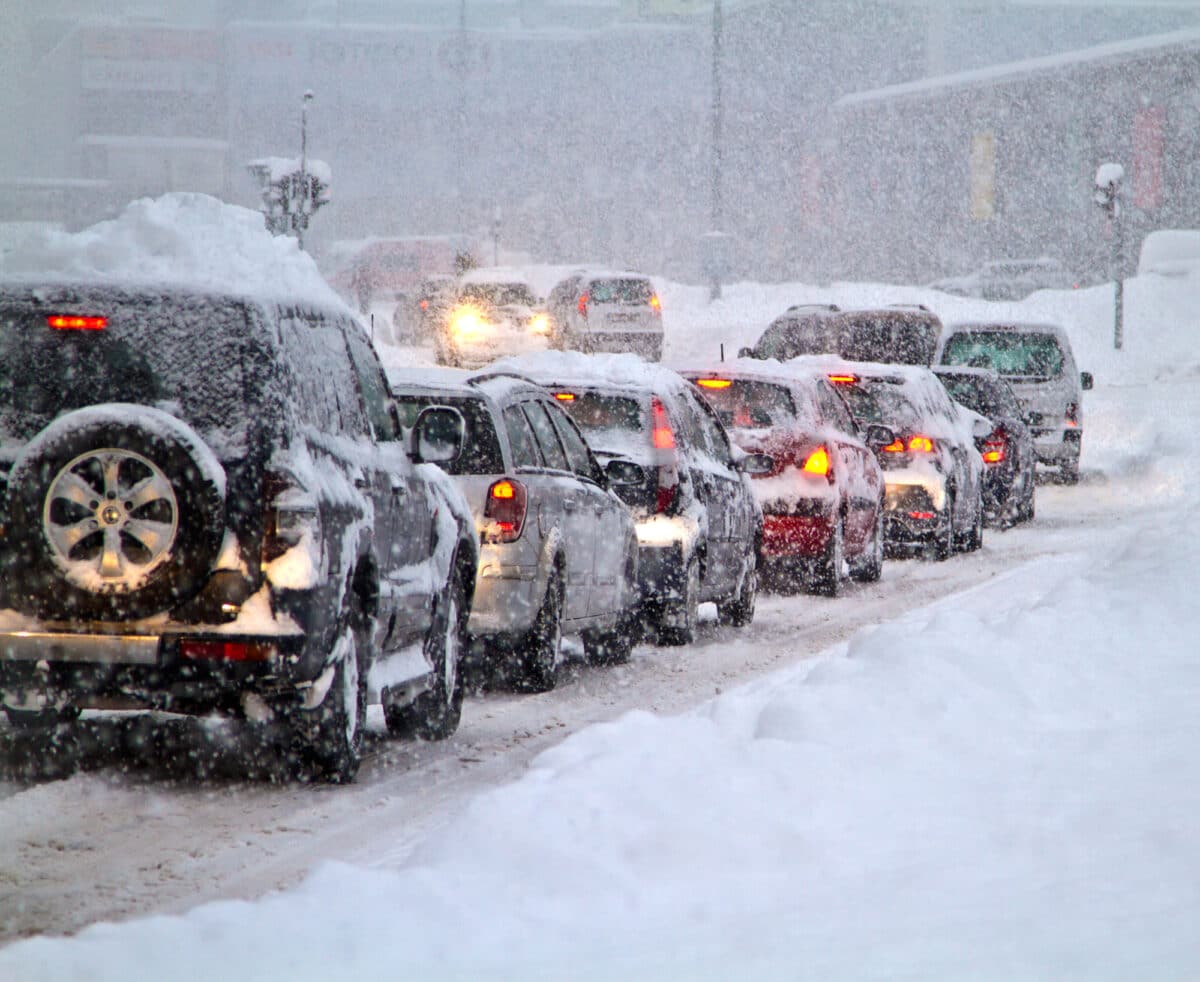 Choosing the Right Attire
Selecting appropriate attire for a winter wedding can be challenging — not just for the couple, but also for bridesmaids, groomsmen, and guests.
The wedding gown and bridesmaid dresses should be stylish yet warm enough to ensure the wearer's comfort.
Opt for fabrics like velvet or satin, and consider incorporating capes, shawls, or jackets into the ensembles to keep bridesmaids warm during outdoor photoshoots.
For the groom and groomsmen, warm materials like tweed or wool can be good choices for suits, while accessories like scarves and gloves can provide extra warmth when needed.
Finally, remind guests to dress warmly, taking into account the venue and weather conditions. By addressing these challenges, your winter wedding can be a beautiful and memorable event.
Winter Wedding Aesthetics
A winter wedding aesthetic often features a warm and cozy atmosphere, which can be achieved through the thoughtful incorporation of elements such as candles, fireplaces, and fairy lights.
These items not only create a sense of warmth but also add a touch of enchantment to the event.
Lanterns are another popular choice for winter weddings, as they can be used both indoors and outdoors to provide soft, ambient lighting.
The color palette for a winter wedding can vary, though it generally incorporates darker, richer tones such as burgundy, emerald, navy, and gold to contrast with the snowy landscape or a lighter palette featuring whites, creams, and soft pastels to create a dreamy, ethereal atmosphere.
Plaid can also be incorporated as an accent fabric for table runners or napkins, adding a touch of rustic charm to the overall aesthetic.
Floral arrangements for a winter wedding can consist of seasonal blooms such as roses, amaryllis, anemones, and ranunculus, as well as incorporating other natural elements like pine cones, berries, and greenery.
Wreaths made from evergreens or other winter foliage can be used as decorations on doors, walls, or even as centerpieces on dining tables.
In terms of attire, winter wedding aesthetics can include capes and faux fur stoles, which not only add a touch of elegance but also provide warmth and comfort for the bride and bridal party.
Long-sleeved wedding dresses and heavier fabrics are popular choices for winter brides, as they offer more protection against the cold weather.
Lastly, choosing a wedding theme that aligns with the winter season can further enhance the overall aesthetic.
A few popular winter wedding themes include a classic white wedding, where everything from the décor to the attire is predominantly white, creating a pristine and elegant atmosphere, and a rustic winter wedding which emphasizes natural elements such as wooden décors, cozy textures, and farmhouse-inspired settings.
Festive Wedding Elements
One way to highlight the festive spirit is by serving warm beverages at your wedding. Offer a hot cocoa bar with various toppings to treat your guests to some sweet indulgence.
Consider serving mulled wine or hot chocolate to create a cozy, soothing ambiance.
The winter sun presents another beautiful aspect to consider during a winter wedding.
The shorter days and softer light can create an enchanting, magical atmosphere during the wedding ceremony and photography sessions.
Utilize the early sunset to your advantage by scheduling photo opportunities that capture this ethereal lighting.
Incorporate the colors of the holiday season into your wedding décor, using shades like burgundy, emerald green, red, midnight blue, navy, silver, and gold.
Play with different textures, such as cozy knits, velvets, and metallic accents, to infuse warmth and dimension into your wedding design.
Since many venues are already adorned with festive decorations during the holiday season, take advantage of these elements for your own wedding.
Strands of lights, fresh or faux seasonal greenery, bows, ribbons, and candles can all come together to create a stunning backdrop for your special day.
Remember to consider both the aesthetic and functional aspects of your winter wedding. Choose attire that is not only stylish but also provides warmth and comfort for you and your guests.
This could include fur stoles, cozy shawls, or even personalized blankets as wedding favors.
Guest Considerations
Attending a winter wedding can be a delightful experience for guests, but there are several factors to consider when planning your nuptials during this season.
One primary concern is attendance. Weather conditions during winter months may significantly impact travel plans, potentially affecting your guest count.
It is crucial to send out invitations early, allowing guests ample time to make travel arrangements and account for possible delays.
During the holiday season, winter weddings may also contribute to wedding fatigue, as guests may already be attending numerous events.
Choosing a wedding date that does not conflict with popular holidays can help mitigate this issue and ensure your special day maintains its unique charm.
Additionally, opting for a wedding date in a less busy wedding month might also benefit your event, allowing more guests to attend and making it easier to book your preferred venue and vendors.
To make your winter wedding enjoyable for everyone, it is essential to provide adequate information regarding weather conditions, dress codes, and any other relevant arrangements.
For example, suggesting your guests wear warm clothing or providing detailed directions to navigate through potential snow or ice will be greatly appreciated.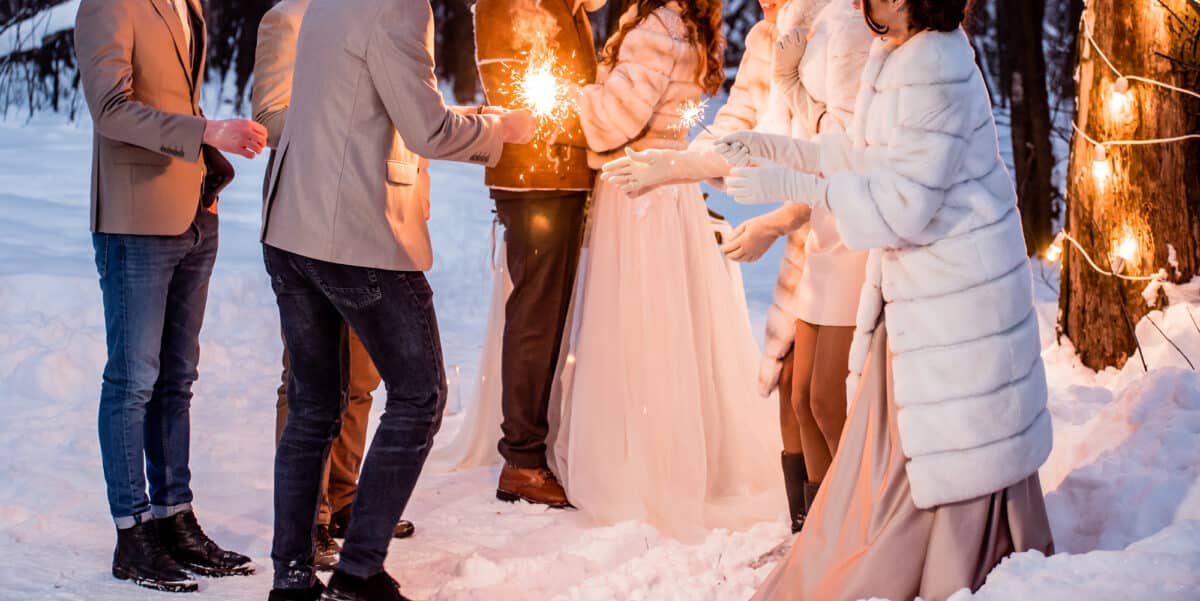 Comparing Wedding Seasons
When choosing the ideal wedding season, each option has its unique benefits and drawbacks.
Spring weddings offer the beauty of blooming flowers, moderate temperatures, and an abundance of natural scenery perfect for stunning photos.
Cherry blossoms, for instance, can significantly enhance the romantic atmosphere. However, spring weddings come with the challenge of unpredictable weather, which may include rain showers.
Summer weddings have a well-deserved reputation for being the most popular choice, especially for outdoor events.
Warm temperatures, long days, and the possibility of a beach or garden venue make summer an appealing option for many couples.
Nevertheless, summer weddings can be sweltering, and the high demand for vendors and venues often leads to higher prices for accommodation and services.
Fall weddings showcase the gorgeous colors of autumn foliage, creating a warm and inviting ambiance.
The mild climate typically cooperates, offering the possibility for both indoor and outdoor ceremonies.
But be cautious; late fall may bring cooler temperatures, requiring additional preparations to keep guests comfortable during evening receptions.
Lastly, winter weddings can create a magical atmosphere with snowy landscapes and cozy indoor receptions.
For those planning a ski resort wedding, winter is the perfect season to tie the knot.
Although the cold weather might be limiting, it allows for creativity in incorporating comfort food, hot cocoa bars, and rich dessert tables.
However, winter weddings might require extra expenses in heating and transportation, as well as potential challenges when accommodating guests during inclement weather.