The art of bridal bouquets is a beautiful and ever-evolving aspect of wedding planning, with an array of styles and trends reflecting the diverse tastes of modern couples.
From classic, romantic options to more contemporary and unique designs, the choice of bouquet is an important decision that can serve as a stunning focal point, complementing the bride's overall look and wedding theme.
With so many options, understanding the different types of bridal bouquets available can help brides-to-be make an informed choice that best represents their personal style and vision for the big day.
Over the years, a variety of bridal bouquet types have emerged, each offering their unique charm.
Classic bridal bouquets often showcase timeless and elegant flowers such as roses, lilies, and tulips, while romantic bouquets may incorporate softer blooms like peonies or hydrangeas, accompanied by lovely greenery.
On the other hand, modern bridal bouquets may feature bold and vibrant flowers, adding a striking aesthetic and a contemporary twist to the tradition.
Furthermore, for brides seeking something truly distinctive, unique bridal bouquets can range from minimalist single-stem options to more avant-garde creations that push the boundaries of traditional floral design.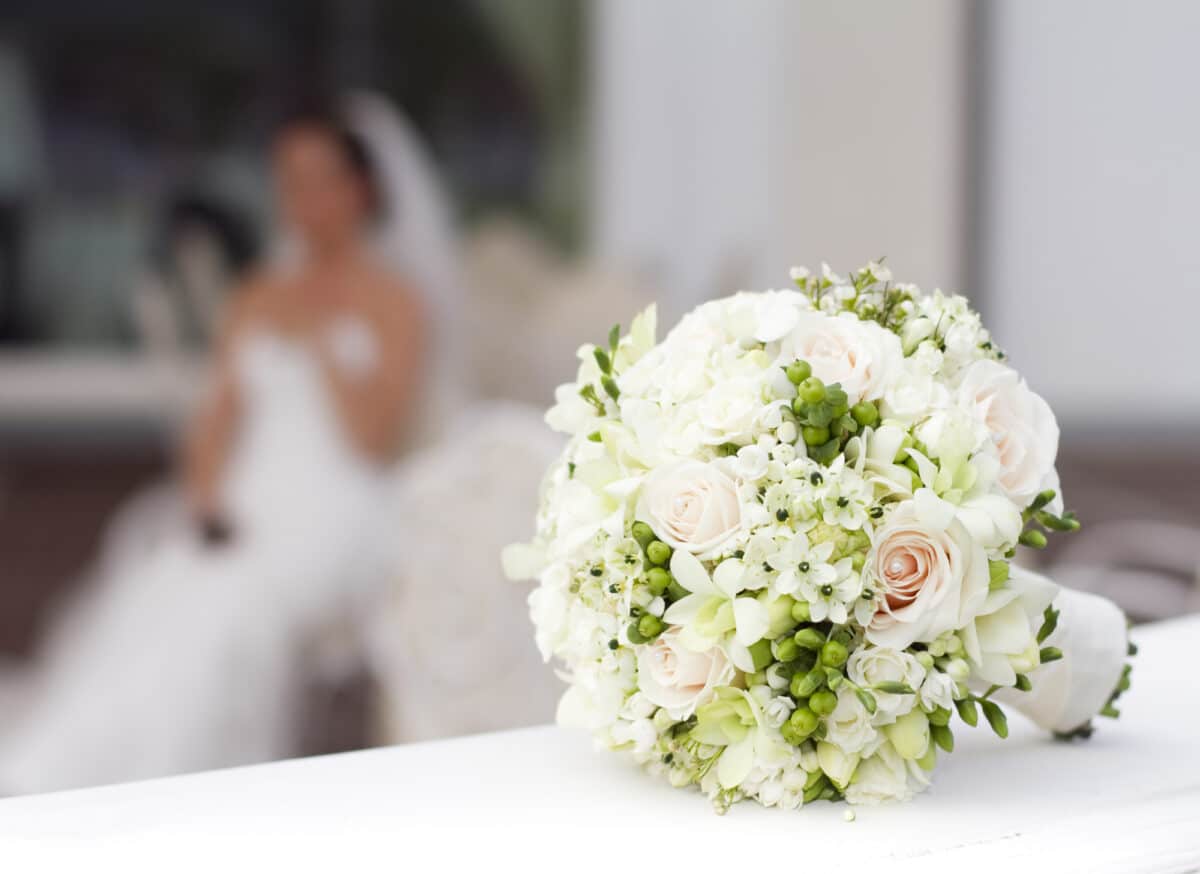 Key Takeaways
Bridal bouquets come in various styles, from classic to unique, catering to different tastes and wedding themes.
Romantic and modern options offer an alternative to traditional bouquets, highlighting different blooms and design elements.
Understanding the different types of bridal bouquets can help brides select the perfect arrangement that complements their style and vision.
Classic Bridal Bouquets
Round Bouquet
A round bouquet is a classic and timeless choice for brides.
This type of bouquet is characterized by its spherical shape, often consisting of one type of flower or a monochromatic color palette.
Roses and dahlias are popular flowers for round bouquets, providing a simple yet elegant look.
The stems in a round bouquet are typically wrapped in a silk ribbon that coordinates with the wedding's color scheme, adding a touch of sophistication to the arrangement.
Round bouquets are an excellent choice for various wedding styles and can enhance the overall floral design of the event.
Nosegay Bouquet
The nosegay bouquet, also known as a tussie-mussie, is a compact and structured bouquet featuring a small grouping of flowers, usually roses or calla lilies, surrounded by greenery.
The flowers are cut to the same length and tightly bound with a ribbon, creating a neat and polished look.
This type of bouquet is especially suitable for brides who prefer a more traditional wedding style.
The nosegay bouquet's simplicity allows the bride's gown to shine and provides an elegant touch to the wedding day ensemble.
Posy Bouquet
The posy bouquet is another classic bridal bouquet option.
Known for its small and round shape, the posy bouquet showcases a tight cluster of blooms, often including roses, orchids, or dahlias, mixed with minimal greenery.
The stems are typically wrapped in ribbon, providing a comfortable grip for the bride while maintaining a clean and refined appearance.
The posy bouquet is versatile and complements various wedding styles, from casual outdoor ceremonies to more formal events.
Notably, Meghan Markle chose a posy bouquet for her wedding to Prince Harry, highlighting the enduring appeal of this timeless bouquet style.
Romantic Bridal Bouquets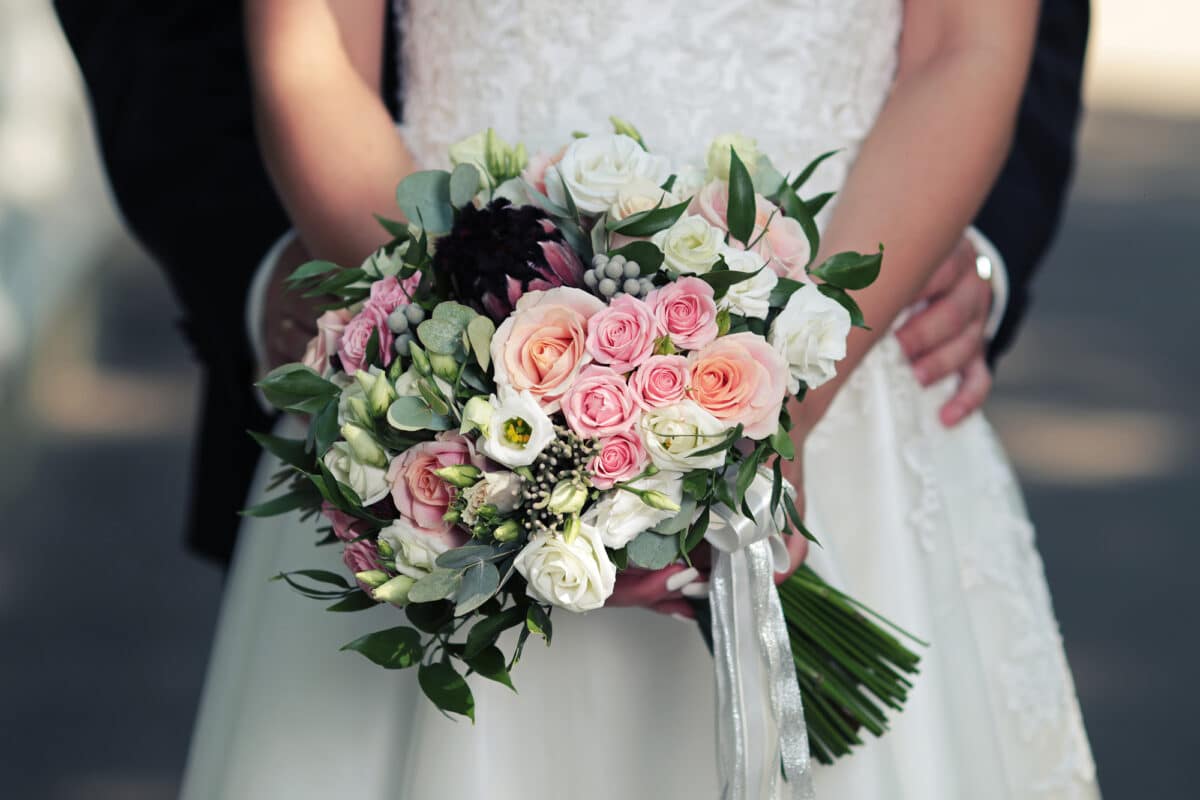 Romantic bridal bouquets are a popular choice for many brides seeking a dreamy and elegant touch to their wedding day.
In this section, we will discuss three distinct sub-types of romantic bridal bouquets: Cascading Bouquet, Garden Roses, and Pageant Bouquet.
Cascading Bouquet
A cascading bouquet, also known as a waterfall bouquet, is a stunning and traditionally romantic bouquet style.
This type of bouquet features a cascade of flowers, often including peonies, ranunculus, delphinium, and eucalyptus, that flow downward, creating a visually captivating effect.
A skilled floral designer can create a hand-tied cascading bouquet that features a harmonious blend of colors and textures, making it the perfect choice for a romantic-themed wedding.
Garden Roses
Garden roses are a classic choice for romantic bridal bouquets due to their lush petals and enchanting fragrance.
These roses can be combined with other flowers, such as peonies, tulips, and delphinium, to create a beautifully diverse bouquet.
The hand-tied bouquet style is commonly used for garden rose bouquets, allowing the florist to create an organic and loose arrangement that compliments the natural beauty of the blooms.
| Popular Garden Rose Varieties | Characteristics |
| --- | --- |
| English Roses | Rich fragrance, full petals |
| Hybrid Tea Roses | Large blooms, long stems |
| Rambling Roses | Smaller flowers, vining growth |
Pageant Bouquet
A pageant bouquet, also known as a presentation bouquet, is another romantic bouquet style that exudes elegance and grace.
The pageant bouquet is characterized by its elongated shape, with flowers such as roses, tulips, and calla lilies arranged together in a sheaf-like form.
The flowers are typically secured with a ribbon, allowing the bride to comfortably cradle the bouquet in her arms.
This style was popularized during the Victorian era and has since been a timeless symbol of romance and femininity.
Romantic bridal bouquets can take many forms, with cascading bouquets, garden roses, and pageant bouquets being among the most popular choices.
By carefully selecting the flowers, arrangement style, and color palette, a bride can create a bouquet that is both captivating and unique, while perfectly complementing her romantic wedding theme.
Modern Bridal Bouquets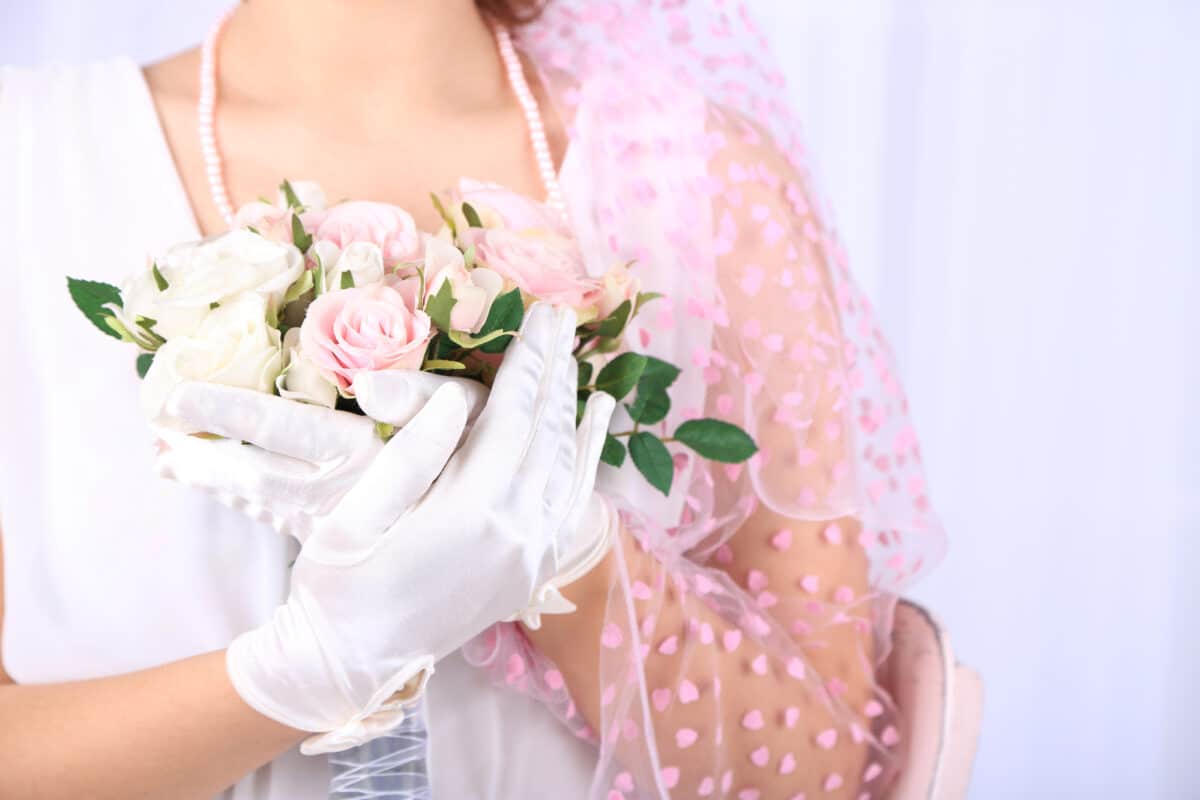 Presentation Bouquet
A Presentation Bouquet, also known as Arm Sheaf Bouquet, is a popular choice for modern brides looking for a sophisticated and elegant touch to their wedding day.
These bouquets are designed to be cradled in the crook of the bride's arm and can make a stunning visual impact during the ceremony.
Presentation bouquets often make use of long-stemmed flowers such as calla lilies, anemones, and peonies, arranged in a loose and flowing manner.
The stems are usually gathered and tied together with a beautiful ribbon, twine, or other embellishments.
Bridesmaids may also carry a smaller version of this bouquet to complement the bride's presentation bouquet, adding cohesiveness to the overall wedding flowers.
Composite Bouquet
The Composite Bouquet, also known as a Glamelia, is an innovative and unique bridal bouquet style, which brings a modern twist to traditional wedding bouquets.
This arrangement is created by using individual petals or small flowers from a variety of blooms, such as hydrangeas, anemones, or peonies, to make a single, large composite flower.
Each petal is carefully wired together, forming a visually seamless and stunning focal piece for the bride's wedding day.
The composite bouquet makes a striking statement and allows the bride to incorporate multiple varieties of flowers in her bouquet while maintaining a clean and sophisticated look.
Anthurium
For brides seeking a modern and tropical vibe on their wedding day, the Anthurium bouquet is an excellent choice.
Anthuriums are exotic, heart-shaped flowers that come in a range of vibrant colors, including shades of red, pink, and white.
These unique blooms have a long-lasting freshness and resilience, making them an ideal option for wedding bouquets.
The anthurium bouquet can be composed entirely of anthuriums or combined with other complementary flowers, such as hydrangeas or peonies, to create a lush and eye-catching arrangement.
This contemporary bouquet choice adds a sense of individuality to the ceremony, reflecting the bride's personal style and taste in wedding flowers.
Unique Bridal Bouquets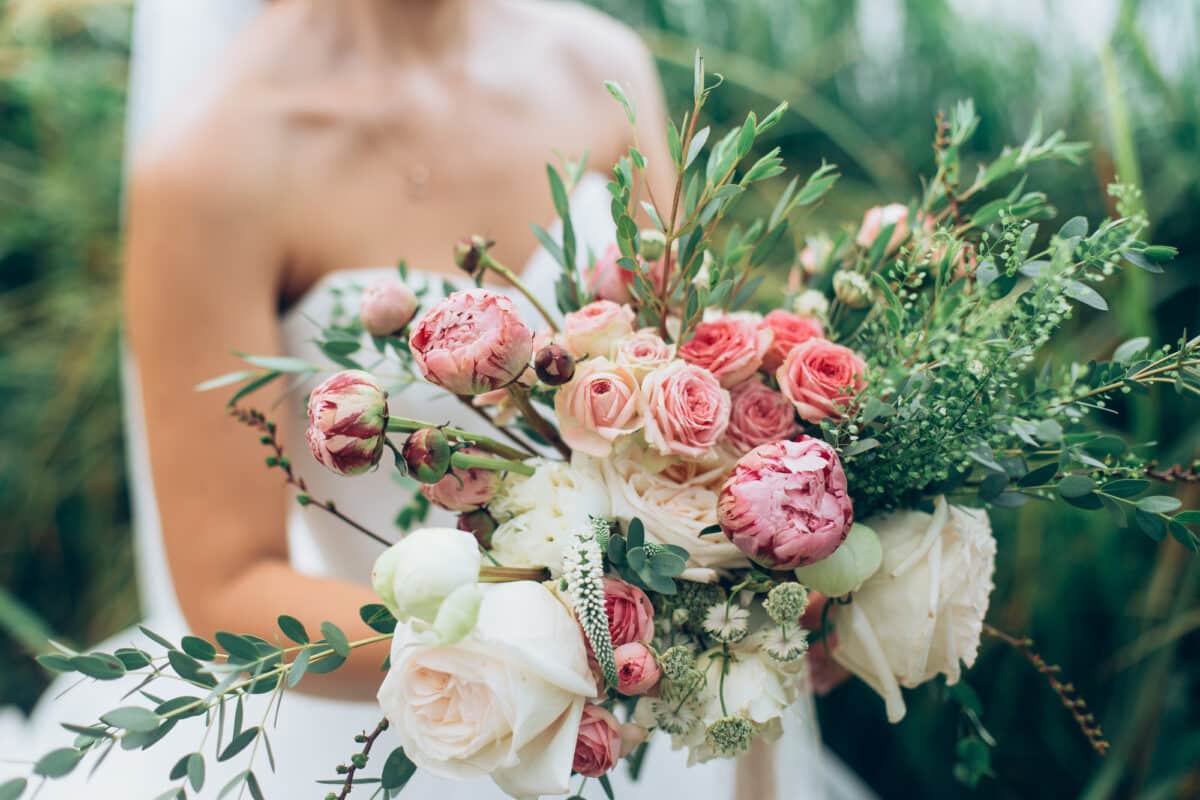 Pomander Bouquet
A Pomander Bouquet is a unique and whimsical choice for brides seeking something different.
This type of bouquet features a spherical shape composed of flowers and is often carried by a ribbon handle.
It is an excellent option for flower girls and can serve as a decorative element for the entire event.
The Pomander Bouquet allows brides to get creative with their color palette and floral choices, as it can be composed of various flowers to suit different wedding styles.
Biedermeier Bouquet
The Biedermeier Bouquet is a striking and elegant option for brides who appreciate layered designs.
It consists of concentric circles of different flowers or colors that create an eye-catching visual effect.
The Biedermeier Bouquet offers endless inspiration when it comes to selecting flowers and colors, allowing brides to customize their bouquets to perfectly match their wedding theme.
This style of bouquet can be incorporated into various wedding styles, from classic to bohemian, and can even be designed with a cascade element akin to the Cascade Bouquet for added drama.
| Pros | Cons |
| --- | --- |
| Visually striking | Time-consuming |
| Customizable | Can be expensive |
| Versatile for events | Requires skilled florist |
Crescent Bouquet
The Crescent Bouquet is an iconic and unique choice for brides seeking a modern and stylish option.
This bouquet style is characterized by its crescent shape, typically featuring a combination of flowers and vines or greenery.
The Crescent Bouquet can be designed with a variety of flowers, including white for a more traditional look, or purple for a bolder statement.
The asymmetrical nature of this design complements various wedding styles, from contemporary to bohemian.
It can also serve as an alternative to the common Presentation Bouquets or Composite Bouquets, offering a fresh take on an often-overlooked aspect of bridal decor.
Each of these unique bridal bouquet styles offers a distinct flair and aesthetic to suit different wedding styles and preferences.
By considering elements such as the overall event aesthetic, color palette, and floral inspiration, brides can select the perfect bouquet for their special day.
Choosing the Right Bouquet for Your Wedding
Match Your Wedding Theme
When choosing a bridal bouquet, it's essential to consider the overall wedding theme.
The bouquet should complement and enhance the atmosphere of the event.
For example, if you have a rustic or vintage theme, consider incorporating florals like lavender, baby's breath, and dusty miller.
Alternatively, if your wedding has a more modern and minimalist vibe, opt for sleek and simple florals such as calla lilies or clematis.
Consider Your Gown
The bridal bouquet should also harmonize with your wedding gown, as it can influence the bouquet's style, size, and shape.
A cascading bouquet may be more suited for a traditional, voluminous gown, while a teardrop or pageant bouquet might better complement a form-fitting dress.
It's important to consider the gown's neckline and silhouette when selecting your bridal bouquet to ensure it does not distract or compete with the dress.
Analyze Your Color Palette
The color palette of your wedding is another crucial aspect to consider when choosing bridal bouquets.
Be sure to select a bouquet that features flowers in shades that complement your wedding colors.
You can achieve this by incorporating different shades of your primary color or adding contrasting hues for visual interest.
For example, a bouquet of white carnations, calla lilies, and baby's breath would elegantly match a classic black and white wedding theme, while a mix of lavender, clematis, and dusty miller would lend itself beautifully to a romantic, pastel-themed wedding.
When choosing your bridal bouquet, remember to consult with a professional wedding florist who can help guide you through the various bouquet shapes and styles, such as the Biedermeier or cascading bouquet.
Ultimately, selecting the right bouquet for your wedding involves a balance of personal style, theme, gown, and color palette, resulting in a stunning and memorable floral adornment for your special day.
Tips for Budget-Conscious Brides
Use Seasonal Flowers
To save money on your bridal bouquet, opt for flowers that are in season during your wedding.
Not only will this help cut costs, but it also ensures the freshest blooms.
Some popular seasonal flowers include gardenias and lilies of the valley for spring and lisianthus for summer and fall.
Incorporating seasonal flowers in a crescent bouquet can also create a stunning visual effect.
Incorporate Greenery
Another budget-friendly option for bridal bouquets is to incorporate fresh greenery.
Adding green elements like eucalyptus, ferns, and lambs ear can create an organic, rustic feel, making it perfect for outdoor or rustic weddings.
Moreover, adding greenery to your bouquet helps create a larger, rounded shape without breaking the bank.
| Season | Examples of Greenery |
| --- | --- |
| Spring | Eucalyptus, Ferns |
| Summer | Lambs Ear, Ivy |
| Fall | Seeded Eucalyptus |
| Winter | Pine, Holly |
Repurpose Flowers
Budget-conscious brides can also consider repurposing flowers from their ceremony to their reception.
For example, aisle decorations or centerpieces can be transformed into bouquets or arrangements for the reception.
This helps stretch your flower budget while still creating a stylish and cohesive floral look for your wedding.
Don't hesitate to reach out to wedding professionals, such as those found on The Knot, for further advice on choosing budget-friendly flower bouquets to match your wedding gown and theme.
By using seasonal flowers, incorporating greenery, and repurposing flowers, budget-conscious brides can create stunning bridal bouquets without overspending.