Planning a wedding is an exciting process and one significant aspect that most couples look forward to is the wedding reception.
A wedding reception is a joyous occasion that takes place after the wedding ceremony, where friends and family gather to celebrate the newlyweds.
There are various types of wedding receptions, each with its unique features and characteristics, offering something to suit every couple's tastes and preferences.
Couples are presented with numerous options when it comes to planning their dream reception, with catering taking center stage.
Food plays a vital role in the reception, influencing the overall atmosphere and experience for the attendees.
From traditional seated dining to unique food stations, there are countless catering options for weddings of any size.
Couples must consider the logistics and roles that the bridal party and other key players will be responsible for during the event.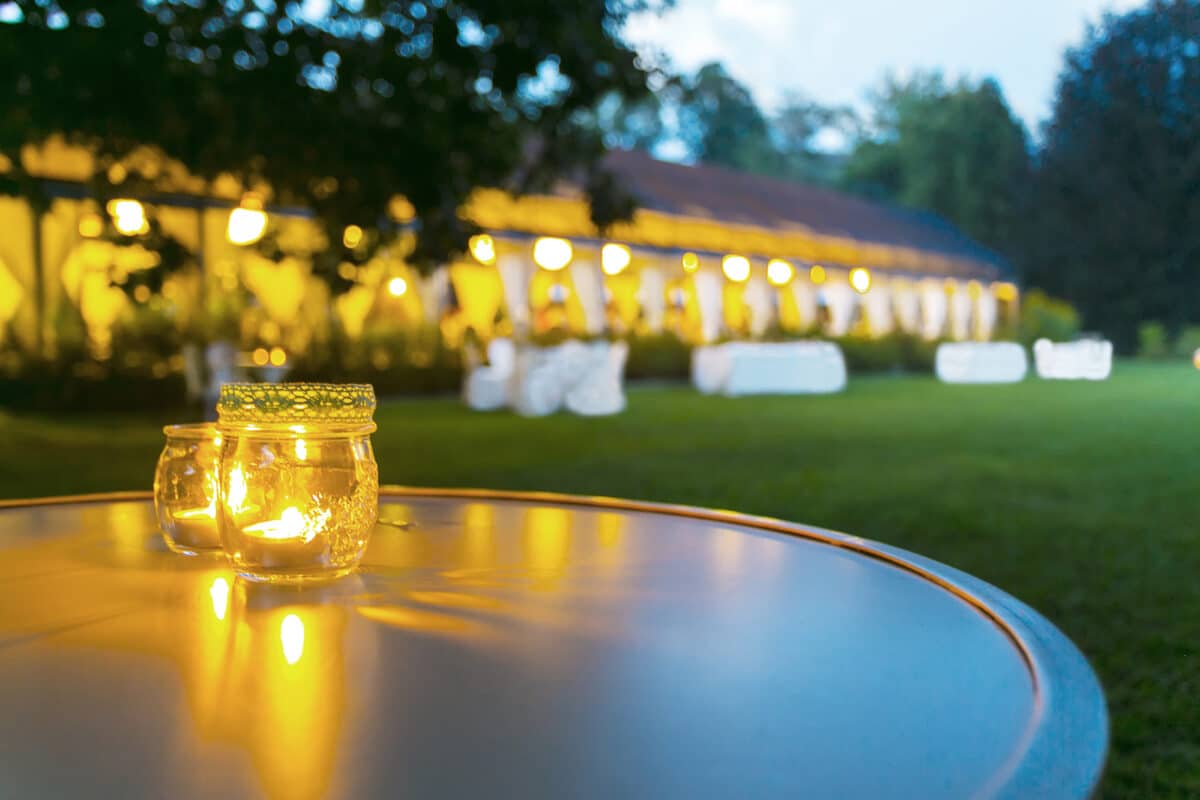 Key Takeaways
Wedding receptions are significant events to celebrate the union of a couple
Catering plays a key role and can greatly influence the reception
Proper planning of logistics and wedding party roles ensures a smooth event
Fundamentals of a Wedding Reception
A wedding reception is a significant part of the celebration that follows the marriage ceremony.
It offers an opportunity for guests to join the newlyweds in commemorating their union.
This gathering typically consists of a meal, drinks, and various forms of entertainment to create a memorable and enjoyable experience for all attendees.
The core aspect of a wedding reception is offering a meal to the guests.
Couples usually work with a caterer or banquet hall to provide a customized menu that caters to various dietary needs and preferences.
The type of meal, whether a buffet, plated dinner, or family-style, is often influenced by the couple's cultural background and personal tastes.
In addition to food, drinks play a significant role in a wedding reception.
Couples can choose to include an open bar, a cash bar, or a limited selection of alcoholic and non-alcoholic beverages to accommodate their guests' preferences.
The availability of a bar significantly influences the overall atmosphere and guest experience at the reception.
Organizing a wedding reception requires careful planning and coordination.
The couple will typically collaborate with a wedding planner or venue coordinator who oversees the various aspects of the reception, such as decoration, seating arrangements, and venue setup.
These professionals ensure all details are accounted for, enabling the couple to focus on enjoying their special day.
One notable feature of a wedding reception is the designated area for dancing and entertainment.
A dance floor is commonly set up for guests to engage in socializing, dancing, and celebrating the couple's union.
The dance floor works in conjunction with other entertainment options, such as live bands or DJs, to create a lively and fun atmosphere.
A successful wedding reception revolves around the careful combination of nourishment, entertainment, and proper arrangements.
By securing the services of experienced professionals and attending to each detail, couples can ensure that their guests have an enjoyable time celebrating the start of their new life together.
Catering Options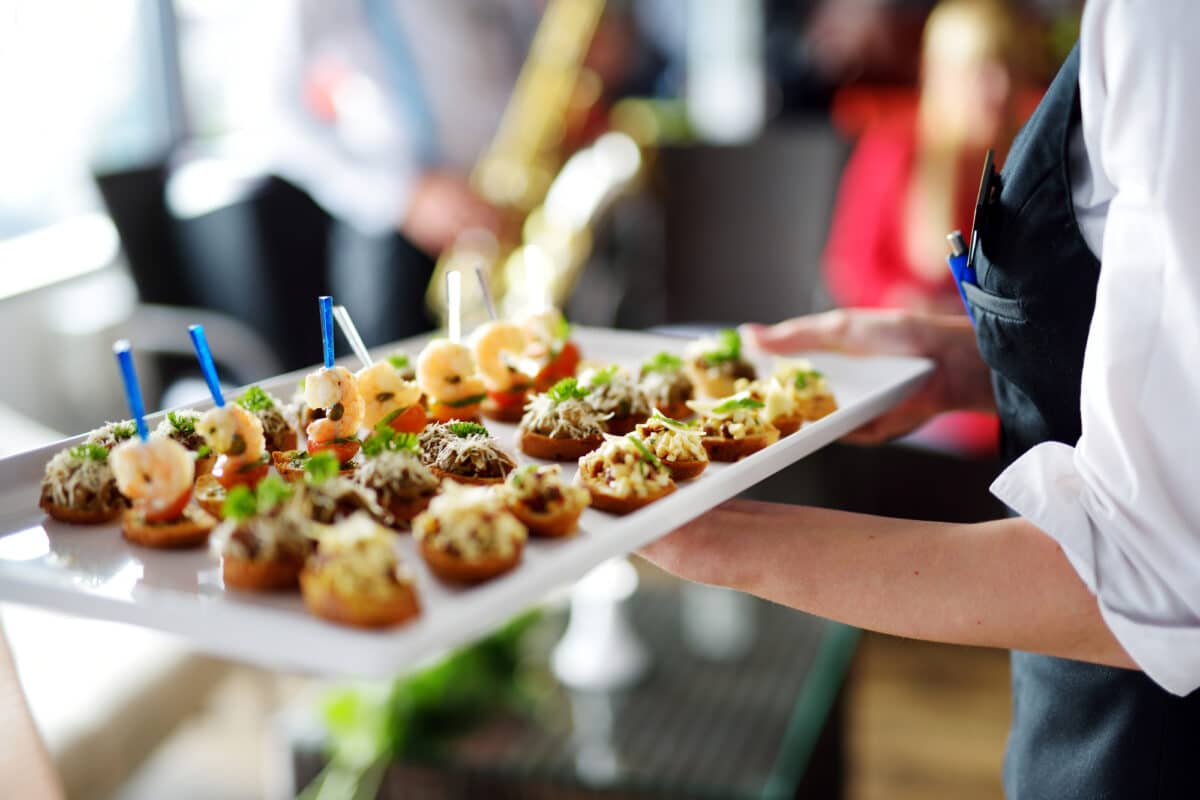 Catering is a pivotal aspect of any wedding reception, as it involves everything from the choice of menu items to the overall experience provided to the guests.
There are various catering styles that couples can choose from to suit their preferences and wedding themes.
Some popular options include sit-down dinners, food stations, appetizers, or family-style dinners.
Sit-down dinners are the most traditional reception style, where guests are seated and served a formal meal, usually consisting of an appetizer, entrée, and dessert. This format allows for a more structured event and often includes set meal options that can be customized. One potential downside of this catering option is that guests may find food choices limited.
Food stations provide a more interactive and flexible catering format, with multiple menu concepts scattered at different stations throughout the reception area. This enables guests to choose from a variety of dishes as they meander through the different stations, allowing for a wider range of food options. Additionally, this style encourages guest interaction and mingling.
Another alternative is opting for a family-style dinner, where guests are seated at long tables and food is served on large platters for guests to share. This style encourages a sense of community and fosters conversation among attendees.
For receptions with a focus on the cocktail hour, manageable hors d'oeuvres can be an ideal catering choice.
This relaxed atmosphere allows guests to sample a variety of bite-sized appetizers while mingling and waiting for the main event or the newlyweds' arrival.
When planning their wedding, couples also need to consider additional elements that tie into the catering experience.
This includes choosing a DJ for entertainment, determining the timing of the first dance and toasts, and deciding whether to offer a champagne and cake reception or a more diverse cocktail reception.
Couples should also think about the customization options for their chosen catering style, including specialized menu items, rentals, and dishes.
This allows them to incorporate personal touches and create a unique dining experience for their guests.
Types of Wedding Receptions
A wedding reception is an essential part of any wedding celebration.
There are various types of receptions, each offering a unique experience for the couple and their guests.
This section will cover some popular reception styles and their key characteristics.
Breakfast or Brunch Reception: This type of reception typically takes place in the morning or early afternoon, with a menu featuring breakfast and brunch items such as french toast, mimosas, and pastries. This option can be a cost-effective choice for couples looking to save on their wedding budget. The early timing also allows for flexibility in the day's schedule and gives parents the convenience of bringing their children without worrying about bedtime routines.
Lunch Reception: Lunch receptions are held in the mid-afternoon, offering a lighter meal compared to dinner receptions. This style is particularly suitable for daytime weddings and can be more budget-friendly. The atmosphere is usually more relaxed and informal, with a focus on enjoying the company of friends and family.
Champagne and Cake Reception: Held either late in the afternoon or in the evening, this is a minimal yet elegant type of reception. As the name suggests, it offers guests champagne and a slice of the wedding cake. This option is particularly budget-friendly and allows for a more intimate celebration without the need for a full meal.
Cocktail Reception: This style of reception features a variety of appetizers and drinks, often including a signature cocktail for the couple. Cocktail receptions are a popular choice for couples who want a more casual and lively atmosphere, with guests mingling and enjoying themselves. This option can also be cost-effective as it avoids the expense of a formal sit-down meal.
Family-Style Dinner: A family-style reception offers a warm and communal dining experience. Guests are seated at long tables, and large platters of entrées and sides are placed in the middle for everyone to share. This style fosters conversation and interaction among guests and is suitable for couples who want a more homey and inclusive feel for their wedding.
Tent Reception: For those who want to embrace the outdoors, a tent reception offers a unique and picturesque option. Tents provide shelter from the elements while allowing for the flexibility of decor, choice of chairs, and other personalized additions. Couples should consult with planners to ensure the logistics of setting up a tent and planning the event flow smoothly.
Wedding Party Roles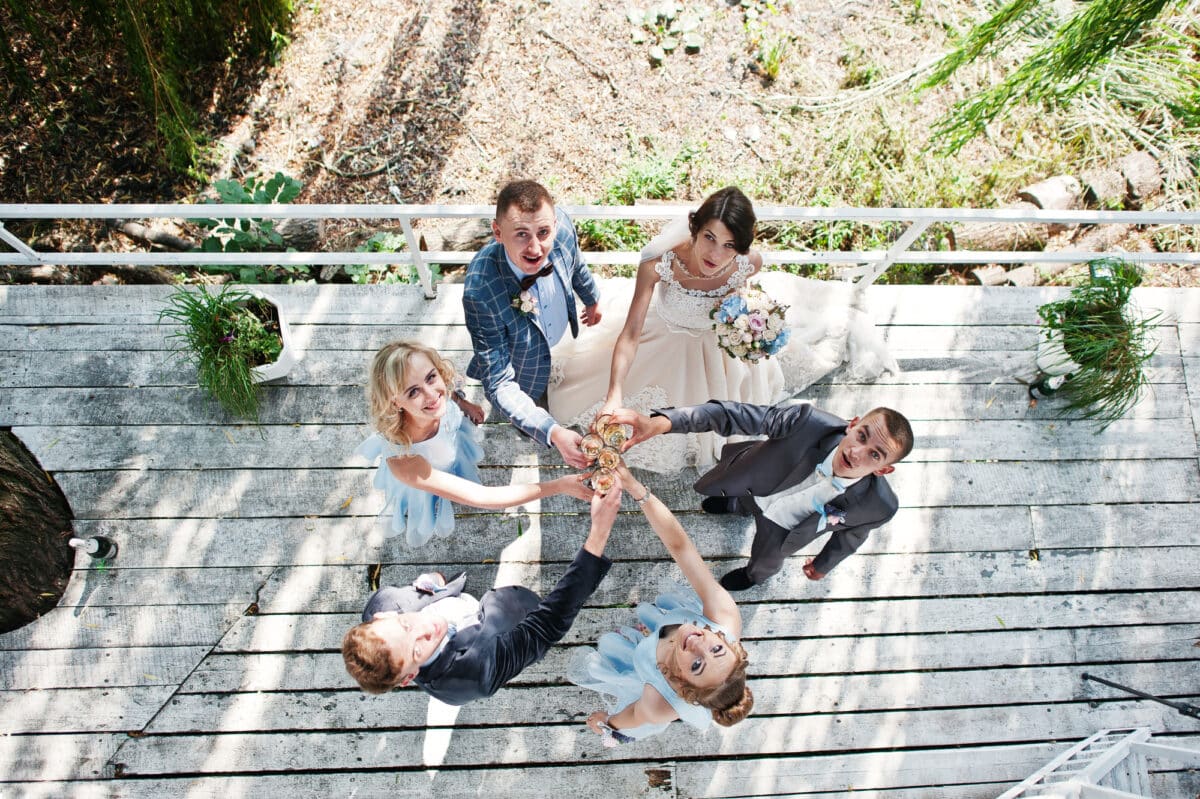 The wedding party plays a significant part in any wedding reception, as they help create memorable moments for the newlyweds and guests.
Understanding the roles of each member is essential for a smooth event.
Bridesmaids and groomsmen are responsible for assisting the bride and groom throughout the wedding planning process, as well as during the event.
They may help prepare decorations, lead guests to their seats, and partake in formal pictures.
They often join in on the first dance, and bridesmaids may participate in the bouquet toss tradition.
The best man and maid of honor are entrusted with additional responsibilities.
They are expected to hold onto the wedding rings, deliver heartfelt speeches, and offer emotional support to the couple.
The best man is often responsible for organizing the bachelor party, while the maid of honor plans the bridal shower.
Flower girls have the role of adding an endearing touch to the ceremony.
They usually precede the bride down the aisle, sprinkling flower petals as they walk.
Similarly, the ring bearer also walks down the aisle, carrying the wedding rings on a small cushion.
Wedding receptions can be of various types, such as a champagne and cake reception, a buffet-style meal, or a formal seated dinner.
The venue coordinator plays an essential role in ensuring that the chosen type of reception runs smoothly, as they help manage the timeline, coordinate with vendors, and take care of any operational details.
The parent dances are a special moment at wedding receptions, where the bride dances with her father.
Similarly, the groom also dances with his mother.
This tradition is a way for the couple to express their gratitude and love for their parents.
Final Thoughts
Choosing the right type of wedding reception is crucial to creating a memorable and enjoyable experience for both the couple and their guests.
Before making a decision, it's essential to consider factors such as budget, guest preferences, and available venues.
A cocktail wedding reception, for example, offers a more economical option with a fun and relaxed atmosphere compared to a traditional dinner reception.
When planning a wedding reception, it's essential to select a venue that can accommodate the chosen reception type and add to the overall success of the event.
Whether it's a simple civil ceremony or a grand military wedding, the venue should complement the theme and tone of the event.
Don't forget to consider the honeymoon, a symbol of your new life together as a married couple.
Choosing a location that aligns with both of your interests can add a romantic and unforgettable finale to your wedding celebrations.
Keep in mind that some weddings may also include a minimony or an elopement ceremony, allowing for more intimate and personalized experiences.
To ensure a smooth and enjoyable wedding reception, always plan ahead.
Create a detailed timeline, incorporating elements like dinner, dancing, and the last dance to send off the couple on their honeymoon.
Organizing these events in advance will make for a stress-free and memorable experience for all involved.