Picture this: you're walking into a room that takes your breath away, as the air is filled with the sweet scent of romance and the soft glow of candlelight dances on the walls.
It's a visual symphony of colors, textures, and patterns that tell a love story unique to the couple at the heart of it all.
Yes, I'll be talking about wedding decorations! When creating an unforgettable atmosphere for your big day, the right décor can work wonders.
But with an ocean of options and styles, how do you navigate the enchanting world of wedding decorations to create your fairytale setting?
In this blog post, I'll take you on a magical journey through the latest trends, classic staples, and hidden gems that will transform your wedding venue into a dreamscape that captures the essence of your love story!
Deciding on Your Wedding Theme or Color Scheme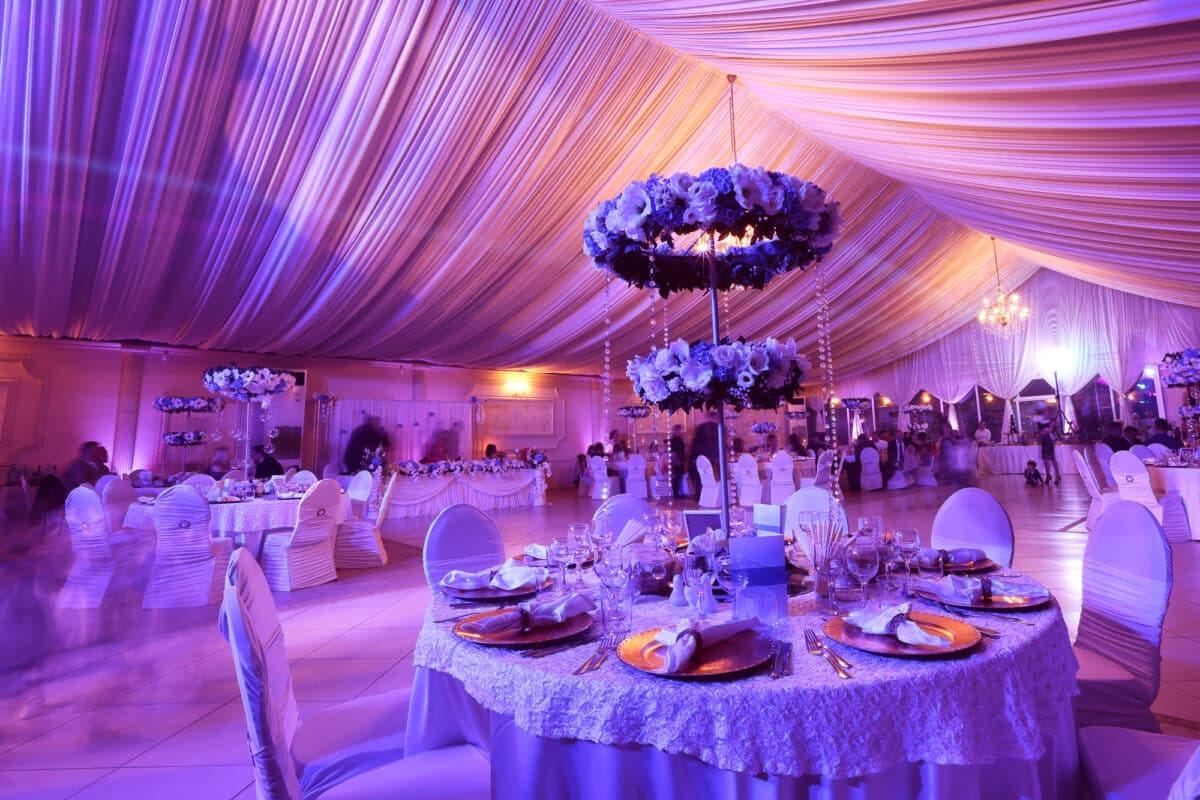 Your theme will set the tone for your big day and help you select everything from table settings to floral arrangements.
One great way to choose a theme is by considering popular wedding color trends. Dusty rose, sage green and soft blue are some of this year's most sought-after colors.
These muted tones create a romantic and elegant atmosphere that pairs well with nearly any venue or decor style.
Consider DIY decoration ideas if you're looking for a more personalized touch.
From handcrafted centerpieces to custom signage, there are plenty of ways to infuse your personality into your wedding decor.
Not only do these unique touches make for beautiful photos, they also add an extra special sentimentality to your celebration.
Setting a Budget for Your Decorations
While DIY can save you money, it requires more effort and time, which might not be feasible given everything else involved in planning a wedding.
If you choose the professional route, research vendors specializing in creating the look and feel that aligns with your vision.
Be upfront about your budget when discussing options with them; this will help narrow down choices so that they fit within what you're willing to spend.
Prioritizing decor elements is key as well.
Determine where to splurge and where to save by focusing on priority areas such as centerpieces, lighting, and floral arrangements versus secondary items like signage or favors.
Ensure that the pieces you invest in are high-quality and impactful while staying within your budget. Remember, setting a budget doesn't mean skimping on style.
Choosing the Right Venue for Your Decor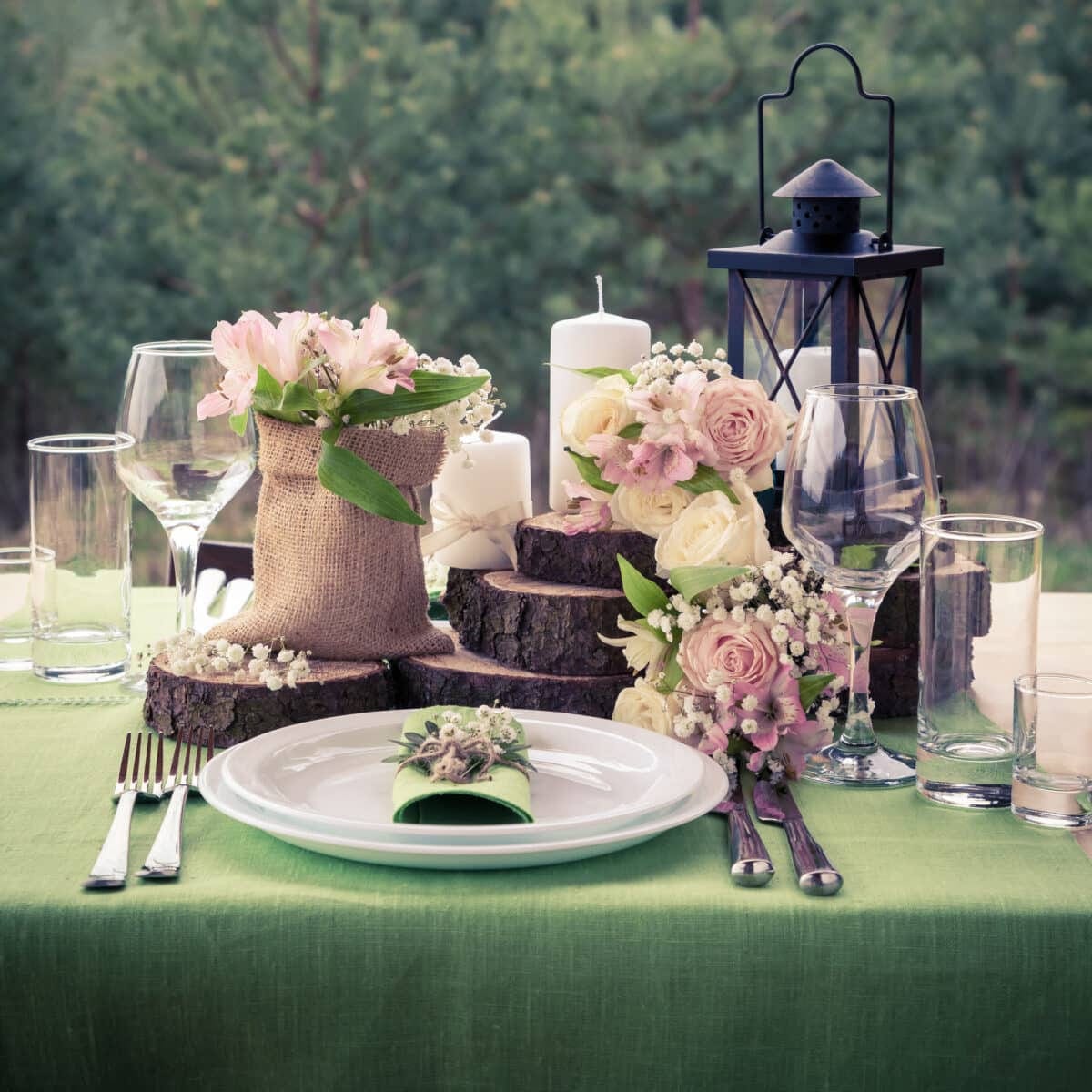 First things first, consider whether you want an indoor or outdoor wedding. Both options have their pros and cons, so weigh them carefully.
Outdoor venues provide natural beauty and fresh air but are susceptible to weather changes.
Indoor venues offer more control over lighting and temperature but may not give you the desired scenic backdrop.
Once you've made your decision, take into account the existing decor of your chosen venue. Remember, less is often more when it comes to decorating for weddings.
Keeping in mind the space's aesthetic will help you choose complementary decorations that enhance rather than clash with what's already there.
Deciding on the Type of Lighting You Want
For wedding decorations, lighting is a crucial element that can make or break the overall ambiance of your event.
It illuminates and accentuates your décor, evokes emotions, and sets the mood for your guests. Therefore, deciding the type of lighting you want should be high on your priority list.
Creating ambiance is an essential aspect of any wedding decoration plan. You want your guests to feel welcomed, comfortable and mesmerized by the beauty around them.
Consider what kind of atmosphere you want to create to achieve this effect through lighting.
Do you envision a romantic setting bathed in soft candlelight? Or do you prefer something dramatic, with bright spotlights highlighting specific areas?
Using technology can help elevate your lighting game even further by providing endless possibilities for customization and creativity.
From color-changing LED lights to projection mapping effects, there are countless ways to incorporate innovative lighting techniques into your wedding decor. 
However, don't get too carried away with trendy gadgets. Remember that simplicity often has a greater impact than complexity.
Choosing the right type of lighting ultimately depends on several factors, such as venue size, theme, budget, and personal preferences.
Research different styles and consult with professional decorators who create captivating atmospheres through lighting design. 
With careful planning and attention to detail, you can transform any space into a magical wonderland that leaves lasting impressions on everyone who attends.
Remember that quality over quantity is key when selecting appropriate light fixtures for your wedding day.
Incorporating Personal Touches Into Your Decor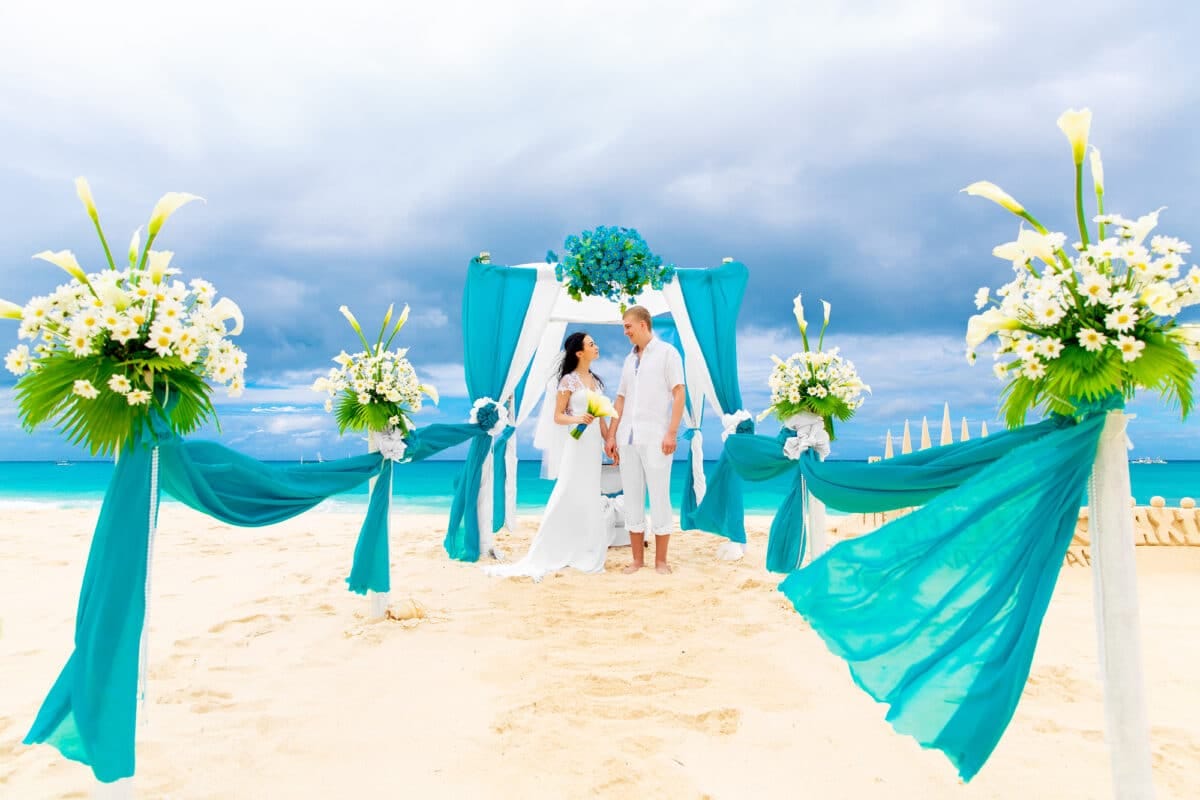 Personalized signage is an excellent way to add a unique flair to your decor. You can use signs to display favorite quotes, song lyrics, or even how you met.
These signs can be placed throughout the ceremony and reception spaces for an added touch of personalization.
DIY elements are another great option when looking to personalize your decor. Consider creating centerpieces or favors with items that hold special meaning to you as a couple.
This could include incorporating family heirlooms or using materials from places that hold significance in your relationship.
Incorporating personal touches into your wedding decor is all about finding ways to showcase who you are as a couple.
Choosing the Right Table Settings and Linens
Your choice of table settings and linens can make or break your reception's overall look and feel. To ensure a cohesive design, start by selecting colors that complement each other.
Consider linen color combinations carefully. Neutral-colored linens like ivory, champagne, and blush are classic choices that work well with any theme.
For a bold pop of color, choose tablecloths in navy blue or emerald green shades.
Don't be afraid to mix patterns either – pairing striped napkins with floral table runners adds texture and visual interest.
When choosing table settings, think beyond traditional silverware and glassware. Consider incorporating unique elements like vintage china plates or gold flatware for an elegant touch.
Personalized place cards also add thoughtful detail that guests will appreciate.
Don't forget about lighting when planning your tabletop decor. Candles always create a romantic ambiance, but consider adding additional overhead lights or creative centerpieces to brighten up the space.
Selecting the Perfect Centerpieces
The right centerpiece can tie together all aspects of your décor and set the tone for your entire celebration.
Consider whether floral or non-floral centerpieces suit your event.
Floral arrangements have always been popular, but non-floral alternatives such as candles, lanterns, and fruit displays have recently gained popularity. 
Non-floral centerpieces can be just as beautiful while providing something unique and unexpected that guests will surely remember.
Next, decide whether DIY or professional centerpieces suit your needs best. DIY projects offer an opportunity to put a personal touch on your decorations while saving money.
However, remember that creating intricate centerpieces can be time-consuming and challenging – especially if you lack experience with crafting or flower arranging.
Professional services may come at a higher cost but provide convenience and expertise that ensure stunning results.
When selecting centerpieces, opt for pieces that match both the theme of your wedding and the venue's style cohesively.
To create a harmonious ambiance, consider incorporating elements from other decorative features, such as table linens or lighting fixtures.
Adding Floral Arrangements and Greenery
Let's start with floral arrangements, which come in various sizes and styles, from cascading bouquets to centerpieces.
For greenery, you can go with a classic archway of greenery or even add some potted plants and garlands to your decor.
Types of Floral Arrangements
Let's talk about the latest floral arrangement trends. One popular trend is the use of wildflowers and loose, organic bouquets.
These arrangements often feature various colors and textures for a bohemian feel.
Another trend we're seeing is monochromatic blooms in shades like blush pink or creamy white for a romantic, minimalist look.
You can purchase bulk flowers from local markets or online retailers and create simple centerpieces or even your bridal bouquet.
Don't be afraid to mix and match different blooms for a unique look.
Remember that when choosing floral arrangements, it's important to consider the seasonality of certain flowers.
For example, peonies are only available during certain months, while roses are more readily available year-round. A professional florist can help you select the best options for your wedding date.
Greenery Types
Greenery can add a touch of natural elegance to any wedding design and is often more budget-friendly than some flowers.
Various types of greenery are available, ranging from delicate vines to bold leaves. One popular type of greenery is eucalyptus.
Eucalyptus leaves have a beautiful blue-green color and a distinct scent that adds a refreshing aroma to any venue.
They also come in several varieties, such as the silver dollar or seeded eucalyptus, which makes them versatile for different styles and arrangements.
Another great option is ferns. Ferns are perfect for creating lush table runners or adding texture to bouquets with their feathery fronds.
They're easy to work with and come in different sizes and shapes, making them ideal for both large-scale installations and small accents.
For a more modern approach, consider incorporating succulents into your decor.
These hardy plants come in various colors and shapes, from classic green rosettes to unique pink-tinged varieties.
Succulents are perfect for terrarium centerpieces or even as boutonnieres for the groomsmen.
Don't forget about using foliage like ivy or boxwood for added dimension.
Ivy can be draped elegantly around archways or used as filler in larger arrangements, while boxwood creates a polished look when used as wreaths or topiaries.
Creating a Stunning Backdrop for Your Ceremony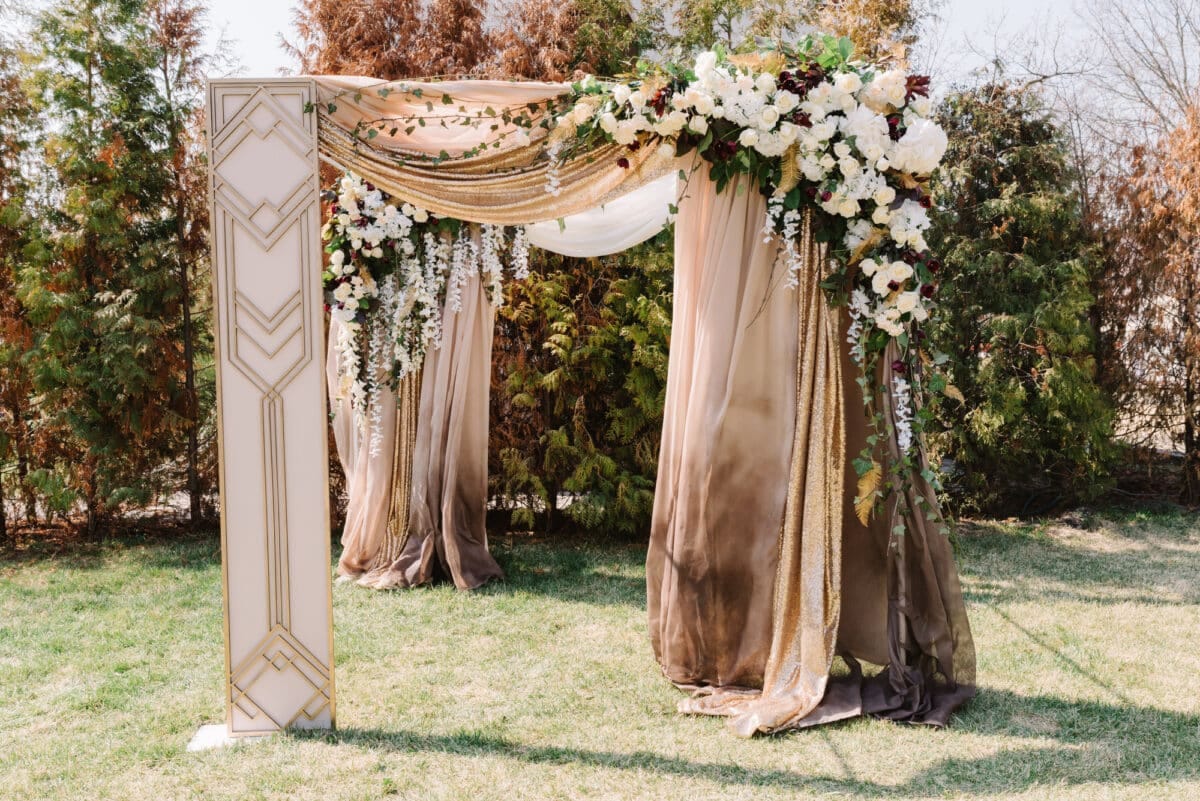 One popular choice is using floral arrangements or greenery arches that can be rented from various rental companies.
These add an elegant touch and can help create a romantic atmosphere.
DIY options such as handmade paper flowers or fabric backdrops are becoming increasingly popular for those on a budget.
Not only do they save money, but they also allow for customization to fit any theme or color scheme. However, keep in mind that these projects require time and effort.
Another option is using lighting elements such as string lights or lanterns to create a dreamy ambiance during the ceremony.
This works exceptionally well for evening ceremonies held outdoors. Rental companies offer different styles and sizes of these items so you can choose one that fits your vision.
Bringing Your Vision to Life With Professional Decor Services
Before choosing a professional decor service, finding inspiration for your wedding vision is important.
This could come from anything – nature walks, Pinterest boards, movies – but having a clear idea of what you want will help narrow down potential vendors. 
Once you've found some ideas that resonate with you, consider how they might be executed within your venue space.
One benefit of working with a professional decor service is their ability to transform any space into something magical.
Whether adding lighting effects or creating custom floral arrangements, these services have the expertise to create an atmosphere that perfectly matches your wedding theme. 
By leaving the decorating tasks in the hands of professionals, you'll have more time to focus on other aspects of planning.
Frequently Asked Questions
Should I Prioritize Wedding Decorations Over Other Aspects of My Wedding, such as Catering or Entertainment?
While decorations can add a beautiful touch to the overall ambiance of the event, they should not take precedence over catering or entertainment if those are higher priorities. 
Creating an unforgettable guest experience should be at the forefront of your decision-making process when planning your big day.
I recommend allocating funds based on what will make the biggest impact on your guests' enjoyment rather than solely focusing on decor.
How Far In Advance Should I Start Planning My Wedding Decorations?
Allocate enough time for brainstorming ideas, sourcing materials or vendors, and creating mock-ups of table settings or centerpieces.
This way, you can avoid last-minute rushes or overspending due to limited options.
Remember that great wedding decor doesn't have to break the bank – proper planning allows you to create stunning visuals while staying within your budget constraints.
What are Some Unique and Creative Wedding Decoration Ideas that are Not Commonly Used?
One way to add a twist to traditional floral arrangements is by using floral alternatives like paper flowers or fabric blooms.
Not only do these options give you more flexibility in terms of color and design, but they also last longer than fresh flowers. 
Another idea is upcycling materials such as old books or vintage bottles into centerpieces.
This adds a personal touch to your decor and helps reduce waste.
How Can I Incorporate Sustainable and Eco-Friendly Elements into My Wedding Decor?
Plenty of options are available if you're also interested in incorporating sustainable and eco-friendly elements into your decor.
The possibilities are endless, from using recycled materials for centerpieces to opting for locally sourced flowers. 
Can I DIY My Wedding Decorations, or is it Best to Hire a Professional?
Certain decor aspects may require an expert touch. So hiring a pro might be your best bet if you're looking for intricate floral arrangements or complex lighting setups. 
On the other hand, if you're working with a tight budget and willing to put in some extra effort, going the DIY route can pay off.
Final Thoughts
No matter how beautiful your flowers or table decor may be, they will never compare to the true beauty of love and commitment between two people. 
So remember to just keep things in perspective as you plan your big day. And hey, if all else fails, just throw up some fairy lights and call it a night! (I'm kidding…kinda.)