Welcome to the mesmerizing maze of matrimonial magic, where every detail – no matter how small – plays a pivotal role in crafting the wedding of your dreams.
In this post, I'll dive headfirst into the enchanting realm of wedding favors, those delightful tokens of gratitude that leave a lasting impression on your guests. 
With countless options and ever-evolving trends, selecting the perfect favors can feel like navigating a labyrinth of possibilities. 
The Importance of Wedding Favors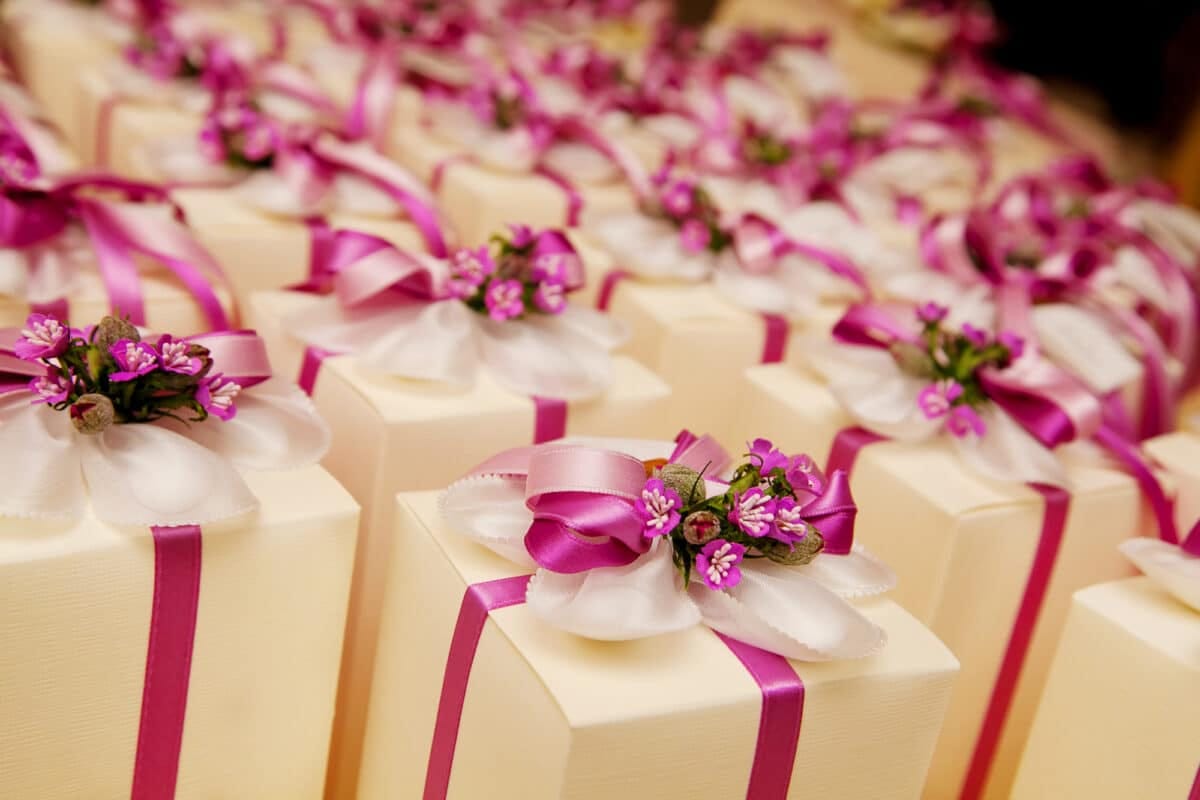 Wedding favors are more than just a small trinket or sweet treat – they're an opportunity to showcase your unique style and personality as a couple.
At their core, these little gifts serve several purposes, and one of those is that they show gratitude towards your guests for taking time out of their busy lives to celebrate with you on your big day. 
So whether you opt for something practical like personalized coasters or sentimental like homemade candles, make sure that whatever favor you choose reflects who you are as a couple and ties in seamlessly with the rest of your wedding decor. 
Budgeting for Your Wedding Favors
Determine how much money you can allocate towards your wedding favors. Consider what other expenses you have for your big day and prioritize accordingly.
While favors are a nice gesture, they are unnecessary for a successful wedding celebration.
Once you have established your budget, start researching different wedding favor themes that fit within your price range.
A popular trend is personalized items such as monogrammed candles or engraved wine glasses. 
Another option is to tie your wedding theme into the favors, whether it be beach-themed bottle openers or rustic wooden coasters.
Presentation is key to leaving a lasting impression on your guests. Try wrapping them up in unique fabrics or placing them in customized gift boxes tied with ribbon.
You could even incorporate elements like dried flowers or greenery to add a special touch.
Remember to stay true to yourself and choose something that represents both you and your partner's personalities.
Traditional Wedding Favors
Wedding favors have evolved to reflect modern trends while still honoring traditional roots.
One classic choice is Jordan almonds, symbolizing bitterness and sweetness in marriage.
Another popular option is personalized matchbooks or candles, allowing guests to take home a piece of the celebration.
These timeless choices add a touch of elegance and sophistication to any wedding.
But just because you're opting for traditional favors doesn't mean you can't put your spin on them.
Modern twists include custom packaging or unique flavors for classic treats like chocolate truffles or macarons. 
Personalization also adds an extra special touch – consider engraving initials onto wine bottle stoppers or keychains.
Unique and Personalized Wedding Favors
Personalized keepsakes are popular for couples looking to give their guests something meaningful.
Consider customized items like wine glasses or keychains with the couple's names and wedding dates engraved.
These small touches can go a long way in making guests feel cherished.
Themed favors are another great option that can be tailored to fit your wedding style.
For example, for a beach wedding, consider giving out mini bottles of sunscreen or flip-flop bottle openers as favors.
Or, for a rustic outdoor wedding, opt for miniature jars filled with local honey or homemade jam.
If you want to get even more creative, consider incorporating elements from both backgrounds or interests into the favors.
Maybe you have family recipes that could be turned into edible treats, or perhaps there's a hobby that you both love that could inspire your favor design.
DIY Wedding Favors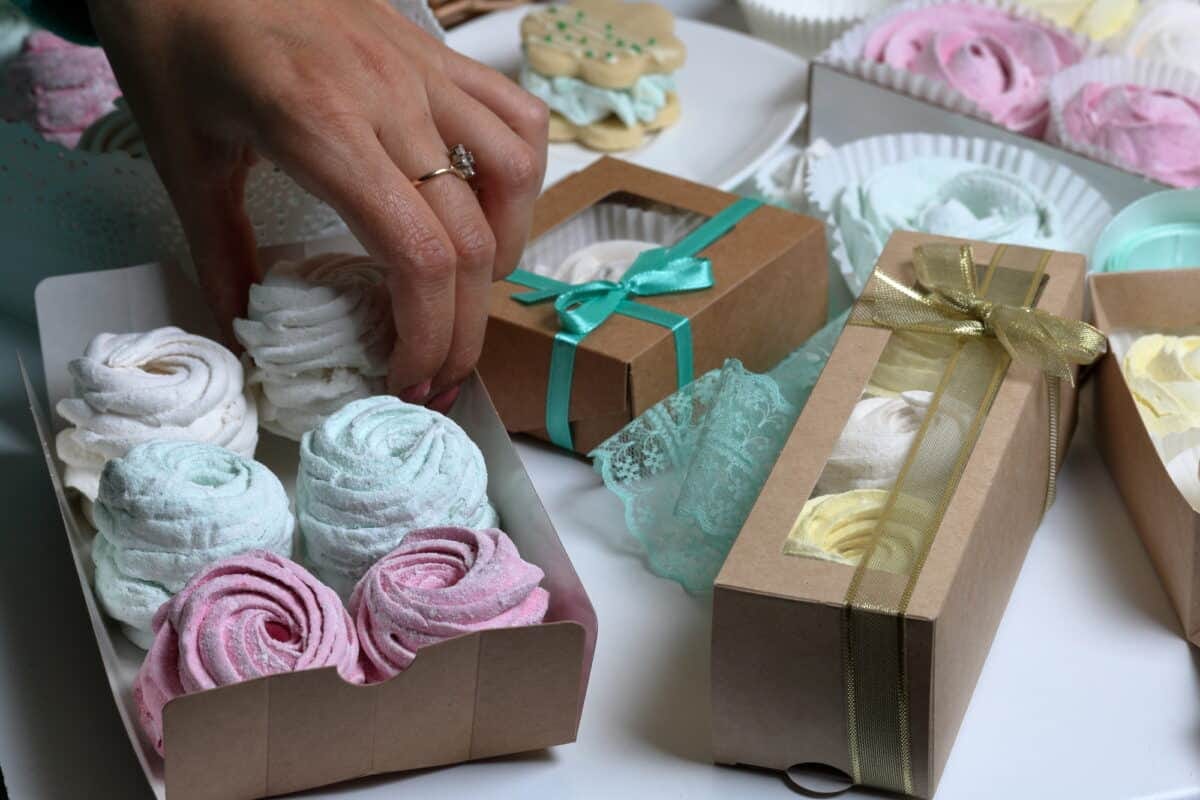 Regarding DIY wedding favors, there are so many creative ideas.
From edible treats and personalized gifts to homemade mementos, you can find all the necessary supplies to make your favors. 
But if you're on a tight budget, you don't have to worry as there are plenty of budget-friendly DIY wedding favor options too. 
Ideas for DIY Wedding Favors
DIY options have been gaining popularity in recent years. Not only do they add a personal touch to your special day, but they can also be cost-effective.
However, coming up with creative DIY favor ideas can initially seem daunting.
One way to make your DIY favors stand out is by focusing on unique packaging.
From personalized mason jars to hand-stamped cotton bags, there are countless ways to customize the presentation of your favors. 
Get crafty and experiment with different textures, colors, and materials to create something unique.
Another idea for DIY wedding favors is incorporating edible treats. Guests will appreciate having a tasty snack or beverage after the festivities.
Consider creating homemade jams or sauces using seasonal fruits or herbs or putting together mini cocktail kits with all the necessary ingredients and instructions.
If you're looking for a sentimental option, consider making photo-based favors featuring pictures of you and your partner throughout your relationship.
You could use these images on keychains, magnets, or coasters that guests can take home as keepsakes from your big day.
When choosing the perfect wedding favors for your guests, going the DIY route allows for endless possibilities.
You'll create memorable tokens that perfectly represent you as a couple by focusing on creative packaging and incorporating unique elements, such as edibles or photos, into your designs.
Supplies for DIY Wedding Favors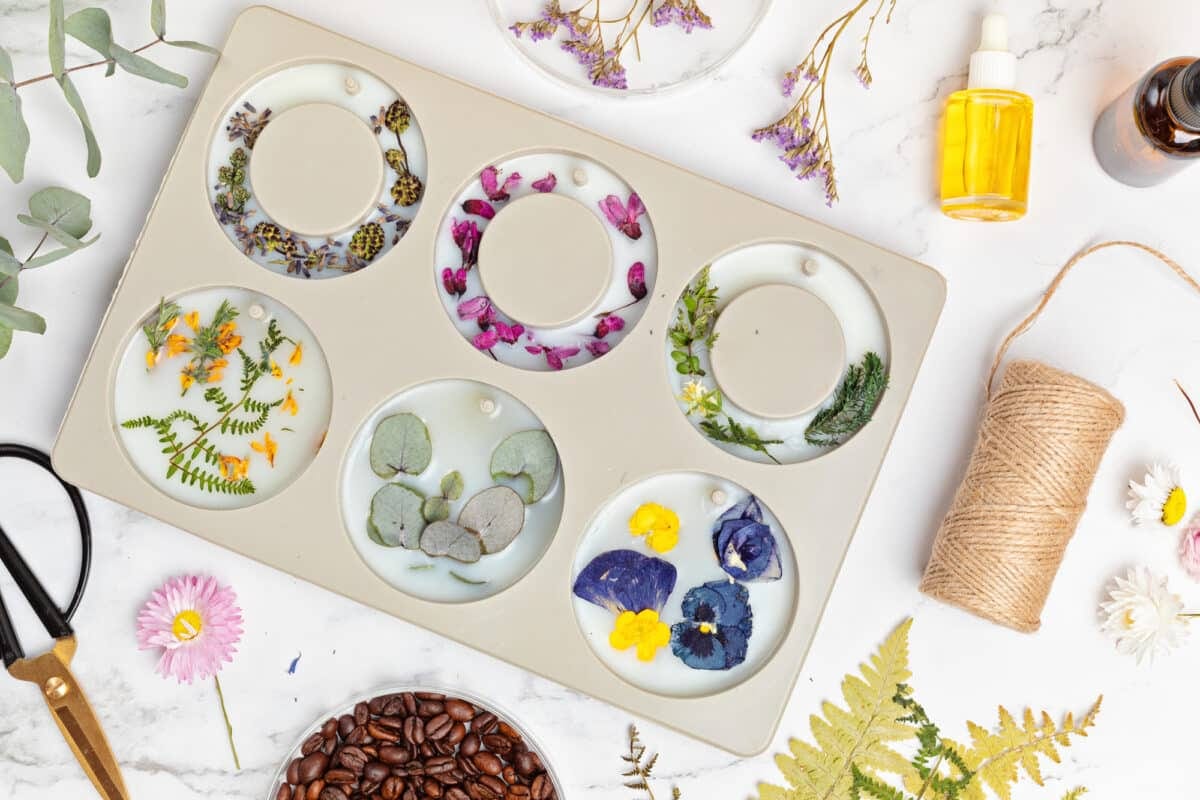 One of the most important things you'll need is wedding favor containers – anything from mini mason jars and drawstring bags to small boxes or tins.
Think about what type of container will work best with your chosen favors and how you can personalize them to fit your wedding theme.
Once you've got your containers sorted, it's time to think about DIY favor decoration ideas.
This could include adding custom labels or tags with a cute message, tying on ribbons or twine in coordinating colors, or attaching small charms or trinkets that represent you as a couple. 
The key here is to keep things simple yet stylish – don't go overboard with too many embellishments that might take away from the overall look of the favor.
Aside from packaging and decorations, you'll need other essential supplies depending on what type of DIY favors you choose to make.
For example, if you're creating homemade jams or sauces, you'll need ingredients like fresh fruit and herbs and sterilized jars and lids.
If you're assembling cocktail kits, consider investing in mini bottles of alcohol, mixers, and garnishes.
Budget-Friendly DIY Wedding Favors
DIY favor containers can be expensive, but there are affordable options like plain white boxes or clear plastic bags to decorate yourself.
You could also consider repurposing items such as small jars or bottles from home.
Consider making mini-batches of baked goods like cookies or brownies, which can be wrapped in cellophane with a cute ribbon tie or placed in a decorated paper bag.
You could also create your spice mixtures or flavored salts using bulk ingredients.
Another way to save on costs is using free online printables for customized labels and tags. These add a personal touch without breaking the bank.
Natural elements like dried flowers or herbs from your garden can be used as decoration instead of buying pricey trinkets.
Creating DIY wedding favors doesn't have to mean sacrificing quality or style just because you're on a tight budget.
With creativity and resourcefulness, you can make thoughtful keepsakes for your guests while keeping expenses low.
Remember that simplicity is key – focus on what's important and personalize where possible for a memorable gift that reflects your love story as a couple.
Edible Wedding Favors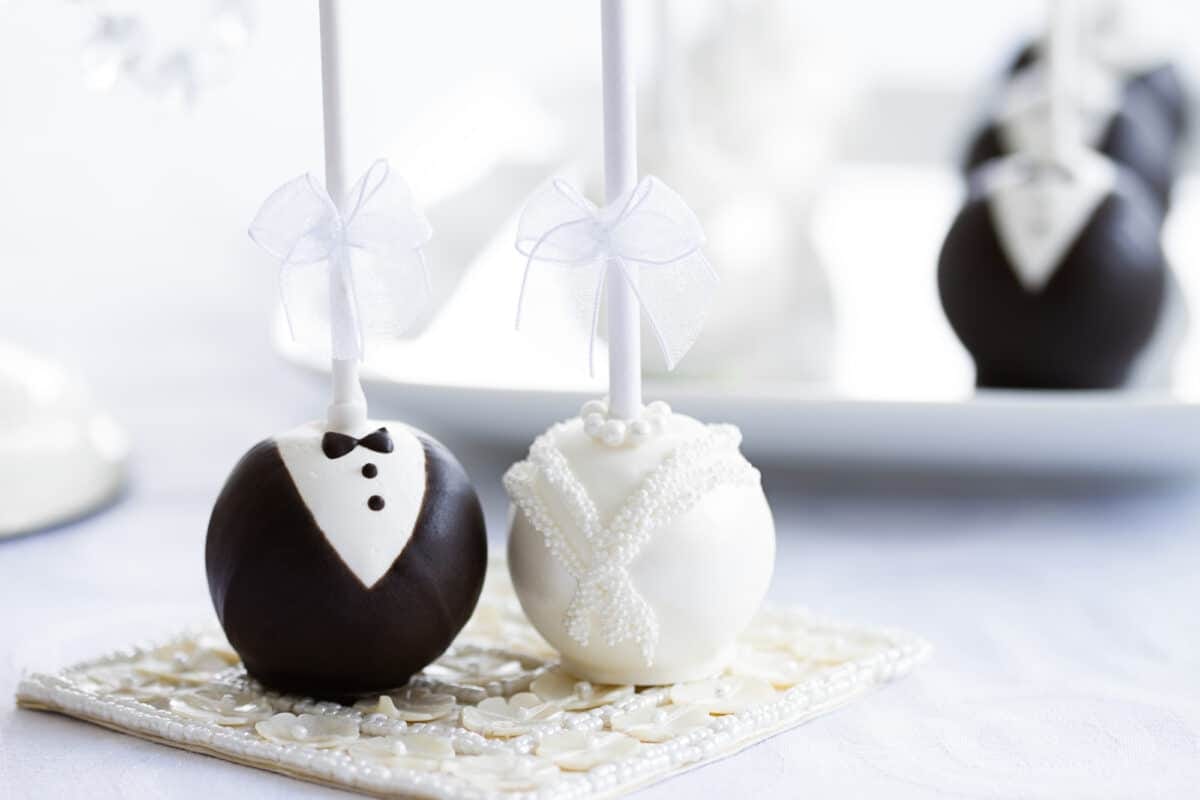 While they can be more budget-friendly and personalized, they also require time and effort.
Not to mention, not everyone has the skills or resources to create 100+ homemade treats. Plus, there's always the risk of them going bad before the big day.
On the other hand, store-bought favors are convenient and consistent in quality. You don't have to worry about making sure each one looks identical or if it will expire soon.
However, they may not be as unique or reflective of your personality as a couple.
If you're leaning towards store-bought options, here are some popular ideas: mini champagne bottles with custom labels, gourmet chocolates in elegant packaging, or even locally sourced honey jars.
These can easily fit into any wedding theme and provide a tasty treat for your guests to enjoy after the festivities.
Practical Wedding Favors
If you're a practical couple, wedding favors that are both useful and meaningful will be the perfect fit.
Practical wedding favors can range from DIY inspiration to affordable options that guests will use in their daily lives.
One popular DIY practical wedding favors idea is making your candles or soaps.
These items are easy to make at home and can be personalized with scents and packaging that match your wedding theme.
Plus, they're something guests can enjoy long after the big day has passed.
Another option for practical wedding favors is edible treats like jars of local honey or homemade jam.
Not only are these gifts tasty, but they also support small businesses and add a personal touch to your reception.
You could even include recipe cards or serving suggestions alongside the jars.
Plenty of affordable practical favor options are available for couples on a budget. Consider gifting reusable shopping bags or eco-friendly utensils for guests to take home.
These items serve a purpose, promote sustainability, and reduce waste.
Eco-Friendly Wedding Favors
One great way to reduce your carbon footprint is by choosing favors made with sustainable materials.
For instance, consider gifting guests reusable straws or bamboo utensils instead of disposable ones.
You could even opt for seed paper favors that can be planted in soil once they've served their purpose.
Another crucial consideration when it comes to eco-friendly wedding favors is the packaging.
Avoid excess waste by selecting options like cloth bags or recycled paper boxes that can be reused well beyond your special day. 
Plus, not only will these choices help protect the planet; they'll also add an extra touch of elegance and thoughtfulness to your overall presentation.
As you plan your dream wedding, don't forget about the impact your choices have on the environment. 
Seasonal Wedding Favors
Seasonal Wedding Favors are a great way to incorporate the time of year into your special day.
By choosing favors that reflect the season, you can create a cohesive and festive atmosphere for guests.
Here are some Festive Favor Ideas to consider based on the weather during your wedding season:
For Spring Weddings: As flowers bloom and nature comes back to life, give guests something they will appreciate long after the big day. Consider giving seed packets or small potted plants as parting gifts. These Weather Based Favors fit in perfectly with the season and remind you of your love growing stronger each day.
For Summer Weddings: Keep guests cool with refreshing treats such as personalized water bottles or fans when temperatures rise. Another idea is providing sunglasses or flip-flops as practical and stylish souvenirs of your celebration.
For Fall Weddings: This romantic season calls for warm accents like cozy blankets or candles featuring autumn scents like pumpkin spice or apple cider. You could even provide mini jars of local honey as sweet reminders of fall harvests.
For Winter Weddings: Embrace the magic of snowflakes and twinkling lights by gifting hot cocoa mix kits or DIY s'mores kits complete with marshmallows, chocolate, and graham crackers. Other ideas include monogrammed mittens or socks to help guests stay warm throughout the night.
By incorporating seasonal elements into your party favors, you'll add an extra layer of meaning to your special day while creating lasting memories for everyone involved – especially those lucky enough to take home one of these unique mementos!
Tips for Choosing the Perfect Wedding Favors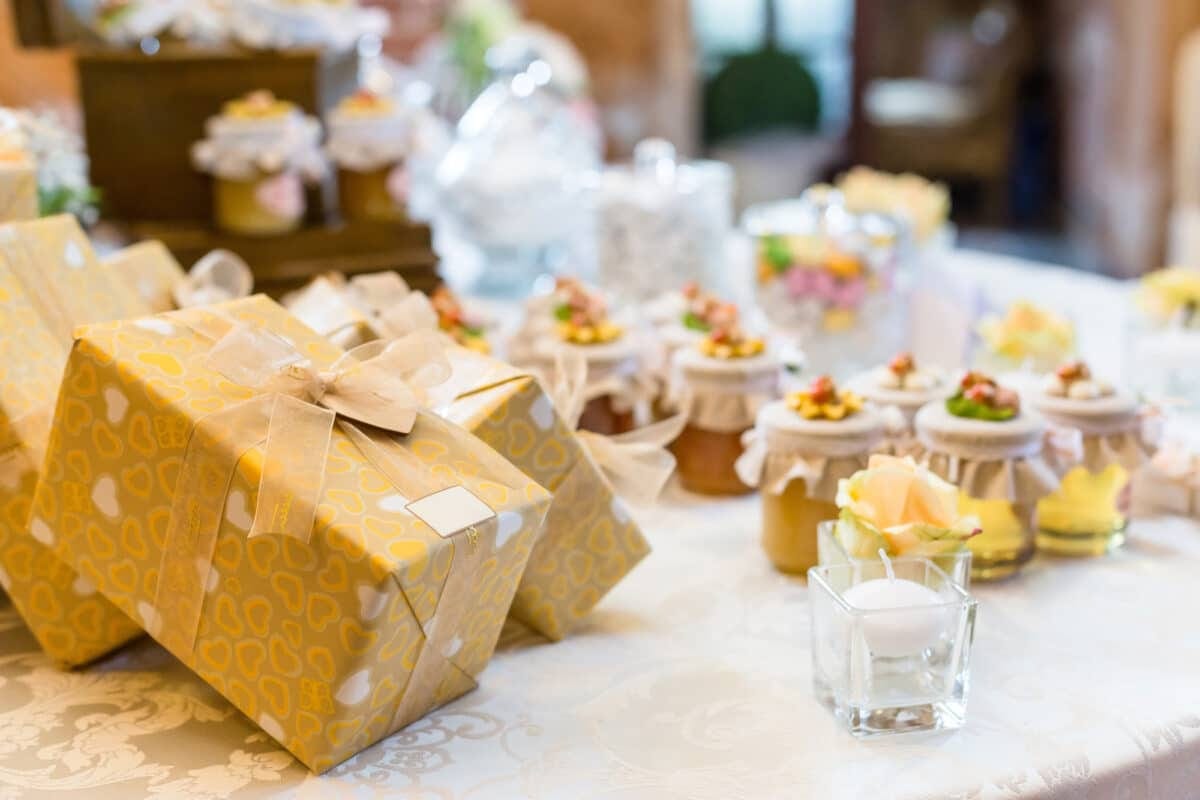 Consider personalized options. Customizing your wedding favors adds a personal touch that guests will appreciate.
You can include names, initials, important dates, or even a heartfelt message.
Popular personalized favor ideas include monogrammed candles or glassware, custom coasters, and engraved keychains.
Take note of popular trends in wedding favors.
While it's important to choose something that reflects you as a couple rather than just following what others are doing, it doesn't hurt to draw inspiration from current trends. 
Some popular choices now include succulents or other plants in mini pots, gourmet food items such as artisanal honey or infused olive oil, and eco-friendly products like reusable straws and bamboo utensils.
Keep in mind practicality when selecting your wedding favors. Will guests use them? Consider their functionality and whether they will become clutter in someone's home.
If possible, opt for something that is both useful and aesthetically pleasing.
Frequently Asked Questions
How Far in Advance Should I Start Thinking About Wedding Favors?
With all the latest wedding favor trends and personalized favor ideas, you'll want to give yourself plenty of time to explore your options. 
This will allow you ample time to browse different themes, colors, and designs matching your wedding aesthetic.
By ordering in advance, you can also avoid any last-minute stress or delays in delivery.
Are Wedding Favors Necessary for Every Guest or Just per Household?
While some couples may feel obligated to provide each and every guest with their favor, others opt for a more practical approach by gifting one per household. 
The decision should come down to your budget and what makes sense for your situation.
If you're looking for budget-friendly options, consider DIY projects or purchasing items in bulk. 
Remember, at the end of the day, it's about showing gratitude and appreciation for those who celebrated your special day with you!
Can I Mix and Match Different Types of Wedding Favors for My Guests?
Mixing favors is a great way to add variety and excitement to your wedding day.
There are plenty of theme ideas you can use to make sure everything matches seamlessly, but don't be afraid to mix it up! 
You could have different favors for each table or even provide guests with two options.
Some couples like incorporating their favorite things, such as books, candies, or homemade treats. 
How Can I Make Sure My Wedding Favors are Memorable and Not Just Thrown Away?
One way to do this is by incorporating DIY ideas into your gifts.
This adds a personal touch and shows that you put effort and thought into each one.
Another option is to choose personalized gifts unique to you and your partner's relationship or interests. 
This makes guests more likely to hold onto them as a keepsake rather than toss them aside after the big day.
Remember that the goal is for your guests to feel appreciated and valued, so take the time to choose favors that reflect that sentiment.
Are There Any Cultural or Religious Traditions I Should Be Aware of When Choosing Wedding Favors?
Cultural considerations may include incorporating traditional symbols or colors into the favored design or choosing culturally significant foods. 
Religious restrictions might limit certain types of gifts, such as alcohol or products made from animal products, depending on the religion. 
Final Thoughts
Choosing the perfect wedding favors for your guests can be fun and creative.
Remember to think about them at least a few months in advance so you have plenty of time to explore different options.
It's also important to consider cultural or religious traditions that may influence your choices.
One interesting statistic is that edible wedding favors are becoming increasingly popular. 43% of couples now choose food-related favors such as chocolates, cookies, or jams.
This satisfies guests' sweet tooth and allows personalized packaging and label customization.
Don't be afraid to mix and match different favors to create a unique and memorable experience for everyone involved!