Oh, the dreaded C word. And I'm not talking about Christmas! Nope, 2020 is a year that most people will never forget. From March of that year onwards, any couple who either got married or were planning to get married has somehow been affected by the Covid-19 coronavirus pandemic.
You can be sure that many unfortunate couples have wondered how to uninvite wedding guests due to Covid restrictions. Thankfully, solid advice is on hand here to guide you through the process.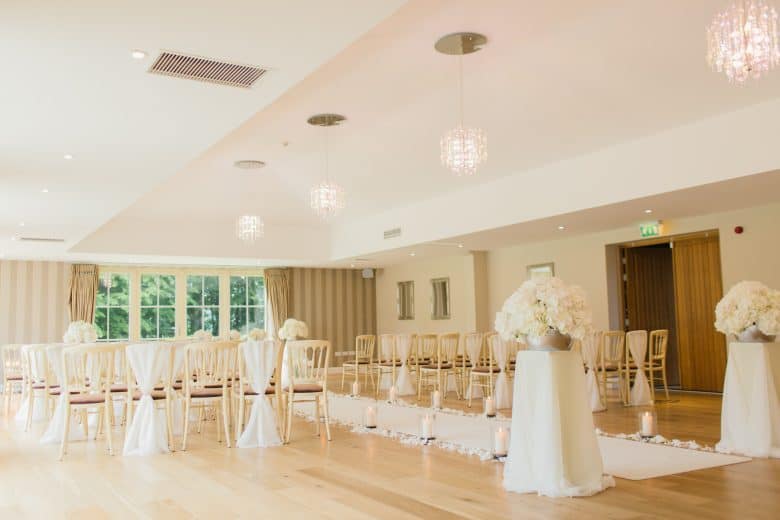 Steps to Uninviting Guests Due to a Pandemic, e.g. COVID-19
How do you kindly uninvite guests to a wedding due to Covid? Firstly, determine the maximum number of guests that can attend your wedding. Next, review your guest list and rank, in order, the people you really need in attendance. Finally, promptly send a kindly-worded email to the guests that you need to disinvite to the wedding due to covid restrictions.
What a predicament. The thoughts of having to uninvite guests that you've already previously invited is unsettling. Unfortunately, thanks to the government or state-imposed covid restrictions, it is probably something that is going to materialize for so many couples who are getting married in 2020/21.
Hopefully, once the pandemic is over, you'll be able to have large parties soon enough. And when travel is allowed again, you have the option of having a pre-wedding reception before your destination ceremony.
Step 1: Determine the Maximum Number of Guests that Can Attend Your Wedding
The maximum number of guests that can attend a wedding during this Covid crisis will vary a lot. It will depend on so many factors. The guest limit will also vary by State, City, and Country.
Certain venues may also impose their own restrictions on numbers if they are unable to have adequate social distancing measures in place for larger guest numbers.
So in other words, there are a lot of variables. The best way to determine the maximum number of guests allowed at your wedding is to check with local government and then verify that number with your venue.
A further complication is that the maximum number of guests permitted to attend weddings can change from week to week. It might be much closer to the event before you have greater certainty over numbers.
Step 2: Review Your Guest List and Start Ranking
Stuff happens in life that could cause a change in the dynamic between a couple and a guest or group of guests.
There are so many other reasons why someone might need to be uninvited from a wedding but this post will assume you're reading this because you're wondering how to uninvite wedding guests if your plans changed due to coronavirus.
Going through the guest list and removing people from it is so much harder than adding names in the first place. A lot of couples are preparing an A Guest List and a B Guest List to cover different scenarios for permitted guest numbers. Doing this in advance will save stress at a later stage.
You don't need to worry about having wedding favors either. People don't expect them during a pandemic.
Removing the "plus ones" from the list might be a good approach. It's likely to remove a lot of names. Perhaps start that process with work colleagues that are currently on the list.
There is no easy way to proceed with ranking guests other than manually going through the list one by one and asking the question, do they really need to be in attendance? I won't lie, that's a really tough thing to do.
Step 3: Send a Nicely-Worded Message to Guests that are being Uninvited
Reality check. I can't think of many reasons where it's easy to consider sending a "you're uninvited" message out. Is there ever a nice way to say "Hey, you're uninvited to our wedding?"
Below, we've put together a few suggested email templates for postponing weddings or uninviting guests (in a kind way) due to Covid-19.
I feel it's important that your message is honest, sincere, and heartfelt. It may be emotionally difficult to write, so allow yourself space and time to draft it up. Sleep on it overnight and re-read it the next day before clicking send.
For sure, the feelings of some recipients may be hurt, but you're really not being left with much of a choice once you are working within the limitations.
Email Template #1 to Uninvite Wedding Guests Due to the Covid Pandemic
Dear all our family and friends,

We hope this email finds you well and in good health.

It is with very heavy hearts we have had to cancel our wedding celebrations on the ______________ 2020. This has been a really difficult decision to make but unfortunately, we feel it is necessary. Between the current circumstances, travel restrictions, and a very high degree of uncertainty, we cannot have the day we had originally planned and anticipated.

We have instead decided to proceed with a very small micro-ceremony at the same venue.

We have spoked to the venue and they have agreed to refund any rooms booked. They can be contacted on _______________ or via email at ______________.

Please do get in touch with us if you have any specific questions or if there is anything we can help you with. While we are really disappointed, these challenging times have taught us to be grateful for all we have in our lives, and especially for all of you.

We hope we are soon in a position to celebrate with each and every one of you when we can do so safely and without worry. We cannot wait for that day and we hope it arrives in the near future.

We are so sorry for any inconvenience or disappointment this has caused. Again, our thoughts are with anyone affected by these difficult times.

Please look after yourselves and each other.

With love and every best wish for the future,

Couple Name
Email Wording Template #2 to Guests to cull from the Invite list due to Covid Restrictions
Dear friends,

We hope you are keeping safe in these difficult times. The past few weeks and months have been very challenging for everyone. With everything going on, we needed to make some very difficult decisions involving our wedding plans.

The restrictions brought about by the Coronavirus pandemic have left us with choice but to drastically reduce the numbers of our guest list.

This really breaks our hearts to do, but unfortunately, we have to cancel your invitation to our wedding.

While this is a really tough measure, we sincerely hope that you are understanding at this time. We would love to have everyone attend, but sadly, it's just not possible at this time.

Once this pandemic passes, we hope to have a larger reception to celebrate in style. We don't know yet when this time may come, but we'll definitely let you know when we figure that out.

One thing we have gained from this entire experience is that we are now even more appreciative of the love and support of all our friends and family.

On __________, we will be having a tiny wedding ceremony with just ourselves and very immediate family. Please think of us on that day and we greatly appreciate your kind thoughts and good wishes.

Please keep safe and look after your loved ones.

Couple Name
Feel free to copy and paste these kindly-worded 'how to uninvite wedding guests due to covid' templates. If you are posting them on your website, please include a link back to this post.
As long as you're not selling them for monetary gain, they are completely yours to use.