As you begin your journey down the aisle of love and commitment, have you considered taking a romantic detour into the timeless elegance of vintage wedding dresses?
Picture yourself draped in a gown that tells a story, a piece of history lovingly woven into every delicate stitch.
Be prepared for the bridal salon with our in-depth Ultimate Guide to Unveiling Your Dream Wedding Dress.
Let's explore the enchanting realm of vintage wedding dresses as we unravel everything you need to know to create the dreamiest, most memorable day of your life.
So, grab a cup of tea, settle in, and embark on a voyage through the exquisite world of yesteryear bridal fashion.
Jazz Age Dresses: The Roaring Twenties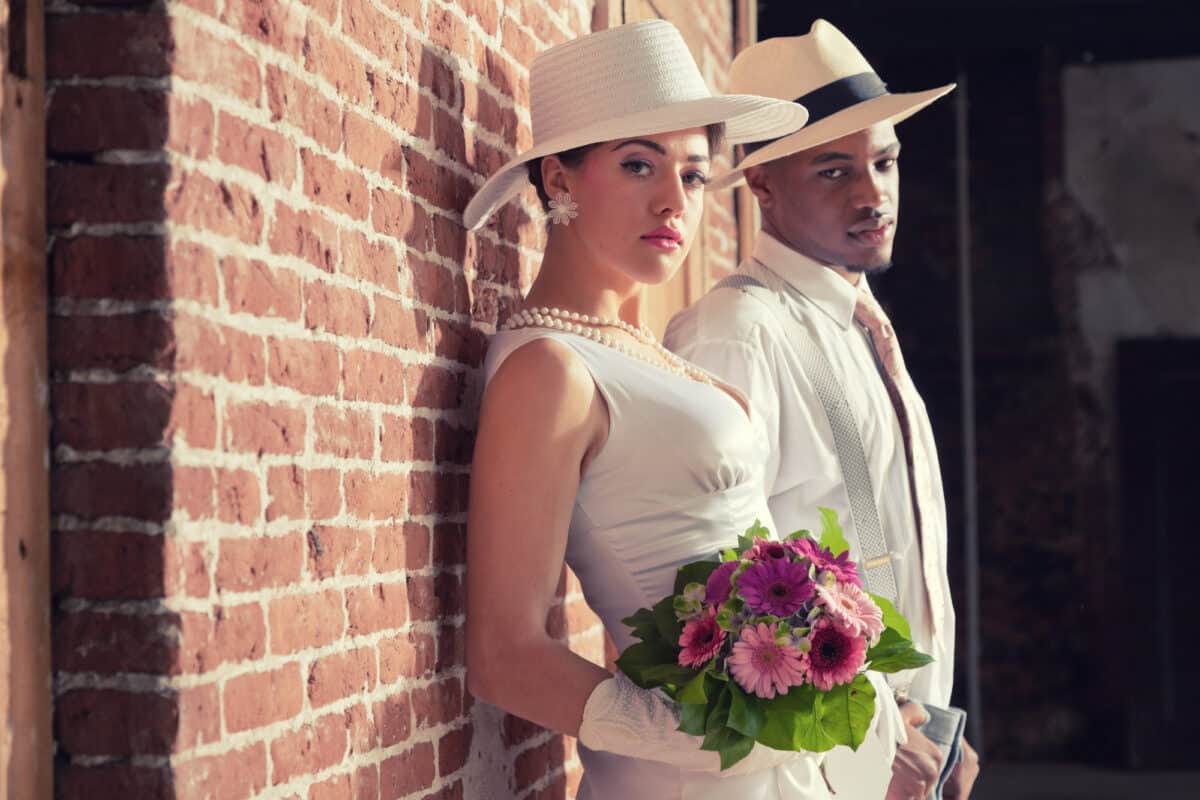 As we move forward from the simplicity of Edwardian Era dresses, we find ourselves in an era that embraced extravagance and glamour: the Jazz Age.
Flapper fashion became popular during this time, with shorter hemlines, dropped waistlines, and beaded embellishments. It was all about creating a carefree and rebellious look.
Art Deco inspiration heavily influenced the design of wedding dresses during the Roaring Twenties. Geometric shapes, bold colors, and intricate embroidery were all typical features of Art Deco style.
Wedding dresses also featured luxurious materials like silk and satin to add a touch of elegance to their overall aesthetic.
Headpieces were a must-have item when it came to accessorizing your flapper-inspired wedding dress.
Cloche hats adorned with feathers or jewels were incredibly fashionable at the time. For those who preferred something more delicate, tiaras made of pearls or rhinestones were also very popular.
The Hollywood Golden Age: Glamorous Styles
Old Hollywood glamour is synonymous with sophistication and luxury, especially when it comes to vintage wedding dresses.
The iconic styles of actresses such as Audrey Hepburn, Marilyn Monroe, and Grace Kelly continue to inspire brides today.
These women were known for their impeccable fashion sense and timeless beauty, making them the perfect muses for any bride looking to add a touch of classic elegance to her big day.
The ball gown was one of the most popular vintage dress styles from this era. Its full skirt and cinched waistline created an hourglass silhouette that emphasized femininity in a way that few other shapes could match.
Tea-length dresses, shorter than knee-length skirts and falling just above the ankle, were another popular design.
These dresses were sometimes embellished with elaborate lace trimming or delicate embroidered work.
When it came to fabrics, silk was king during the golden age of Hollywood. It draped beautifully over curves and gave off a subtle sheen, adding even more glamour to already stunning gowns.
Lace was another popular choice for adding texture and interest, while tulle provided volume without weighing down the wearer.
Those interested in recreating the splendor of Old Hollywood on their big day may want to think about drawing ideas from some of the most well-known leading women in the annals of cinematic history.
From Audrey's chic little black dress in "Breakfast at Tiffany's" to Grace Kelly's regal long-sleeved gown worn during her marriage to Prince Rainier III of Monaco – there is no shortage of options for creating a truly unforgettable bridal look.
Mid-Century Dresses: Chic and Sophisticated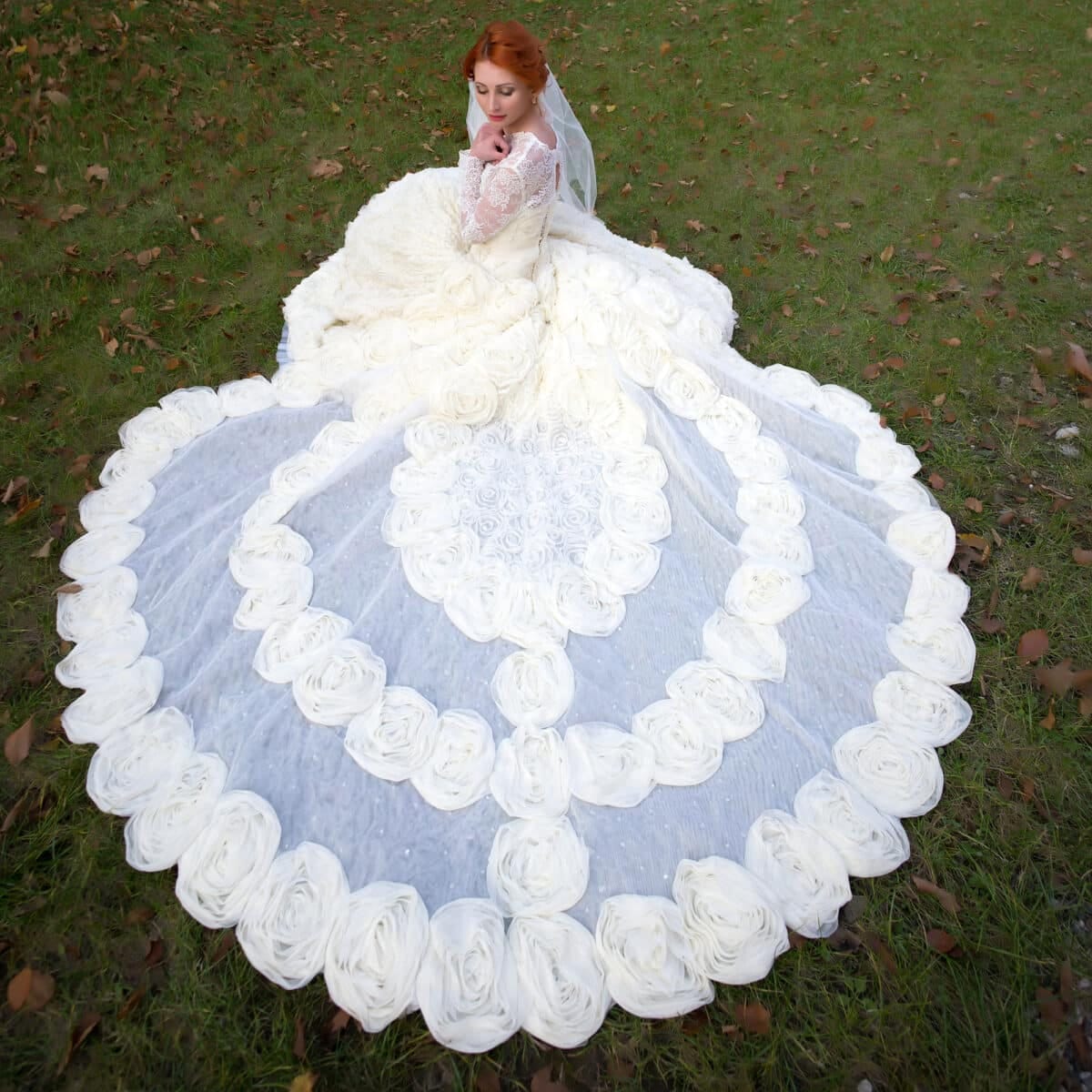 As we journey through the world of vintage wedding dresses, let's look at mid-century dresses. These dresses epitomize timeless elegance and charm that can make any bride feel like a Hollywood starlet from the 1950s.
Mid-century dresses come in various styles, but they all have one thing in common: sophistication.
From A-line skirts to ball gowns, each dress is designed with intricate details such as lace appliques or beaded bodices.
The fabric choices range from silk taffeta to delicate chiffon, ensuring that every bride finds her perfect match.
One popular mid-century style is the tea-length dress. This dress falls just below the knee, making it perfect for brides who want to show off their fabulous shoes!
Another style that was popular during this era was the mermaid silhouette which hugged the body before flaring out at the bottom creating an hourglass shape.
With its captivating beauty and undeniable allure, there's no doubt that mid-century wedding dresses hold a special place in bridal fashion history.
Where to Find Vintage Wedding Dresses
Vintage wedding dresses are timeless and elegant, exuding a charm that modern gowns can't match.
If you're looking for the perfect vintage dress to wear on your big day, there are several places where you can find them.
One great option is to seek out vintage dressmakers who specialize in creating one-of-a-kind bridal gowns.
These skilled artisans have an eye for detail and will work with you to design a gown that complements your figure and captures your personal style.
Another popular way to shop for vintage wedding dresses is online. However, before making any purchases, it's important to do some research to ensure you're buying from a reputable seller.
Look for reviews of the seller or website, check their return policy, and make sure they provide accurate dress measurements.
Tips for online shopping include paying attention to fabric quality, checking the condition of the dress carefully (including any embellishments), and asking lots of questions if you're unsure about anything.
It's also worth considering having the dress altered by a professional seamstress once it arrives so that it fits perfectly.
Frequently Asked Questions
How Can I Determine the Authenticity of a Vintage Wedding Dress?
The feel and texture of the fabric alone can transport you back in time – imagine running your fingers over delicate lace or silk satin as if it were fresh off the loom.
But beyond touch, examining details such as buttons, zippers, and stitching can also provide clues to a garment's age.
Are Vintage Wedding Dresses Typically More Expensive Than Modern Ones?
It's important to remember that vintage wedding dresses have a unique appeal that modern designs cannot replicate.
Do thorough research before purchasing to ensure you get the best value for your money.
What Are Some Popular Vintage Wedding Dress Styles That Are Still in Fashion Today?
Accessorize with delicate jewelry and a veil or headpiece to complete the vintage look.
It's important to remember that each gown has its own unique style and history, so finding the perfect one takes time and patience.
Explore different eras and designers to find a dress that speaks to your individuality and personal style.
Can a Vintage Dress Be Altered to Fit a Modern Bride's Body Shape?
Yes, a vintage dress can certainly be altered to fit a modern bride's body shape. However, it is important to work with an experienced tailor or seamstress with expertise in vintage dress alterations.
Vintage dresses often have unique features, such as delicate lace and intricate beadwork, that require special attention during alteration. 
The purpose of this endeavor should be to maintain the authenticity of the original design while also achieving a comfortable and attractive silhouette for today's brides.
What Should I Consider When Choosing Accessories to Pair With a Vintage Wedding Dress?
When choosing accessories to pair with your vintage gown, consider the era and style of the dress as well as your own personal taste.
For instance, if you have a 1920s-style flapper dress, consider pairing it with a feathered headband or long strands of pearls for that iconic art deco look.
Final Thoughts
Due to the scarcity of vintage dresses and the historical importance of the garments, the prices of vintage dresses may be much higher than those of current dresses.
Popular styles such as A-line, ballgown, and tea-length dresses remain in fashion today. It's possible to alter a vintage dress to fit a modern bride's body shape by seeking an experienced tailor or seamstress.
When choosing accessories, consider the era of the dress and select pieces that complement its style.
Explore the beauty and history behind these unique garments. With proper care and attention, a vintage wedding dress can be cherished for years to come as a treasured heirloom.