If you're planning on going the traditional route by having a wedding cake, you'll need to know how much to budget for it. With so many different types to choose from, the wedding cake cost will vary significantly. We've done a bit of research to help you figure out wedding cake prices and how to find the right cake that will match both your budget and your taste.
The average wedding cake cost in the US is around $350. This will typically range from $125 at the lower end up to beyond $1,000 at the higher end. The factors that determine wedding cake prices are cake size, design complexity, and the experience of the cake vendor.
Read on to learn more about the nuances of wedding cake cost how you can expect it to impact your wedding budget.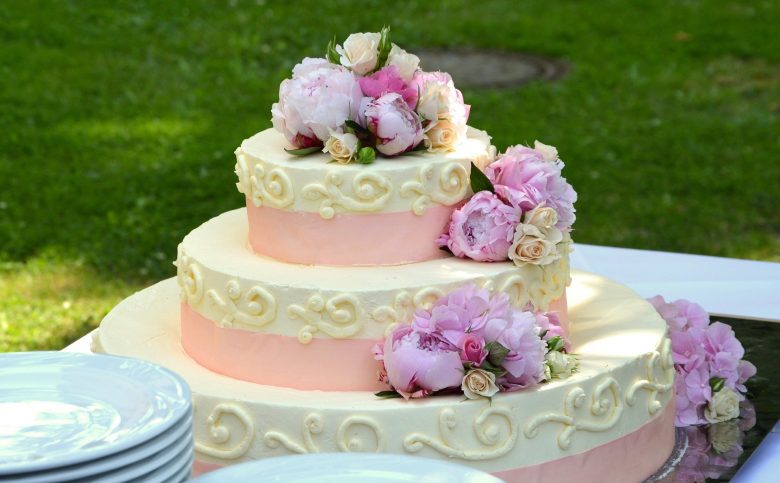 When is the best time to order your wedding cake?
It often comes as a surprise to a bride and groom that most cake bakers recommend that you should order your wedding cake at least six months before your wedding day.
The reason for this is because local bakeries who are popular often book up with orders that far out. If you know you don't want a particularly large one, be sure to ask the cake baker, "how much does a small wedding cake cost?"
If you're looking for a less complex cake design, your local bakery may be able to take your order much closer to your wedding reception date.
With most weddings happening in Summer, the best time for a bride to order the wedding cake is in January or February. This factors in the six months waiting time.
When ordering your wedding cake, be sure to be very specific about what you want. A lot of couples collect their cake the day before their wedding and it might be too late to change anything at that stage.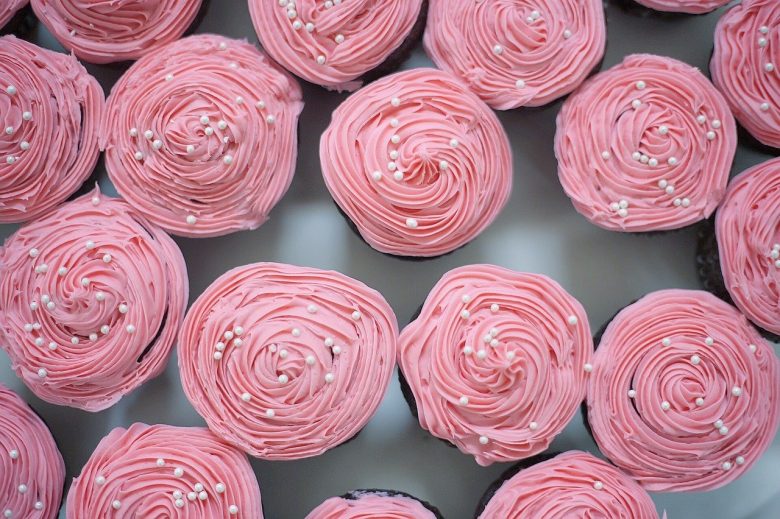 Low Price Wedding Cake Cost Saving Tips
I remember during my wedding planning days when my mother came cake shopping with me. She couldn't believe the price on wedding cakes. She certainly got sticker shock! I told her that you get what you pay for.
Here are a few suggestions to help you save money if you're looking for a low price wedding cake:
Make your own smaller wedding cake naked fondant with minimum frosting. This will result in a much cheaper price.
Order early from the cake designer, you might get a good deal.
Go for a simple design, flavors, and a smaller cake size. A minimal design with sugar flowers by a cake decorator is likely to have a lower cost than a complex tiered cake with buttercream frosting.
Use an inexpensive wedding cake topper and decorate with artificial flowers that you can buy cheaply online.
Consider getting cupcakes instead of a cake. They can be served as a dessert too.
It's super important that you have a cake tasting. You need to make sure that you like it! Brides.com has some good cake cost-saving tips here.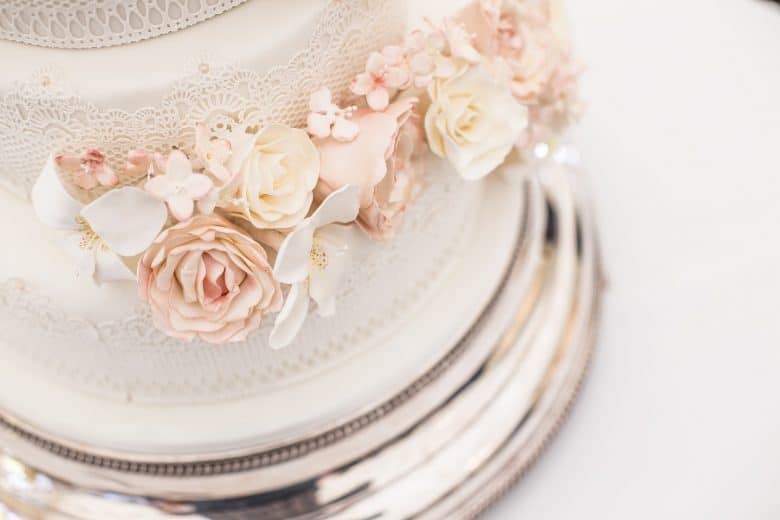 How Much Does It Cost To Make a Wedding Cake?
On average, you can make a decent-sized wedding cake for approximately $100. This is for a simple fondant.
It's not all about the bride you know! Will you be ordering a groom's cake from the wedding cake baker? We love this idea! Also, how about a separate custom cake for your rehearsal dinner at the wedding venue?
Remember to keep an eye on the cake pricing though. It's amazing how a simple thing like a dream wedding cake can eat into the overall wedding cost. (Sorry, pun not originally intended!)
Why are wedding cakes so expensive?
You might be thinking that a wedding cake business sounds like a nice business to be in. It is, but the grass is always greener on the other side. These vendors often operate on small margins because their costs are very high.
Not only are you paying for ingredients, but you're also paying for their time commitment and years of experience that the cake maker has.
Weddings can be expensive. For example, just look at the cost of renting dishes for a wedding. That article lists some ways you can save costs.
Final Thoughts
We hope you find our guide to wedding cake prices and tips for saving costs useful! If you're having a wedding planner, be sure to chat with them too. They'll also have lots of good advice.
Next, take a look at how much it costs to get a suit tailored for a groom.