Imagine a visually stunning and delightfully delicious work of art taking center stage at your wedding reception.
The wedding cake is a time-honored tradition that captivates guests and is an exquisite symbol of your love and commitment.
Make your wedding day dreams come true by learning how to find the best wedding professionals to suit your needs and style.
From delectable flavors to showstopping designs, we'll provide the essential knowledge and inspiration needed to ensure your wedding cake is a scrumptious reflection of your unique love story.
Understanding Your Needs and Preferences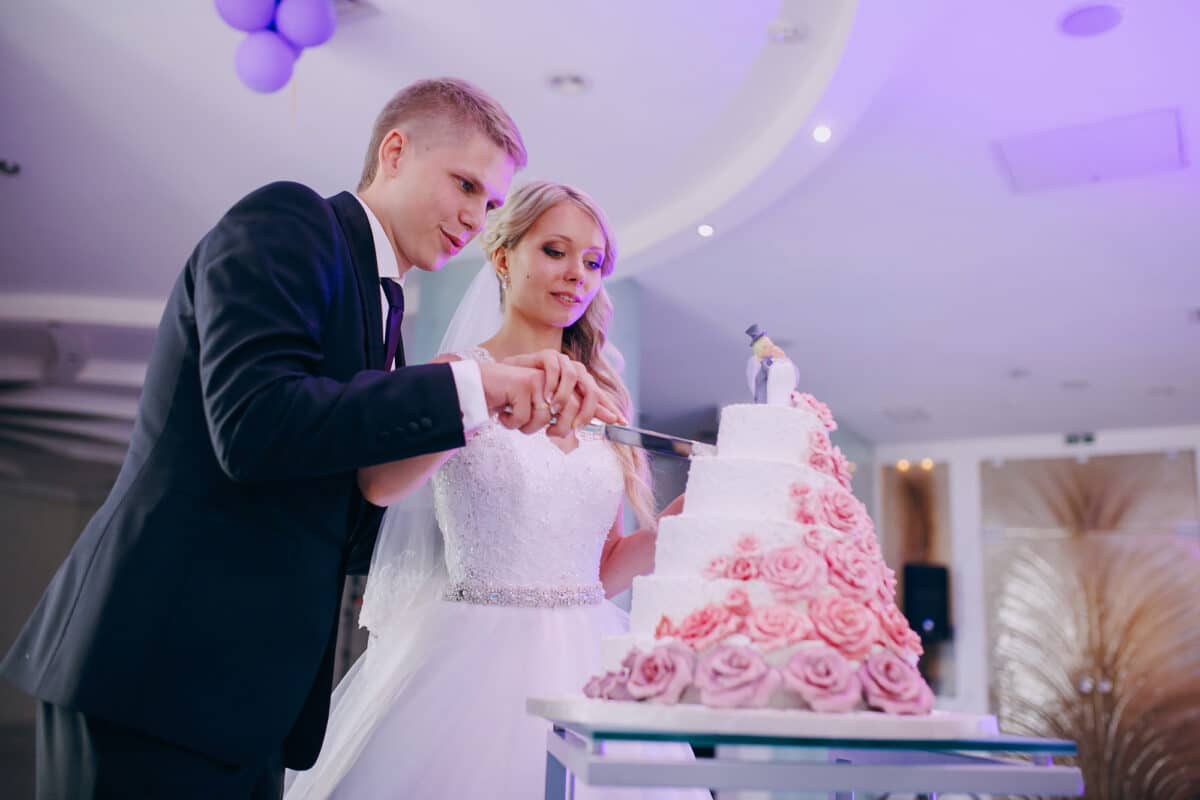 With wedding cake, there is no room for compromise. It is the centerpiece of your reception and must reflect your style and taste preferences.
This dessert should represent you as a couple – unique, memorable, and unforgettable.
Customizable designs are essential when choosing your wedding cake. The design should align with your special day's theme and express your identity.
Your chosen baker will work closely with you to create a custom design that meets your needs and preferences.
The options are endless, from traditional tiered cakes to modern and sleek designs.
Choosing the Right Flavors and Fillings
First and foremost are flavor pairings. You want to choose a combination that complements each other well and doesn't overpower another.
Classic combinations like vanilla with raspberry or chocolate with hazelnut are always popular choices.
However, don't be afraid to get creative with unique flavor pairings such as lemon lavender or salted caramel apple.
Just make sure you do a taste test before committing to something too out of the box! Both you and your guests must enjoy the flavors.
Exploring Different Cake Styles
Have you ever wondered what types of wedding cakes are available? There is a couple of popular styles that will make your big day even sweeter.
Naked Cakes: These cakes are minimalistic and rustic, featuring cake layers without frosting or fondant covering the sides.
Instead, they're often adorned with fresh flowers, berries or other decorations that complement the natural look.
Not only do these cakes have a unique appearance, but they also allow for the flavor of each layer to shine through.
Geode Cakes: This style features an outer layer of icing designed to mimic crystal formations found in geodes.
The inside reveals colorful edible crystals made from sugar or rock candy that create an awe-inspiring effect when cut into slices.
It's a perfect option for couples who want something truly one-of-a-kind!
If neither Naked nor Geode cakes tickle your fancy, there are still plenty of other options out there, such as buttercream cakes or classic tiered designs with intricate details like lacework and floral piping.
Determining the Size and Shape of Your Cake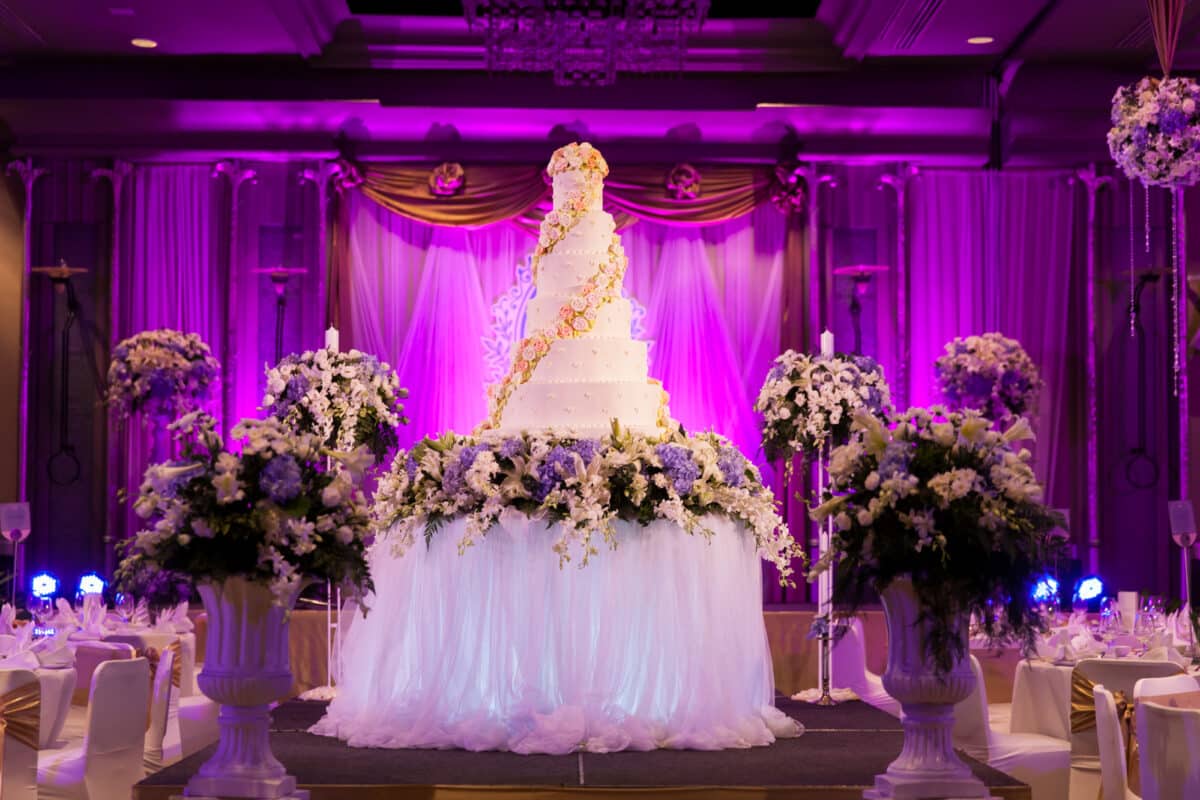 Now that we've explored the different styles of wedding cakes, it's time to focus on determining the size and shape of your cake.
This step is crucial in ensuring you have enough cake for all your guests without overordering or under-ordering. Cake portioning plays a significant role when deciding the size of the cake.
The typical serving size for a piece of wedding cake is 1 inch by 2 inches, but some couples opt for larger portions, which means ordering more cake.
It's also important to consider how many tiers you want your cake to have as this will affect its overall height and weight.
Thinking about cutting techniques is crucial after deciding on the size and quantity of tiers. You can choose between two common methods: traditional cut or modern cut.
Traditional cuts involve slicing straight down through each tier while standing at the table with the base layer first followed by subsequent layers above it.
Selecting the Perfect Frosting
You want a frosting that complements the cake and enhances its beauty. Buttercream and fondant are two popular choices for frosting, each with its own unique characteristics.
Buttercream is a classic choice for wedding cakes. Its creamy texture adds a luxurious touch to any cake and can be easily flavored with different extracts or fruits.
Plus, buttercream can be used to create intricate designs on the cake, making it a versatile option for any wedding style.
When choosing between buttercream and fondant, consider both taste and aesthetics. If you prioritize flavor over appearance, go with buttercream.
But if you're after a picture-perfect cake that will make jaws drop, choose fondant. Flavor pairings are also an important factor when selecting your frosting.
Some popular options include vanilla bean buttercream paired with fresh berries or chocolate ganache paired with espresso-infused sponge cake.
Don't be afraid to get creative and experiment with different combinations until you find one that suits your tastes.
Adding Decorative Elements and Accents
Fondant
If you want to add decorative elements and accents to your wedding cake, fondant is a popular choice.
Fondant is a smooth sugar paste that can be rolled out into sheets and used as a canvas for intricate designs or sculpted into 3D shapes.
However, if you're not a fan of fondant's taste or texture, alternatives are available.
One alternative to fondant is buttercream. Buttercream is made from butter, powdered sugar, and milk or cream, giving it a creamy texture with a slightly sweet flavor.
While it may not have the same level of versatility as fondant when creating elaborate designs, it's still possible to create beautiful cakes using this classic frosting.
Fondant offers a sleek and polished appearance while also being able to hold up well in various temperatures.
On the other hand, buttercream provides more of an organic and soft look but can melt easily in warmer environments.
Piping
One popular design that utilizes piping is the classic rosette pattern. This involves swirling small circles of frosting in a spiral shape until you reach the center of the cake.
It's a simple yet elegant way to add texture and dimension to your dessert.
Another option is creating personalized messages or monograms using letter-shaped decorating tips.
This allows you to add a personal touch to your cake without having to rely on pre-made cake toppers or other decorations.
Flowers
Edible flowers have become increasingly popular in recent years, offering a unique and visually stunning way to add natural beauty to your cake.
From delicate rose petals to vibrant pansies, using edible flowers can elevate your dessert's look while providing a subtle floral flavor.
Of course, not all couples may want to use real flowers on their cake or may have guests with allergies. In this case, there are various flower alternatives available.
One option is creating realistic-looking blooms out of sugar paste or gum paste. This allows you to achieve the same visual effect without any concerns about freshness or allergies.
Finding the Right Cake Baker or Designer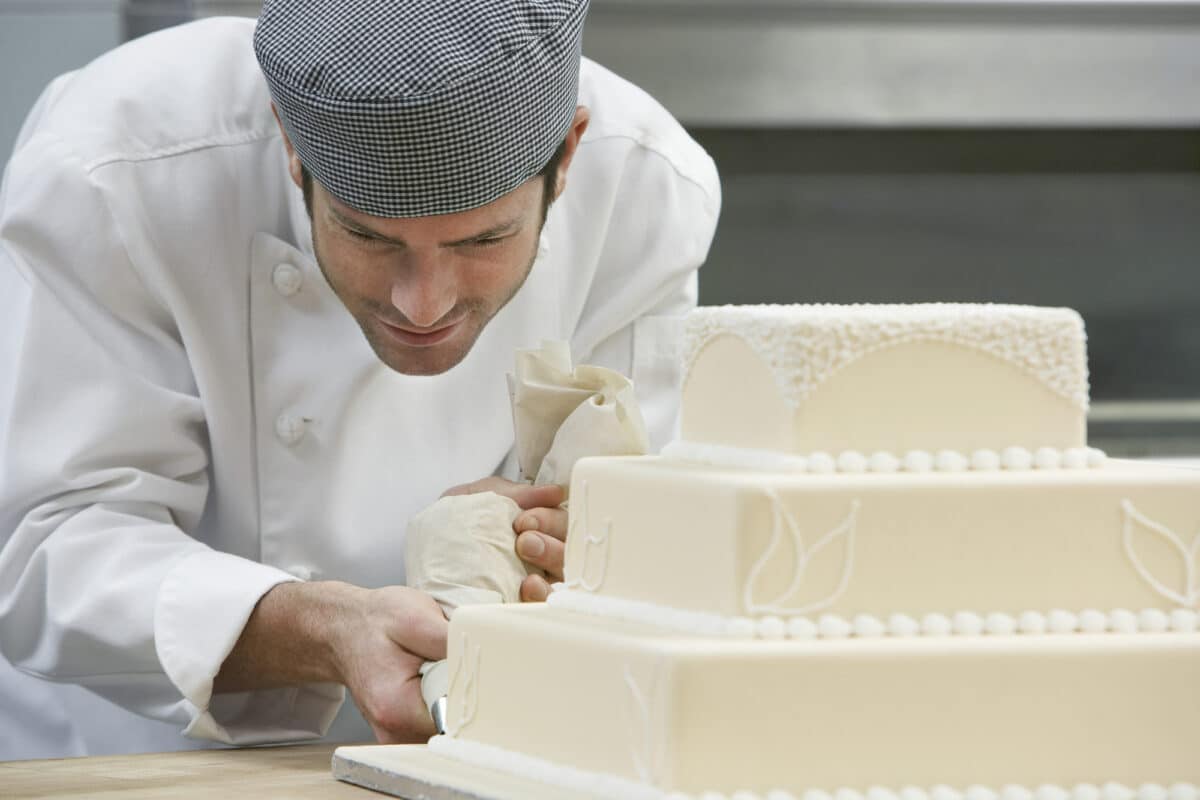 Make sure your budget is realistic and discussed early in the process. Consider the style of cake you're after, and ask about tastings and reviews.
Find out about the baker's availability and portfolio. Check their communication style and location.
Just as important, ask about their ingredients, process, timelines, payment, contracts, and consultations.
Research
When researching potential bakers or designers, it's important to consider wedding cake traditions and cultural influences that may play a role in your decision-making process.
For example, if you have a particular cultural background, you may want to find someone specializing in creating cakes that reflect those traditions.
Budget
Now that you've researched potential wedding cake bakers or designers, it's time to start thinking about budget.
It's important to clearly understand how much you're willing and able to spend before making any final decisions.
Frequently Asked Questions
How Far in Advance Should I Order My Wedding Cake?
The ordering timeline for wedding cakes can vary depending on the baker's availability and schedule.
However, it is best to place an order six months in advance of your big day to ensure enough time for communication with your chosen baker. 
Remember that every detail counts when it comes to creating a stunning centerpiece for your special day!
Can I Have Multiple Flavors in One Cake?
Cakes can contain multiple flavors, but presentation options can also result in an even more impressive display, such as layering in a different order or adding unusual design elements.
Don't be afraid to think outside of the box and get creative with your wedding cake!
How Long Can I Keep My Wedding Cake For?
Yes, you read that right – 365 days. But don't fret. It's not as complicated as it sounds. All you need is an airtight container and patience while waiting for it to thaw. 
Just wrap each layer separately in cling film or plastic wrap before placing them in the container.
And remember, always give your frozen cake enough time to defrost naturally at room temperature before serving. 
How Do I Transport My Wedding Cake to the Reception Venue?
It's also important to consider the temperature during transportation – make sure the air conditioning is on a high and avoid direct sunlight as much as possible. 
With these transportation tips and proper cake carrier options, you can ensure your wedding cake arrives at the reception venue looking as beautiful as it did when you picked it up.
Final Thoughts
Ordering your wedding cake should be an enjoyable and stress-free experience. Remember to plan and order your cake at least six months in advance to ensure availability.
You can also opt for multiple flavors in one cake to satisfy all taste buds.
After the big day, you may be wondering how long you can keep your wedding cake for. A well-preserved cake can last up to a year!
And don't forget about the fun part – scheduling a tasting before placing your order is a must!