So picture this: you have your perfect venue, stunning décor, your nearest and dearest by your side, and an exquisite menu that caters to your specific dietary needs.
But what if finding a wedding caterer who can accommodate those needs feels like searching for a needle in a haystack? 
Fear not, lovebirds! In today's world, the culinary landscape is incredibly diverse and flexible, and there's no reason your wedding menu can't be the same.
I'll guide you through choosing a wedding caterer who can create a delectable feast tailored to your tastes and dietary requirements.
By following these tips, you'll be able to savor every mouthwatering bite without worrying about a thing, so you can focus on celebrating the love of your life.
Understanding Your Guests' Dietary Needs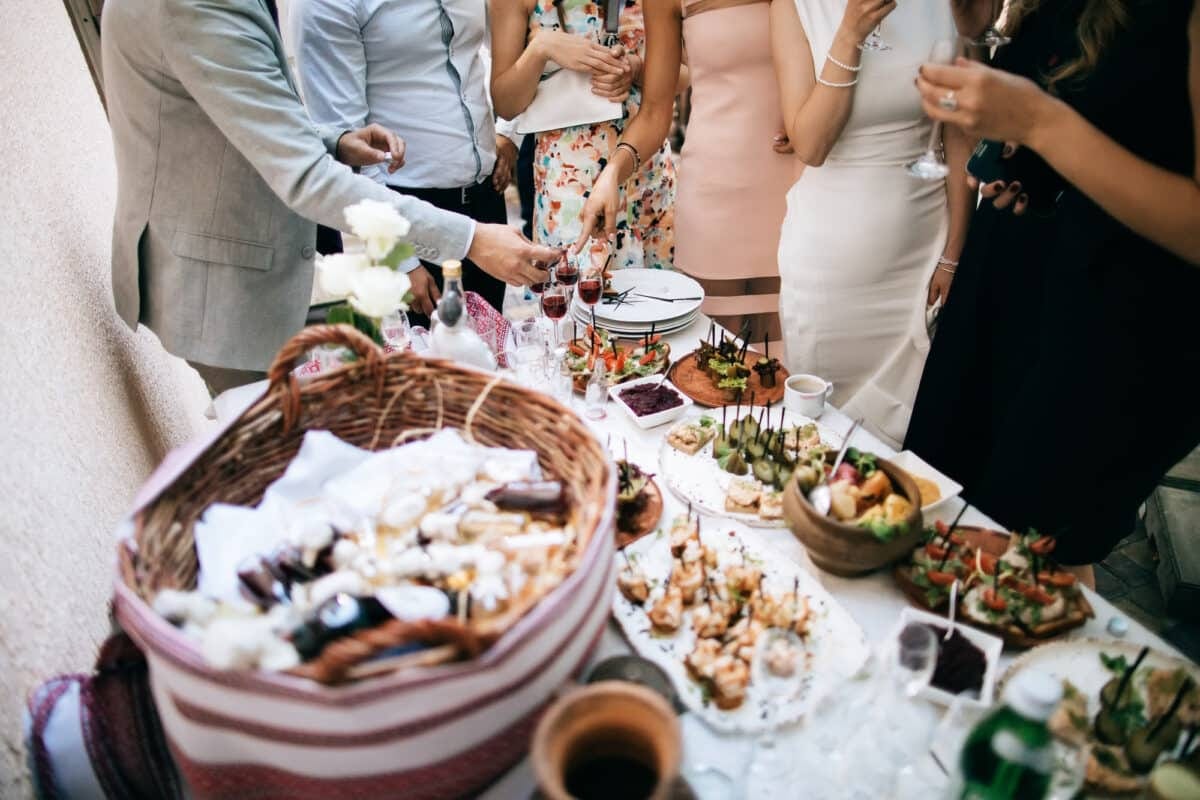 You want your guests to enjoy the food and not feel excluded due to their restrictions or allergies.
Understanding dietary restrictions is key in ensuring that you choose the right caterer who can accommodate those needs.
The first step is to ask your guests about any restrictions they may have. Be sure to include this question on the RSVP card so that you have ample time to plan accordingly.
Common dietary restrictions include gluten-free, vegetarian, vegan, kosher, and halal diets. 
It's also important to ask if anyone has any food allergies, as these can be life-threatening if not taken seriously.
Once you've gathered all the necessary information from your guests, it's time to find a caterer to accommodate their needs.
Research and reach out to potential caterers to see if they are equipped for special requests. 
A good caterer will work with you to create menus that meet everyone's dietary requirements while still being delicious.
Scheduling Tastings and Menu Planning Meetings
You might have heard that scheduling tastings and menu planning meetings with a wedding caterer can be incredibly time-consuming.
Some people even believe it's unnecessary, especially if they already know what they want to serve at the reception. 
Scheduling these appointments is essential as it will allow you to taste various dishes and customize your menu according to your dietary needs.
Most professional catering companies are busy throughout the year, so finding a suitable date for both parties can be challenging.
As such, we recommend getting started early by contacting us several months before your wedding day. Doing so ensures that you'll have plenty of options regarding dates and times.
When you finally get around to tasting our food during the scheduled appointment, don't hesitate to ask questions or offer feedback about any dish on the menu.
Menu customization is one of the most significant benefits of working closely with a reputable wedding caterer.
Discussing Your Budget and Payment Options
Payment negotiations can be tricky, but it is essential to communicate your expectations clearly from the beginning.
Ask about their pricing structure and whether they offer package deals or customized menus. 
Don't hesitate to negotiate if you feel the price is too high for what they are offering. A reputable caterer should be open to discussion and willing to work within your budget.
Before signing any contracts, ensure you understand the catering contract terms. Read through each clause carefully and ask questions if anything seems unclear.
Pay attention to cancellation policies, deposit requirements, and additional fees for extra services. 
Finalizing Your Menu and Dietary Accommodations
Discuss customized menus with your caterer. They should be able to offer a range of options based on your preferences and dietary requirements.
Ask if they will work with you to create a unique menu that reflects your tastes while accommodating allergies or food intolerances.
Consider creative vegan options for guests who do not eat meat or dairy products. Plenty of innovative dishes out there don't compromise taste or presentation.
Your catering specialist can help suggest delicious plant-based items that everyone loves.
Remember that good communication is key throughout this process. Don't hesitate to ask questions or express concerns regarding your menu and dietary accommodations.
With thoughtful planning and attention to detail, you can create a memorable dining experience for all your guests without compromising anyone's health or enjoyment.
Try incorporating ethnic cuisines into the menu
Offer interactive food stations such as DIY taco bars or pasta stations
Consider small plates instead of traditional plated meals for a variety
Incorporate seasonal produce into the menu for fresh flavors
Add personalized touches such as signature cocktails or custom dessert options – Offer vegetarian and gluten-free options to accommodate dietary restrictions and preferences.
Enjoying Your Special Day With Delicious Food and Happy Guests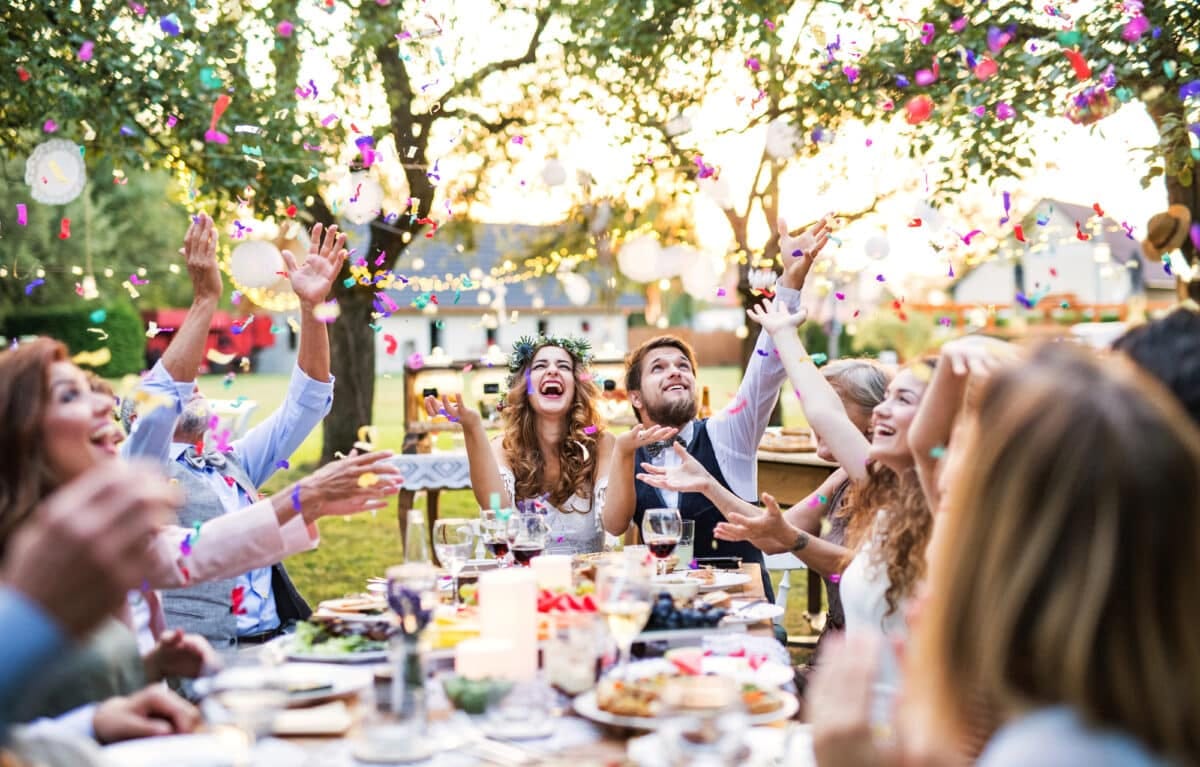 Your guests should be able to enjoy your special day with delicious food that accommodates their needs. This means considering allergies, intolerances, or lifestyle choices, such as veganism.
When choosing a caterer, ask if they have experience creating menus for alternative diets. A skilled chef can create dishes that taste just as good (if not better!) than traditional options.
For example, why not try a plant-based menu? You could serve roasted vegetables with tahini dressing or jackfruit tacos – endless possibilities!
Frequently Asked Questions
How Far in Advance Should I Start Looking for a Wedding Caterer?
Venue restrictions often play a role in selecting a caterer, as some locations may have preferred vendors or limited kitchen facilities.
It's important to start looking for catering options early on to ensure the availability of preferred caterers and allow enough time for tastings and menu customization. 
Depending on the size and complexity of the event, it can be anywhere from six months to over a year in advance.
These factors will help you find the perfect caterer for your special day without any last-minute stress.
Can I Request a Menu Combining Vegan and Non-vegan Options?
You can create a customizable menu that includes vegan-friendly alternatives and non-vegan options for your guests. 
Do Caterers Typically Provide Waitstaff and Bartenders for the Reception?
The answer is yes! Most professional caterers offer staffing services as part of their packages.
This can be incredibly helpful in ensuring your guests are well taken care of throughout the event.
However, there are pros and cons to consider before making this decision. 
Having professional staff will create a more polished and seamless experience for you and your guests.
On the other hand, budget considerations may come into play as staffing costs can add up quickly. 
Is it Appropriate to Ask for a Breakdown of the Costs Involved in the Catering Quote?
Couples need to understand the breakdown of costs involved in catering quotes.
Budget transparency is key, and asking your caterer for a detailed list of expenses is appropriate. 
Don't be afraid to negotiate when you feel like certain items may not be necessary or can be substituted with more cost-effective options. 
How Can I Ensure My Guests With Food Allergies or Intolerances Are Safely Accommodated?
Special menu items are one of the many things you consider carefully when planning a wedding reception, especially those that accommodate guests with food allergies or intolerances.
As a specialist in this field, I understand how important it is to create customized menus that meet your specific dietary requirements while still being delicious and presentable.
Final Thoughts
Start your search for a caterer at least six months in advance to allow enough time for menu planning and tastings.
You should feel comfortable requesting a customized menu that combines vegan and non-vegan options and asking for waitstaff and bartenders to provide seamless service throughout the reception. 
When reviewing quotes from potential caterers, don't hesitate to ask for a detailed breakdown of costs.
Communication is key to ensure everyone leaves happy and satisfied on your big day!
Remember that when choosing a wedding caterer who can accommodate dietary needs, never settle for anything less than perfection!