Ah, the enchanting allure of weddings—where lovebirds unite, vows are exchanged, and delectable feasts are savored by all!
As the big day approaches, it's natural to feel a tinge of apprehension when faced with the daunting task of wedding planning.
But fear not, budget-savvy brides and grooms! Today, I'll dish out the ultimate guide to help you create a mouthwatering wedding menu that won't break the bank.
So, grab your forks and knives, and let's dive into the scrumptious world of wedding catering on a budget!
Determining Your Catering Budget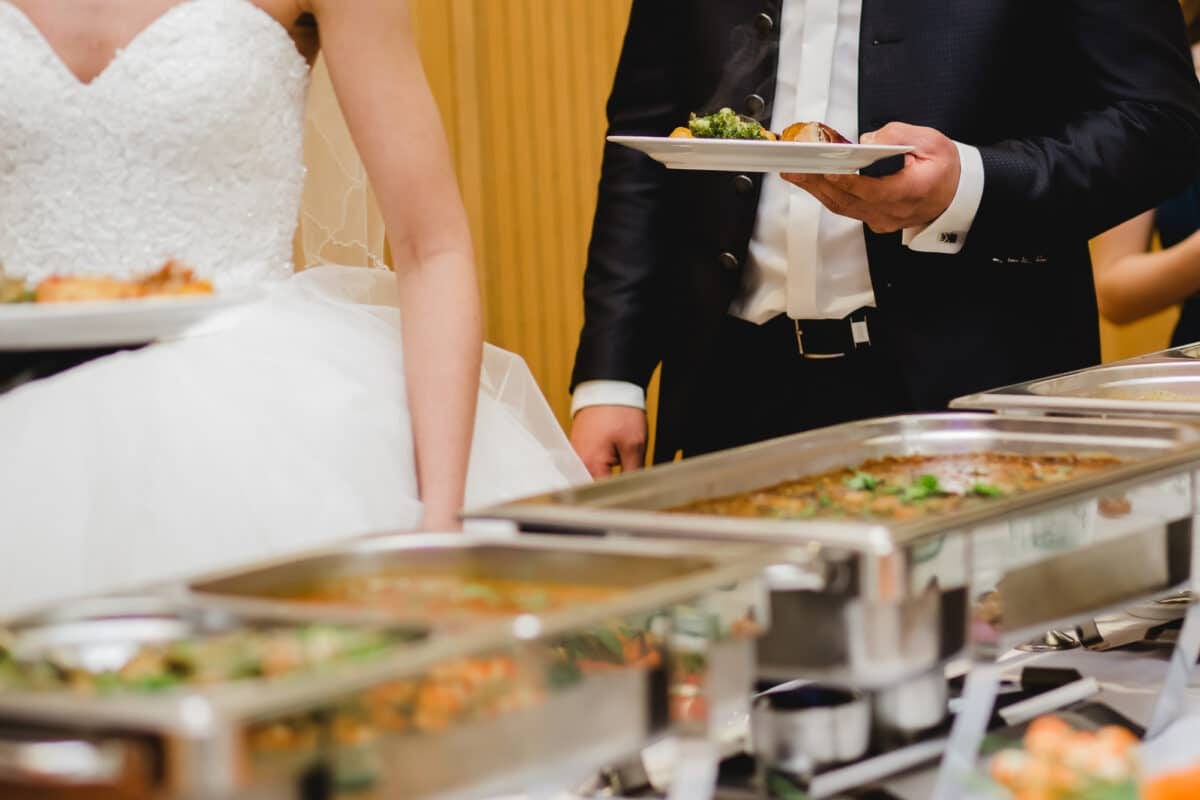 Deciding how much money to spend on catering will depend on various factors, such as the number of guests attending and the type of food service you want.
Consider whether you'd like a formal or informal setting, buffet-style or plated meals, and any dietary restrictions for you or your guests.
These decisions will impact the amount of money needed for catering services.
Once you've determined these details, it's important to be realistic about how much money you're willing and able to spend.
Remember that while your wedding day is undoubtedly special, it's one day out of many that follow. Allocating too much money towards catering could result in unnecessary financial stress later.
Choosing the Right Type of Catering
There are various catering styles to consider, each with its own pros and cons. The most popular options include buffet-style, plated service, family-style, and food stations.
Buffet-style is a great option if you're looking for an affordable yet varied menu. With this catering style, guests can help themselves to various dishes at their leisure.
Plated service is a more formal option where waitstaff serves guests individual meals.
Family style is similar to buffets in that guest serve themselves from large platters placed on tables instead of one long line.
And finally, food stations are perfect for those who want something unique – taco or mashed potato bars!
Once you've chosen your preferred catering style, it's time to customize the menu. Many caterers offer set menus that may not fit your budget or preferences.
Ask about customization options such as swapping out certain ingredients or creating entirely new dishes based on your tastes.
Remember that while customization may seem like an added expense, it can save you money in the long run.
For example, if a certain ingredient is too expensive during peak season, ask about alternatives that won't break the bank.
Hiring a Caterer With Special Offers or Discounts
Don't be afraid to ask potential caterers if they offer any discounts or promotions.
Many may have early bird specials for booking in advance or be willing to work with you to create a customized menu within your budget.
When negotiating prices, it's important to do your research beforehand so you know what other catering companies are charging for similar services.
This will help you make an informed decision and get the best deal possible.
You can also try bundling services together, such as combining catering with bar service, to see if this would result in additional savings.
Another option is hiring a smaller, local catering company instead of a larger chain. Smaller businesses often have lower overhead costs and may be more flexible regarding pricing.
Plus, working directly with the owner or chef can provide a personalized touch and allow for greater menu customization.
Remember that some venues may require using their preferred caterer or charge extra fees for bringing in outside food vendors.
When considering different options, consider these costs in your overall budget.
With a little creativity and flexibility, it's possible to find affordable wedding catering without sacrificing quality or taste.
Finalizing Your Wedding Catering Plan Within Your Budget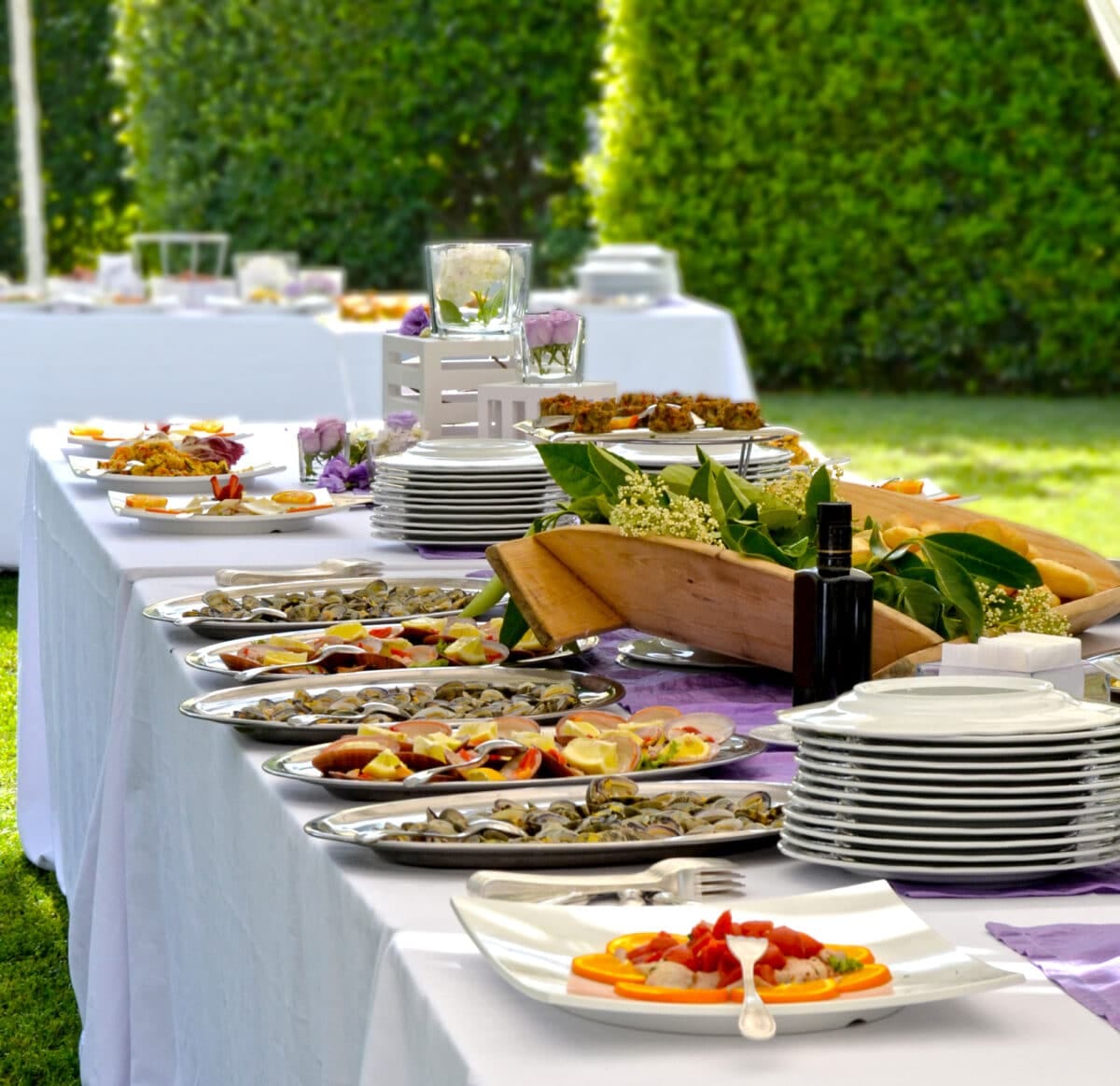 It's time to finalize your wedding catering plan, and you're determined to stay within budget.
Don't worry. It is possible to have a beautiful reception without breaking the bank. You can serve delicious food with creativity and strategic planning while decreasing costs.
One way to save money on catering is by incorporating DIY decor into your reception space. Simple centerpieces made from flowers or candles can add an elegant touch without costing a fortune.
You could also consider using unique serving trays and platters that double as decorations. This approach will help with your expenses and give your event a personal touch.
When deciding on the menu, think beyond traditional dishes and explore non-traditional cuisine ideas.
This choice may seem risky initially, but less popular foods like tacos or Indian street food can be cost-effective yet impressive options.
Consider having a buffet-style dinner rather than plated meals for more variety and flexibility in pricing.
Frequently Asked Questions
How Much Should I Budget for Wedding Catering?
It's easy to get overwhelmed by all the options and prices, but with smart budgeting and negotiating skills, you can still have delicious food without breaking the bank.
The key is to start by researching and understanding the wedding catering cost breakdown. 
This will give you an idea of what to expect and where you might be able to cut costs.
For example, consider having a buffet-style meal instead of plated dinners or opting for more affordable ingredients like chicken or pasta dishes. 
Another tip for negotiating with wedding caterers is to ask about their pricing structure and see if they offer any discounts for larger parties or off-season weddings.
How Do I Find the Best Caterer for My Budget?
Look for catering companies that offer customizable menus or packages that fit your budget.
Read online reviews from past clients to get an idea of their experience with the caterer's food quality, service, and overall value.
Don't hesitate to ask for references as well. 
A great caterer will work with you to create a unique menu that suits both your taste preferences and budget limitations.
Can I Customize My Wedding Menu to Fit Within My Budget?
Customizing options are a great menu planning strategy for any event, especially when working with a tight budget. 
From choosing seasonal ingredients to adjusting portion sizes, there are many ways to tailor your meal plan without sacrificing quality or taste.
Consider offering buffet-style service instead of plated meals or family-style dining to encourage sharing and minimize waste.
How Can I Incorporate Local And Seasonal Ingredients Into My Wedding Menu?
Incorporating vegetarian alternatives into the menu is another budget-friendly option that can please all your guests.
Focusing on fresh and local ingredients will create a unique and delicious meal without breaking the bank.
Are There Any Creative Ways to Save Money on Wedding Catering Without Sacrificing Quality?
Instead of opting for expensive caterers or fancy restaurants, consider DIY catering or even a potluck wedding!
These creative options save you money and allow for a more personalized touch that your guests will appreciate. 
Don't be afraid to think outside the box and get hands-on with your menu planning.
Final Thoughts
Did you know couples typically spend around 40% of their wedding budget on food and drink?
That's why finding ways to save money while providing delicious cuisine for your guests is crucial.
Look for reviews from previous clients, ask friends or family members for recommendations, and don't be afraid to negotiate prices.
Many caterers offer customizable menus to fit your budget, so don't hesitate to ask which options are available.
Incorporating local and seasonal ingredients adds flavor and can help cut costs, as these items are less expensive than imported or out-of-season foods.
Remember, there are creative ways to save money on wedding catering without sacrificing quality.
Consider serving appetizers instead of a full meal or opting for buffet-style service rather than plated dinners.
Choosing a non-traditional time for your reception (such as brunch or cocktail hour) can also often result in lower catering costs.
With careful planning and savvy decision-making, you can create a beautiful wedding menu that fits your taste buds and your wallet!