The sun is shining, love is in the air, and your wedding day is approaching.
As you embark on this exciting journey, one of the most crucial elements to consider is the color scheme that will set the stage for your magical celebration. 
A harmonious palette can evoke emotion, set the ambiance, and create a visual feast that will be remembered for years.
But with a rainbow of possibilities, how do you choose the perfect hues to represent your love story?
This delightful guide will lead you through the enchanting world of color, offering expert advice, insider tips, and creative inspiration.
I'll help you transform your wedding vision into a stunning reality, making selecting your dream color palette as enjoyable as the wedding day. 
So, take a deep breath, open your heart to the kaleidoscope of colors, and let's embark on this emotional journey together to create a truly unforgettable wedding masterpiece.
Consider Your Venue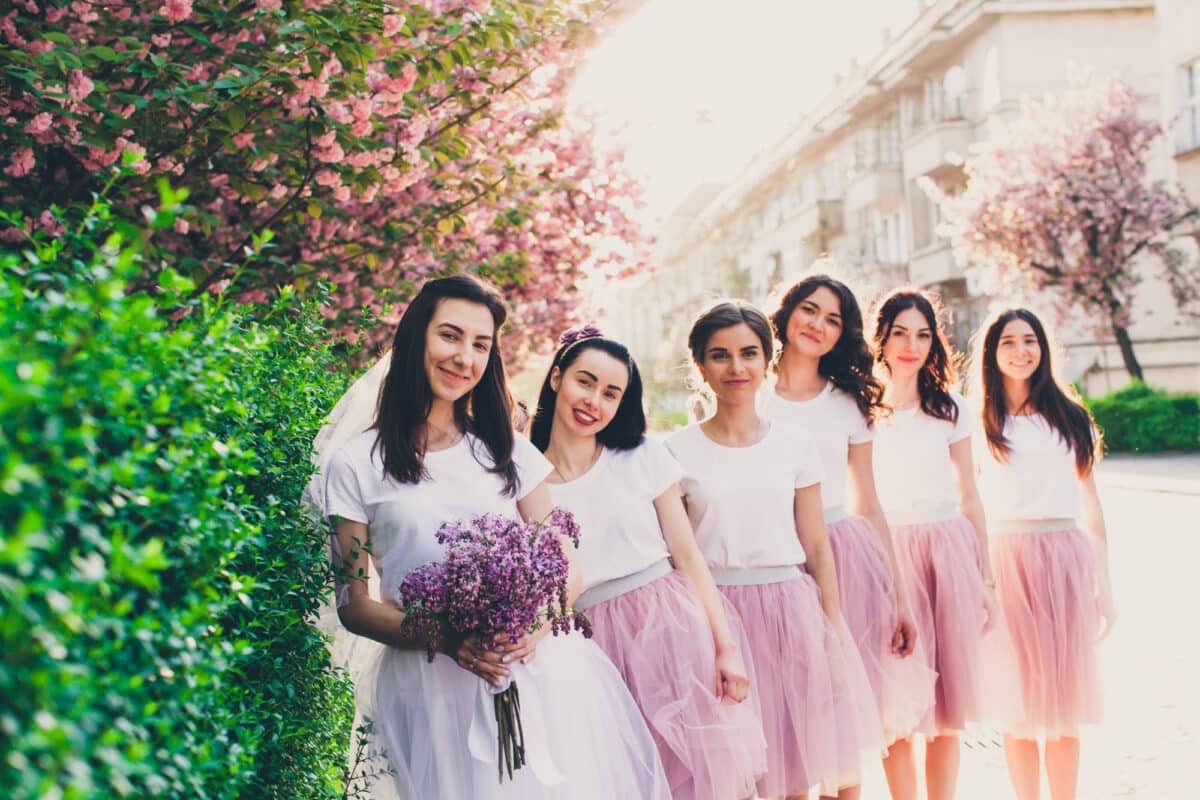 Whether it is an outdoor or indoor location or even a destination wedding venue, the setting can help guide your decision-making process.
You may also want to incorporate earthy tones like green and brown to blend with the environment seamlessly.
On the other hand, indoor venues like ballrooms can handle bolder hues, such as deep reds and purples, that add warmth and sophistication to space.
If you're having a destination wedding at an exotic location, consider incorporating cultural elements into your color scheme.
For instance, if you're getting married in India, rich jewel tones like emerald green and sapphire blue will look stunning against traditional backdrops such as palaces or temples. 
Use Inspiration Boards
Inspiration boards are collages of images and ideas representing your vision for your wedding.
They allow you to see how different elements work together and give you a better sense of what colors you gravitate towards. 
Start by gathering swatches of fabric or paint chips in shades that appeal to you.
Then, collect photos from magazines or Pinterest that inspire you – they could be pictures of flowers, landscapes, fashion, or even food!
Arrange them all on a board until you find a combination that feels just right.
One benefit of using inspiration boards is that they can help you visualize how your chosen colors will look in various settings.
For example, if most of your inspiration comes from beach weddings but yours will take place indoors in a ballroom, seeing those colors side by side may reveal some unexpected clashes.
This allows you to make adjustments before committing to anything.
Another advantage is that inspiration boards can be a reference point when communicating with vendors such as florists and stationers.
Rather than simply telling them, "I want blue flowers," you can show them exactly what shade and style you envision.
This helps ensure everyone is on the same page and makes it easier for them to bring your vision to life.
Get Feedback From Your Partner and Wedding Party
This is important because you want everyone involved in the planning process to feel included and valued. Start by asking for their opinions on the color schemes you've gathered.
Brainstorming ideas together can lead to a more cohesive theme and may even incorporate cultural traditions that are meaningful to you both.
Consider colors that represent your heritage or those of your partner's background.
For example, if one of you is Indian, incorporating vibrant hues like reds, golds, and oranges can bring a traditional flair to your special day.
It's also essential to remember your wedding party's preferences. You don't want them feeling uncomfortable or out of place with the chosen color scheme.
Ask for their input and try to balance what they prefer and what will work best.
Finalize Your Choices and Incorporate Them Into Your Wedding Design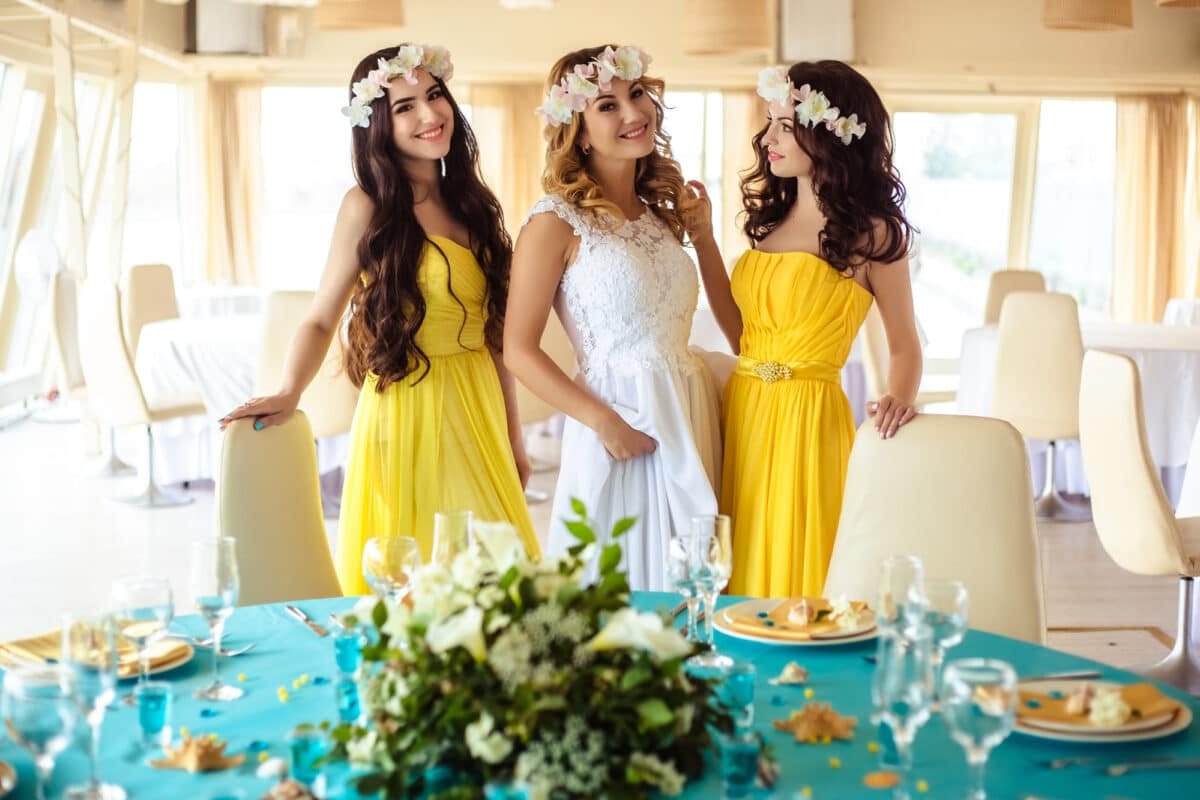 One way to incorporate non-traditional colors is by using them as accents rather than the main color.
For example, if you chose navy blue as your primary color, consider incorporating pops of coral or blush for a unique and modern twist.
Don't be afraid to mix and match different shades within your chosen palette.
When deciding how to incorporate your chosen colors into the wedding elements, consider everything from bridesmaid dresses and floral arrangements to table linens and signage.
Ensure that each element complements one another and adds to the overall aesthetic rather than detracting from it.
Frequently Asked Questions
Should I Consider the Cultural Significance of Certain Colors When Choosing My Wedding Color Scheme?
Yes, consider any cultural traditions that may influence your choice of colors.
Certain cultures place great significance on specific colors, so it's essential to do your research beforehand. 
That being said, don't forget to consider your personal preferences as well.
How Can I Incorporate My Favorite Color into My Wedding Color Scheme Without it Overwhelming Everything?
Your wedding day is the ultimate expression of your love story, and incorporating your favorite color into your color scheme can add an extra layer of personalization.
However, it's important to balance incorporating that beloved hue and overwhelming everything else. 
One effective technique for achieving this is using color balance techniques such as pairing bold shades with softer ones or accenting neutrals with pops of bright colors.
Are there any Color Combinations that Should be Avoided for Weddings?
Bold vs. neutral: which color combinations work best for weddings?
As a wedding color scheme expert, I always recommend considering the psychology of color when choosing your wedding colors. 
While there are no hard and fast rules about what colors to avoid, it's essential to consider how different colors will make you and your guests feel on your big day.
For example, opting for soft pastels or neutrals might be the way to go if you aim for a relaxed and peaceful atmosphere. 
On the other hand, if you want to create a more dramatic and high-energy vibe, bold jewel tones like emerald green and sapphire blue can do the trick.
The most important thing is that your color scheme reflects your personality as a couple and makes you both feel happy and comfortable on your special day.
How Can I Incorporate Metallics Into My Wedding Color Scheme?
Incorporating metallics into your wedding color scheme can add a touch of glamour and sophistication to your special day.
But before you go all out with gold, silver, or rose gold accents, consider whether this trend is right for you. 
While incorporating metallic elements into your wedding décor is certainly trendy, it may be overdone if not executed properly.
To avoid going too far with the metallic theme, try mixing in pastels like blush or mint green for a winning combination that's both romantic and stylish.
How Can I Make My Wedding Color Scheme Cohesive Without it Looking Too Matchy-Matchy?
By incorporating shades of white, cream, and beige, you can create a soft, elegant look that ties everything together.
Texture also plays a big role in adding depth and interest to your color palette. 
Consider using fabrics like lace or velvet and natural elements like wood or greenery.
Don't be afraid to mix and match textures for a unique and cohesive design. 
The key is to find the right balance between colors and textures so that everything complements each other seamlessly.
Experiment with different combinations until you find the perfect balance for your special day.
Final Thoughts
Remember to consider cultural significance, balance bold colors with neutrals, steer clear of certain color combinations (we're looking at you, neon green and orange), and don't be afraid to add some metallic accents for extra glam.
But before we say goodbye, I must leave you guessing: what will be the hottest wedding color trends of 2023?
Will Pantone's Colors of the Year make an appearance? Or will couples opt for unexpected hues like burnt coral or sage green?
Only time will tell! Happy planning!