Your wedding day is one of the most significant and memorable events in your life, and finding the perfect wedding dress is essential to making the day truly magical.
With so many styles, cuts, and fabrics, selecting the ideal gown can feel overwhelming.
Discover the key to finding your dream gown with our Ultimate Guide to Choosing a Wedding Dress.
In this blog post, I'll guide you through finding the right wedding dress for your unique body type, ensuring you feel radiant, confident, and stunning as you walk down the aisle.
Identifying Your Body Type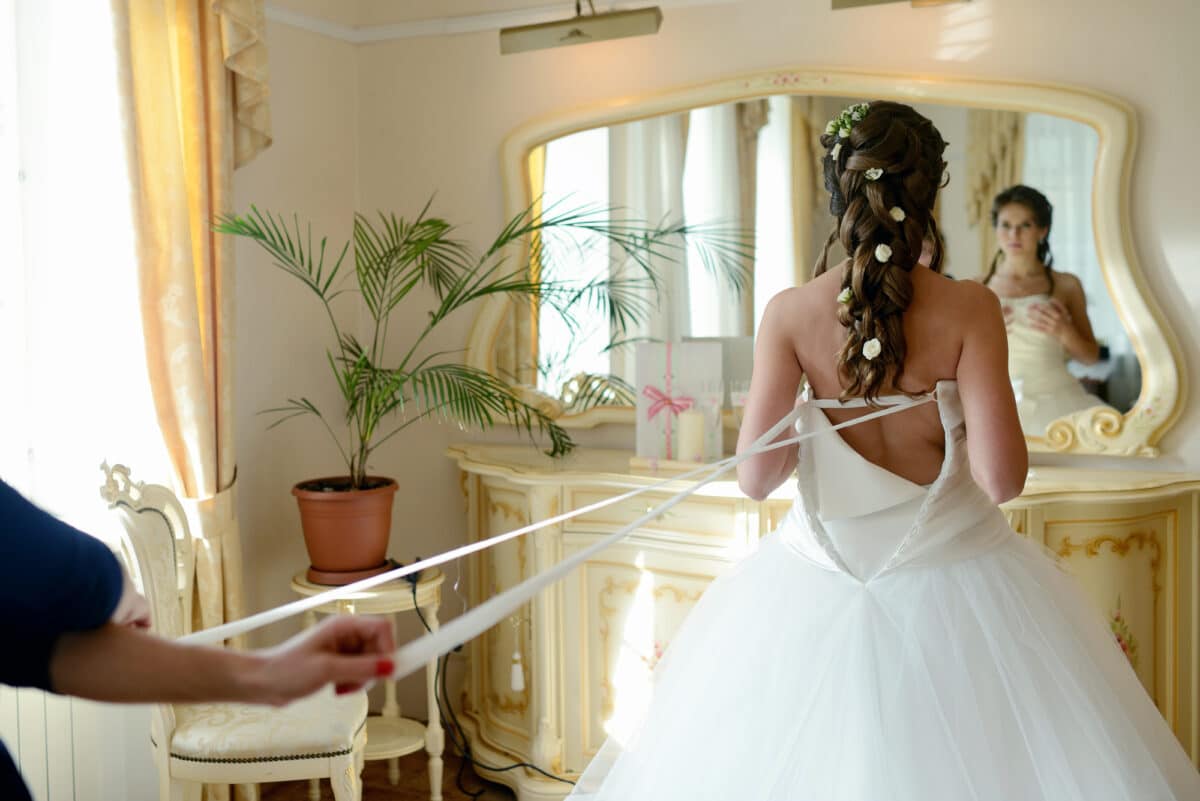 Body shape analysis is the first step in determining your body type. The four primary shapes are pear, apple, hourglass, and rectangle.
A pear-shaped body has wider hips than shoulders, an apple-shaped body carries weight around the midsection, an hourglass-shaped body has a defined waistline with evenly proportioned curves on top and bottom, and a rectangular-shaped body has little definition at the waist.
Once you've identified your body shape, there are several dress-fitting tips to remember. For instance, if you have a pear-shaped figure, look for dresses that emphasize your upper half while minimizing attention on the lower half.
If you're an apple shape, choose gowns with empire waists or A-line silhouettes that flow away from the midsection.
If you have an hourglass figure, consider mermaid or trumpet style dresses that hug your curves in all the right places.
And if you're a rectangle shape, opt for ballgown styles that create volume at the hips and bust to give the illusion of curves.
By following these guidelines and understanding how to identify your body type through proper analysis techniques, you'll be well on your way to finding a wedding dress that makes you feel confident and beautiful on one of the biggest days of your life.
Empire Dresses for a Regal Look
Empire dresses are known for their high waistline that sits just below the bust and flows down into a long, flowing skirt.
This style of dress is perfect for those who want to accentuate their upper body while minimizing attention on their lower half.
Empire dresses also have a regal look that exudes elegance and sophistication.
When it comes to styling an empire dress, accessories can make all the difference. A simple pearl necklace or diamond studs can add sparkle without overwhelming the overall look.
Try adding a statement piece like a jeweled belt or chandelier earrings for a more dramatic effect.
Just be sure not to overdo it – you don't want your accessories competing with the beautiful simplicity of the empire dress.
If you're planning your wedding around a specific theme, consider how you can style your empire dress accordingly.
For a beach wedding, opt for light fabrics like chiffon or organza and pair with delicate sandals or barefoot jewelry.
If you're going for a romantic garden vibe, choose an empire dress with floral lace detailing and accessorize with soft pastel hues.
Necklines and Sleeves for Balance
If you're looking for balance in your wedding dress, V-necklines and cap sleeves are great options. Strapless necklines, scoop necklines, and off-the-shoulder styles are also flattering.
For sleeves, three-quarter length, long, puff, bell, bishop, balloon, cuffed, raglan, flutter, and kimono all offer a great look.
You can create a beautiful, balanced wedding dress with the right combination of neckline and sleeve.
V-Necklines
If you have an apple-shaped body, a V-neckline is the perfect choice to balance out your proportions.
This neckline elongates and slims down your upper half by drawing attention toward the center of your chest.
You can accessorize with a simple necklace or pendant that falls just above the V-line for a subtle yet elegant look.
If you are unsure about how low-cut you want to go, try on different options until you find what works best for you.
Remember that every bride has her unique taste and preferences when it comes to fashion choices.
Finding the right dress ultimately depends on how confident and comfortable you feel wearing it. So choose the neckline that makes you look and feel like a beautiful bride!
Final Tips for Finding Your Dream Dress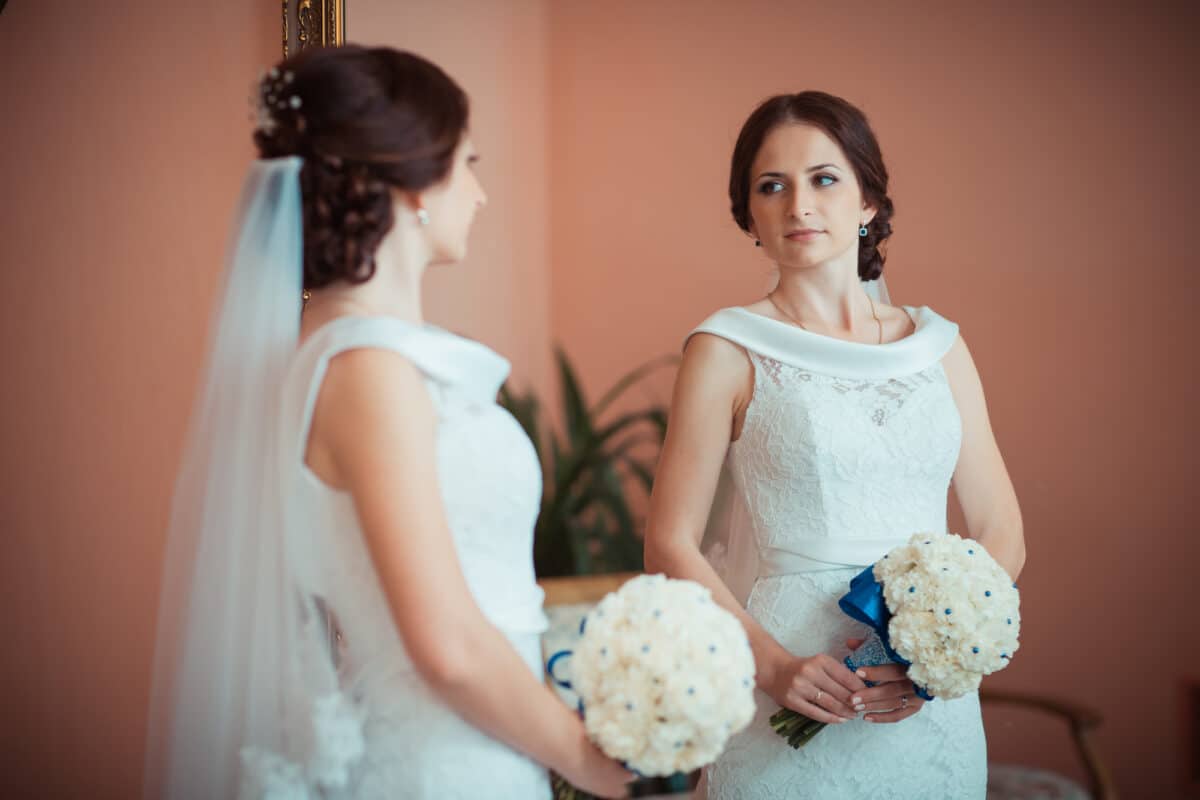 When it comes to budget considerations, don't let price tags deter you from trying on dresses that catch your eye.
Many bridal shops offer sample sales or trunk shows where you can find designer gowns at discounted prices.
Consider renting a gown or buying secondhand, too. Plenty of online retailers specialize in pre-owned wedding dresses.
Keep in mind that alterations can make all the difference in achieving the perfect fit for your body type.
Whether it's taking up hemlines or adjusting sleeves, don't hesitate to ask about alteration options when shopping for your dress.
Remember that comfort is key on your big day. While a super tight corset may look stunning on the hanger, if you're going to be wearing it for hours on end, opt for something more comfortable yet equally as beautiful.
Trust your instincts and go with what makes you feel confident and radiant.
Don't worry too much about following trends or pleasing others, because at the end of the day, this is YOUR special moment and YOU should be happy with how you look and feel.
Take photos of yourself in each dress to compare later
Bring along trusted friends or family members for support (but not too many opinions!)
Consider getting a professional bra fitting beforehand
Don't forget about shoes – bring along heels similar in height to what you plan on wearing
Frequently Asked Questions
How Can I Make My Arms Appear Longer in My Wedding Dress?
Opt for long, flowing, bell-shaped sleeves that will give you extra coverage without being too overwhelming.
As for illusion necklines, choose ones with vertical lines or designs that will help create the illusion of length. 
What Kind of Undergarments Should I Wear With My Wedding Dress?
Choosing shapewear can help smooth out any lumps or bumps while avoiding visible panty lines.
But remember, always try on your undergarments with your dress to ensure they work well together without compromising comfort or style. 
Should I Avoid Certain Fabrics or Textures Based on My Body Type?
If you have a curvier figure, fabrics that drape nicely such as silk or satin can be very flattering.
On the other hand, if you are more petite, avoiding heavy fabrics like brocade can help prevent overpowering your frame. 
As for accessorizing options, consider incorporating details such as ruching or lace to highlight certain areas of your body while still maintaining elegance and sophistication. 
How Can I Incorporate My Personal Style Into My Wedding Dress While Still Flattering My Body Type?
Choosing the right silhouette and hemline can make all the difference in highlighting your best features.
Don't be afraid to try on different styles until you find one that incorporates your personal taste while still flattering your figure.
Final Thoughts
Remember that every bride is unique and beautiful in her own way, so don't be afraid to experiment with different styles until you find the one that makes you feel like a million bucks.
One thing that really grinds my gears when it comes to wedding fashion is the idea that certain body types should avoid certain fabrics or designs.
Let me say something, ladies: if you want to wear a ballgown made entirely out of tulle and sequins and rock it like nobody's business, then go ahead and do it!
Don't let anyone else dictate what looks good on your body based on their narrow view of beauty standards. Embrace your curves (or lack thereof), flaunt them proudly, and most importantly – have fun with it!