You've found the venue of your dreams and can already envision the perfect day filled with love, laughter, and cherished memories.
Now, it's time to find the wedding dress that will make you feel like a queen and complement your chosen venue, creating a harmonious atmosphere for your special day.
Transform your bridal dreams into reality with our All-Inclusive Guide to Selecting a Wedding Dress.
Let's begin by exploring the delicate balance of style, comfort, and venue suitability so that when you walk down the aisle, you'll do so with unparalleled confidence and grace.
Understanding Your Venue's Atmosphere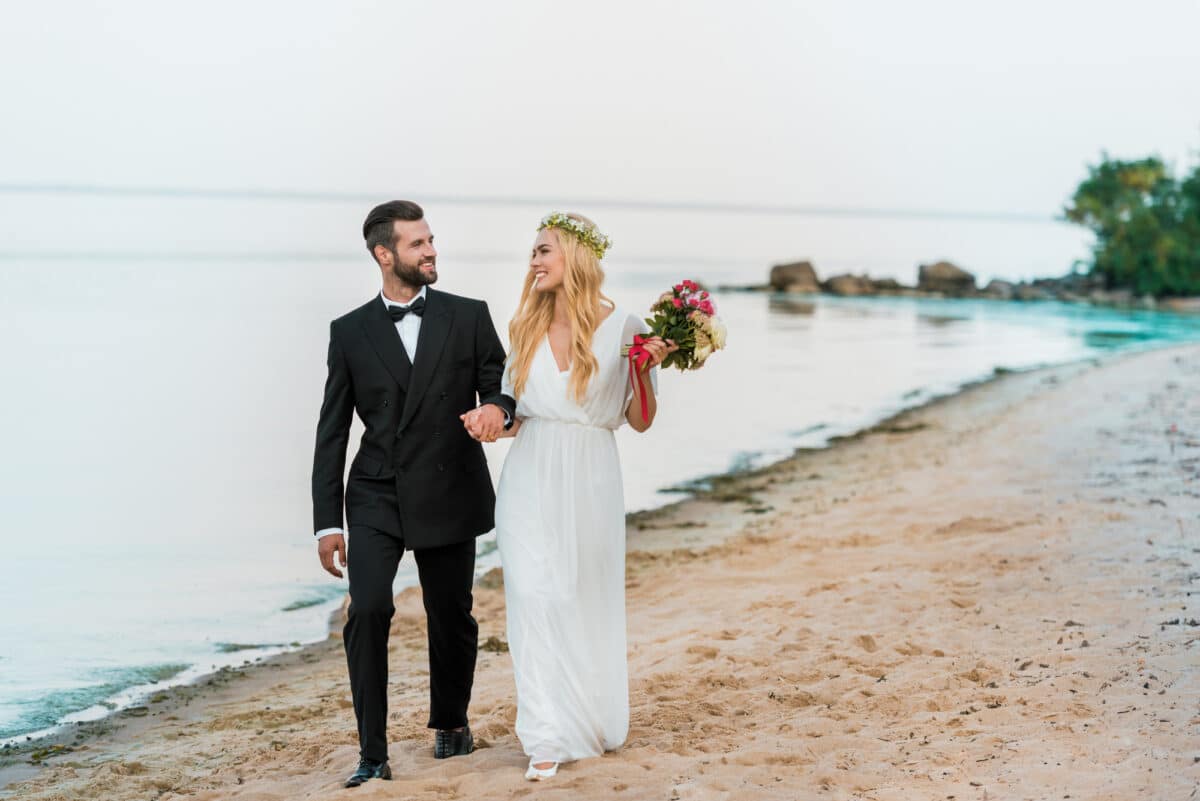 The ambiance of your location plays an integral role in determining what type of dress will suit you best.
Start by analyzing the color scheme and lighting options available at your venue. These two factors significantly impact creating the desired mood for your big day.
The colors used throughout your venue should complement each other and work with any theme or decor you may have chosen. Do not hesitate to ask for swatches or samples from vendors so that you can match them with potential dresses.
When choosing colors, it is also important to consider the time of day. Weddings during the daytime tend to prefer more vibrant colors, whilst nighttime festivities tend to favor darker tones.
Lighting is another crucial aspect when considering the best dress style in a particular setting. Different types of light produce varying effects on fabrics and colors, making some gowns appear more vibrant than others.
For an outdoor ceremony during sunset, softer tones might work better since they create a romantic feel.
Choosing the Right Fabric
When it comes to selecting the fabric for the wedding dress, a few things need to be considered. You need to ensure that the cloth is suitable for the setting and fits in with the overall concept.
Sustainability in fabrics is also becoming increasingly important for many brides-to-be who want to make a conscious effort towards reducing their environmental impact.
Budget-friendly options are also available for those looking to keep costs down. Sustainability in fabrics has become a major consideration for environmentally-conscious brides.
Luckily, several eco-friendly options are available such as organic cotton, hemp silk, and bamboo blends.
These materials not only have less of an impact on the environment, but they're also incredibly comfortable, making them ideal for weddings held in warmer months.
Polyester blends may be an economical alternative for brides on a limited budget while preserving their elegance and flair. This is possible with the use of polyester.
Polyester may not be the most sustainable choice, but it's cost-effective and often used by bridal designers worldwide. Another great alternative is lace or tulle overlays which give a luxurious look without breaking the bank.
Consider how the material will feel on your skin throughout the day and night when you decide the kind of fabric that would work best for your wedding dress.
Finding something stylish and comfortable should be at the top of your priority list since there is such a wide variety of alternatives available, ranging from sheer chiffon to luxurious satin drapes.
Remember that sustainability does not necessarily mean sacrificing style or quality. Opting for eco-friendly fabrics like organic cotton or hemp can enhance the look of your dress while being kinder to our planet.
Finding Your Perfect Dress for Your Perfect Venue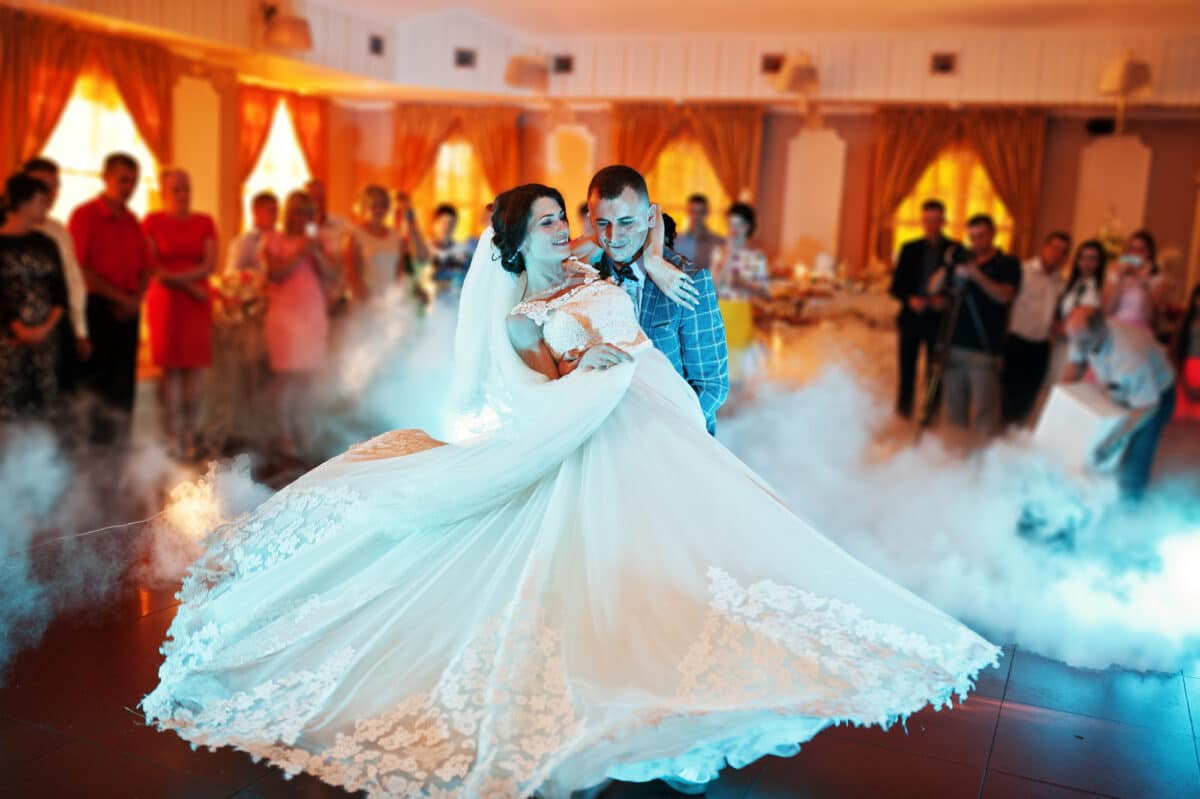 When it comes to choosing the right wedding dress for your venue, there are some things that you need to keep in mind.
First and foremost, you need to consider the style and theme of your chosen location. A beach wedding calls for light fabrics and flowy silhouettes while an indoor ballroom reception will require something more formal and structured.
Then you can think about the practicality of your dress choice. Will you be comfortable walking down sand or grass in a long train? Can you easily maneuver around tables and chairs without tripping over layers of tulle?
To help narrow down your options further, let's delve into some sub-lists:
Fabric choices: Depending on the season and location of your wedding, fabric choices can make all the difference. Consider lightweight chiffon or organza for warmer weather venues while heavier satin or velvet works well for cooler temperatures.
Neckline styles: Different necklines flatter different body types, so choosing one that accentuates your best features is important. Sweetheart necklines work great for those with larger busts, while high-necked dresses elongate shorter torsos.
Embellishments: From lace appliques to intricate beadwork, embellishments add personality to any gown. Choose ones that complement rather than overpower your overall look.
Frequently Asked Questions
How Do I Know if My Wedding Dress Will Fit the Venue's Dress Code?
A grand and elegant dress with intricate details would be appropriate if you're getting married in a formal ballroom.
On the other hand, if you're having an outdoor garden ceremony, a lighter and flowy dress would match the relaxed atmosphere perfectly. 
It's also crucial to review the venue dress guidelines beforehand to avoid any surprises on your big day.
Should I Choose a Dress That Matches the Color Scheme of My Venue?
While matching the color scheme can create a cohesive look, it's not always necessary. Some venues may have exceptions to their dress code that allow for more flexibility in color choices. 
Find a dress that makes you feel confident and beautiful while also complementing the venue's aesthetic. Don't be afraid to add personal touches or pops of color to make the dress truly yours!
Can I Wear a Long Train if My Venue Has a Lot of Stairs or Narrow Hallways?
If your venue has a lot of stairs or narrow hallways, a long train may not be practical. You don't want to trip or get snagged on anything!
However, if your venue is more spacious and grand, a long train can add elegance and drama. 
What Kind of Wedding Dress Is Appropriate for an Outdoor Wedding?
A boho style gown is a popular choice among brides who want to embrace the natural surroundings of their venue.
Light and airy fabrics like chiffon or lace are ideal options as they flow beautifully in the breeze while still providing coverage. 
Don't forget to accessorize with flower crowns, delicate jewelry, and barefoot sandals to complete your bohemian look.
Is it Necessary to Wear a Veil or Headpiece at My Venue?
Consider opting for a flower crown or hair vine if you want something more bohemian, or a statement headband adorned with pearls or crystals if you prefer something more glamorous.
Final Thoughts
Look at the venue's dress code and ensure that your dress fits within those parameters. Consider factors such as color scheme, level of formality, and any restrictions on certain styles or fabrics.
If in doubt, don't hesitate to ask for guidance from the venue or a trusted consultant.
Think about the logistics of your location. A long train may look stunning in photos but could prove impractical if you navigate narrow hallways or climb stairs all day.
Choosing the right wedding dress for your venue involves balancing style and practicality.
With careful consideration and expert advice, you can ensure that you look and feel amazing on your special day while seamlessly fitting into your surroundings.