Bells are ringing, love is in the air, and the big day is approaching! Among the many decisions that come with planning a wedding, perhaps the most exciting and personal is choosing your dream dress.
Your wedding gown will reflect your unique style and personality, a dress that makes you feel like the best version of yourself as you walk down the aisle.
Don't get overwhelmed by wedding dress shopping – read our Essential Guide to Choosing the Ideal Wedding Gown and make the process a breeze.
But with a dazzling array of options, how do you select the one that tells your story and captures your essence?
Say "I do" to this comprehensive guide on choosing a wedding dress that reflects your style and personality, and let's embark on this enchanting journey together!
Defining Your Bridal Style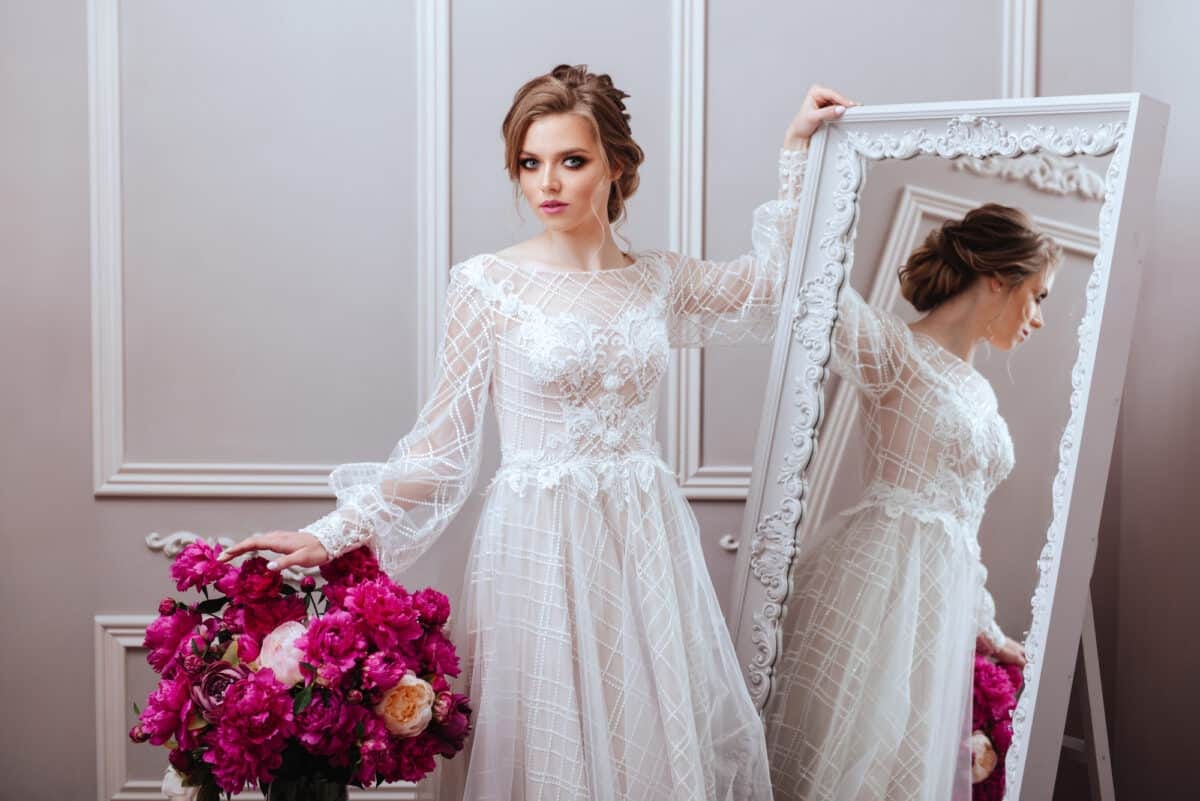 When it comes to choosing a wedding dress, there are two main styles that you can consider: vintage or modern.
Vintage dresses have classic silhouettes and often feature intricate lace detailing. On the other hand, modern dresses tend to be sleeker with minimalist designs.
Another factor to consider is whether you prefer a classic or trendy look.
Classic dresses never go out of style and will stand the test of time in your wedding photos, while trendy dresses incorporate current fashion trends but may not hold up as well over time.
Gather inspiration from bridal magazines and online resources to determine which style best fits your personality and preferences. Take note of which dresses catch your eye and make you feel excited.
Remember that your wedding dress should ultimately reflect who you are as a person. If you love vintage clothing and old Hollywood glamour, a vintage-inspired gown might be perfect.
However, a more modern dress would suit you better if you love clean lines and minimalism in everyday life.
Considering Your Body Shape
Choosing a style that flatters and accentuates your body shape is crucial. It's important to remember that every body type is beautiful, and there are options for everyone.
Body positivity should be at your mind when trying on dresses.
For those with an hourglass figure, consider fitted styles that show off your curves, such as mermaid or trumpet silhouettes.
A-line dresses also work well for this body type by cinching in at the waist and flowing outwards.
If you have a pear-shaped figure, look for dresses that balance out your proportions like ballgowns or A-line dresses with detailed bodices.
If tall and slender, try a sheath gown with minimal embellishments to highlight your natural elegance.
For petite brides, avoid overwhelming styles and opt for simpler designs like tea-length gowns or empire waists which elongate the legs.
It's also important to consider ethical fashion choices while shopping for a wedding dress.
Look for designers who use sustainable materials or create their pieces locally to reduce environmental impact.
Accessorizing Your Look
Choosing the perfect accessories to complement your wedding dress is crucial in completing your bridal look.
Accessories can enhance your style and personality, making you feel confident and beautiful on your big day.
When selecting accessories, consider the neckline of your gown.
A necklace may not be necessary if you have a high neck or intricate details around the bust area. Instead, opt for statement earrings or a bracelet that adds sparkle without overwhelming your look.
Another factor to keep in mind is the color of your dress. If it's ivory or champagne, gold-toned jewelry will complement it beautifully. On the other hand, silver or platinum pieces would pair well with white gowns.
Don't forget about finding the right hairstyle to match your accessory choices! Consider how you plan to wear your hair when selecting headpieces such as veils, tiaras, or hairpins.
Matching these items with complementary hairstyles can create a cohesive look that ties everything together.
Making the Final Decision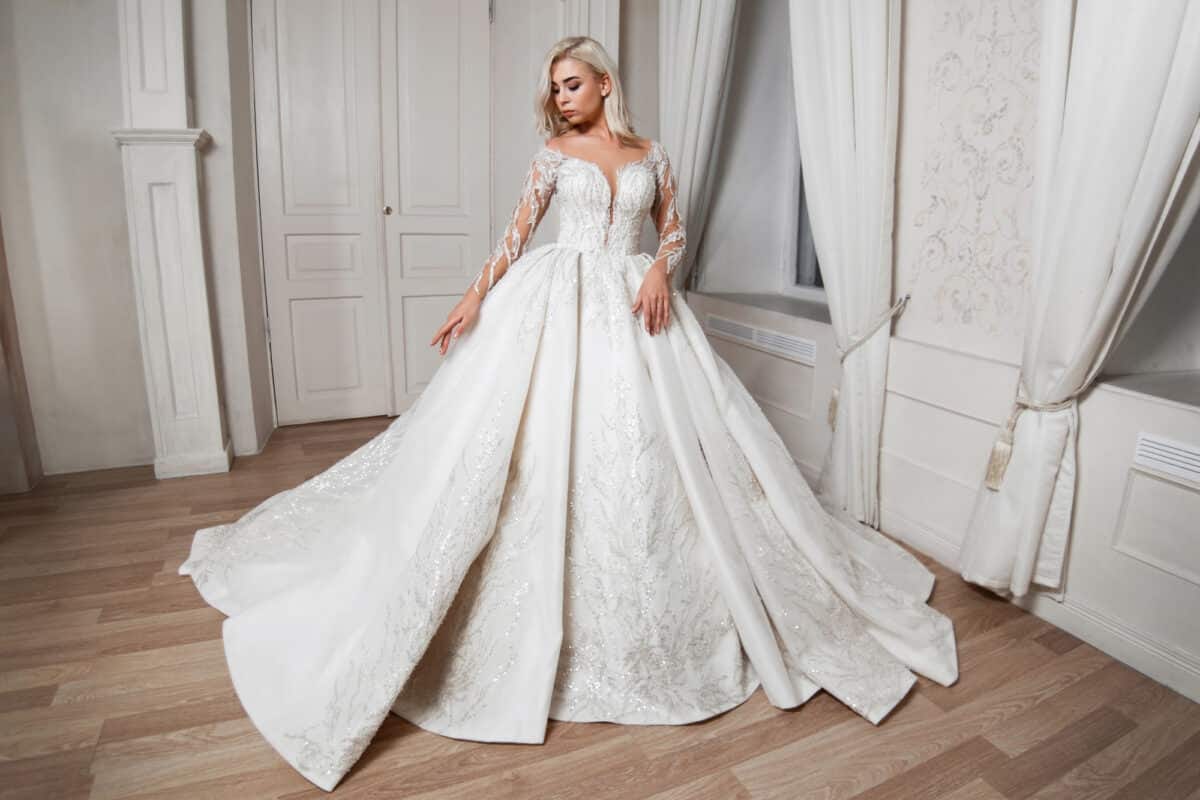 If you are stuck between two dresses, try them both on again and envision yourself walking down the aisle in each one.
Pay attention to how each dress makes you feel and which one flatters your figure better.
Remember that comfort is key, so choose the dress that allows you to move around freely and doesn't cause any discomfort.
Dealing with last-minute doubts is normal, but don't let them cloud your judgment.
If you question whether or not you made the right choice, remember why you chose this particular dress in the first place. Focus on its unique features and how it aligns with your style.
Trust your instincts and go with what feels right. Don't worry about pleasing others or following trends – this is YOUR day and YOUR dress.
Remember that once you make the final decision, stop looking at other dresses to avoid second-guessing yourself.
Frequently Asked Questions
Should I Choose a Dress That Matches My Wedding Theme or Venue?
It's important to remember that while matching your dress to the overall theme is an option, it shouldn't come at the expense of feeling like yourself on your big day. 
Focus on finding a dress that reflects your style and then work from there – whether incorporating complementary colors or choosing accessories that tie everything together seamlessly.
How Far in Advance Should I Start Looking for a Wedding Dress?
Regarding budget considerations, it's important to factor in alterations and accessories when creating your overall wedding attire budget.
By starting early and being mindful of your finances, you can confidently walk down the aisle in a dress that truly reflects who you are on this special day.
Are There Any Specific Undergarments I Should Wear When Trying on Dresses?
Don't be afraid to bring different types of bras or shapewear to try with each dress – it's all about creating a seamless silhouette that makes you feel confident and beautiful.
What if I Don't Want to Wear a Traditional White Wedding Dress?
If you don't want to wear a traditional white wedding dress, plenty of alternative dress options are available to suit your taste.
You can opt for pastel shades like blush pink or light blue, or go bold with vibrant hues like red or navy.
Don't be afraid to experiment with different colors and styles until you find the perfect fit for your special day.
How Can I Make Sure My Dress Is Comfortable Enough to Wear All Day and Night?
Don't hesitate to try on multiple sizes and styles until you find one that hugs your curves in all the right places while still allowing room for movement.
Final Thoughts
Every decision is important, from matching the theme or venue to ensuring comfort throughout the day and night.
Just remember to stay true to your style and personality while considering practical considerations like venue and undergarments.