You're a budget-savvy bride-to-be, determined to make your big day both fabulous and financially feasible.
You've got your heart set on a stunning wedding gown that doesn't leave your wallet weeping, but you're not sure where to begin.
Say "yes" to the perfect dress by exploring our comprehensive Guide to Selecting Your Dream Wedding Gown.
The good news? You've stumbled upon the ultimate treasure trove of bridal wisdom!
Welcome to "Wedding Dresses on a Budget: Tips and Tricks," your go-to guide for navigating the world of affordable elegance in the realm of bridal fashion.
In this blog, I'll reveal the best-kept secrets, money-saving strategies, and clever hacks that will empower you to find or create the perfect wedding dress without breaking the bank.
Get ready to say "I do" to the dress of your dreams without the financial nightmares!
Knowing Your Budget
It's essential to know your budget inside out.
Whether you're allocating $500 or $5,000 towards your dress, understanding what you can realistically afford is crucial in making informed decisions.
Be honest with yourself about what you're willing to spend and stick to it.
Remember, there are always alternatives to high-end designer gowns that won't compromise style or quality.
Prioritize aspects of the dress that matter most to you. Is it intricate lace detailing? A specific silhouette?
By knowing which elements are non-negotiables for you, you'll be able to narrow down options within your price range quickly.
Don't get caught up in trends or fads; focus on choosing a timeless piece that will make you feel confident and beautiful.
Researching Your Ideal Look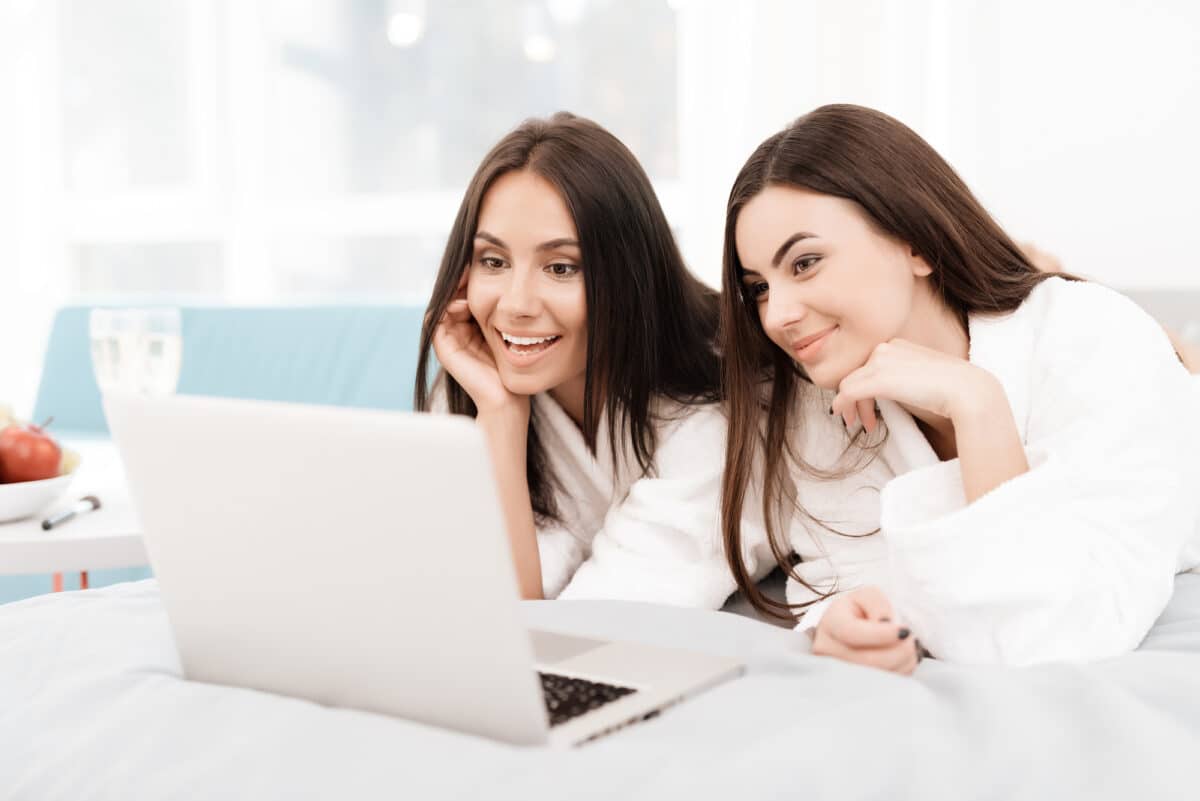 Browse through bridal magazines or Pinterest boards to get an idea of the styles and silhouettes that catch your eye.
Take note of any specific details like lace patterns or beading. This will help narrow down your search when you hit the stores.
Once you have some inspiration, it's time to try on dresses!
While traditional in-store appointments can be helpful, online dress try-ons are becoming more popular – especially during the pandemic.
Many websites offer virtual try-on features where you can upload a photo of yourself and see how different dresses look on your body type without leaving home.
When researching wedding dresses, don't forget about sample sales and trunk shows. These events can offer significant discounts on designer gowns.
Just keep in mind that sizes may be limited, so go early for the best selection.
And if you're willing to take a risk, consider buying secondhand from resale sites like Stillwhite or Nearly Newlywed. You might even find a pre-loved gown from one of your favorite designers!
Remember: Just because you're on a budget doesn't mean you have to settle for less than perfect.
Take advantage of all the resources available to you – whether it's browsing online or visiting local boutiques.
Thinking Beyond Traditional Bridal Boutiques
Online shopping is a great way to get a great dress for a great price. Just make sure you read the reviews and look for return policies before making your purchase.
Sample sales are another great way to get a great deal, but you should be prepared to move quickly if you find something you love.
Thrift stores can also be a great place to find a dress on a budget – just make sure to give yourself enough time to try to find the right one.
Don't forget to check out consignment stores too – you never know what kind of treasures you'll find!
Timing Your Purchase
One of the best ways to save money is by taking advantage of seasonal discounts.
Many bridal shops offer sales during slower months or at the end of a particular season when they need to clear out inventory.
If you're flexible with your wedding date, consider planning it during off-season periods.
This will not only give you more options for discounted dresses but also allow you to potentially negotiate prices with vendors who are eager for business during slower times.
Another option is to shop for sample sale dresses. Bridal boutiques often have samples that they use in-store for brides to try on before ordering their own custom gown.
These dresses may have slight imperfections or be last season's styles, but they can still be stunning and significantly cheaper than brand new gowns.
Timing your wedding dress purchase can be an effective way to stay within your budget without sacrificing style or quality.
Keep these tips in mind as you search for your dream dress, and remember that there are always opportunities to save money if you're willing to be patient and do some research.
DIY Embellishments and Customizations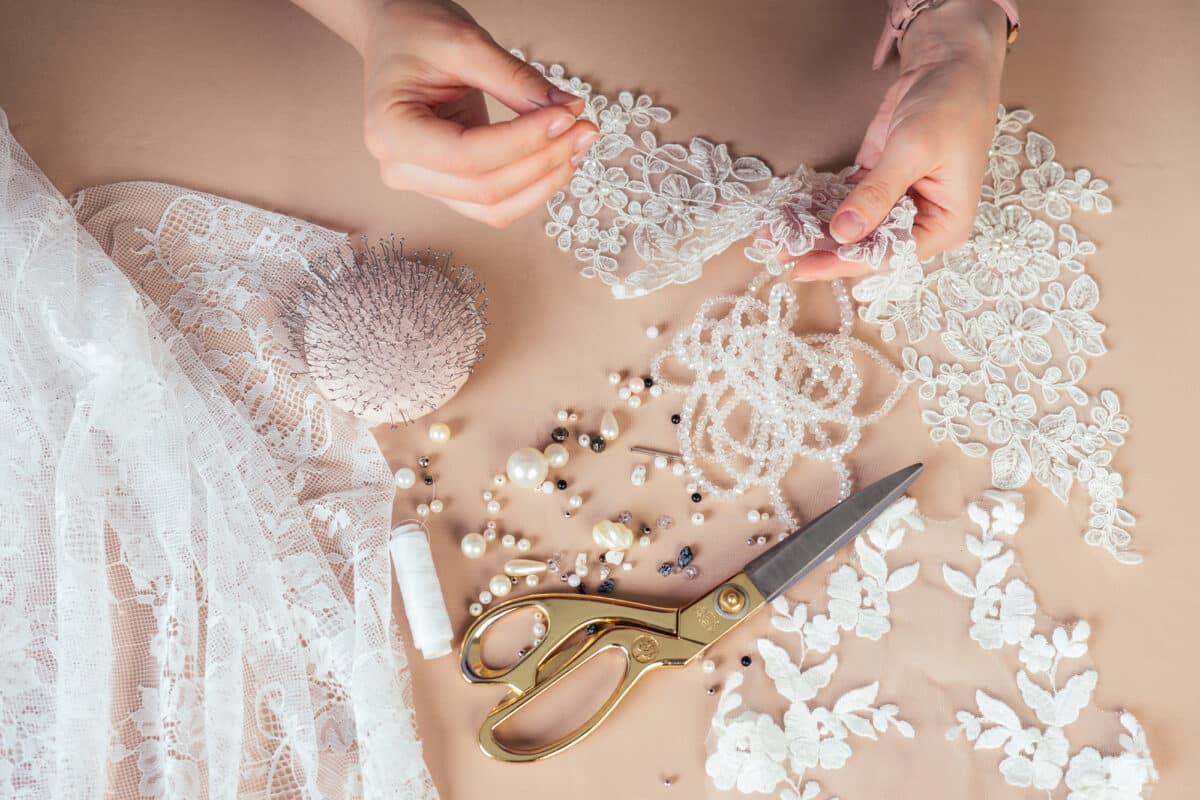 Handmade items showcase unique craftsmanship and allow for more personalization and customization options.
You can work directly with an artisan to incorporate sentimental details into your dress, such as incorporating lace from your mother's wedding gown or adding beading that matches your grandmother's jewelry.
This will make your dress even more special and meaningful.
Another way to personalize your dress on a budget is by embellishing it yourself.
With some basic sewing skills and creativity, you can add intricate details like embroidery, appliques, or beading onto a simple dress.
This saves money and allows you to have full control over the design process and create something truly unique.
When deciding between handmade versus store-bought options, or DIY embellishments versus hiring a professional seamstress, always keep in mind what matters most to you – whether it's uniqueness, sentimental value, cost savings, or all of the above.
By considering these factors and getting creative with personalized touches, you'll find that having a dream wedding dress doesn't have to break the bank.
Remember that every element of your wedding should reflect who you are as a couple and celebrate your love story.
Whether it's through unique handcrafted details or personalized touches added at home, infusing sentimentality into every aspect of your attire will help make this special day even more unforgettable.
Frequently Asked Questions
Is It Acceptable to Wear a Non-traditional Colored Dress to a Wedding?
If you want to rock a blush pink gown, go for it! Feeling daring in an emerald green number? Yes, please!
Dress code etiquette is important, of course, but as long as your outfit isn't offending anyone or stealing attention from the bride (because that's just rude), I say have fun with it.
After all, weddings are supposed to be joyous celebrations – not stuffy fashion shows.
What Are Some Tips for Finding a Dress that is Both Budget-Friendly and Eco-Friendly?
You can opt for simpler styles, which tend to be more affordable and have less environmental impact since they require fewer resources to produce.
With some creativity and flexibility, you can find a beautiful dress that aligns with your values and budget.
Can I Rent a Wedding Dress?
Explore options such as buying pre-owned gowns or opting for simpler designs that can be easily altered to fit you perfectly.
The choice is yours! Just remember that finding the perfect wedding dress doesn't have to break the bank.
What Are Some Alternatives to a Traditional Veil?
Another option is statement headpieces, which can add a touch of glamour or bohemian flair depending on the design.
These headpieces can range from simple yet elegant to bold and dramatic, ensuring there's something for every bride's taste and budget.
Don't feel limited by tradition – explore these alternatives to find the perfect complement to your wedding day look!
Are Any Specific Styles or Fabrics More Affordable than Others?
For those looking to save even more money, consider opting for simpler, more understated dress styles such as A-line or sheath dresses made from budget-friendly fabrics like chiffon or tulle. 
These materials look elegant and timeless and can be much easier on your wallet.
Explore all your options before settling on one particular style or fabric.
Final Thoughts
It's important to remember that just because you're working within a certain price range doesn't mean you have to compromise on style or quality.
There are plenty of options out there if you know where to look. Always keep an open mind. You never know what kind of hidden gems you might find in unexpected places.
So don't be afraid to explore different styles, fabrics, and colors. Who knows? You might surprise yourself (and everyone else) on your big day!