If anyone knows the ins and outs of a wedding day, it's the magnificent maid of honor, the best bridesmaid, the unstoppable wedding warrior, standing alongside the bride.
They're the superwomen who have juggled duties with grace and a grin, held up the bride's train, kept her makeup flawless, and her spirits sky high.
But above all, they've been the bedrock of support and love throughout the wedding planning journey.
How can you encapsulate your gratitude into a physical symbol as the special day approaches?
How do you say thank you in a manner that goes beyond words, something that speaks volumes about their unique contribution and reflects the special bond you share?
I understand the importance of this moment and the emotional weight it carries.
That's why I've created this guide – a treasure trove of heartfelt and thoughtfully selected wedding gifts for bridesmaids.
Whether you're looking for something sentimental, whimsical, practical, or just downright luxurious, this blog covers you.
I'll explore the vast realm of meaningful and treasured gifts, from personalized keepsakes to pampering packages, and everything in between.
Key Takeaways
Personalization is key for thoughtful bridesmaid gifts, with options like personalized jewelry, customized charm bracelets, and engraved pendants.
Keepsakes like photo frames, memory boxes, and personalized journals are great gift ideas.
Practical and useful items like travel essentials, beauty gadgets, and relaxation sets can also make great bridesmaid gifts.
Creative and unique options like adventure vouchers or personalized silk pajamas can also make bridesmaids feel extra special and reflect their unique bond with the bride.
Personalized Jewelry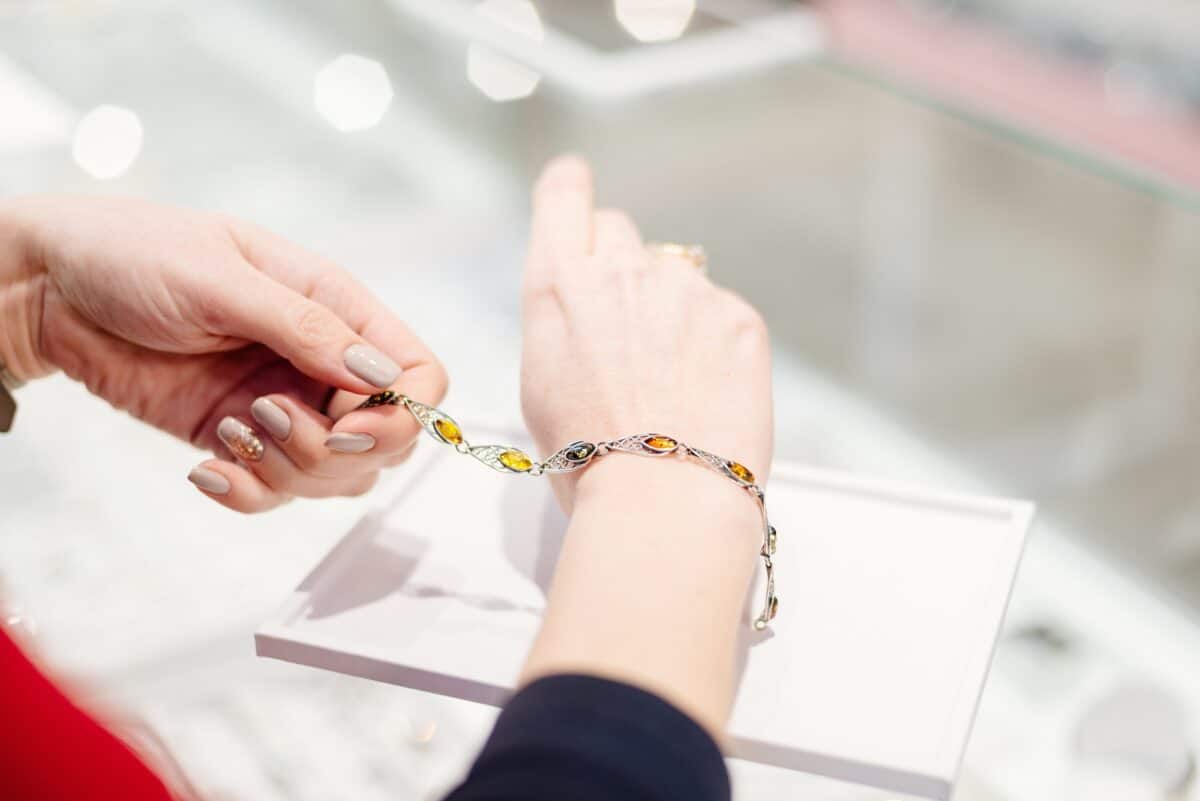 Customized charm bracelets and engraved pendants are just a few options.
These beautiful pieces serve as a token of appreciation and a lasting reminder of the special day you all shared together.
Plus, there's something incredibly meaningful about receiving an item tailored specifically for you.
One idea is to create customized charm bracelets, selecting charms representing each bridesmaid's personality or interests.
You could also choose charms that symbolize your friendship or your shared memories.
Another option is to present them with engraved pendants featuring their initials, name, or even a meaningful quote.
The best part about personalized jewelry is its versatility – there are so many ways to make it unique and memorable for each of your bridesmaids!
Thoughtful Keepsakes
Consider thoughtful keepsakes like photo frames, memory boxes, and personalized journals that remind them of the special moments you've shared.
These gifts preserve memories and show how much you truly care about their presence in your life.
Photo Frames
Picturesque photo frames provide a perfect present for your bridesmaids to cherish the cherished memories from your wedding day.
With frame customization, you can create something unique and personal that reflects each bridesmaid's style.
There's a frame for everyone, from modern minimalist designs to elegant vintage styles. Consider these options when selecting a photo frame gift:
Look for charming antique-inspired frames with intricate details and romantic motifs for vintage designs. These timeless pieces will make a lovely addition to any home's décor.
Add an extra special touch by engraving each frame with your bridesmaid's name or initials, the wedding date, or even a heartfelt message for frame customization. This thoughtful gesture will show them how much you appreciate their love and support on your special day.
Personalized Journals
Personalized journals make fantastic wedding gifts for bridesmaids. They provide a space to record their experiences and emotions leading to the big day.
Custom stationery, like beautifully designed journal covers and pages tailored to each bridesmaid's style, will show how much you appreciate their friendship and support during this special time.
Complement these thoughtful journals with monogrammed pens for an extra touch of personalization.
Monogrammed pens not only add elegance but also constantly remind you of your wedding day every time your bridesmaids use them.
This pairing of custom stationery and stylish writing instruments makes for a unique gift that will be cherished by your bridesmaids long after you say 'I do.'
Relaxation and Self-Care Gifts
Aromatherapy sets with essential oils and diffusers can create an atmosphere of tranquility in their home, allowing them to unwind after a long day or prepare for the big day ahead. 
Spa vouchers allow your bridesmaids to indulge in luxurious treatments such as massages, facials, and body wraps at their leisure.
Consider these relaxation and self-care gift ideas for your bridesmaids:
Aromatherapy sets
Essential oil diffuser
Selection of high-quality essential oils
Relaxing room spray or scented candles
Spa vouchers
Massages: Swedish, deep tissue, hot stone
Facials: hydrating, anti-aging, detoxifying
Body treatments: wraps, scrubs, aromatherapy baths
At-home spa essentials
Plush bathrobes or towels
Cozy slippers or socks
Luxury bath products
Your bridesmaids will feel cherished and appreciated when they receive these thoughtful gifts that encourage relaxation and self-care.
They'll be refreshed and rejuvenated for all the wedding festivities!
Practical and Useful Items
While relaxation and self-care gifts are a thoughtful way to pamper your bridesmaids, you might also want to consider some practical and useful items.
These types of gifts show that you care about their everyday lives and can be a great way to help make their daily routines easier or more enjoyable.
Travel essentials and beauty gadgets make fantastic practical gifts for your bridesmaids. They come in handy and show that you've put thought into what they might need or enjoy using regularly.
These practical yet stylish options will ensure your bridesmaids are well-equipped on their travels or when it comes to enhancing their beauty routines.
Fun and Unique Gifts
One memorable gift idea is to present them with creative sleepwear, such as personalized silk pajamas or cute matching sets.
This way, they'll have a comfy outfit to wear during your wedding weekend and something that reminds them of the bond you all share. 
You could even design custom monogrammed robes or slippers to complete their cozy ensemble.
Another fantastic option is giving each bridesmaid an adventure voucher for an exciting experience tailored to their interests.
Whether it's a cooking class, hot air balloon ride, or a wine tasting session, this gift will provide memories lasting long after your wedding day has passed. 
Plus, these vouchers can be used at any time in the future so there won't be any pressure on scheduling conflicts before the big day.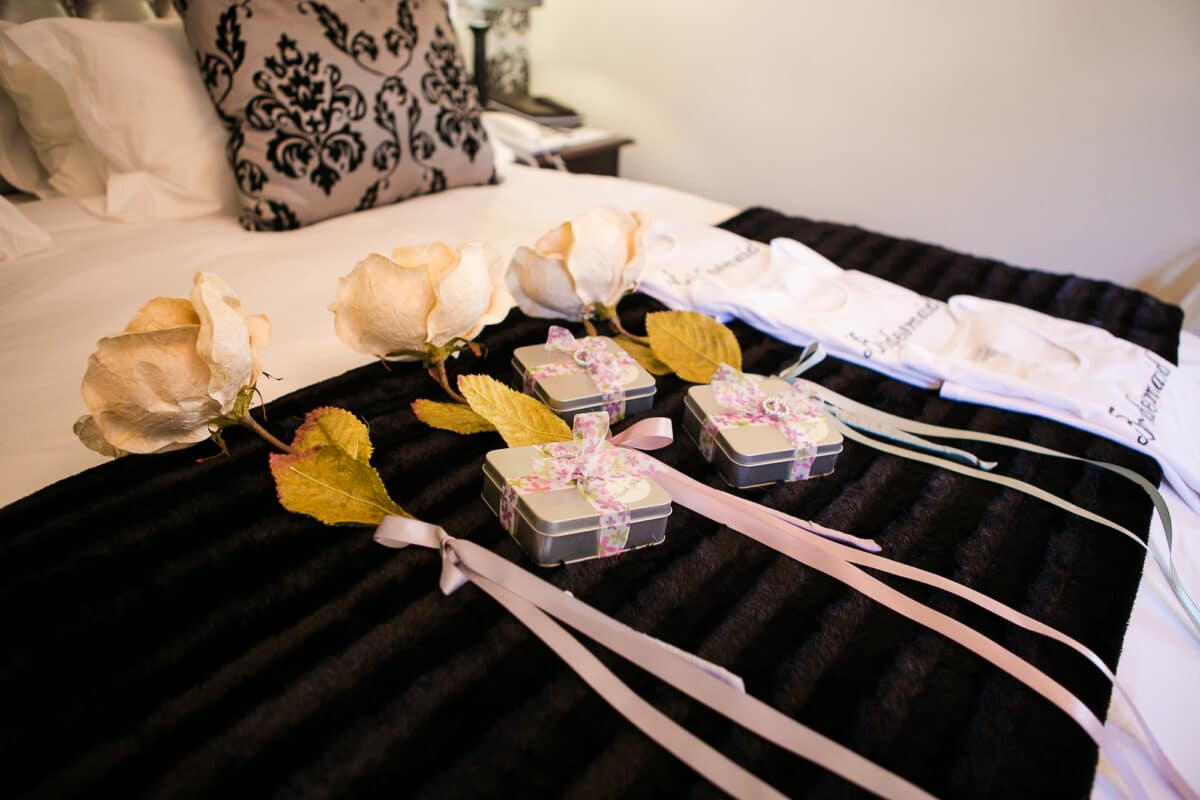 Frequently Asked Questions
Considering the Overall Wedding Expenses, what is an Appropriate Budget for Bridesmaid Gifts?
Throwing money around like confetti? Not necessary! Budget considerations are key; aim for $50-$150 per bridesmaid gift.
Personalization adds a special touch without breaking the bank, making everyone feel appreciated and valued.
How Can I Choose a Meaningful Gift for Each Bridesmaid while Maintaining a Cohesive Theme for the Group?
Consider each bridesmaid's unique personality while choosing a cohesive theme.
Opt for personalized jewelry or custom robes tailored to their tastes, ensuring meaningful gifts and a unified group aesthetic.
Are there Any Etiquette Guidelines for Presenting Bridesmaid Gifts, such as When and How they Should Be Given?
For bridesmaid gift etiquette, present gifts during bonding events like lunches or spa days.
Personalize with creative gift-wrapping ideas to make each feel special. Remember, it's about the heartfelt gesture!
How Can I Accommodate for Bridesmaids With Different Tastes and Preferences While Selecting Their Gifts?
Ironically, pleasing everyone is easy! Consider personalized jewelry tailored to each bridesmaid's style.
Alternatively, DIY spa kits cater to individual preferences, ensuring a thoughtful gift they'll appreciate.
What are Some Eco-Friendly or Sustainable Gift Options for Bridesmaids Who are Conscious About Their Environmental Impact?
Consider eco-friendly fabrics for personalized tote bags or robes. Upcycled jewelry, like necklaces or earrings, make unique keepsakes.
Both options cater to environmentally conscious preferences while still being thoughtful gifts.
Final Thoughts
Finding the perfect wedding gifts for your bridesmaids doesn't have to be daunting.
The theory holds: consider their personalities and interests, and you'll find something special that shows your appreciation.
Remember, it's the thought that counts.
Whether you opt for personalized jewelry, thoughtful keepsakes, relaxation items, practical gifts or unique surprises – your bridesmaids will surely cherish these tokens of gratitude from your big day.