Raise your glasses and ready your cheers, because it's that momentous time where love is in the air, and wedding bells are chiming on the horizon!
A moment where two souls unite, surrounded by a supporting cast of characters. 
Among them are the groomsmen: the rock star crew that has your back, keeps your nerves in check, and ensures the wedding festivities flow as smoothly as that chilled champagne.
Now, it's time for you, the groom, to say 'thank you' meaningfully and honorably. But where do you start when looking for the perfect wedding gift for your groomsman?
Gone are the days of generic, one-size-fits-all gifts.
In this era of personalization and thoughtfulness, a groomsmen's gift should reflect your gratitude, camaraderie, and the unique bond you share with each of your brothers-in-arms.
From childhood friends to college roommates, every groomsman holds a special place in your life, and their gifts should be just as special.
Join me as I journey through the labyrinth of gift-giving ideas designed to delight your wingmen.
I am talking about gifts that exude class, create smiles, evoke memories, and even provoke a happy tear or two. 
Whether your crew is a band of whiskey connoisseurs, tech junkies, travel enthusiasts, or style mavens, I've got you covered.
Key Takeaways
Personalization adds a special touch to groomsmen gifts
Practical gifts like Swiss Army knives and leather wallets are reliable choices
Unique keepsakes express gratitude and serve as lasting reminders
Experiences and adventures create unforgettable memories with groomsmen
Personalized Accessories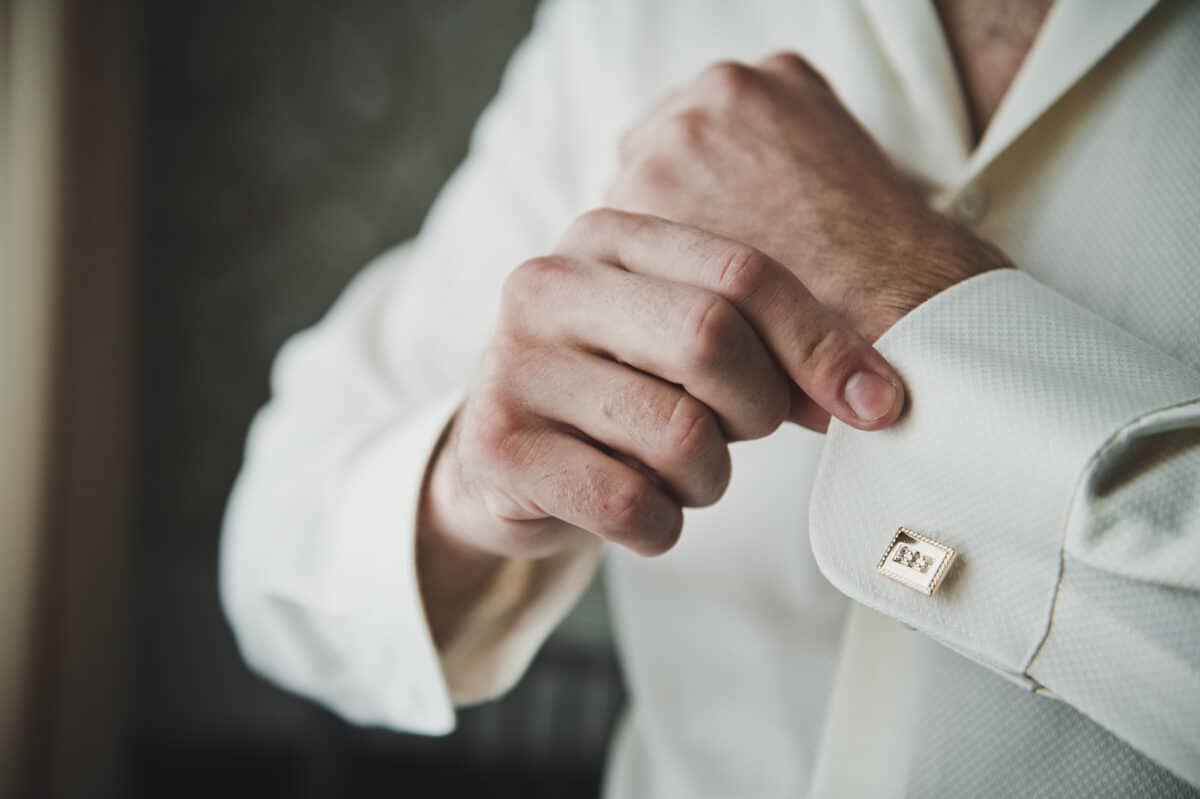 Engraved cufflinks are a classic choice that adds a touch of elegance to their attire and serves as a lasting memento of the occasion.
Similarly, monogrammed wallets make for thoughtful and practical gifts that your friends will appreciate and use daily.
When choosing personalized accessories, consider the personal style of each groomsman and tailor the gift accordingly.
For instance, if one of your pals loves everything vintage, go for an old-school pocket watch engraved with his initials.
On the other hand, if you have a tech-savvy friend who's always on the go, he might appreciate a custom leather phone case or even an engraved power bank.
The key is to strike a balance between style and functionality while adding that personal touch that shows how much you value their friendship and support.
Practical and Functional Gifts
It's crucial to consider gifts that'll stand the test of time, like a Swiss Army knife or a sleek leather wallet, symbolizing reliability and unwavering support from good friends.
Groomsmen gadgets can be both practical and functional while also serving as a token of appreciation for your friends' commitment to your special day. 
They won't just find these gifts useful, but they'll also appreciate the thought you've put into selecting something they can use daily.
Unique and Memorable Keepsakes
Imagine presenting your closest friends with one-of-a-kind keepsakes that express your gratitude and serve as a lasting reminder of the bond you share.
Unique and memorable keepsakes allow you to step beyond practicality and into a world where creativity reigns supreme.
Engraved gadgets, such as pocket watches, cufflinks, or even multitools, can be personalized with their names or initials, making them cherished items they'll proudly display for years. 
Custom artwork is another fantastic option; consider commissioning an artist to create a piece tailored to each groomsman's interests or personality – perhaps a caricature of the gang on your big day or individual portraits that capture their essence.
Don't underestimate the power of sentimental value when selecting unique and memorable keepsakes for your groomsmen.
These tokens will undoubtedly strike a chord in their hearts while still being functional–whether adorning their wrists with engraved timepieces or hanging custom artwork on their walls at home.
Experiences and Adventures
Creating unforgettable memories together is an incredible way to show appreciation for your closest friends. Studies have shown that 72% of people prefer experiences over material possessions.
So, why not treat your pals to thrilling adventures or unique outings that strengthen your bond and provide stories to retell for years?
Adventure weekends are a fantastic way to thank your groomsmen.
They offer endless possibilities – from adrenaline-fueled activities like skydiving, bungee jumping, and whitewater rafting to more relaxing options like brewery tours, golf getaways, or camping trips.
No matter their interests or personalities, you're sure to find something that will excite you and create lasting memories with your best friends by your side.
DIY Gift Sets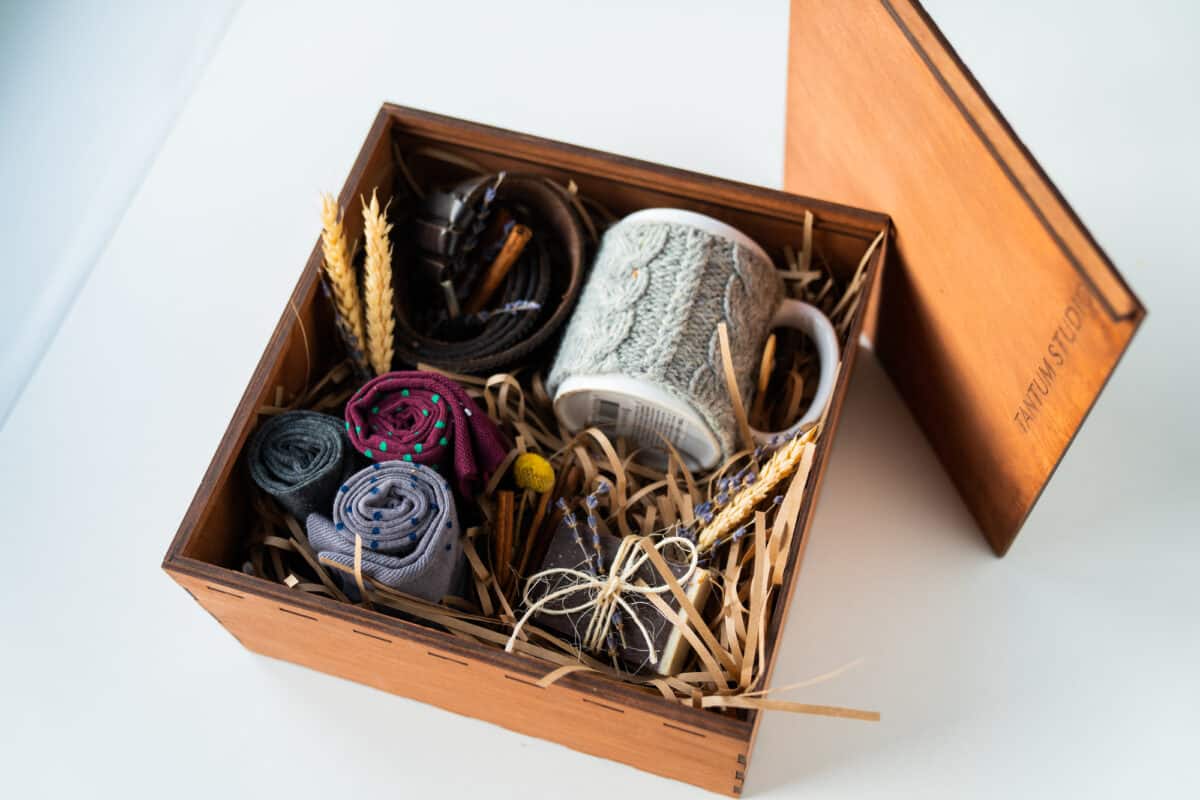 Nothing says 'thank you' quite like a personalized DIY gift set tailored to your buddies' tastes and interests.
One unique idea is to create customized DIY cufflinks for your groomsmen.
This can be as simple or as elaborate as you'd like – from using their initials, favorite sports team logos, or even miniature versions of their favorite hobbies. 
These cufflinks will add a personal touch to their wedding attire and serve as a memorable keepsake that they can cherish for years to come.
Another fantastic option is putting together homemade grooming kits for your pals.
You could include items like beard oil, aftershave balm, shaving cream, and even personalized razors or brushes. 
Frequently Asked Questions
What Is the Appropriate Budget for Groomsmen Gifts?
Navigating budget considerations feels like walking a tightrope. It's important to strike a balance!
Aim for $50-$150 per groomsman, considering personalized options that suit their tastes while keeping your wallet happy.
How Can I Ensure All the Groomsmen Equally Appreciate the Gifts?
Consider personalized accessories tailored to each groomsman's taste to ensure gifts are equally appreciated.
Alternatively, offer unique experiences like event tickets or adventures they'll enjoy together. Listen to their interests and preferences.
Are There Any Etiquette Rules for Presenting Groomsmen Gifts?
Ah, the dance of etiquette! While gift presentation has some general guidelines, etiquette variations exist.
Present your gifts at the rehearsal dinner or a private gathering. Include a heartfelt note and express gratitude.
How Can I Incorporate Cultural or Family Traditions Into the Groomsmen Gifts?
Consider your family's cultural keepsakes or heirlooms when selecting gifts.
You can personalize items with traditional symbols, pass down family heirlooms, or choose culturally significant items to honor your heritage and bond.
When Is the Ideal Time to Give the Groomsmen Their Gifts During the Wedding Festivities?
You'll never forget the gifting timeline – it's etched in stone!
Present your personalized keepsakes during the rehearsal dinner or morning of the wedding. It's a heartfelt moment they'll treasure forever.
Final Thoughts
From personalized accessories to unique keepsakes, there's something for every dapper gent.
Don't let the pressure of finding the perfect wedding gift for your groomsmen get to you.
Just remember to think about their interests and personalities and choose something that shows your appreciation – they'll surely be chuffed!