Once upon a time, in a land where love stories unfold and dreams come true, two soulmates are planning their fairytale wedding.
The magical tale begins with the enchanted task of crafting the perfect wedding invitation, a prelude to their happily ever after.
Join me, dear reader, as we explore the art of choosing the right wording for your wedding invitations, ensuring that your love story starts with a captivating prologue that sets the stage for your big day.
Let the romance and the linguistic journey commence!
RSVP and Guest Information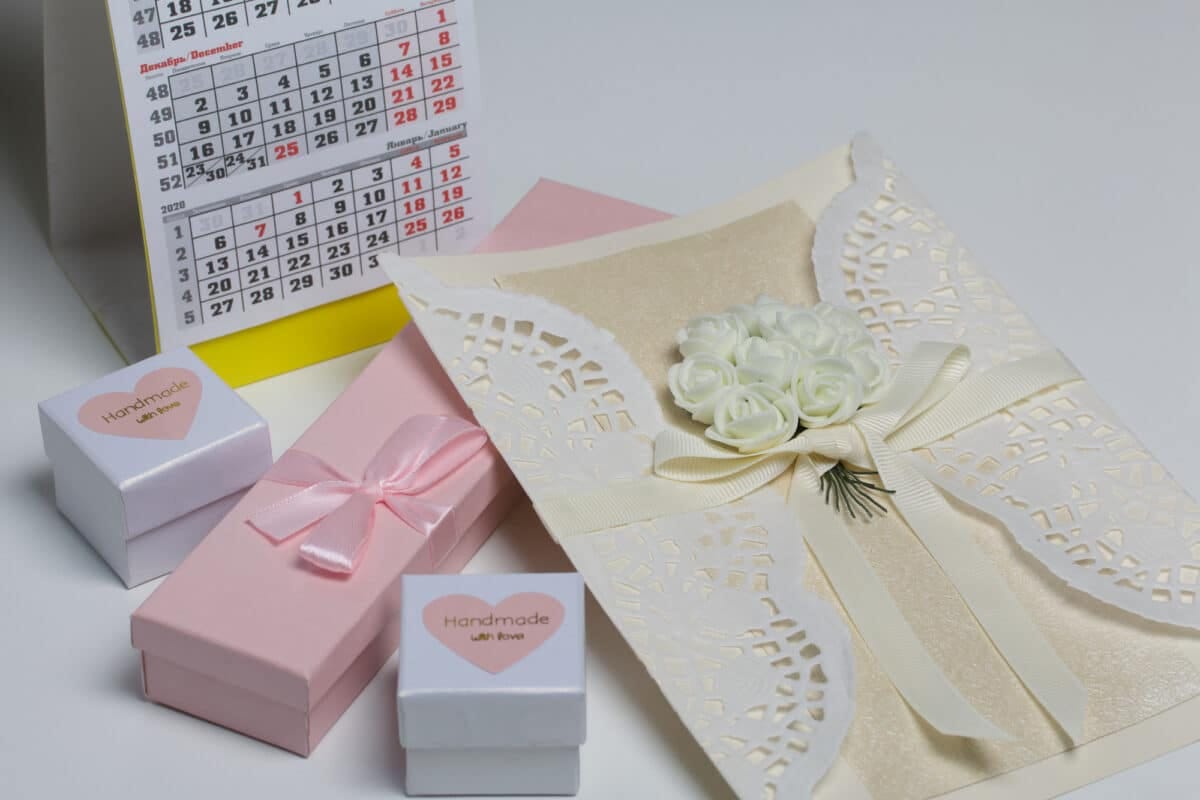 As you prepare to send out your wedding invitations, it's important to include a section for RSVPs and guest information.
This will ensure that you have an accurate headcount for your special day.
One thing to keep in mind is your RSVP deadline. Make sure that it gives guests enough time to respond but not too much time where they forget about it altogether.
A good rule of thumb is four weeks before the wedding date.
You can also consider including a small reminder card closer to the deadline or even following up with those who haven't responded.
Another consideration is your plus-one policy. While some may want to bring a date or significant other, others may prefer not to.
It's important to clearly state on the invitation whether or not guests are allowed a plus one and if so, what their name should be listed on the RSVP.
This portion of your invitation sets the tone for how organized and prepared you are as a host.
Provide clear instructions and guidelines to avoid any confusion or misunderstandings down the road.
Personalizing Your Invitations
It's time to consider what information must be included in your wedding invitations. This section will cover some key details to consider when deciding how to personalize your invitations.
First and foremost, remember that your wedding invitation sets the tone for your big day.
Incorporating humor or unique language choices can add a personal touch and show off your and your partner's personalities.
However, ensure the wording is still clear and easy to understand for all your guests.
When choosing the right wording, remember who is hosting the wedding (traditionally, this has been the bride's parents, but today it could also be both families or just the couple) and any religious or cultural traditions that need to be included.
It's important to balance honoring tradition while still making it uniquely yours. To help guide you in creating an effective wedding invitation, here are three things to keep in mind:
Use active verbs: Instead of writing "You are invited," try something like "Join us as we celebrate our love."
Play with typography: Bold fonts draw attention to important information, while italicized text emphasizes certain words.
Don't forget about spacing: Make sure there is enough white space around each line to make everything legible and visually appealing.
Cohesive Design and Theme
The first step is to choose a color scheme that aligns with your wedding colors. This will help create consistency and set the tone for your guests.
Consider incorporating design elements that reflect your personalities as a couple.
For example, if you're planning a rustic wedding, adding natural textures like wood or burlap can add warmth and charm to your invitations.
For a more modern look, sleek lines and metallic accents may be more appropriate.
It's important not to go overboard with too many design elements or colors. Stick to one or two main focal points, such as bold font or unique graphic elements.
Too much clutter can detract from the overall aesthetic of the invitation and confuse guests on what to expect at the wedding.
Proofreading and Editing
One common mistake is overlooking small details, such as misspelled names or incorrect dates.
These errors reflect poorly on the couple's attention to detail and cause confusion among guests.
Hiring a professional editor ensures every detail is checked thoroughly, leaving no room for error.
Another mistake is choosing language that does not convey the intended meaning. Couples may use flowery or overly complicated phrasing instead of clear and concise language.
A professional editor can help simplify language while maintaining elegance and formality, ensuring all guests understand the important details.
Proofreading and editing your wedding invitations can be risky business. Don't let small oversights ruin one of the most important days of your life!
Sending and Tracking Invitations
Proofreading and editing your wedding invitations is crucial to ensuring they are perfect before being sent out.
After all, you want them to be as beautiful and flawless as possible for such a special occasion. Once you have perfected the wording of your invitations, it's time to decide how to send them.
Online options: In today's digital age, various online platforms allow couples to create and send their wedding invitations electronically. This option can save time and money while allowing customization and personalization.
Paper invitations: Traditional paper invitations remain popular among many couples who prefer the timeless elegance and tactile experience of holding an invitation in their hands. They offer more legal options with luxurious papers, unique designs, letterpress printing, foil stamping, and other embellishments.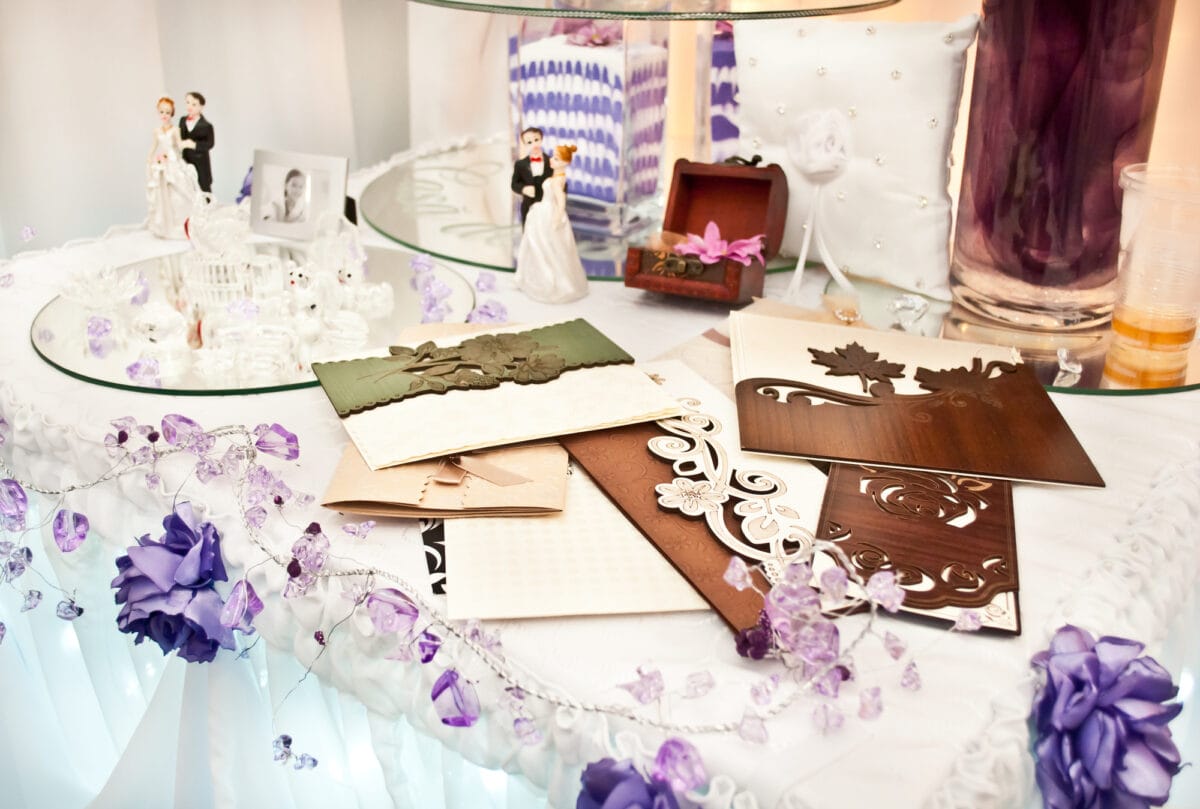 Whichever option you choose, make sure you consider your guest list carefully. Some guests may not have reliable internet access or prefer physical copies of the invitation.
It's important to communicate clearly with your guests about how they should RSVP so that everyone is on the same page.
Sending and tracking invitations: With paper invitations, remember to budget enough time for printing, addressing envelopes by hand (or hiring a calligrapher), adding postage stamps accurately according to size/weight/postal regulations, and mailing them in advance so that guests have plenty of notice, for online options like email or social media invites, track responses via automated systems or spreadsheets.
Whether you opt for an electronic or paper format depends on your preferences as a couple.
Make sure your choice reflects your personality and your wedding day's theme/style/atmosphere!
Frequently Asked Questions
How Far in Advance Should Wedding Invitations Be Sent Out?
According to recent studies, couples should aim to send their invites 8-12 weeks before the big day.
This gives guests ample time to RSVP and make the necessary arrangements. But what about sending reminders? 
A friendly reminder can be sent out a few weeks after the initial invitation, ensuring everyone responds promptly.
Should the Wedding Invitation Include the Dress Code for the Event?
Think about the formal expectations of your guests and what attire would be appropriate for the occasion. 
It's important to consider any cultural considerations that may influence dress choices.
If you choose to include the dress code, remember that etiquette dictates it should appear in the bottom right corner of the invitation or reception card. 
Is it Appropriate to Include a Request for No Children at the Wedding?
You don't want to come off as impolite or offend anyone, after all.
Wedding etiquette dictates that children are not always invited unless explicitly stated otherwise.
So if you prefer an adult-only celebration, make sure to convey it tastefully.
Should the Names of Divorced Parents Be Included on the Invitation?
Including step parents can be a nice touch, but listing them on the invitation is unnecessary unless they are hosting or contributing financially. 
When dealing with estranged parents, it's best to use their individual names rather than refer to them as "Mr. and Mrs."
If either parent has remarried, you may include their new spouse's name on the invitation. 
Can the Wedding Invitation Include Information About the Gift Registry?
While some may argue that including information about your gift registry on the invitation is tacky, many modern couples opt for this option as a way to make things easier for their guests. 
I suggest elegantly mentioning the gift registry by using phrases such as "Your presence is our present" or "In lieu of gifts, please consider making a donation to [charity name]."
Final Thoughts
Every aspect of your invitation can set the tone for your big day, from sending out invitations at the perfect time to including important details such as dress code and guest list preferences.
Whether through heartfelt prose or playful phrasing, your invitation should reflect your unique style and personality as a couple.
Craft an invitation that not only provides all the necessary information but also sets the stage for a memorable event filled with joy and romance.