The love of your life just popped the big question, and now you're floating on cloud nine, basking in the euphoria of your engagement.
As you start to plan your dream wedding, you quickly realize that the costs can spiral out of control faster than you can say, "I do." 
However, for wedding invitations, you don't have to compromise on quality or style to keep your wallet happy.
In this blog post, we'll share some ingenious tips and tricks to help you create show-stopping wedding invitations that won't break the bank. 
Setting a Realistic Budget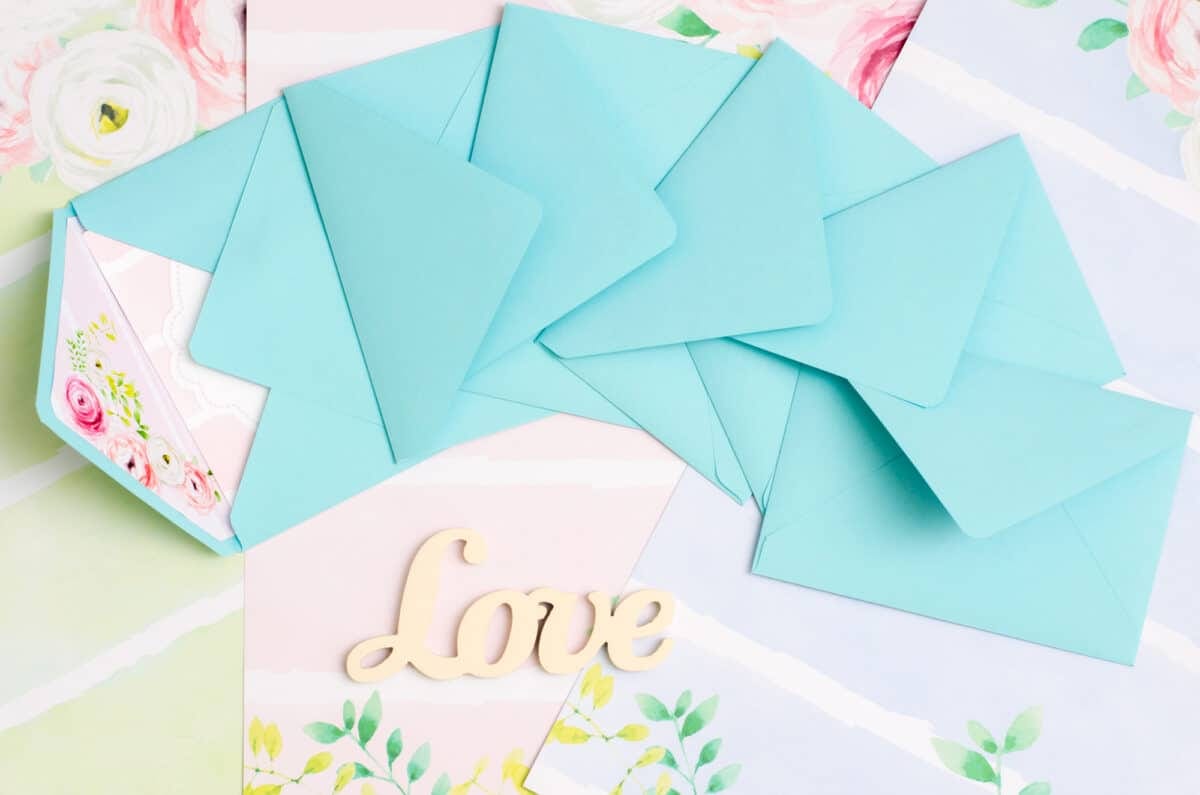 When choosing the right wedding invitation paper, there are so many options out there that it can be overwhelming.
However, don't let yourself get caught up in all the choices – stick to your budget! Plenty of affordable yet high-quality paper options are available for your big day.
Just remember that what matters most is not the paper's cost but the wording on the invitation itself.
Consider using creative and unique invitation wording suggestions that stand out from traditional invitations.
This can add a personal touch to your invitations without breaking the bank.
With a little research and creativity, you can develop something special that reflects who you are as a couple.
Choose affordable yet quality paper options and experiment with unique invitation wording suggestions that reflect your personalities as a couple.
Timing Your Invitations for Cost Savings
Streamlining your guest list and RSVPs is one way to save on wedding invitations. Consider sending out save-the-dates via email or social media instead of traditional paper cards.
This saves money on printing costs and allows you to better estimate how many people will actually attend the wedding before you send out formal invitations.
Think about mailing out your invitations during off-peak times like weekdays instead of weekends.
This can lower postage costs and reduce competition with other events or holidays that may increase demand for mail services.
Don't forget to order extra envelopes and invitation suites in advance so you have time to make any necessary changes or adjustments without having to pay rush fees.
Being proactive in this manner ensures that you'll have a stress-free experience while saving money simultaneously!
Cutting Down on Postage Costs
Buying in bulk can be a great way to save on postage costs for wedding invitations!
You can save up to 20% when you buy your stamps in bulk!
Using a postage meter can also help to save on costs – they can be a great solution for larger mailings.
Plus, they're easy to use and can save you time too!
Buying In Bulk
Many printing companies offer bulk discounts for large orders. This means that the more invitations you order, the less money it will cost per invitation.
It's worth contacting your chosen vendor and asking about their bulk rates. You may be pleasantly surprised by how much you can save.
If you're coordinating with other couples who are getting married around the same time as you, consider placing a joint order together.
This will help you reach the minimum quantity needed for bulk discounts and allow all of you to split the shipping costs.
Plus, there's something sweet about sharing such a significant milestone with friends or family members.
Buying in bulk is a smart way to reduce postage costs when sending wedding invitations.
Take advantage of any bulk discounts your printer offers and consider joining forces with other engaged couples to place a larger combined order.
Using Postage Meters
Postage meters have many benefits that can help save you time and money when sending out your invitations.
One of the most significant Postage Meter benefits is its cost-effective mailing solutions.
With a postage meter, you can print stamps directly onto your envelopes instead of purchasing individual stamps or going to the post office. 
This means no more overpaying for postage since you only pay for what you use. Plus, it saves time by eliminating multiple trips to the post office.
Another benefit of using a postage meter is better accuracy in calculating the correct amount of postage needed for each envelope.
Meters are programmed with current postal rates and automatically calculate the required amount based on weight and dimensions.
You won't have to worry about underpaying or overpaying again!
Utilizing a postage meter adds professionalism to your invitations, as they will appear neat, organized, and uniform.
It's also eco-friendly since it reduces paper waste from incorrect labels or stamps that need replacing due to errors.
Consider using a postage meter to cut down on your wedding invitation's postage costs while enjoying its numerous benefits.
Not only does it offer cost-effective mailing solutions, but it also provides accurate calculations and professional-looking invitations without wasting any resources.
Finalizing Your Invitations: Tips for a Professional Finish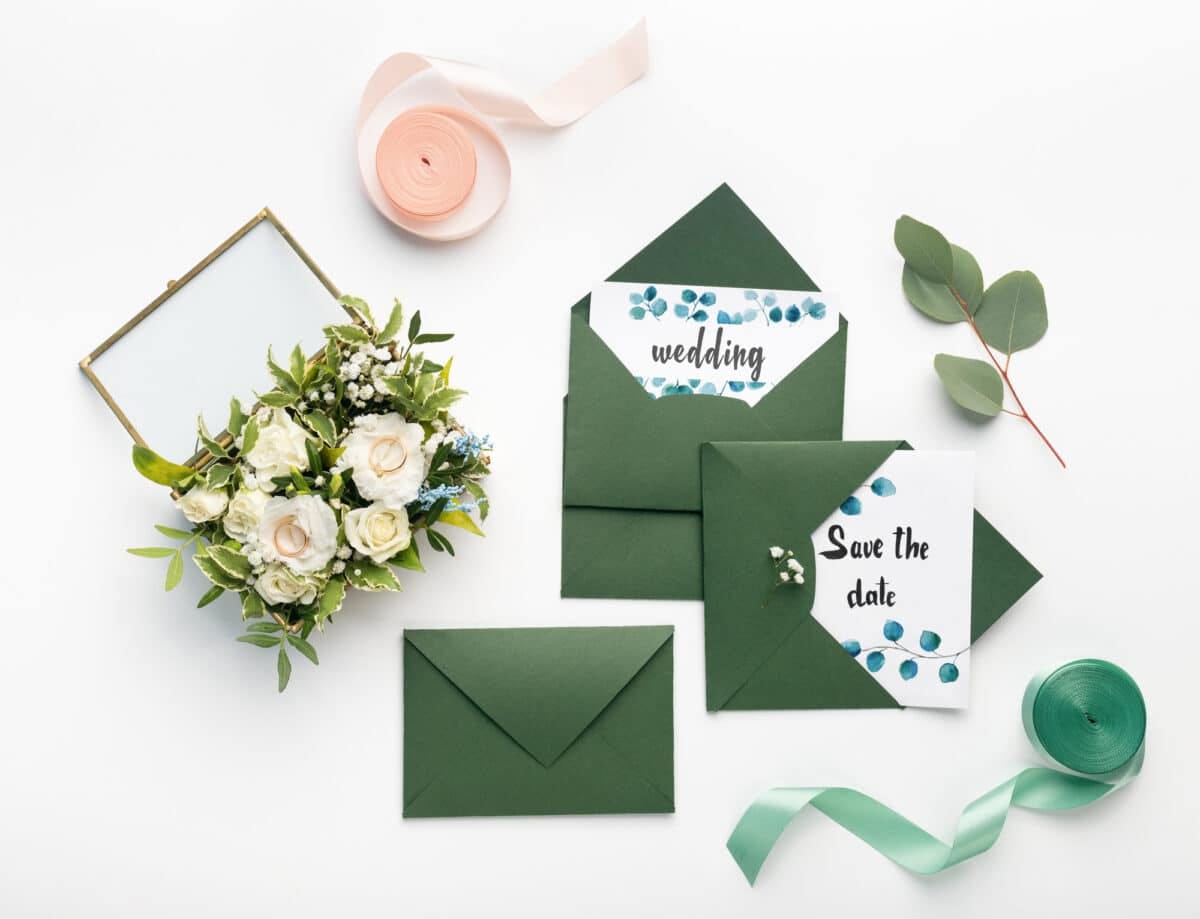 Consider calligraphy options. Handwritten details add an elegant touch to any invitation suite.
You can hire a professional calligrapher or use fonts that mimic handwritten lettering. Either option will give your invitations a polished appearance that will impress.
Envelope etiquette is crucial when sending out wedding invitations.
Always include the guest's name and address on the outer envelope while only using their first names on the inner envelope if invited alone (without a plus one). 
If you're inviting families with children, it's appropriate to list everyone by name under the parents' names on the inner envelope.
Take time to proofread everything before finalizing your invitations.
Check for spelling errors or typos in every detail, from dates to addresses to small text like RSVP instructions. This ensures that each invitation looks perfect and contains no mistakes that could confuse people later.
Frequently Asked Questions
How Do I Address My Wedding Invitations Properly?
When it comes to addressing wedding invitations, calligraphy options are crucial.
A beautifully hand-written envelope can set the tone for the event and show guests their attendance is valued.
Envelope etiquette is equally important – include titles such as Mr., Mrs., or Dr. when appropriate, and always double-check spelling and addresses. 
Is it Appropriate to Include Registry Information on the Invitation?
While some argue that including registry information on the invitation is tacky, others believe it's practical to ensure guests know what gifts you're hoping for. 
Spread the word through friends and family members, or include a small insert with additional information in each invitation.
Regardless of how you share your registry, always remember to be gracious and appreciative of any gift your loved ones give.
How Do I Handle Guests Who Don't RSVP?
It's important to address the issue of guests who don't RSVP.
First and foremost, send follow-up reminders to those who haven't responded yet. 
Be sure to include a deadline for their response in your message so they understand the urgency.
Try to accommodate last-minute RSVPs if possible, but also be prepared with extra seating arrangements just in case.
Can I Use a Non-traditional Color Scheme for My Wedding Invitations?
Who says you have to stick with the classic white and gold combo?
Why not incorporate bold hues like fuchsia or turquoise into your DIY invitation designs?
Not only will this make your invitations stand out, but it'll also give guests a glimpse into the playful nature of your big day.
So go ahead, be daring – this is YOUR special day!
What Should I Do if I Make a Mistake with an Invitation?
Correcting errors can be done by creating a new invitation or using correction tape to fix minor mistakes.
However, if the error is more significant, such as getting the date or venue wrong, it's important to apologize to guests and send out corrected invitations as soon as possible. 
But mistakes happen, so don't beat yourself up over them.
Just take swift action to correct any errors and ensure your guests have all the correct information they need for your special day.
Final Thoughts
Remember to address your invitations properly by using formal titles and full names, and resist the temptation to include registry information on the invitation itself.
Instead, direct guests to your wedding website or provide the information through word of mouth.
Let your personalities shine through in every detail of your special day, starting with the first impression your guests will receive: your stunning wedding invitations.
As they say, "a picture is worth a thousand words," so paint a beautiful picture together that captures the love and excitement of your upcoming nuptials.