The moment has finally arrived: two souls are about to unite in holy matrimony, and the air is filled with anticipation, love, and laughter.
But wait! There's just one little detail left to iron out – capturing this once-in-a-lifetime event without breaking the bank.
Fear not, budget-conscious lovebirds, as I am about take you on a whirlwind tour of creative and affordable ways to immortalize your big day, ensuring that your memories are as priceless as your love story.
So, buckle up and get ready to dive into a treasure trove of savvy solutions, ingenious hacks, and eye-opening ideas to help you achieve those dream wedding snaps without the nightmare price tag!
Prioritizing Your Photography Needs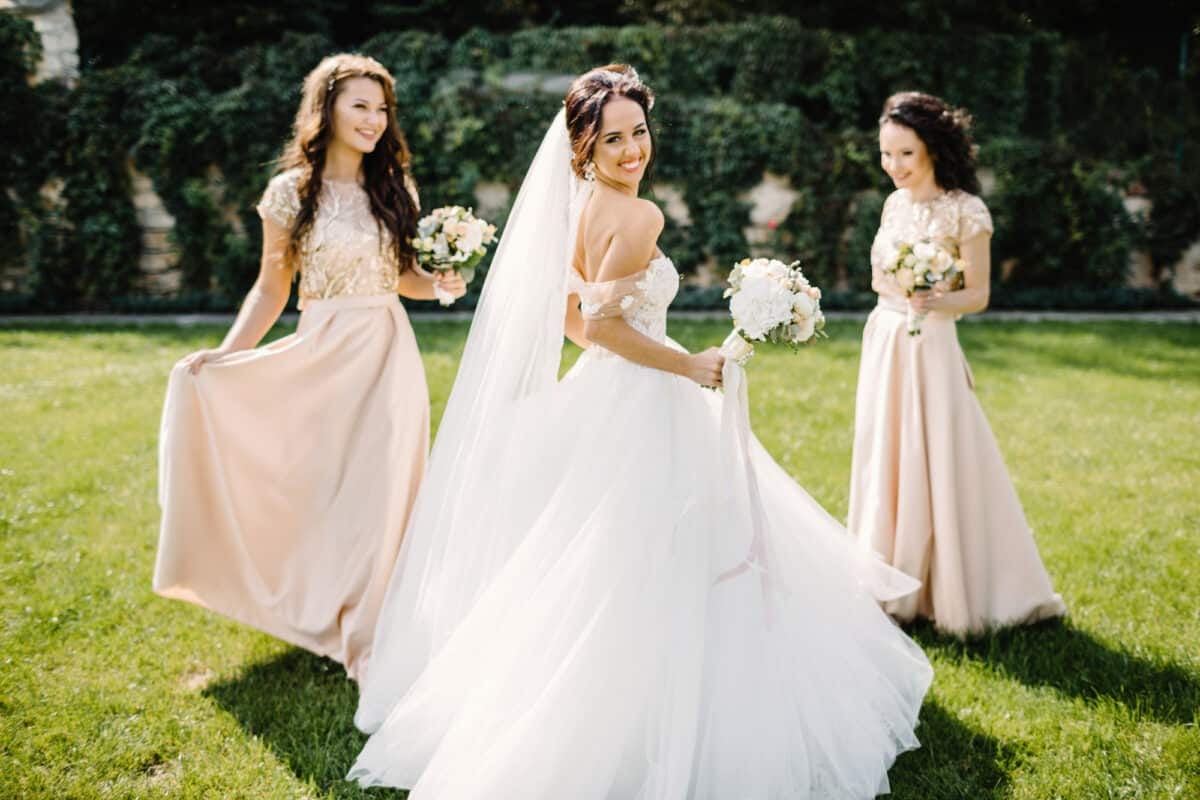 Choosing between DIY vs. professional photography can be overwhelming. While DIY may seem like a cost-effective option, it requires time, effort, and expertise in photography.
On the other hand, hiring a professional photographer ensures that your pictures are perfect without worrying about technicalities.
When deciding on traditional vs. candid shots, consider what moments matter most. Do you want posed portraits or spontaneous moments?
Traditional shots are more formal, while candid photos capture raw emotions as they unfold. Your decision should depend on your preferences and what best tells your story.
Prioritizing your photography needs starts by identifying what matters most to you. Determine how much budget you have for photographs and allocate accordingly.
Remember that these images will last a lifetime, so choose wisely!
Meeting With Potential Photographers
This is an important part of the process as you'll discuss your vision for your big day and get to know each other better.
When scheduling the meeting, choose a convenient location for both parties involved.
It can also help to bring some inspirational photos or even a Pinterest board to give the photographer an idea of what you're looking for.
During the meeting, don't hesitate to ask questions about their experience and approach to wedding photography.
Some good questions to ask include: What style do they specialize in? How many weddings have they shot? Do they have backup equipment on hand?
It's also important to discuss pricing and packages during this meeting to avoid surprises later. Be upfront about your budget and see if there are any ways that they can work within it.
Bring a list of must-have shots or special requests to prepare for the meeting. You may also want to bring examples of poses or styles that you like.
By being prepared and asking thoughtful questions, you'll increase your chances of finding the perfect wedding photographer for your special day.
Create a list of three "must-have" shots that you absolutely need from your wedding day.
Ask about their turnaround time after shooting before receiving final edits.
Inquire about how many edited images will be included in your package
Discuss whether or not engagement photos are included in their services
Remember – planning a wedding takes time and effort, but with careful consideration when selecting vendors such as photographers – it all pays off in those cherished memories captured forever.
Enjoying the Moment and Letting the Photographer Do Their Job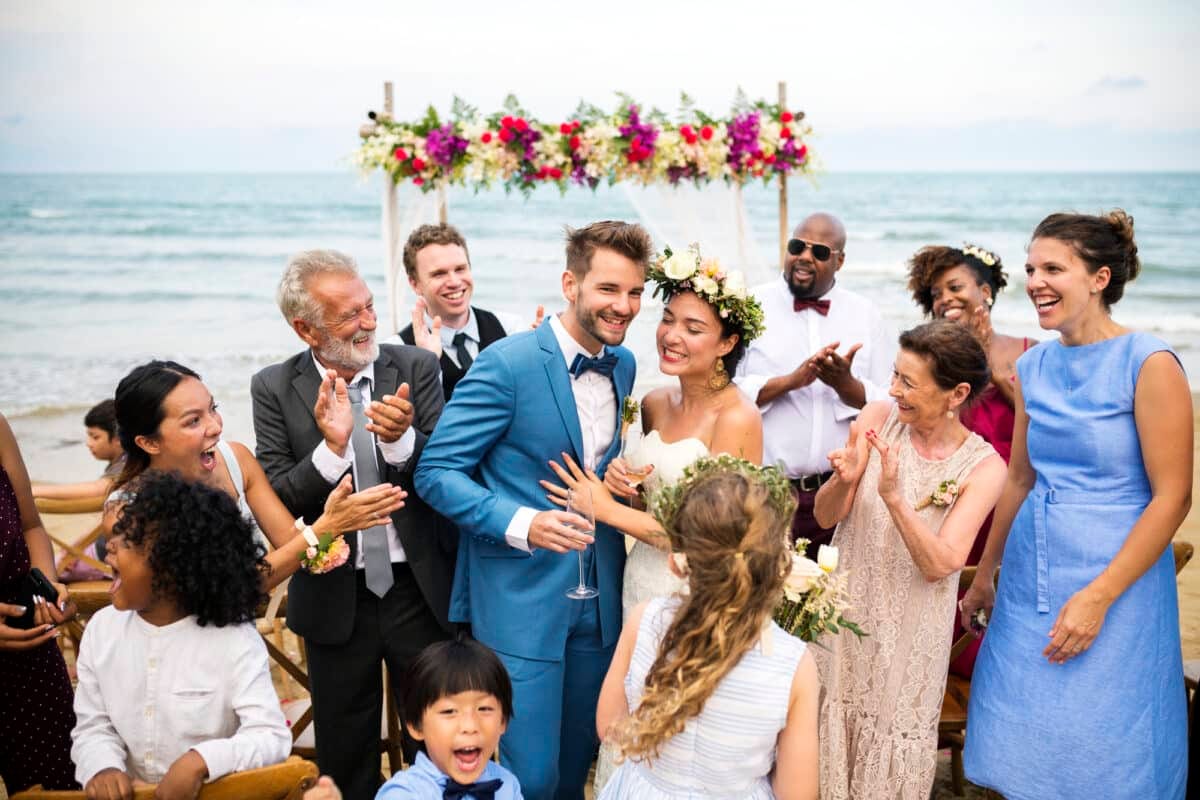 It's time to enjoy the moment and let your photographer do their job. One thing that can add stress to any wedding photo shoot is posing.
However, there are ways to make this experience stress-free for both you and your partner. The key here is communication with your photographer.
Before the big day, talk to them about what poses you prefer or if you have any specific shots in mind.
This way, they'll know exactly what to capture during the shoot while ensuring you're comfortable throughout the process.
Stress-free posing will ensure that your photos look natural and showcase your love story perfectly.
In addition to posed shots, candid moments are just as important. These spontaneous captures often become some of the most cherished memories from a wedding day.
So instead of worrying too much about how every shot looks, try relaxing and trusting the process.
Your photographer has years of experience and knows how to capture those special moments effortlessly.
From a photographer's perspective, it's essential that couples feel at ease during a shoot so they can get those perfect shots without feeling pressured or nervous.
If you start feeling overwhelmed during the session, take a breather or ask for a break before continuing. Remember: this is supposed to be fun!
Frequently Asked Questions
How Much Should I Expect to Pay for a Wedding Photographer?
While many options exist for those looking to cut costs on their wedding day, remember that investing in quality photography will provide lasting memories worth every penny.
Should I Hire a Professional or Ask a Friend to Take Photos?
Professional photographers have years of experience in wedding photography and are skilled in handling different lighting situations, posing couples for formal portraits, and capturing candid moments throughout the day. 
On the other hand, asking a friend to take photos may save you money.
Still, it can come with limitations, such as being unable to capture every important moment and potentially ruining friendships if things go wrong.
How Many Hours of Photography Coverage Do I Need for My Wedding?
The first is pricing – the longer you have a photographer on-site, the more expensive their services will be.
However, if capturing every moment of your special day is important, investing additional hours may be worth it. 
If so, discuss this with your photographer and add extra time for them to design and create the album after the event.
Can I Request Specific Poses or Shots From the Photographer?
I always recommend communicating with your photographer about any specific poses or shots you have in mind.
However, it's important to be mindful of posing etiquette and not request anything that might come across as inappropriate or disrespectful. 
Don't be afraid to suggest alternative shots if you want certain moments or details captured uniquely.
Remember that the goal is for you and the photographer to work together to create beautiful memories of your special day.
How Long After the Wedding Will I Receive My Photos?
The turnaround time for receiving your images will depend on various factors, such as the photographer's workload and editing process.
Most photographers will provide you with an estimated delivery timeline so that you can plan accordingly. 
Discuss any delivery options with your photographer in advance. Whether you'd like them delivered via USB or online gallery, ensure everyone is on the same page. 
Final Thoughts
Consider how much you should expect to pay for a wedding photographer. According to recent statistics from The Knot, the average cost of a wedding photographer in 2020 was $2,400.
However, this price can vary depending on your location and the photographer's experience level. It's important to do your research and compare different photographers before deciding.
Another option to save money is to ask a friend or family member with photography skills to take photos at your wedding.
While this may be more affordable, it's important to remember that they may not have professional equipment or experience with capturing weddings specifically.
If you decide to go this route, communicate clearly about what shots you want to be captured.
Remember that communication with your photographer is key. You can request specific poses or shots ahead of time so that nothing gets missed on the big day.
And don't forget to ask when you'll receive your photos after the wedding – typically, it takes around 4-6 weeks.
Planning a wedding on a budget can be stressful, but there are ways to still have beautiful memories through photography without overspending.