Your wedding day can go smoothly if you know what pitfalls to dodge!
Leaving out specific details until just before the big day can lead to embarrassing moments at the altar.
Not having a detailed plan is like grocery shopping without a list.
In this blog, I'll discuss the most common wedding planning mistakes and provide tips on how you can overcome them.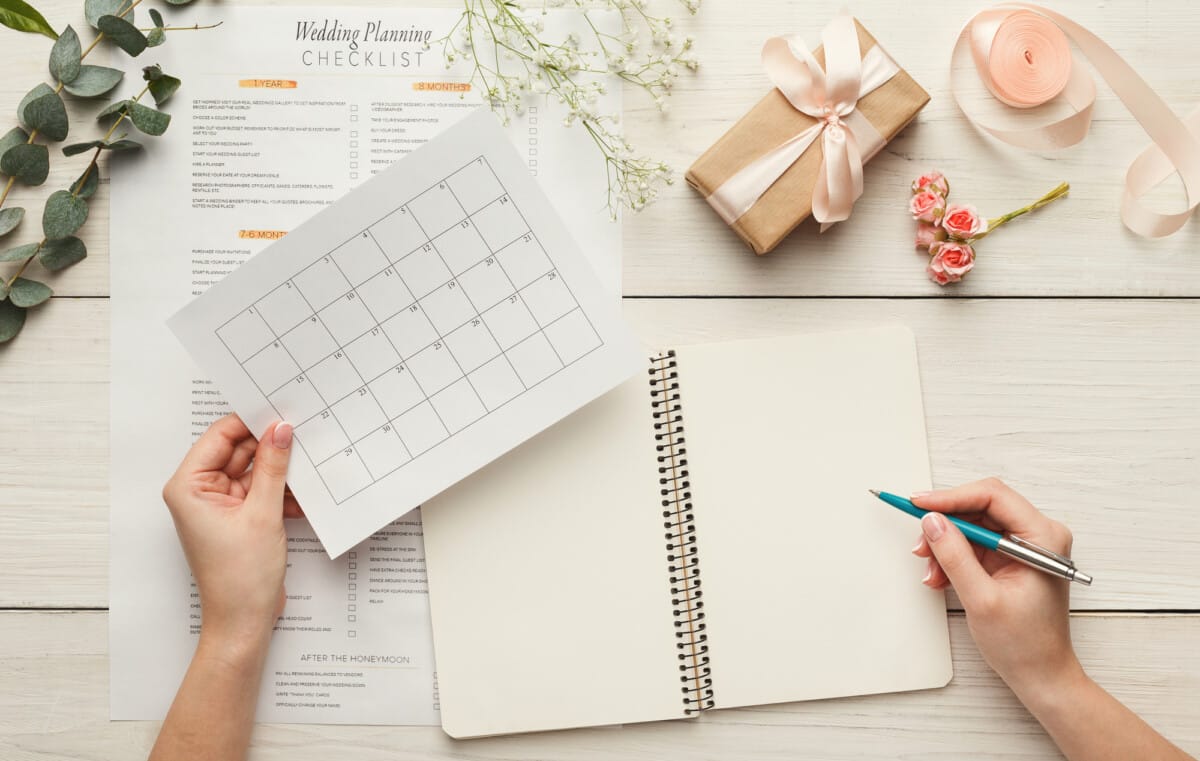 1. Budgeting Errors
Have you ever gone over budget while planning a wedding? It's all too easy to do.
But, with careful planning and sound decision-making, it doesn't have to be that way.
Let's look at the most common budgeting errors when planning a wedding – and how to avoid them.
The first mistake is not creating a realistic budget in the first place.
Many couples are overwhelmed by their options and can quickly become lured into spending more than anticipated.
To prevent this from happening, sit down together and create an itemized list of your must-haves vs. nice-to-haves for each aspect of the event before getting started.
This will help set expectations upfront and keep you both on track.
Another issue arises when couples don't factor in hidden costs or fees associated with vendors or services they use for the big day.
Get as much information upfront about any additional charges so there aren't any surprises comes time to pay the final bill!
Consider setting aside money specifically for extra fees that may pop up nearer to your date, and remember – it never hurts to ask questions if something isn't clear right away.
2. Guest List Blunders
Guest list blunders are common wedding planning mistakes that can be easily avoided. When creating a guest list, it is essential to remember the following:
Know Your Limitations
A major mistake couples make when making their guest list is not being aware of their venue's capacity and other restrictions, such as catering costs.
It's wise to keep tabs on any changes made to ensure you don't exceed these limits or overspend.
Be Specific With Plus-Ones
Allowing guests to bring an uninvited date or friend can quickly escalate costs if done improperly.
Consider whether each guest should have a plus-one and decide if they can bring one before sending out invitations.
This will help avoid any potential confusion further down the line, especially if there's limited seating available at the ceremony or reception hall.
Set Expectations Early
Letting guests know what type of event they'll be attending and what clothing style they should expect helps prevent last-minute surprises for everyone involved.
For example, letting them know ahead of time that dancing won't be allowed or that children under 12 aren't invited often prevents disappointment later on, which could otherwise impact the atmosphere of the special day itself!
2. Underestimating Time Commitment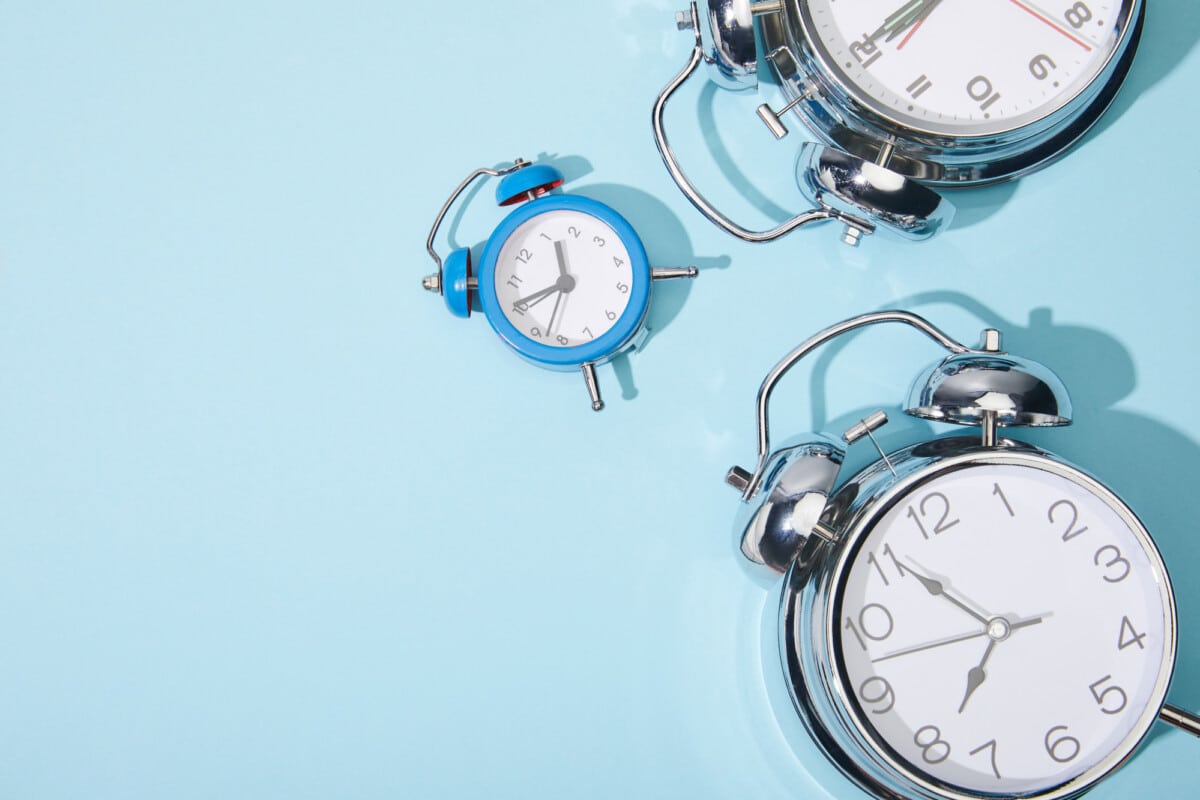 Many couples underestimate the time to commit to their wedding planning.
From researching vendors and venues to deciding on a budget and menu, much must be done before the big day arrives.
An excellent way to plan is to create a detailed wedding planning timeline for all your tasks leading up to the ceremony.
This will help you stay organized and ensure nothing gets missed.
Assign each task an estimated duration and stick with it!
It's also important to remember that unexpected things will pop up during your wedding planning journey – like making last-minute changes or dealing with disagreements between family members.
Allowing yourself extra time, if these issues arise, can save you a lot of stress.
3. Not Shopping Around for Vendors
Couples often make the mistake of settling on the first vendor they come across and later regret it.
While this may save you time upfront, in the long run, you'll pay more than necessary.
When selecting wedding vendors, consider their experience and qualifications as well as how much value they offer for the price.
Don't forget to read reviews from previous customers – these will give you insight into whether or not that particular vendor can be trusted with an important event like your wedding day.
Also, ask friends and family if they have any recommendations before signing contracts.
Take advantage of resources available online to compare different venues, photographers, caterers, etc., to find one that fits your budget while still providing quality services.
4. Poor Communication With Vendors
If couples do not communicate effectively with their vendors, it can lead to many issues down the line.
Couples must ensure that all communication is clear and timely when working with any vendor for their wedding day.
First and foremost, couples should build relationships with those they hire to ensure everything runs smoothly on their special day.
This includes getting to know each vendor's work ethic and style before signing contracts or agreeing on their services.
Furthermore, being prompt in returning emails and phone calls is vital as delays may result in missed opportunities such as booking a venue or other vital components of the big day.
To have a successful event, couples must go above and beyond when communicating with their vendors throughout the process.
It's also critical for couples to provide detailed information about what they want from individual vendors before hiring them so there are no misunderstandings on either side once an agreement has been made.
For example, if you're hiring a photographer, discuss your expectations regarding photos taken during pre-ceremonies, like getting ready shots before signing any documents.
5. Lack of Attention to Detail
Even if you think something is too small or insignificant to worry about, it could be costly in terms of time and money down the line.
The first step in avoiding this mistake is keeping track of every detail related to your wedding from start to finish.
Have an organized binder with all your contracts, vendor information, budget breakdowns, and other important documents, so they're easy to find when needed.
Create timelines for each task leading up to your special day – no matter how small or large – and stick to them as much as possible.
That way, you won't miss anything along the way!
Another great tip is having someone else review everything before making final decisions.
It never hurts to get a second opinion on things like seating charts or decorations; sometimes, another person might spot an issue you missed because you were too focused on one area.
6. Not Hiring Professionals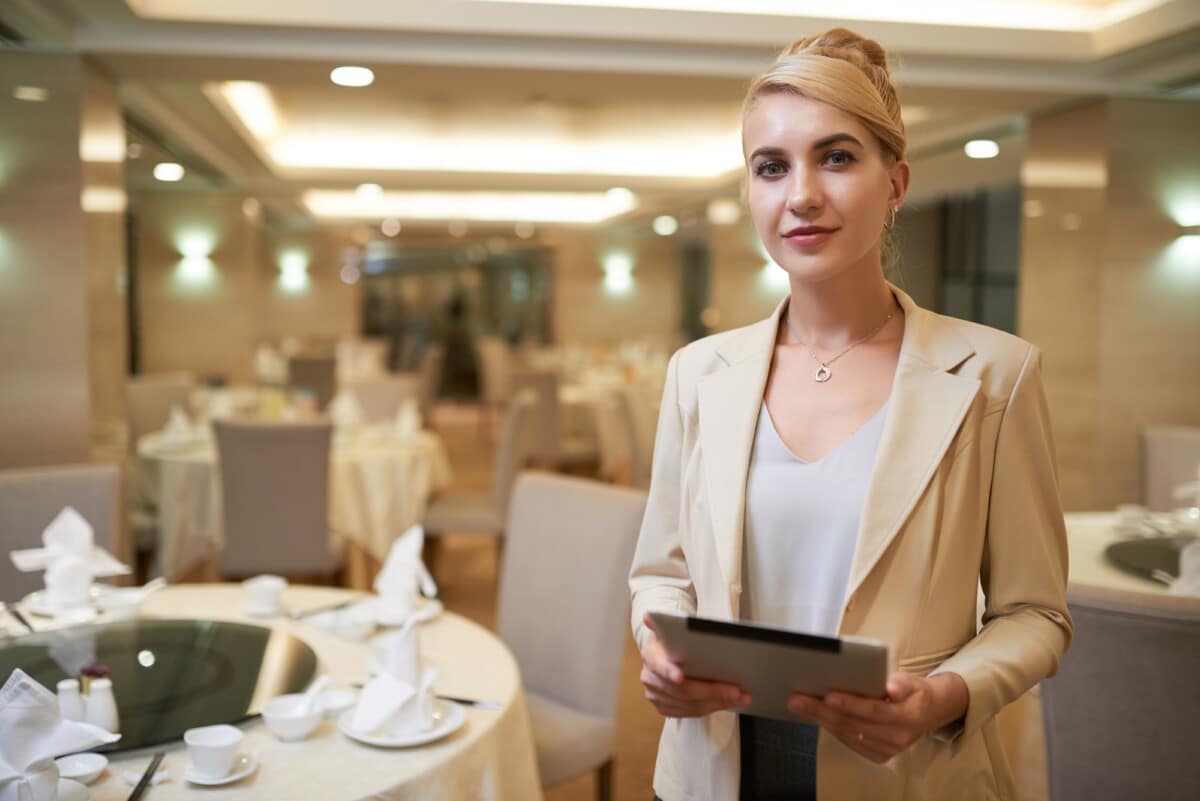 Here are some key points to remember when it comes to hiring professionals:
Have an experienced wedding planner coordinate all vendors and handle any last-minute issues.
Find reliable vendors with positive reviews who you trust will provide quality services on time.
Ensure your photographer is experienced in shooting weddings and has backup equipment just in case.
Discuss payment policies with everyone involved to avoid surprises later on.
Hiring professional assistance ensures everything runs according to plan, prevents unnecessary stress during the process, and provides peace of mind knowing that all tasks associated with the event have been adequately handled.
As such, couples should take advantage of this invaluable service if they want their special day to go off without a hitch.
With expert help, couples can enjoy their big day worry-free instead of scrambling at the last minute trying to fix mistakes.
7. Forgetting the Little Things
They say that the devil is in the details, and this couldn't be more true than when it comes to wedding planning.
It can be easy to get caught up in the more prominent aspects of your special day, like the dress or reception venue, yet forgetting about more minor elements can significantly impact your event's success.
One crucial detail is ensuring you provide enough seating for everyone invited, especially if there are elderly guests who may need extra chairs.
Don't forget about food allergies or dietary restrictions, as some of your guests might be unable to eat certain items served at the reception.
To avoid any issues, ask each guest beforehand so you can plan accordingly.
8. Keeping Up With Trends
It's easy to get caught up in the latest trends when it comes to wedding planning.
However, they may not be right for your specific event and can cost you more money than necessary if done incorrectly.
Here's a breakdown of why keeping up with trends isn't a sane decision if you have a limited budget
| | |
| --- | --- |
| Pros | Cons |
| Keeps events unique and modern | It may cost extra due to needing current supplies or personnel with knowledge of trend-setting ideas |
| Ensures guests are wowed by details and decorations | Trends change quickly; what is trendy one year may not be so next year, leading to wasted money/time efforting something that won't last long term |
| Allows for a personalization of an event | This could lead to overspending because some people have difficulty saying no when faced with attractive options. Also, personalization could lead to a lack of cohesion and a disorganized event if not executed properly. |
9. Overlooking Legal Requirements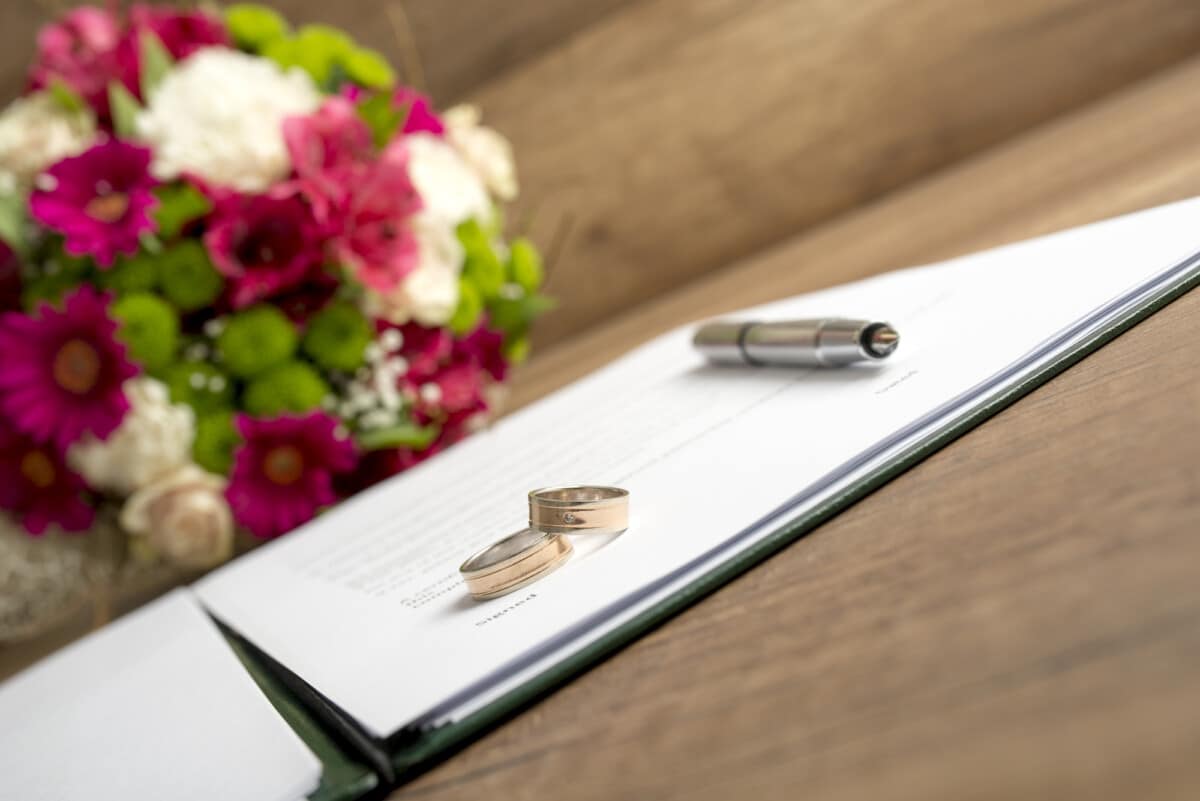 Depending on where you live and intend to get married, different permits and licenses may be required for your ceremony to legally bind.
Before signing any contracts or paying deposits for venue rentals or services, you must check with local authorities what documents are necessary for a legal marriage.
Figuring out these details ahead of time will help avoid making costly delays or changes that could disrupt your entire plan.
While some states allow couples to apply electronically, others require an in-person visit at their county clerk's office before they issue a license.
Researching this information early on should prevent last-minute trips across town while trying to find someone who can provide the proper documentation.
Frequently Asked Questions
1. How Much Should I Budget for My Wedding?
When creating your budget, start by researching venues and vendors in your area.
Make sure to compare prices and get quotes from various companies before deciding on one. 
This will help ensure you're not paying more than necessary for any services or products related to your wedding.
Ask about discounts or payment plans if available – this could save you hundreds of dollars!
Once you know what kind of cost expectations you're dealing with, create two separate budgets: one for essential items like food, decorations, and transportation; and another for non-essential items such as favors or extra decor elements. 
Prioritize the must-haves first, then decide which extras you want within your allotted amount. 
Lastly, don't forget to factor in contingency funds if something unexpected arises during the planning process.
With these steps taken care of beforehand, making a realistic budget won't feel daunting!
2. What Is the Best Way to Keep Track of My Guest List?
One method for managing your guest list is using a spreadsheet or document on your computer. 
This allows you to add names, notes, addresses, and RSVPs. 
You can also share the document with family members so they can provide input when necessary.
Many websites offer online wedding planning tools that allow you to keep all your information organized in one place.
Another approach is to write down each name on a card with their address printed directly onto it. 
This saves time since you don't have to enter every address into the database manually.
Plus, having physical cards makes it easier to decide who should receive invites first in case you need to reduce costs.
3. How Do I Know if I'm Giving Enough Time for Wedding Planning?
Regarding timing, there's no one-size-fits-all answer, as each couple will have different needs and wants for their big day. 
However, there are some general pointers that you should keep in mind when scheduling your plans. 
• Give yourself enough time before the big day for any unexpected issues or changes that may arise.
• Allow more than enough time for ordering supplies like decorations or custom clothing pieces.
• Invest extra time into researching vendors such as photographers or caterers.
• Remember that things won't always go according to plan – be prepared.
• Adequate time is key when planning a wedding.
• Foresight and research can help avoid common pitfalls.
4. What Should I Consider When Choosing a Vendor?
When choosing a vendor for your wedding, there are many important considerations.
• Select someone you feel comfortable with and who can meet the needs of your special day.
• Consider their reliability, cost, experience, and reputation in the industry.
• Research each potential vendor thoroughly before making any decisions.
• Read reviews from past customers and ask for recommendations or referrals.
• Take into account how well they communicate and respond to questions or requests.
• Ensure the vendor fits within your budget and meets your expectations for quality service.
5. How Can I Make Sure I'm Not Missing Important Details?
To avoid any significant issues, there are several steps one should consider when preparing for their big day:
• Start early by creating checklists and timelines
• Do research before committing to vendors
• Double-check contracts with all involved parties
• Researching different vendors is also key as this helps ensure you're getting quality services at fair prices and not being taken advantage of – like finding out if their reviews are good or bad! 
• Before signing on the dotted line, double-checking contracts is crucial as well.
• Ensure you understand what every party is responsible for delivering and whether or not payment has been clarified. 
Final Thoughts
I'm sure you can relate to wanting your wedding day to be perfect.
As much as we would like it to, everything doesn't always go according to plan, and that's why planning is so important.
Consider all factors to avoid making costly mistakes. It's ok if some things don't go according to plan, weddings are, after all, a celebration of love.
An organized budget and timeline make preparation easier.
Proper planning and preparation can help you achieve a dream wedding without significant issues.
It's important to stay mindful and remember the purpose of the wedding; to celebrate love with loved ones.