Amidst excitement and stress, in life's grand design comes planning a wedding, a moment quite divine.
Let's face it, planning a wedding can be a rollercoaster ride! Excitement, stress, and budget worries… all these things catch you off-guard!
But before stressing about the bills, remember this: You can have a dream wedding without becoming a broke bridezilla.
How, you ask? Well, let's review the ultimate list of do's and don'ts for planning the wedding on a shoestring budget. Trust me, it's time to put the "fun" back into "funds"!
Cost Estimation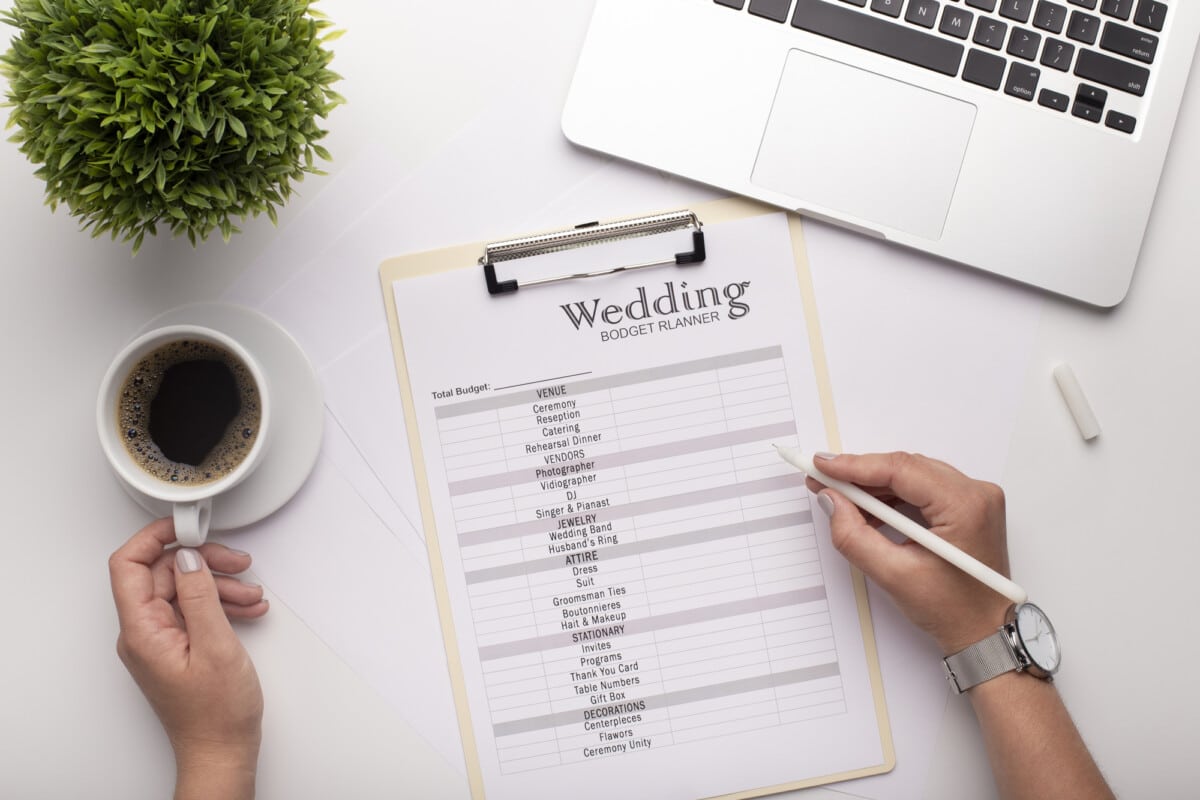 If you're tying the knot on a budget, you must be as savvy as a wedding-planning ninja. Don't go in blindfolded – research and get quotes from different vendors.
I am talking about flowers, cakes, dresses, DJs – the whole shebang! But don't get carried away with your wedding dreams, folks.
Be realistic about what you can afford and what you need. After all, you want to make sure your wedding day is memorable, not miserable.
Once you've got the numbers down, let's get down to the nitty-gritty – finding that perfect venue!
Venue Selection
Selecting the right venue is critical; it will be the backdrop of one of the most important days in your life. Therefore, consider these dos and don'ts when selecting a venue on a tight budget.
Do's
Do select an outdoor space or backyard.
Outdoor spaces can provide beautiful settings with little financial outlay.
If using a friend's or family member's backyard, simply ask them for help and offer a token gift instead of paying rent outright.
You could even host at multiple locations, such as getting ready at home and then having your ceremony and reception elsewhere.
Don'ts
Don't choose over-the-top venues which may come with hefty price tags attached – while they are undoubtedly stunning places to get married.
They're not suitable if you're trying to save money.
Don't go for expensive options; instead, opt for more affordable options such as local parks or community halls, where rental fees tend to be lower than hotel ballrooms or fancy country clubs.
Catering and Food Options
"A penny saved is a penny earned." This adage rings true regarding wedding planning on a tight budget, especially regarding catering and food options.
The trick is to develop creative solutions that still provide your guests an enjoyable experience while staying within your limits.
The first thing you can do is consider providing the food yourself or getting help from family and friends who are willing and able.
If this isn't possible, look into alternative vendors like local restaurants or caterers specializing in smaller events like weddings.
Look for companies that offer plated meals instead of buffets which cost significantly less per person than buffet-style services.
You could opt for finger foods over sit-down meals if you want something simple yet elegant.
And lastly, don't forget to ask about discounts – many businesses will be happy to work with your budget as long as they know what you need upfront!
Dress and Attire Shopping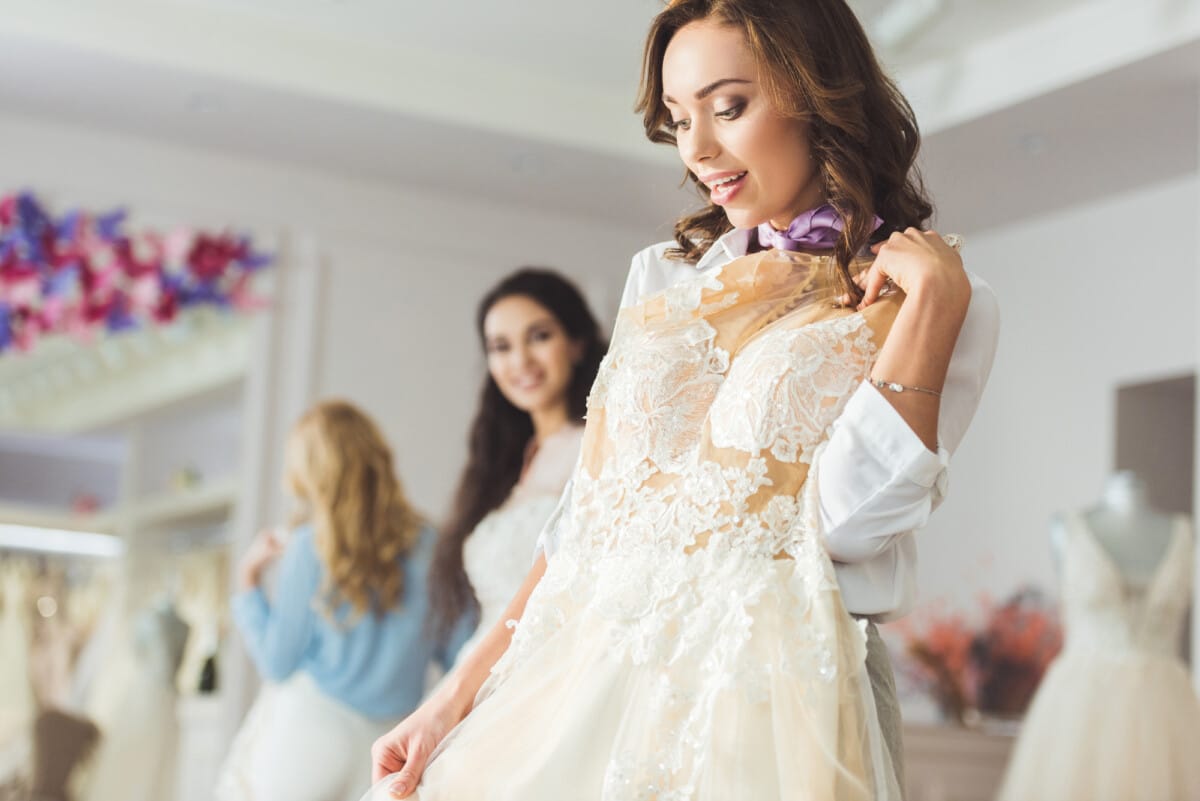 Here are three things to remember when looking for wedding dresses and tuxedos:
1. Establish a budget before you begin shopping; this will help keep expenses in line with your wedding budget.
2. Consider any special requests or needs from guests, such as wheelchair accessibility or accommodations for particular sizes/shapes of bodies.
3. Shop around – don't just settle on the first place you visit! Check out different stores online or in-person to find the best deals and styles available within your price range.
When selecting bridesmaids' dresses, consider these points:
1. Choose a flattering style for everyone who will be wearing it.
2. Keep an open mind when exploring color palettes – something other than traditional pinks and purples could be perfect!
3. Consider ordering dresses online so they can all be shipped together, saving money on shipping costs while ensuring that each gown fits properly and looks great on its wearer without needing alterations at the last minute (which can get expensive!).
Wedding Favors and Gifts
It's essential to recognize the areas of spending that will bring you the most value. One such area is favors and gifts for your guests.
These small tokens show your appreciation without breaking the bank. Here's what to keep in mind when shopping around:
| | |
| --- | --- |
| Do | Don't |
| Purchase items with bulk discounts | Forget about personalized touches |
| Opt for DIY creations | Overlook unique ideas |
| Go all-in on one particular gift/gesture per guest | Wait until the last minute to shop around |
Creating custom favors or opting for edible treats are great options for saving money while giving your guests something special they can take home as a reminder of your big day.
You can even incorporate them into centerpieces or other decorations. There are plenty of ways to stick within a realistic budget while personalizing this part of your celebration.
Regarding gifts, think outside the box by considering something meaningful like an experience rather than a physical item.
Giveaways and contests also provide fun opportunities for engagement at little cost.
If you prefer material presents, look out for sales and discounts online or locally, as these could help you find the right thing without exceeding your allotted amount.
Photography and Videography
Say cheese, budget brides and grooms! I know that capturing those precious wedding moments is a big deal.
But let's be honest; photography and videography can be as scary as catching the bouquet.
Don't freak out, though, because there are ways to get amazing photos and videos without breaking the bank.
Who says you can't have your cake and eat it too? So let's snap to it and get those cherished memories on film.
One way to cut costs is by asking friends or family members with experience taking photos or recording videos if they would be available for the event.
These offers often come without cost but could require additional stipulations such as time constraints or no guarantee that you will receive everything you asked for.
That being said, having an experienced photographer or videographer at the wedding may make all the difference in getting beautiful memories that last forever.
If you cannot rely on amateur help, consider using technology like digital cameras and smartphones to capture moments throughout the night.
With some basic know-how and practice, you can produce quality images worthy of framing. Although this option requires more effort from you than hiring professionals, it can save big bucks when done right.
Hiring Professional Help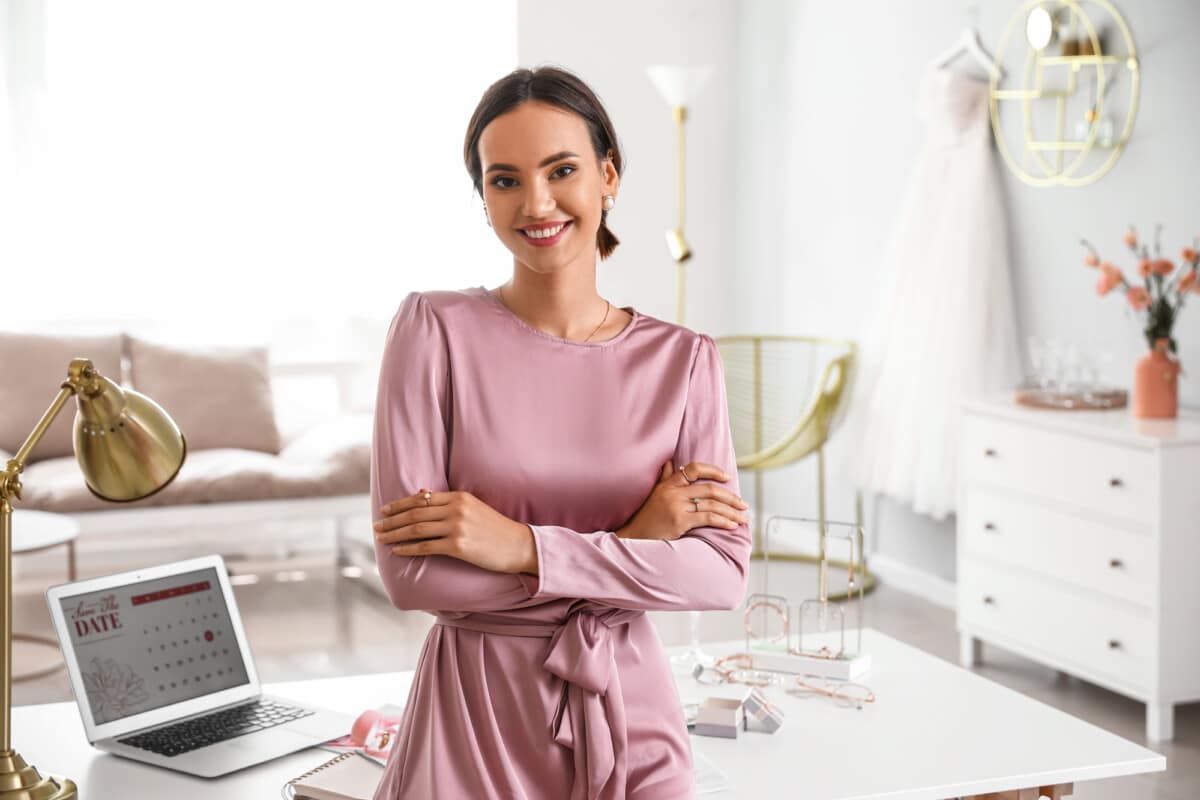 While some couples may be tempted to try DIY methods for their wedding planning, there are pros and cons to consider when deciding whether or not to hire professionals.
The first pro is the ability to delegate tasks.
With an experienced vendor on board, you won't have to worry about managing every detail yourself.
This can free up your time so that you're able to focus on more pressing matters like budgeting or attending pre-wedding events with family and friends.
You'll also get access to various resources, including venues, vendors, decorations, entertainment options, etc., which can make all the difference in creating the perfect event without breaking the bank.
Conversely, hiring professional help comes at a cost – both financially and logistically.
Professional services often come with higher price tags than DIY solutions, so if you're working with a tight budget, you should reconsider this option in favor of something more economical.
Alternative Payment Solutions
Money is the lifeblood of any wedding, and planning your big day on a tight budget can seem daunting.
But fear not! With careful planning and creative solutions, you can have the perfect ceremony without breaking the bank.
Alternative payment solutions allow couples to save significantly when paying for their wedding expenses.
Many banks now offer flexible payment options that allow you to pay off high-ticket items over time or in installments.
Credit cards can be used with rewards programs that give back cash which may be applied towards purchases or even provide discounts at certain vendors.
Creative Money-Saving Ideas
There are some simple but effective ways to save money on your wedding. First step is to look for alternative venues to get a better deal than the typical hotel or hall option.
Consider parks and public spaces, as these usually come with fewer fees and rental costs attached.
Get creative when sourcing decorations: instead of buying hundreds of balloons or streamers, consider finding thrifted items that can be repurposed into something special.
Ask friends and family members if they're willing to help out in any way—everything from catering to decoration setup can often be done at little cost.
Post-Wedding Finances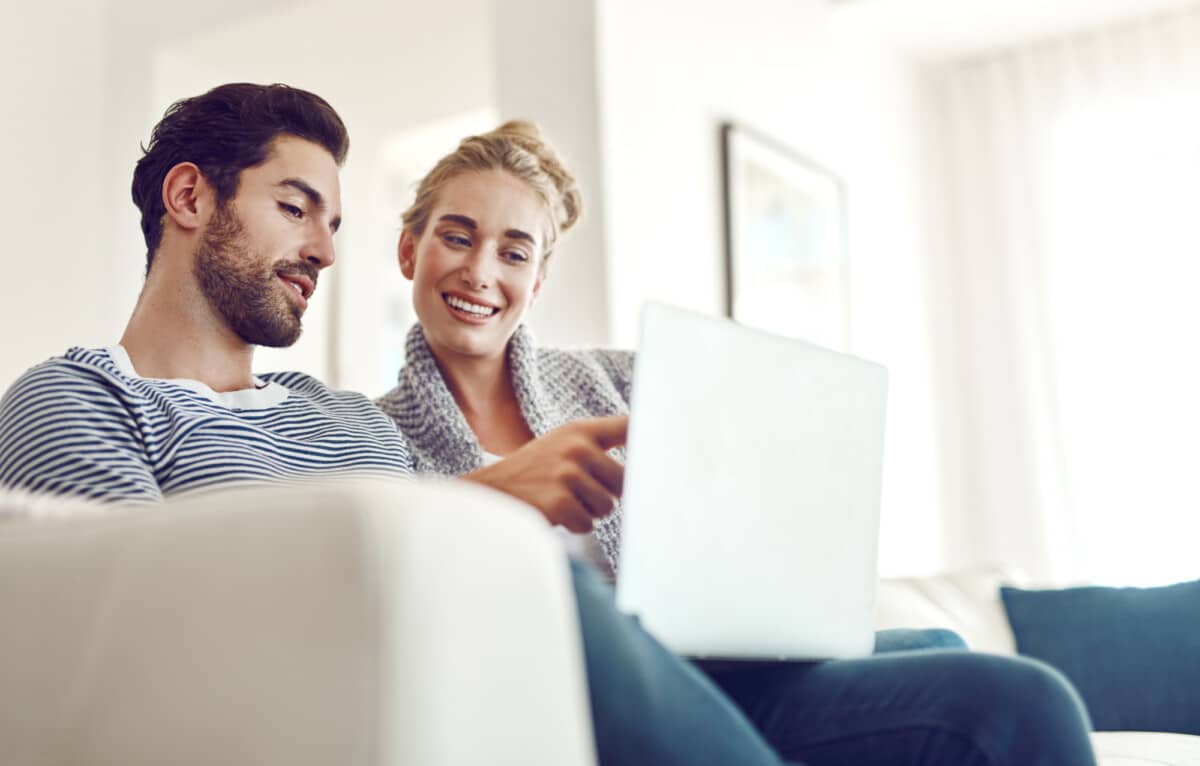 One of the key components of post-wedding financial responsibility is ensuring that any vendors or services used during the wedding process are paid promptly and correctly.
This means paying everyone who provided goods or services, this includes photographers, caterers, coordinators, etc.
Ensure you check their invoices against what was used before payment is made – such attention to detail will help avoid getting stuck with extra bills after the fact!
Another aspect of managing post-wedding finances is separating personal funds from business expenses related to the event.
Try using different payment accounts for both categories (i.e., one account for suppliers/vendors and another for family members).
Doing this will allow you to track where funds went and how much was spent on each item, making tax season much easier.
Frequently Asked Questions
How Can I Make Sure I Stick to My Budget?
Here are some tips for staying within your allocated funds while still having the perfect day:
1. Start with a realistic budget – know what you have available to spend and make sure you stick to it.
2. Consider DIY options – this could save money for decorating or favors.
3. Look into preloved items– there are many websites where people sell their wedding decorations or other items at discounted prices which could help reduce overall costs.
4. Research alternative venues – look beyond traditional venues and explore less expensive options such as parks, private homes, etc.
5. Prioritize vendors – You may need to compromise on certain aspects of the wedding, so focus on finding quality vendors in those areas first.
What is the Most Important Thing to Consider When Planning a Wedding on a Tight Budget?
When aiming for perfection within your allocated budget, it's easy to focus too much on one area while neglecting others.
To avoid this trap, create priorities and stick with them. For instance, if having great food at your reception is more important than having an extravagant cake, then allocate funds accordingly. 
This will help ensure that each aspect of your celebration gets its fair share of attention without breaking the bank.
Don't go overboard paying for things just because they look nice; instead, opt for cheaper alternatives that still get the job done. 
Take advantage of any discounts or deals available – these little savings can add up quickly! 
You may also choose to have family members pitch in by helping out with specific tasks such as decorations or making meals yourself rather than hiring caterers for everything.
Should I Hire a Wedding Planner to Help Me Stay on Track?
Before hiring a wedding planner, remember several things:
1. How much does it cost?
2. Is the fee worth it for what services they offer?
3. Are there any discounts or flexible payment options available?
4. What kind of experience do they have coordinating weddings?
5. Do they understand your vision and style preferences?
6. Have they worked successfully within similar budgets in the past?
7. How accessible will they be during the entire process?
8. Will their availability meet your needs leading up to and including the big day?
Ultimately deciding whether or not to hire a wedding planner comes down to understanding your capabilities and budget constraints.
What are Some Unique Ideas for Wedding Favors and Decorations?
Creativity is key, so why not utilize local resources for personalized wedding favors, like organic honey or artisan chocolate? 
And when it comes to decorations, think outside the box! 
Incorporating natural elements and balloons (filled with confetti if you're feeling fancy) can transform your venue on a budget.
Remember, small touches make a big impact – so let your imagination run wild.
Final Thoughts
Ready, set, and plan your dream wedding on a dime!
Create a realistic budget and stick to it. Consider hiring a planner to keep you sane. Then get creative!
DIY decorations and alternative payment options for vendors can save you big bucks. You can throw a memorable celebration without breaking the bank with some prep, imagination, and effort.
Remember, it's all about making your day special and unique – and you can do it without going broke.