Lace wedding dresses have always been in fashion and in modern times have gained more and more popularity.
When a bride decides that she wants to wear a lace dress to her wedding there are going to be so many varieties and styles for her to choose from.
Lace wedding dresses are often the go-to dress for many a bride.
The reason for this is that lace wedding dresses always look elegant and feminine with detailed lace fabric and different textures to compliment any bride.
If the bride chooses a lace wedding dress, then her accessories need to match the dress. One of the most important accessories is the wedding shoe as it needs to be elegant, comfortable, and practical.
In this article we are going to discuss why choosing the right type of shoe for a lace dress is important, shoe colors that will complement the style of the dress, and what other accessories will add to the elegance of a bride's wedding attire once she has decided to wear a lace wedding dress.
Why Choosing The Right Shoe Is Important?
Besides the right wedding shoes for a lace dress; shoes are a crucial part of any wedding dress and can either make or break the look of a bride's wedding attire.
If a bride has spent months looking for the perfect lace wedding dress or is having it made, then she is going to want to find the perfect pair of shoes to compliment her dress.
Tip: If the bride is having her dress made, she should be sure to take them with her to the dressmaker so that they can make sure that they adequately fit the length of her dress.
The bride needs to look for a pair of shoes that are going to match the detail on the lace dress with similar beading or embroidery, especially if she is going to choose white lace shoes to match her dress.
A bride's wedding shoes should also match her personality.
If the bride is never seen in heels because she is more comfortable in flats, then she should choose an elegant pair of flats that highlight her personality and make her feel comfortable on the day of her wedding.
Recommended Shoes to Go With Lace Wedding Dress
Here's a quick selection of shoes that we found – we think they'll all very well with a wedding dress made from lace.
Badgley Mischka Women's Finesse Heeled Sandal, Ivory Satin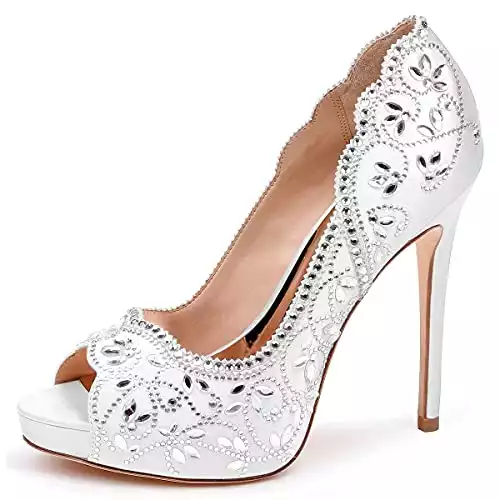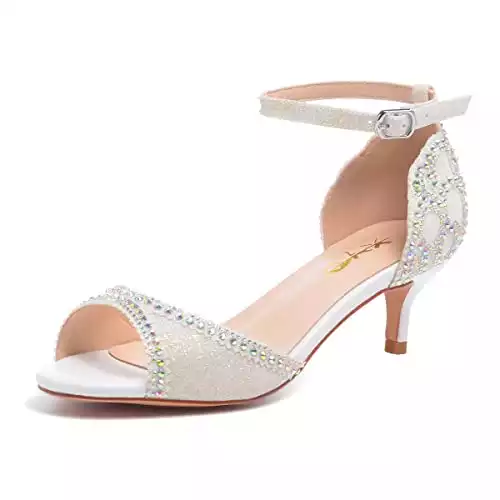 XYD Ballroom Dance Shoes Wedding Sandals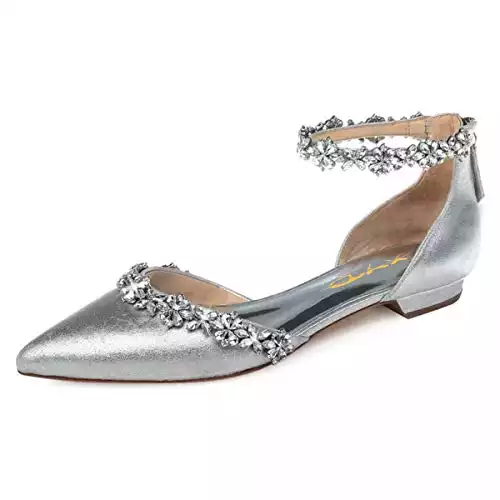 XYD Women Classic Pointed Toe D'Orsay Wedding Flat Sandals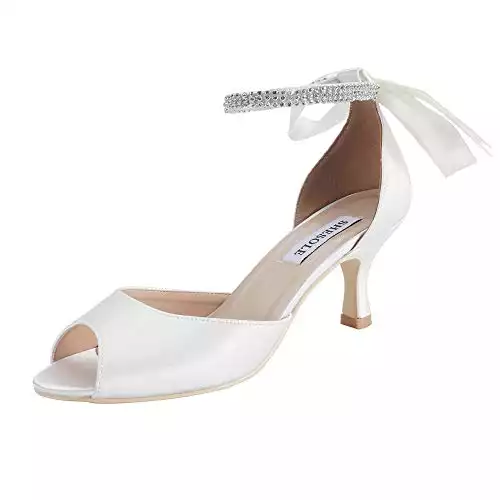 SheSole Open Toe Low Heel Bridal Wedding Shoes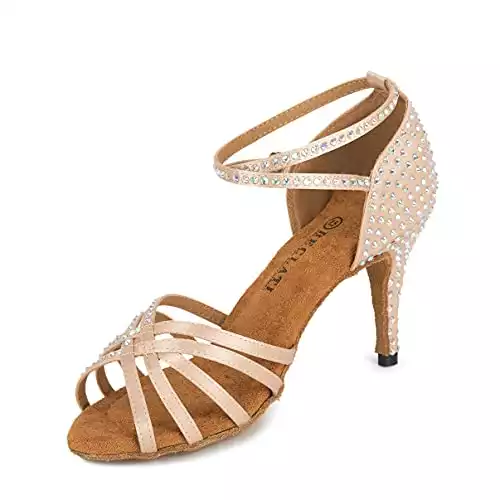 Beclati Women's Suede Sole 1920s Style Wedding Shoes
https://m.media-amazon.com/images/I/31+FSLhS3AL._SL500_.jpg
Sammitop Women's Wedding Pumps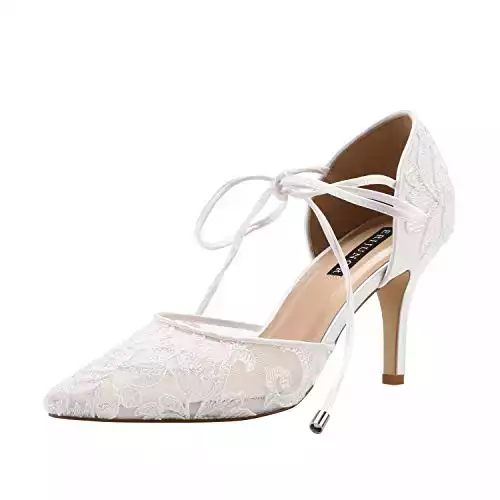 ERIJUNOR E2374 Ivory Lace Mesh Satin Wedding Shoes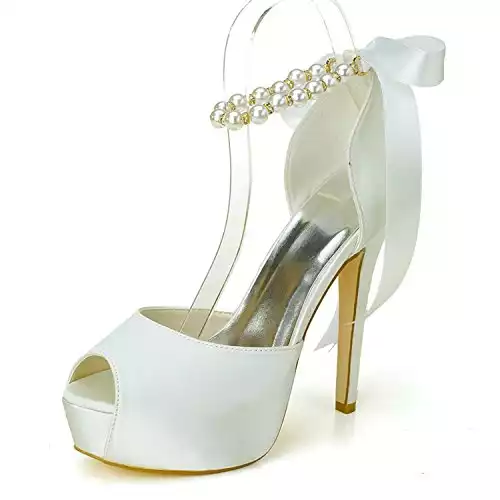 High Heels Pearl Wedding Shoes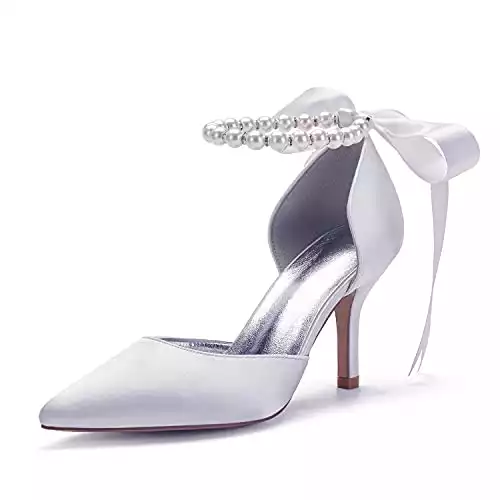 The Lace Wedding Dress: How Do Decide What Shoes To Wear?
Many brides will say that their only regret was wearing the wrong shoes to their wedding.
A bride-to-be should always consider choosing a shoe that is convenient and comfortable with a stable heel so that she can feel at ease when she is wearing them for the whole day.
There is no doubt that a wedding dress is one of the most important aspects of a bride's wedding day, but a bride must remember that her wedding shoes should be chosen carefully and with as much consideration as she used to choose her dress.
Ideally, a bride's shoe needs to compliment her wedding dress but be comfortable and sustainable enough to wear the whole day.
A bride also needs to take into consideration the height, shape, and color of the shoe that is going to best match her lace wedding dress.
Ultimately there is no specific rule when it comes to choosing a pair of shoes and if the bride has fallen in love with a specific pair of shoes then that is her prerogative completely.
It is important, however, for the bride to remember that while some shoes may look amazing behind the boutique's window, they may not be the perfect pair for the bride.
Different styles of dresses often require different shoe types.
Fabric and Material of The Shoe Does Matter
It is important to not buy shoes that are embedded with clasps, studs, or buckles that can catch onto the lace dress during the wedding.
The last thing a bride wants is to trip down the aisle because she chose the wrong type of shoe to wear with her lace wedding dress.
Work With Colors
Although traditional white wedding shoes are always a good choice, today brides have the option to choose other color shoes to add a little bit of spunk to their lace wedding dress.
Soft pastel colors can work extremely well with a lace wedding dress.
This is often a lot easier as the bride no longer needs to try to get her shoes to match the color of the wedding dress perfectly.
Pastel colors create a vintage look which adds to the classic look of the lace and can also complement the dress as they subtly show through the fabric.
A bride can also choose to work with a color that matches her skin tone. These colors are normally neutral colors such as brown, white, beige, or black.
This style works well and can look incredibly classy when a lace dress is worn by the bride.
The reason for this is because a shoe that matches the skin tone of a bride allows the dress to stand out more.
Wearing High Heels With A Lace Dress
If the bride is used to high heels and is going to be comfortable wearing a pair of high heels, at least for the duration of the wedding formalities, then high heels always work very well with a lace wedding dress.
The bride will need to work out the height of the shoe according to the length of the wedding dress and remember to bring a pair of backup flats just in case her feet start to ache during the reception.
The Length Of The Dress
When a bride has chosen to wear a short lace wedding dress, she has a lot more freedom to choose a pair of shoes that do have embellishments, sequins, and buckles.
It is a good idea to try and stick to a solid color when wearing a short lace wedding dress. This helps the bride to avoid the outfit from becoming too busy.
Neutral colors are normally best but nothing is stopping the bride from getting a darker pair of shoes such as burgundy or navy blue.
The Ivory Lace Wedding Dress
If a bride has chosen to wear an ivory lace wedding dress, then darker shades of shoes tend to look amazing in contrast to the ivory-colored dress.
Colors such as navy blue, emerald, green, and burgundy go very well with an ivory-colored wedding dress,
In contrast, the bride can also go with pastel colors such as light blue or pink to give her an overall classic look.
What Other Accessories Go Well With A Lace Wedding Dress?
The Pearl Necklace
The pearl necklace has, and always will be a classic. A pearl necklace partnered with a lace wedding dress is both beautiful and elegant.
If pearl necklaces are not the bride's thing then she can bring pearls in by adding them to her veil or headpiece.
Add Some Crystal Detail
Crystal detail works just as well as pearls and can significantly add elegance as well as a shimmer to a bride's lace wedding dress especially if the bride adds them to her veil, earrings, or headpiece.