Most brides and grooms are in search of the perfect send-off for their wedding exit and while there are various ways to ensure the perfect send-off, sparklers tend to be the most effective and visually pleasing choice. Sparklers are the ultimate way in which to create a dramatic and shimmering send-off that will be embedded in the memory of their guests for a long time to come.
When purchasing wedding sparklers online, it is also important to take into consideration, where your reception is going to be held, how many guests will be attending, and if there are any specific photo options that you are going to require.
The question most asked when it comes to wedding sparklers is where do you buy them from? Fortunately, there are a few vendors available for brides and grooms to buy sparklers from.
In this article, you will learn where you are able to purchase sparklers on the web for your wedding as well as what types and sizes of sparklers would best suit your magical event.
Who Sells Wedding Sparklers Online?
Direct Sparklers
If you are looking for a variety of wedding sparklers in various lengths, then Direct Sparklers is the best place to shop. Larger sparklers that burn for longer periods are usually the best fit for a wedding exit. These sparklers are fitted with metal wires so as produce as little smoke as possible. Best when used during wedding photographs!
Wedding Day Sparklers
Wedding Day Sparklers is one of the leading suppliers of wedding sparklers. They are able to offer brides and grooms many different options and have a variety of sparklers in different shapes, sizes, and even colors. If you are looking for something different then this is definitely the way to go.
Sparklers Online
Sparklers Online is a well-known supplier with a proven track record and many happy clients. This is mainly due to the fact that they make the ordering and shipping process as smooth as possible. They also boast an incredibly user-friendly website with a simple check out process.
Can You Buy Sparklers at Walmart, Party City, or Amazon?
On occasion, you may find wedding sparklers from one of these websites, but more often than not they are limited to the type of sparklers that are mainly used on the 4th of July and birthday parties.
This is not really what a bride and groom want if they are looking to make a beautiful statement on their special day.
How Many Sparkler Do You Need for your Wedding?
Quite frankly, there is no general rule as to how many wedding sparklers you need to buy. It all depends on your preference and what you want for your wedding day. You may want to order only a few or you may want to order a sparkler for every person at the wedding. The choice is yours and if there are any leftovers then that is even better!
If, however, you are working to a budget then consider buying one sparkler per couple which would be more or less half the amount of the total number of people attending the wedding.
If you have made the decision to use sparklers for your first dance it is better to have one sparkler per person. If, however, you decide to use the sparklers for your wedding exit then the guests are able to start lighting the sparklers themselves so as to create enough sparkle to last until the bride and groom have finished their grand exit.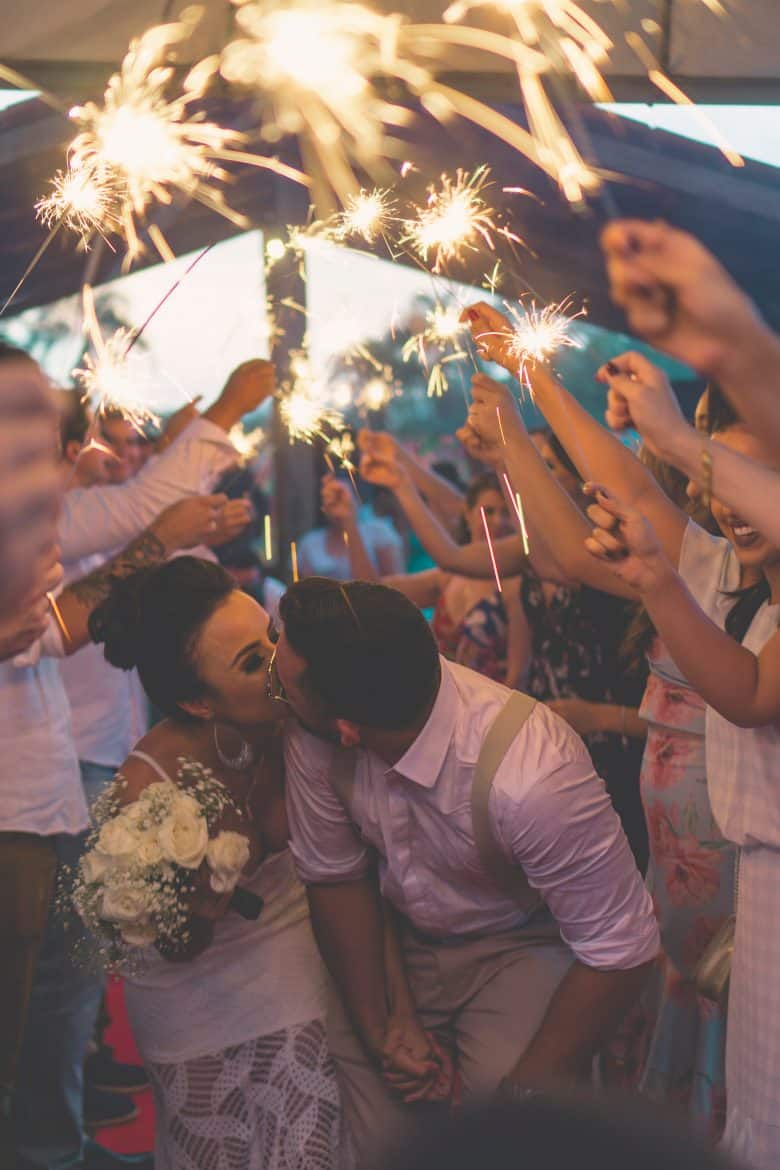 What to Consider When Choosing Wedding Sparklers
How Long Will My Sparklers Last?
Have no fear! Sparklers can last for years and years! You can easily order sparklers way in advance and they will continue to keep their quality and burn just as brightly as they would after 10 weeks or even 10 years. Just think, if you have leftovers you could keep them for other special occasions that are bound to arise at a later stage.
Indoor vs Outdoor Sparkler Use
It is important to verify whether or not your chosen venue allows sparklers indoors. If they do then you should also find out if they limit the size before stocking up for your wedding day. There are some venues that may not allow larger sizes due to space limitations.
Outdoor bride and groom sparkler exits normally work best as there is much more room for larger sparklers to be lit up.
Choosing Your Sparkler Sizes
Sparklers are sold in many different sizes and offer different burn times. It is important to factor in the time that you would like for photo opportunities while the sparklers are still dazzling and full of light.
Again, remember to check the size requirement of your venue and at the same time consider your budget and any space constraints that could be encountered. A good size to go for is usually a 20" sparkler. These are a perfect size for weddings and are normally priced very well if you are trying to stick to a budget.
Types of Sparklers
Sparklers for a Large Wedding
If you are throwing a large wedding, then it is advisable to get longer sparklers. If you opt for shorter sparklers, this may not provide enough time in which for all your guests to light their sparklers and get into position before your grand send-off.
Try to choose longer sparklers that have a burn time of up to 180 seconds so as to make sure that the first group of sparklers is still burning by the time the last group of guests has lit up theirs. A longer burn time makes co-ordination a lot easier to handle and gives your photographer the opportunity to take tons of exquisite photos or videos while the sparklers are still burning.
Sparklers for A Small Intimate Wedding
If you have opted for a smaller more intimate wedding, then large sparklers could easily take over the visual impact of your venue. It is crucial to provide a good balance and size of your sparkler when using a smaller venue while at the same time allowing your photographer to capture some good photographs.
Shaped Wedding Photo Sparklers
Sparklers can be bought in many shapes and sizes so as to add a romantic touch to your wedding photographs. Although it may seem cliché, heart sparklers are perfect to add the perfect touch of romance to your wedding snaps.
These sparklers are best for smaller groups or even just for the bride and the groom. Try to get a sparkler with a burn time of at least 60 seconds so that your photographer has enough time to capture some amazing images. These sparklers do not need to burn for as long as those that are needed for a full send-off.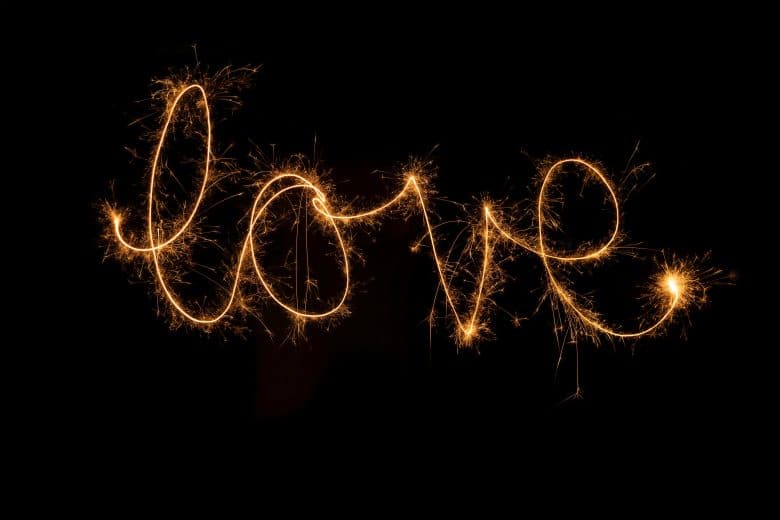 Incorporating Sparklers into Your Wedding
Positioning Your Guests
Try to plan beforehand as to where your guests are going to be positioned during the wedding exit. Most times the guests will be divided into two rows separated by an aisle where the bride and groom will walk down the exit line. Position your immediate family at the beginning of the exit line so that you are able to greet them first.
Make sure that the person you have designated to be in charge of your wedding sparklers has kept the lines separated by at least eight feet. The bride and groom should be able to comfortably walk down the center without the worry of bumping into a guest holding a lit sparkler.
If social distancing is still required, your wedding guests can try out their face mask favors!
Your designated person in charge should also make sure to get everyone into position on time, hand out the sparklers, and co-ordinate the timing as to when your guests should start to light the sparklers.
The Wedding Exit
It is crucial if you want good photos to make sure that the sparklers that are being held by the guests in your exit line are lit timeously. Remember that once the first sparkler is lit the clock will start ticking and it will only be a matter of time before the first sparkler fizzles out. The bride and groom need to make sure that once the first sparkler is lit, they have enough time to make their way down the exit line
Timing is of the essence when it comes to the wedding exit! Your delegated person in charge of the wedding exit should help your guests to get the sparklers lit so that the fun can begin as quickly as possible. This will also give your photographer ample time to take the pictures that are needed.
Wedding Sparkler Tips
Here are a few handy tips on how to use sparklers to make your wedding both beautiful and glamourous:
Choose the right size sparklers to incorporate into your wedding exit. Using 20-inch and 36-inch sparklers are recommended, obviously dependent on the size of your venue.
Using matches and handheld lighters can be very time-consuming so those should be avoided at all costs.
Rather provide your guests with ways in which they can light their sparklers in a timeous manner. Try to make use of candles and torches.
Place one person in charge of the sparklers and lighting devices so that they can carry the responsibility of making sure that everything is ready to light up at the right time.
Choose a convenient location for your wedding exit. It has to make sense and be viable.
Make sure that you have a plan in place for the positioning of guests during your wedding exit. Enlist a bridesmaid or a groomsman to assist with your strategy.
Always make sure that you have safety precautions set in place and remember to dispose of used wedding sparklers safely. A large bucket of water normally works very well.
Wedding Sparkler Safety
The last thing you want on your wedding day is for something bad to happen. This is why safety should always be one of your top priorities when making use of sparklers for your wedding exit.
Try to time your wedding exit to take place between the ceremony and the reception. This will reduce the risk of mishaps that could happen after the alcohol that is being served at the reception is flowing through the veins of your guests. This could make them irresponsible which does not fit well with anything that could easily become a fire hazard!
Make sure to prepare ahead of time and have every precaution put in place. Having a fire extinguisher available at the back and the front of your wedding exit is advisable.
Making sure that you have all the relevant precautions put in place will normally mean that no injury will be sustained by any of your guests. It is, however, advisable that first aid supplies should be on-hand should anything happen. A basic first aid kit with bandages and burn ointment is normally sufficient.