I was wondering why there appears to be a general public perception that wedding videographers are very expensive.
I did some research and discovered there is a lot of misinformation out there.
I figured, let's try to set the record straight and answer the question in a way that is informative and helpful to engaged couples who really want to book a videographer to capture their day.
Why are wedding videographers so expensive? The reason wedding videographers appear expensive is because of the high costs involved in running a videography business. There are expensive overheads including equipment, insurance, training, advertising, the time cost of editing, and taxation.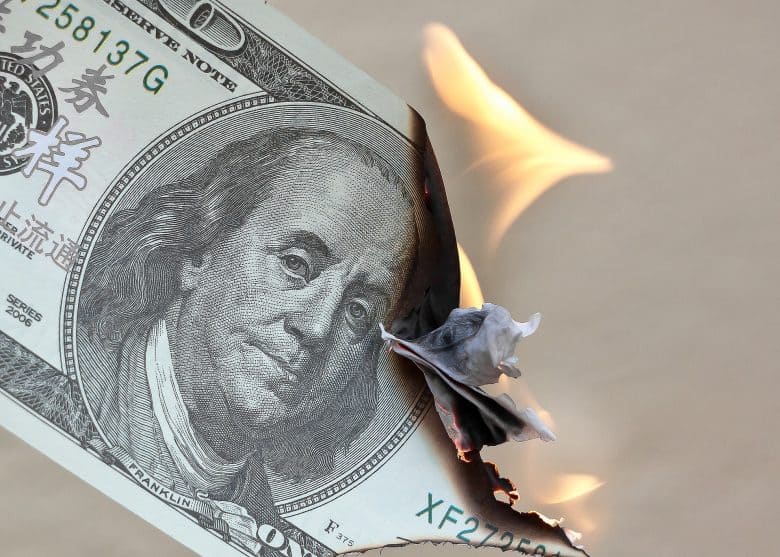 Are couples being ripped off with the cost of their wedding video? For a good-quality wedding videographer who creates a masterpiece of priceless memories, definitely not.
Caveat emptor, let the buyer beware. As with any other service in any other industry, there are good and bad quality videographers.
Couples really need to be proactive in advance to ensure that they are booking the right wedding videographer for them.
The Reasons Why Wedding Videography Appears Expensive
Wedding videography appears very expensive because of the high running costs involved in having a wedding videography business.
There are a lot of costs that most people would not think about or even be aware of.
Equipment Costs
The cost of wedding videography equipment really adds up. Trust me! Let's take a quick look at the basic kit that I would take with me to film a wedding.
I shoot solo, so if I had an assistant with me who was also filming, the non-computer-related costs below would almost double.
| | |
| --- | --- |
| 2 x Sony A7III Cameras | $3,996 |
| 35 mm Sony Lens | $473 |
| 85 mm Sony Lens | $598 |
| 4 x camera batteries | $312 |
| Battery charger | $49 |
| 2 x Befree Tripods | $570 |
| Monopod | $40 |
| Audio equipment | $250 |
| Gimbal | $300 |
| DJI Mavic 2 Pro Drone | $1,599 |
| External Hard Drive | $49 |
| SD Cards | $100 |
| Editing PC | $4,000 |
| Editing Software | $269 |
Typical running costs of a wedding video business.
The total in this table comes to $12,605. Please note, that this is an approximate cost but in my view, it's probably the lowest investment that a videographer would need to spend on equipment in order to professionally record a wedding.
The reality is that any videographer would ultimately spend even much more than this because it can take many trial and error iterations to find the optimal and best-value equipment.
Also, equipment only lasts for a certain period of time and can quickly become outdated.
Fixed Costs such as Insurance, Rent, Light & Heat
A videographer will also have various fixed costs such as insurance on equipment, public liability, professional indemnity, and drone insurance.
There might also be employer insurance. Also, in most jurisdictions, a videographer will have to pay extra on their private car insurance in order to use it for work purposes. This could all stack up to another couple of thousand dollars.
There might also be other expenses such as studio/office rent and light and heat. Costs will vary a lot, but you get the drift.
Other Costs such as Training, Advertising, Music Licensing
How did you discover videographers when you were researching? Chances are it might have been an ad on Facebook, Instagram, or Google.
Even if it wasn't an ad, it would have cost the videographer a few thousand dollars to put their website together and continue to keep it hosted. To upload their sample videos to Vimeo would have also cost them some money.
A videographer also has the regular expense of purchasing a wedding videography music license for every piece of music used in the wedding films. There are expensive music licensing costs associated with having a wedding videography business.
Time Required to Edit
Besides the 12 to 14 hours on the wedding day itself, it can take anywhere from 1 to 5 days to properly edit a wedding film.
This will vary so much because videographers tend to vary a lot in terms of the quality and scope of their deliverables. To craft a beautifully edited highlights wedding film takes a long time and there is definitely a value placed on labor.
Seasonality
Weddings are seasonal and the vast majority of wedding businesses need to continue operating all year round to support admin and inquiries. Therefore, there will be months when a full-time wedding videographer has no income at all.
This needs to be factored into the wedding videographers' rates.
Taxation
Like any business that generates an income, there will be taxation involved. In most cases, you will be quoted a price that already includes these taxes.
So a legitimately registered videographer will not see all of that fee. The actual amount of the taxes will vary within different locations, but trust me, it can be a lot.
Other Factors such as Experience
It's difficult to place a value on this. However, let's try an example. Going to a nice restaurant to eat a meal cooked by a highly acclaimed and award-winning chef will usually cost more than a chef who is newly qualified and yet unheard of.
An experienced and talented wedding videographer will usually be more expensive than a videographer without these traits.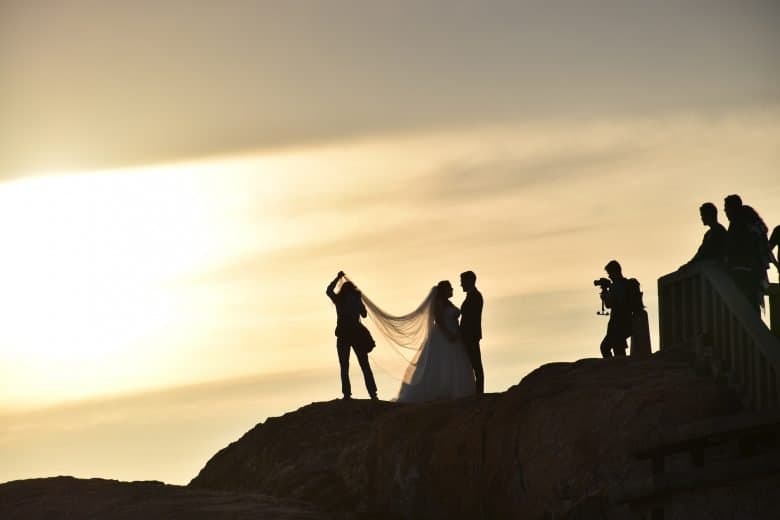 Why is wedding videography important?
I think it's best to pose that question to a couple who didn't have a videographer. The vast majority of these couples regret not having a wedding videographer according to TheKnot.
Don't be one of these couples who regret not having a wedding videographer. If you think wedding videography is still expensive, what about the cost of not having one?
Is it worth it to get a wedding videographer? What are the benefits of Wedding Videography?
Couples who are new to wedding planning often ask why is wedding videography important and is it worth it to actually get a wedding videographer?
Yes, it's totally worth it. You'll get to see the moments you miss and so much more.
You'll also have a professional to capture the very essence of your wedding day. You'll have the ability to relive these priceless moments whenever you like and to show them to future generations.
Imagine if you could watch your great-grandparents' wedding video? How awesome would that be?
Couples often wonder should they get a wedding videographer – is it necessary for their wedding? Yes, most definitely.
For the reasons mentioned above, it's one of the best investments a couple can make in relation to the wedding. The thousands of dollars spent on flowers, the cake, and wedding favors will be long gone, but the wedding video can be treasured forever.
How much do videographers cost for weddings?
The cost of wedding videographers varies a lot. There is a large range in pricing but typically, most couples in the United States tend to spend between $1,000 to $2,500 according to WeddingWire.
There is an upper range of $4,000 and well beyond where a couple is likely to get much better value for a higher spend. This is because the more creative, talented, and experienced wedding videographers tend to charge above-average rates because their quality is above average.
Wedding videography can be more expensive than wedding photography. This is because it's regarded as more difficult to produce and there is usually more work and more equipment required.
I'm not just saying this because I am a videographer. I know many photographers who have filmed weddings too and they agree with this perspective.
Only people who have done both wedding photography and videography can truly answer which discipline is more difficult so I bow to their expertise here!