Many Star Wars fans' love for the epic space opera extends beyond the big screen and into their everyday lives.
One unique way to express this passion is by incorporating Star Wars-themed wedding vows into their special day. 
This homage to the galaxy far away can add a personalized touch and create a memorable experience for the couple and their guests.
This article will explore some wonderful examples of Star Wars wedding vows that draw inspiration from iconic lines and scenes in the franchise.
These vows seamlessly integrate meaningful and heartfelt expressions of love and commitment with iconic Star Wars references, making them a perfect choice for couples looking to tie the knot with a touch of intergalactic flair.
From the wise words of Yoda to the everlasting bond of Han Solo and Princess Leia, these Star Wars wedding vows embody the spirit of adventure, loyalty, and the power of the force. 
Understanding Star Wars Wedding Vows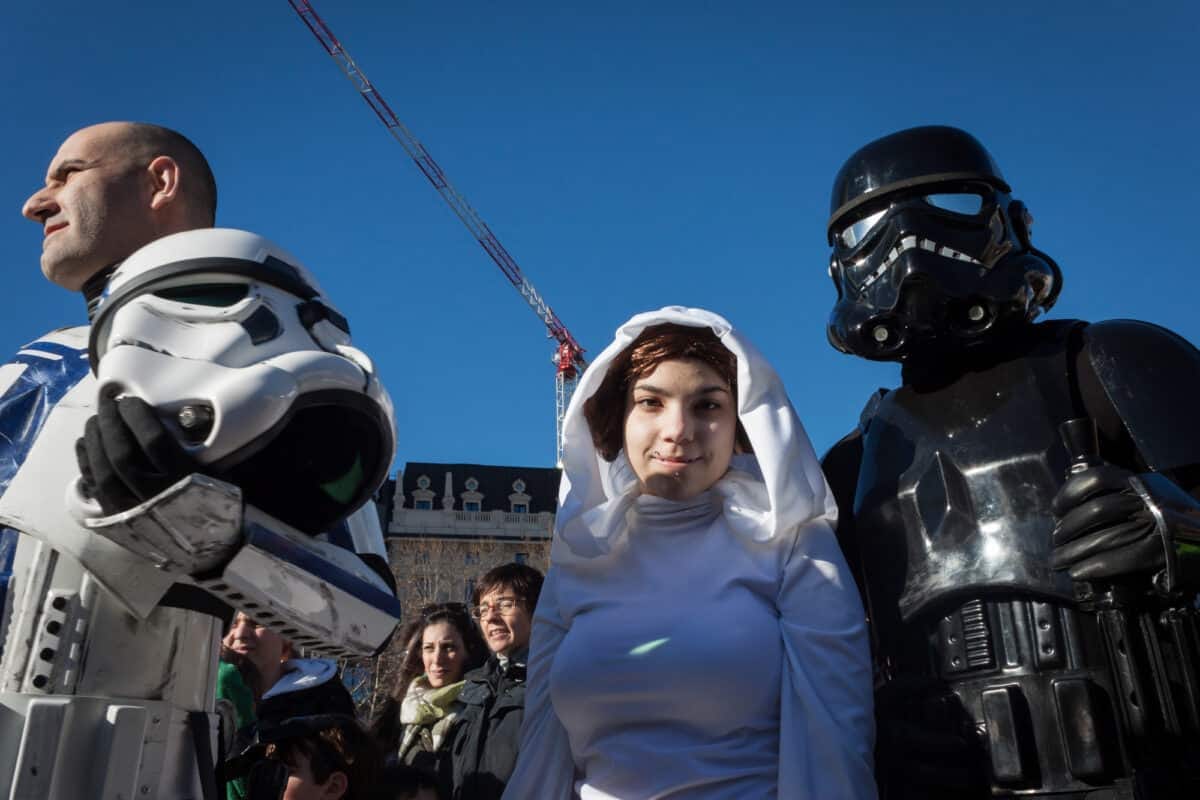 The Role of Love and The Force
Star Wars wedding vows incorporate elements of love and The Force, the universal energy that connects all living things in the Star Wars universe.
Couples who choose these vows usually have a deep connection with the Star Wars universe and wish to express their love and commitment using quotes, themes, and ideas from movies, books, and other Star Wars-related materials.
Incorporating Films, Books, and Quotes
To create personalized Star Wars wedding vows, couples can draw inspiration from various sources, including films, books, and famous quotes from the characters.
Some memorable lines that can be integrated into the vows are:
"I love you." – "I know." (Exchange between Princess Leia and Han Solo)
"You're my only hope." (Princess Leia to Obi-Wan Kenobi)
"May the Force be with you." (A common phrase used by characters throughout the series)
Films
The movies provide countless moments and quotes that can be used in wedding vows. Some popular films for inspiration are:
Star Wars Episode IV: A New Hope
Star Wars Episode V: The Empire Strikes Back
Star Wars Episode VI: Return of the Jedi
Books
For those more familiar with the written side of Star Wars, various books can offer a wealth of ideas for wedding vows:
"Lost Stars" by Claudia Gray
"Bloodline" by Claudia Gray
"Master & Apprentice" by Claudia Gray
Quotes
Here are some example quotes from Star Wars characters that can be incorporated into wedding vows:
| | |
| --- | --- |
| Character | Quote |
| Yoda | "Do or do not. There is no try." |
| Princess Leia | "I don't know who you are or where you came from, but from now on you'll do as I tell you, okay?" |
| Han Solo | "Never tell me the odds." |
| Anakin Skywalker | "You are the most beautiful creature I have ever seen in my life." |
Famous Star Wars Characters and Vows
This section explore memorable wedding vows inspired by famous Star Wars characters and their relationships.
You'll look at the love stories of Han Solo and Leia, Anakin Skywalker and Padmé Amidala, and Obi-Wan Kenobi and Satine Kryze.
Obi-Wan Kenobi and Satine Kryze
Though not as well-known as the previous couples, the relationship between Jedi Master Obi-Wan Kenobi and Duchess Satine Kryze of Mandalore was filled with love and sacrifice.
Their story can inspire couples to create wedding vows that emphasize selflessness and commitment, even in adversity.
An example of such a vow could be:
Satine, my love, as Obi-Wan poured his heart into his duty, so shall I in our love. I commit to standing by your side as we forge a life filled with hope and happiness. May our love be a beacon, guiding us through the darkness and towards a brighter tomorrow.
Writing Personalized Star Wars Wedding Vows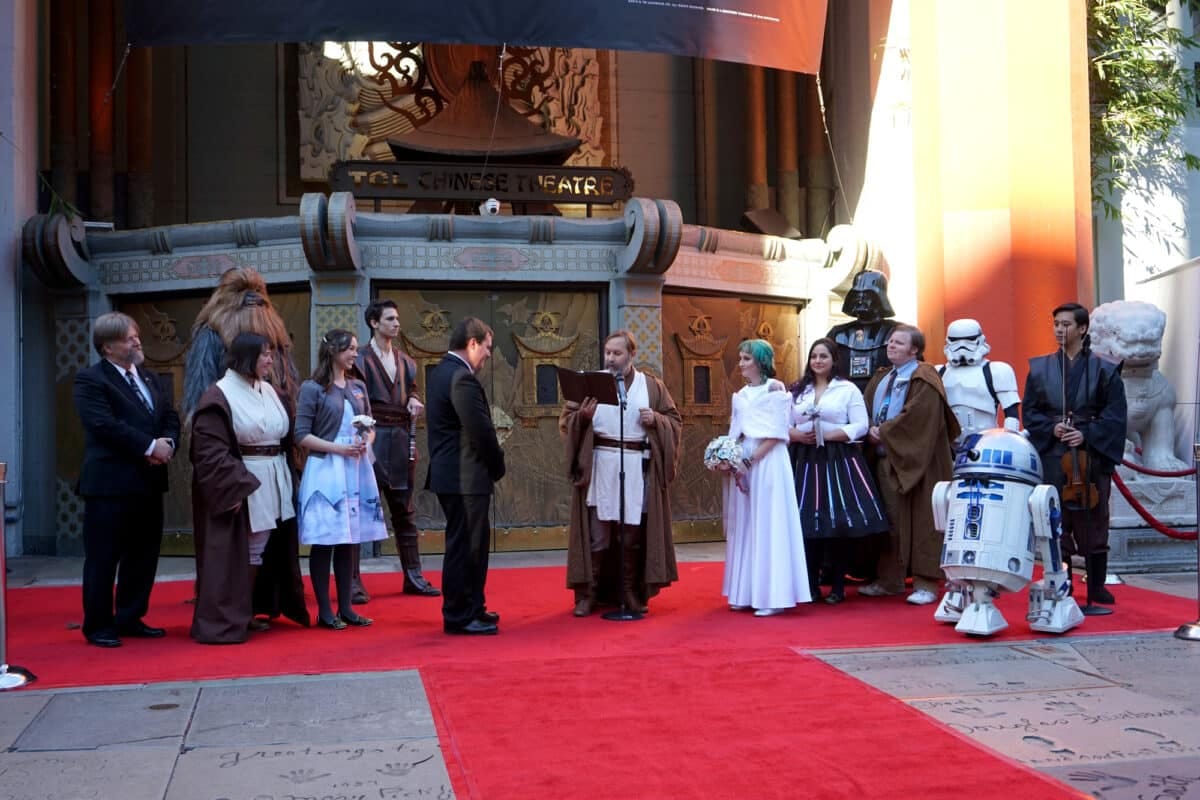 Considering Your Relationship and Star Wars Fandom
When creating personalized Star Wars wedding vows, consider the depth of your and your partner's love for the franchise and what aspects or moments have a special meaning for you.
Think about your journey together, how you have supported each other like Jedi, or how your love has defied the odds like Han Solo and Leia. Tailor your vows to reflect these sentiments.
Incorporating Theme and Symbolism
Incorporate Star Wars themes and symbols into your vows, such as light versus dark, loyalty, hope, and resilience.
You can refer to shared experiences as allies or partners, like the bond between Yoda and his apprentices. 
Draw inspiration from the powerful connection between Luke and Leia while embracing the love that conquered the darkness within Darth Vader.
Taking Inspiration from Jedi, The Empire, and The Rebellion
Jedi: Infuse the wisdom and serenity of Jedi teachings into your vows. Use quotes like Master Yoda's famous saying, "Do or do not. There is no try." to express your commitment to your partner.
The Empire: Draw on the relationship between Han Solo and Princess Leia, using their iconic exchange, "I love you." "I know." to illustrate your bond's strength.
The Rebellion: Speak of the hope, courage, and resilience that drives the Rebellion, and relate it to overcoming challenges together with your partner. Emphasize the importance of staying true to each other, just as Luke, Leia, and the Rebel Alliance relied on their allies to face adversity.
Creative Star Wars-Themed Wedding Elements
Invitations
Couples can design their invitations with elements inspired by the series to set the tone for a Star Wars-themed wedding. Ideas include:
Featuring the opening crawl text style
Incorporating iconic character silhouettes
Using quotes from the films
Centerpieces and Favors
Couples can create centerpieces that bring the Star Wars universe to their wedding reception. Some ideas are:
Space-inspired terrariums
Miniature Death Star replicas
Galactic-themed table numbers
For wedding favors, consider gifts such as:
Star Wars-themed cookies or sweets
Custom lightsaber keychains
Personalized Star Wars tote bags
Wedding Rings and Bouquets
Brides and grooms can choose Star Wars-inspired wedding rings featuring designs related to their favorite characters or striking symbols from the films.
For bouquets, couples can incorporate Star Wars elements by:
Adding miniature character figurines or lightsabers
Using character-inspired colors and flowers
Incorporating a themed charm or pin
Themed Cake Toppers
A great way to showcase a couple's love for Star Wars is with a themed cake topper. Choices include iconic characters, symbols, or a couple's favorite quote from the series.
Guest Book
Couples can also have a Star Wars-themed guest book, featuring illustrations, quotes, or elements from the films. This is a unique way for guests to leave their well-wishes and a lasting memory of the couple's special day.
Decor
Incorporating decor elements inspired by Star Wars can bring the theme to life. Some ideas include:
Hanging galaxy-themed tablecloths or backdrops
Placing life-size character cutouts or statues around the venue
Using galactic-inspired projection lighting for the dance floor
Memorable Star Wars Wedding Speeches and Reception Ideas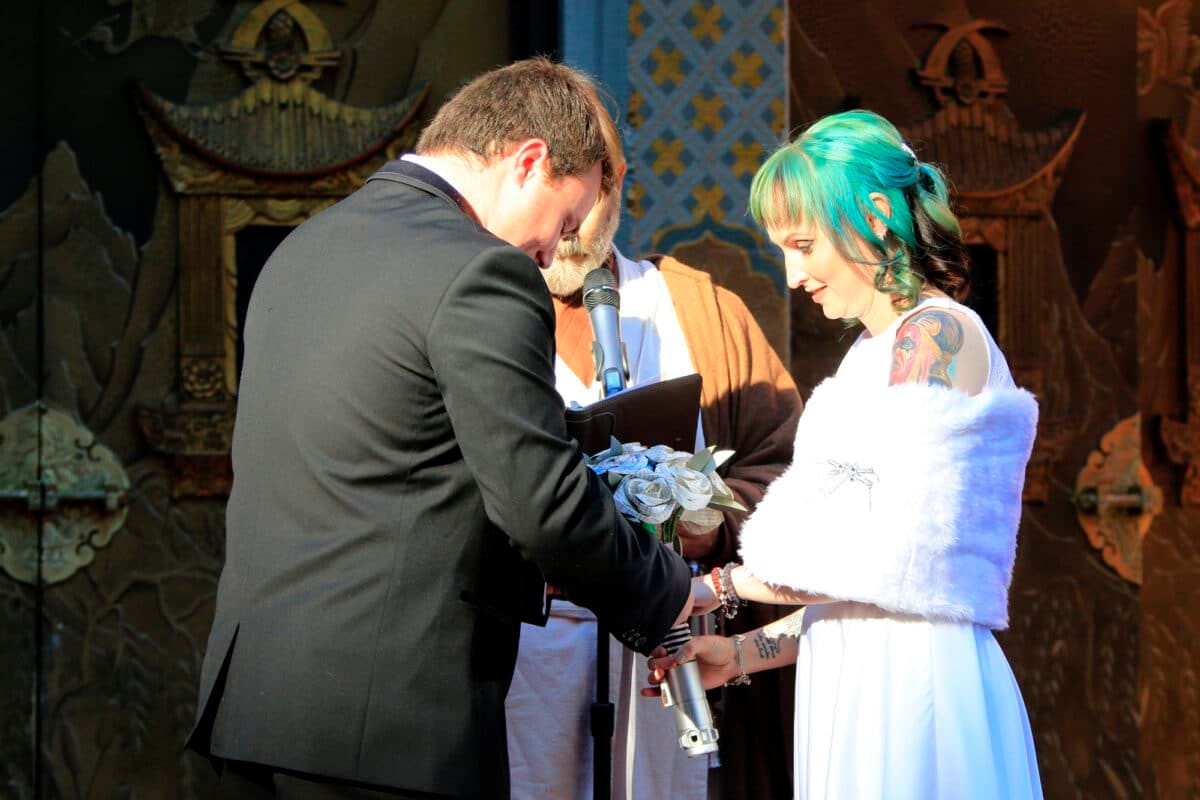 Incorporating Character Quotes and Wisdom
One of the charming ways to incorporate Star Wars into your wedding is by quoting memorable lines from the movies that express love and commitment.
For example, Han Solo and Princess Leia's exchange in The Empire Strikes Back is perfect for wedding vows: "I love you" – "I know." 
You can also add wisdom from Yoda or Obi-Wan Kenobi into the vows or speeches, reminding each other and the guests about the importance of trust, companionship, and unity.
Creating a Galactic Atmosphere for Your Guests
To bring the Star Wars-themed wedding ceremony to life, consider incorporating elements from the films that will make your guests feel like they've stepped into a galaxy far, far away:
Transform the venue's setting to resemble iconic Star Wars locations such as Tatooine, Hoth, or Endor.
Use ships from the franchise like X-Wings, TIE Fighters, and the Millennium Falcon as creative decorations or centerpiece designs.
Include life-sized cardboard cutouts of popular characters like Chewie or the droids for fun photo opportunities and as a unique addition to the décor.
Offer Star Wars-themed props like lightsabers, Stormtrooper helmets, and Princess Leia headbands for an interactive photo booth experience.
Celebrating Star Wars with Joy and Adventure
The essence of a Star Wars wedding is to celebrate the joy and adventure the movies offer for fans. To capture this spirit, consider the following ideas:
Grand Entrance: Make a grand entrance with the iconic "Imperial March" or "A New Hope" theme playing as the bridal party enters the venue.
Themed Food & Drinks: Serve dishes and drinks inspired by Star Wars, like "Wookiee Cookies," "Death Star Punch," or "Lightsaber Skewers."
Wedding Favors: Give your guests Star Wars-themed favors, such as keyrings, pins, or a small, customizable print featuring a famous quote.
Themed Wedding Attire: Embrace the Star Wars theme by incorporating subtle elements to the wedding attire, like cufflinks or themed socks.
Final Thoughts
In a galaxy not so far away, Star Wars fans have found a unique way to celebrate their love: Star Wars-themed weddings!
From heartfelt vows inspired by iconic characters to creative elements that bring the galaxy to life, these weddings are truly out of this world. 
Whether you're a Jedi, Sith, or just a fan of epic adventures, incorporating the Force into your special day is a surefire way to make it memorable.
So, may the love be strong, the vows be heartfelt, and the wedding be a galactic celebration that will leave guests saying, "May the Force be with your marriage!"