If the tropical vibes of Hawaii are calling for your ultimate bachelor party, you've landed in the right place.
We're about to embark on an extraordinary journey, surfing through the most exciting, unique, and unforgettable bachelor party ideas the Hawaiian Islands offer.
With its alluring blend of pristine beaches, vibrant nightlife, thrilling adventures, and tranquil retreats, Hawaii is a bachelor party paradise that goes far beyond the ordinary.
Imagine spending your days soaking up the sun on a private yacht, learning to surf on the North Shore, playing golf with a Pacific Ocean view, or even hiking the legendary volcanic trails. 
As the sun sets, the party moves to pulsating beach bars, exclusive luaus, or even under the starlit skies with a bonfire and some local ukulele music.
Whether you're an adrenaline junkie, a beach bum, a nature enthusiast, or a sophisticated city slicker, Hawaii has something to match every bachelor's party style.
So, gentlemen, put on your Hawaiian shirts, grab your sunglasses and let's set sail on this tropical adventure together.
As the Hawaiians say, "E komo mai" – welcome! Prepare for a bachelor party destined to be as legendary as the islands themselves.
Outdoor Activities
Ready to dive into Hawaii's breathtaking outdoors? Hang ten with some surfing lessons, conquer the scenic trails on a hiking adventure, and soar through lush landscapes on exhilarating zipline tours.
You're in for an unforgettable experience that'll leave you craving more paradise!
Surfing Lessons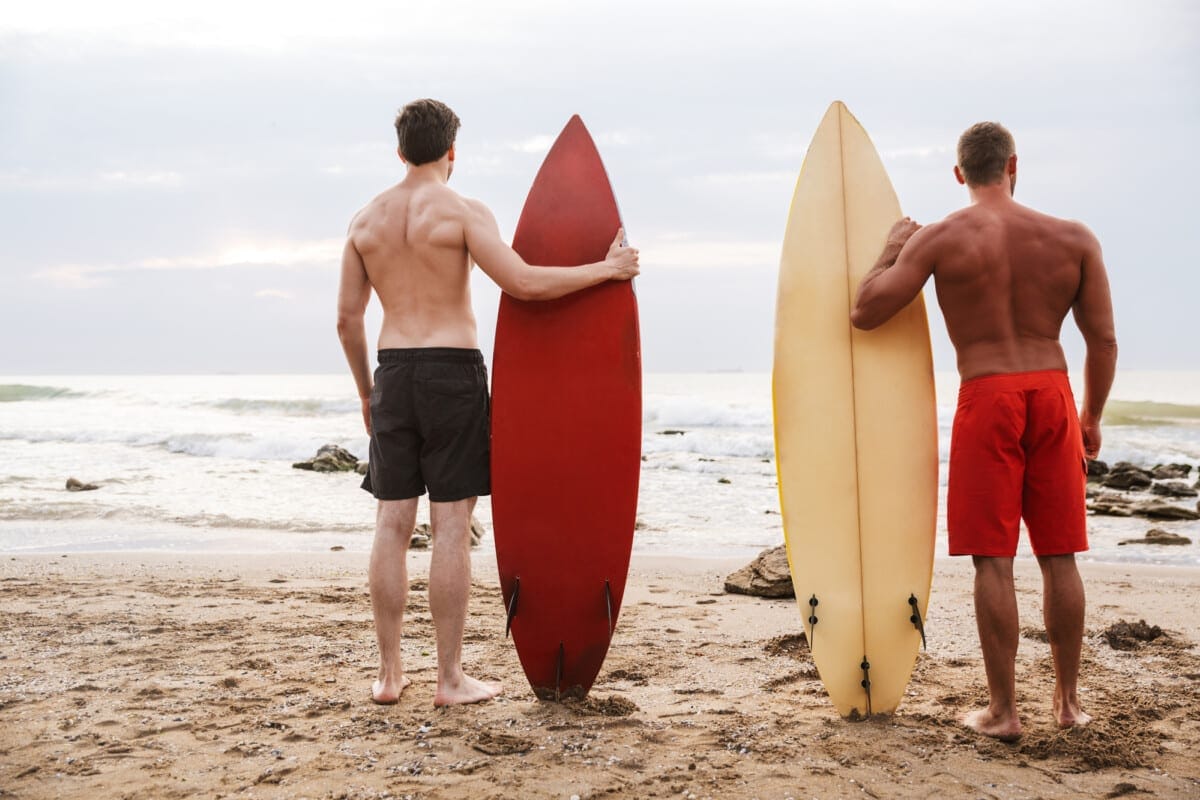 You can't visit the island without catching some waves, so why not amp up the excitement with surfing lessons for you and your crew?
Embrace the spirit of aloha as you learn essential wave techniques from seasoned instructors who will have you riding the surf in no time.
Whether you're a novice or a seasoned pro, there's always room to improve your skills, and what better way to bond with your buddies than by conquering the Hawaiian waves together?
Plus, you'll gain valuable knowledge onboard maintenance, ensuring that your surfboard stays in tip-top shape for all future adventures.
Imagine sharing stories of epic wipeouts and triumphant rides while sipping on ice-cold beverages at the end of an adrenaline-filled day.
As each member of your squad masters their newfound surfing abilities, it'll create lasting memories that everyone will cherish long after the bachelor party ends.
Hiking and Zipline Tours
There's no better way to experience the island's breathtaking beauty than by embarking on exhilarating hiking and zipline tours that'll leave you speechless!
Imagine trekking through lush rainforests, navigating rocky terrain, and indulging in some canyon exploration as your adrenaline pumps with excitement.
You'll feel a sense of belonging as you become one with nature, climbing higher and higher until you reach stunning viewpoints overlooking Hawaii's picturesque landscapes.
And if that isn't enough to get your heart racing, why not add waterfall rappelling to the mix? Conquer your fears alongside your best buds by descending thundering waterfalls and creating memories that'll last a lifetime.
But wait – there's more! Elevate your bachelor party experience even further with thrilling zipline tours across Hawaii's awe-inspiring canopies.
Feel the wind rush past you as you soar high above the treetops like a true adventurer, taking in panoramic views of paradise below.
With several zipline courses available throughout the islands at various difficulty levels, it's easy to find an adventure suitable for everyone in your group.
So, dare to unleash your inner adrenaline junkie while forging unbreakable bonds with your closest friends. This Hawaiian adventure is bound to be unforgettable!
Island Nightlife
Can't decide which island nightlife scene to explore? Let us help you navigate the best spots for an unforgettable night!
Hawaii offers a variety of nighttime activities, from tiki bar crawls to traditional luaus, that will make your bachelor party one for the books.
With so many options, finding something that suits everyone in your group and creates an experience you'll all cherish is easy. Here are some must-try activities while exploring Hawaii's nightlife:
Tiki Bar Crawl: Immerse yourself in the tropical atmosphere by hopping between iconic tiki bars such as La Mariana Sailing Club, Duke's Waikiki, and Mai Tai Bar. These legendary spots offer delicious cocktails, live music, and stunning views.
Luau Experience: No trip to Hawaii is complete without attending a traditional Luau. Indulge in authentic Hawaiian food, watch captivating performances of hula and fire dancers, and learn about Polynesian culture at venues like Paradise Cove or Old Lahaina Luau.
Nightclubs & Live Music: Dance the night away at popular nightclubs like Addiction or Sky Waikiki. For those who prefer live music, check out Blue Note Hawaii or Hawaiian Brian's Social Club for talented local artists across various genres.
Sunset Dinner Cruise: Enjoy breathtaking sunsets over the Pacific Ocean while dining on scrumptious cuisine aboard a luxury catamaran cruise. Companies like Star of Honolulu or Trilogy Excursions offer romantic dinner cruises perfect for creating lasting memories with your crew.
With these amazing experiences waiting for you in Hawaii's vibrant nightlife scene, there's no doubt your bachelor party will be filled with laughter and camaraderie as you forge bonds that last a lifetime.
Unique Experiences
Imagine diving with sharks, soaring through the skies, or embarking on a thrilling ATV adventure, surrounded by Hawaii's breathtaking beauty, during your unforgettable bachelor celebration.
In addition to adrenaline-pumping activities, immerse yourself and your crew in cultural exploration for a unique experience.
Visit ancient Hawaiian sites, learn the art of hula dancing, or indulge in traditional cuisine at an authentic luau.
Speaking of luaus, no trip to Hawaii would be complete without attending one as part of your bachelor party festivities.
The vibrant colors, hypnotic rhythms, and mesmerizing performances create a sense of belonging that you and your friends will never forget.
A luau experience allows you to fully appreciate the island's rich culture while enjoying delicious food and exceptional entertainment.
So, break out those grass skirts and leis—it's time to embrace the Aloha spirit for an extraordinary bachelor party experience in paradise!
Relax and Recharge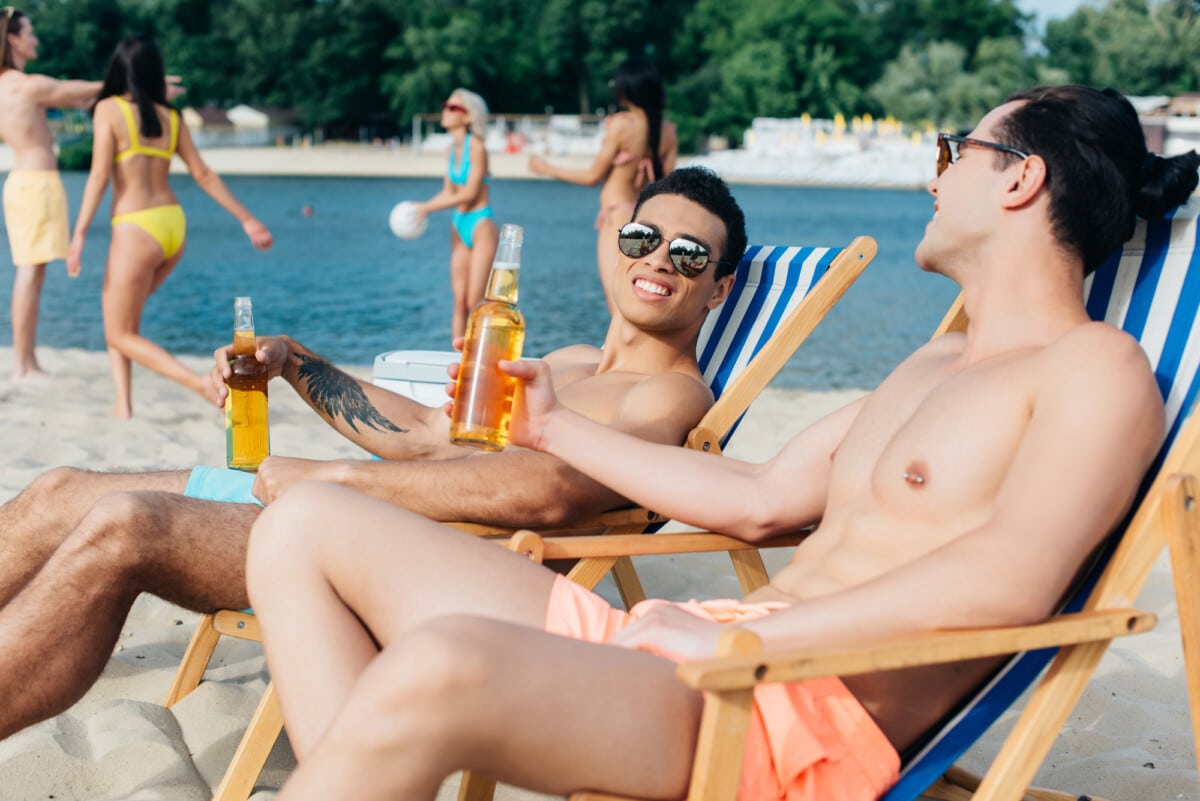 You'll also find plenty of opportunities to unwind and rejuvenate with your buddies amid the island's tranquil serenity.
Hawaii offers many relaxing experiences that allow you to recharge while bonding with your best pals before returning to reality.
Beachside yoga: Feel the warm sand beneath your toes as you stretch and breathe in sync with your buddies, taking in the ocean views and letting go of any pre-wedding stress.
Luxurious spa treatments: Indulge in a soothing couples' massage or invigorating body scrub at one of Hawaii's many premier spas, melting away tension together.
Peaceful nature walks: Stroll through lush botanical gardens, hike along picturesque trails, or simply enjoy a leisurely walk on the beach under a setting sun.
In addition to these calming activities, don't forget to set aside some time for simple relaxation with your friends – lounging by the pool, sipping on tropical cocktails, or enjoying an intimate beachfront dinner.
As you create lasting memories during this special getaway, take time to appreciate everything that has led up to this moment – from childhood friendships forged over countless sleepovers and shared adventures to new bonds formed through late-night conversations and laughter-filled nights out.
While celebrating the groom-to-be is certainly important during this unforgettable bachelor party experience in Hawaii, remember that it's also about cherishing these moments spent together and deepening that sense of belonging among all crew members.
Final Thoughts
So, what're you waiting for? Hawaii hosts over 9 million visitors annually, all clamoring to experience the unique adventures and unforgettable memories that await.
Don't let your bachelor party be just another statistic – make it a once-in-a-lifetime island extravaganza. Grab your buddies, pack your bags, and get ready to embrace the Aloha spirit.
With these incredible Hawaiian bachelor party ideas, you're guaranteed an epic send-off into married life. Cheers!