Best known for its famous potatoes, this state holds abundant hidden treasures that will turn your bachelor party from ordinary to extraordinary.
Idaho, often overlooked, boasts a multitude of landscapes and activities perfect for the adventure-seeking groom and his entourage.
Imagine white-water rafting through the heart-pounding rapids of Snake River, skiing the pristine slopes of Sun Valley, venturing into the depths of Craters of the Moon, or savoring a cold one at a local craft brewery in Boise.
Whether you're a group of thrill-seekers, nature lovers, foodies, or urban explorers, this guide will introduce many experiences suited to every kind of bachelor party.
So, gents, ready to swap those clichéd bachelor parties for an adventure of a lifetime in Idaho? 
Fasten your seat belts and prepare for a wild ride through this incredibly diverse state. Here's to creating legendary stories, epic adventures, and memories that will last a lifetime. Cheers to the ultimate Idaho bachelor party!
Outdoor Adventure Activities
Enable your wild side with thrilling outdoor adventures that'll create lifetime memories!
Idaho is the perfect playground for adrenaline junkies and nature lovers, offering various outdoor activities for any bachelor party.
Challenge yourselves to an exhilarating day of whitewater rafting down the legendary Salmon River or the thrilling Payette River – both offer thrills and spills as you navigate through rapids, surrounded by Idaho's breathtaking scenery.
If water isn't your thing, why not hit the trails on a mountain biking expedition?
With miles upon miles of diverse terrain in places like Sun Valley and Coeur d'Alene, you can explore lush forests, rugged mountains, and scenic valleys together as a pack.
As you embark on these unforgettable experiences with your best friends by your side, you'll satisfy your craving for adventure and strengthen the bonds between each other.
Whether working together to tackle roaring rapids during whitewater rafting or pushing each other to conquer challenging mountain biking trails, there's no better way to forge lasting connections than facing challenges head-on in Idaho's great outdoors.
You'll come away from this trip with stories to tell for years – tales of camaraderie, laughter, and shared triumphs against nature's most awe-inspiring obstacles.
Brewery and Winery Tours
You'll love exploring the local breweries and wineries, tasting the finest craft beers and wines while creating unforgettable memories with your buddies.
Idaho offers a variety of exceptional tasting experiences that will satisfy even the most discerning palates.
As you embark on this liquid adventure, you'll discover unique beverages crafted with pride by passionate artisans eager to share their creations.
Taste your way through Idaho's diverse offering of crisp lagers, hoppy IPAs, velvety stouts, robust reds, and refreshing whites – each a testament to the state's thriving craft beverage scene.
Make your first stop at one of Boise's renowned breweries, like Payette Brewing Company or Woodland Empire Ale Craft where friendly faces await to guide you through flights of innovative brews highlighting Idaho's bountiful agricultural resources.
Next, take a scenic drive into Idaho wine country – home to over 50 wineries nestled amongst picturesque vineyards across the Snake River Valley.
Here you'll enjoy intimate tastings at award-winning establishments such as Cinder Wines or Ste Chapelle Winery while soaking in breathtaking views that enhance your sipping experience.
In no time, you and your friends will be raising your glasses in celebration as newfound aficionados of Idaho's extraordinary brewery and winery offerings.
Sports and Recreation
Regarding sports and recreation, there's no shortage of thrilling activities to keep you and your pals entertained throughout your visit.
Idaho offers a wide range of outdoor adventures that will test your limits and bring you closer together as a group.
From river rafting to paintball battles, the Gem State has something for everyone looking for an adrenaline-pumping bachelor party experience.
River Rafting: Experience the thrill of whitewater rafting on Idaho's famous rivers such as the Salmon River or Payette River. With various difficulty levels available, you can choose between a leisurely float trip or an exhilarating ride through challenging rapids.
Paintball Battles: Unleash your competitive spirit with an epic battle at one of Idaho's many paintball parks. Prepare for some strategic team play and let loose in an all-out colorful war against each other.
Mountain Biking: Hit the trails around Sun Valley or Boise Foothills and enjoy world-class mountain biking with your buddies. Explore scenic routes, tackle challenging terrains, and make lasting memories while cruising through Idaho's beautiful landscapes.
Golfing: For those who prefer a more relaxed activity, spend an afternoon golfing at one of Idaho's picturesque golf courses like Coeur d'Alene Resort Golf Course or BanBury Golf Club.
As you plan your unforgettable bachelor party in Idaho, remember that these sports and recreational activities are just a taste of what this incredible state offers.
Embrace the sense of adventure that defines this rugged landscape and create lifelong bonds with friends as you explore all that Idaho has in store for your group!
City Nightlife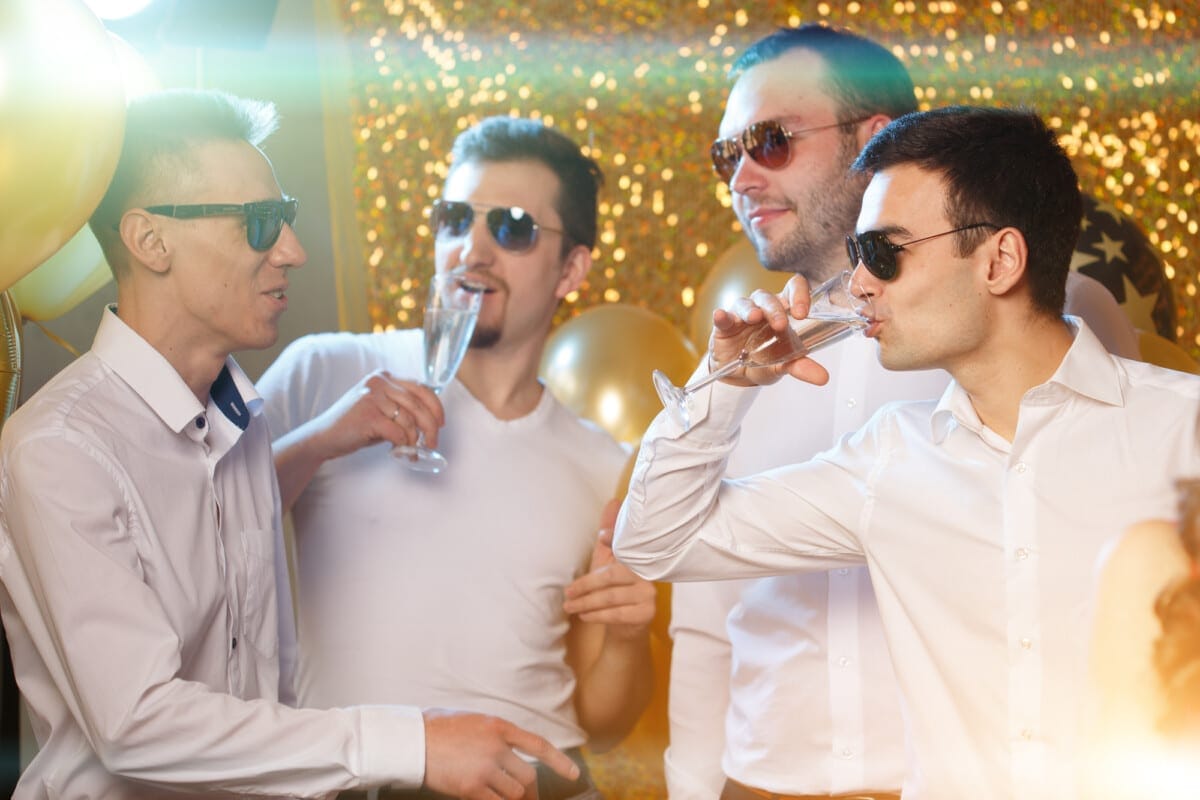 Immerse yourselves in Idaho's vibrant city nightlife, where bustling bars, lively clubs, and dazzling entertainment venues await to make your night unforgettable.
Urban exploration is essential to the bachelor party experience as you discover hidden gems and popular hotspots throughout Idaho's dynamic cities. 
From Boise's thriving downtown scene to Coeur d'Alene's picturesque lakeside bars, there's no shortage of unique settings for creating memories with your closest friends.
Live performances are a staple of Idaho's city nightlife, showcasing talented local artists or renowned national acts for your enjoyment.
Dance the night away at pulsating clubs or unwind at laid-back lounges – whichever suits your bachelor party vibe best. To help you plan your perfect night out, here are some notable venues across three major Idaho cities:
No matter which city you choose to celebrate in, Idaho offers diverse nightlife options that cater to all tastes and preferences.
So indulge in this exciting urban playground and create lasting memories with those who truly matter most during this once-in-a-lifetime celebration.
Relaxing Retreat
After all the excitement, it's time for a relaxing retreat to unwind and recharge with your friends. Idaho offers an abundance of serene escapes that will leave you feeling refreshed and ready to face the world again.
Imagine a luxurious mountain spa nestled among towering pines, where you can indulge in massages, facials, or body treatments while breathing in the crisp alpine air.
Or perhaps lakeside lounging is more your style; picture yourself basking in the sun on a private beach along one of Idaho's many pristine lakes, drink in hand and laughter echoing across the water.
For those who crave tranquility amid natural beauty, consider visiting one of Idaho's famed hot springs.
Soak away your worries as you immerse yourself in mineral-rich waters surrounded by lush forests and rugged mountainscapes.
Take strolls through charming small towns like McCall or Sandpoint, where friendly locals welcome you with open arms and share their love for their hometowns.
No matter which relaxing retreat you choose in Idaho, rest assured that memories made here will be cherished long after you return home – reinvigorated and filled with an even deeper sense of belonging among your closest friends.
Final Thoughts
Imagine spending a day rafting down the Salmon River, followed by a tasting at Ste. Chapelle Winery – is truly an epic way to bond with your buddies.
Idaho's diverse landscape and vibrant cities offer endless opportunities for adventure and relaxation.
Get ready to create lasting memories, celebrate your friend's big milestone, and experience all this incredible state has to offer!