The Hawkeye State, globally known for its cornfields and caucuses, is about to challenge your preconceptions and give Las Vegas a run when throwing an unforgettable bachelor party.
Located in the heartland of America, Iowa offers a distinctive mix of exhilarating experiences.
We're talking about heart-pounding NASCAR races, leisurely craft beer tastings, adrenaline-boosting outdoor adventures, action-packed gaming nights, riverboat casino experiences, and more. 
Whether you're a thrill-seeker, a chill seeker, a foodie, or a sports enthusiast, there's something in Iowa for every soon-to-be groom and crew.
Throw on your party caps, round up the boys, and let's uncover Iowa's untapped bachelor party potential together.
Strap in, fellas – this will be one for the history books!
1. Outdoor Adventure Activities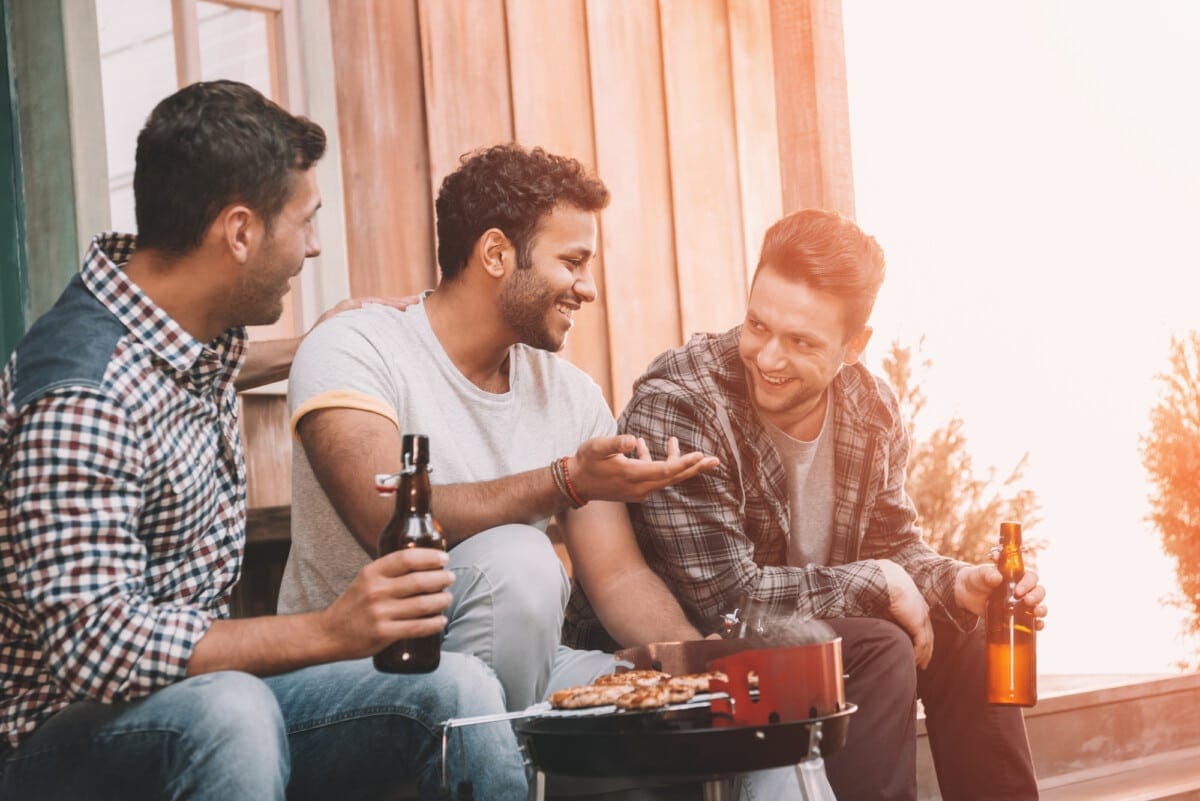 Ready for some thrilling action, fellas? Let's dive into these epic outdoor adventures!
Iowa is the perfect place for a rugged camping experience that will bring you and your buddies closer than ever.
With its diverse landscape of rolling hills, dense forests, and scenic rivers, there's no shortage of spots to pitch your tents and sit around a campfire swapping stories.
And if you're up for an adrenaline-pumping activity during the day, river rafting on the Des Moines or Cedar River will quench your thirst for adventure while giving you all plenty of bonding moments.
While enjoying your rugged camping trip in Iowa's great outdoors, don't forget to take advantage of the countless hiking trails that wind through stunning landscapes.
You'll feel a sense of belonging as you trek together through lush greenery and breathe fresh air.
As you navigate down roaring rapids during your exhilarating river rafting excursion, it won't be just about conquering those wild waters; it's about coming together as a tight-knit group ready to face any challenge.
So answer the call of the wild and embark on an unforgettable bachelor party adventure in beautiful Iowa!
2. Brewery and Distillery Tours
You'll be on cloud nine when you embark on a thirst-quenching brewery and distillery tour with your buddies.
Iowa is home to an impressive selection of craft breweries and distilleries, offering unique experiences for everyone in your bachelor party crew.
With craft beer tastings and spirits sampling, you'll bond with your best mates while learning about the local beverage scene.
Peace Tree Brewing Company: Located in Knoxville, this award-winning brewery offers a variety of craft beers that are sure to please every palate. Tour their facility and enjoy samples of their flagship brews, seasonal offerings, and experimental concoctions.
Cedar Ridge Distillery: Nestled in the beautiful countryside near Swisher, Cedar Ridge produces handcrafted whiskey, brandy, wine, and more using locally sourced ingredients. The distillery offers guided tours where you can learn about the production process and sample their spirits in a cozy tasting room.
Toppling Goliath Brewery: Ranked among the best breweries in the world, Toppling Goliath has made waves within the craft beer community for its bold flavors and innovative brews. Head over to Decorah for a tour of their state-of-the-art brewing facility followed by tastings of some truly outstanding beers.
As you explore these exceptional establishments with your friends for your bachelor party celebration in Iowa, you're creating new memories that will last long after the last drop has been savored. Cheers!
3. Sports and Entertainment
Nothing beats the excitement of cheering on your favorite team or rocking out to live music with your closest pals during a fun-filled weekend.
In Iowa, you'll find plenty of sports and entertainment options to make your bachelor party unforgettable.
From golf outings at some of the state's top courses like TPC Deere Run and Finkbine Golf Course, to poker nights at popular casinos such as Prairie Meadows and Riverside Casino & Golf Resort, there's no shortage of adrenaline-pumping activities for you and your crew.
But wait, there's more!
If you're looking for something different from the traditional bachelor party activities, consider catching a game from one of Iowa's many professional or collegiate sports teams.
Cheer on the Iowa Cubs baseball team in Des Moines or prepare for some hard-hitting action with the Cedar Rapids RoughRiders hockey team.
For an even more memorable experience, plan your trip around one of Iowa's annual events like the renowned 80/35 Music Festival in Des Moines or Tree Town Music Festival in Forest City.
With all these thrilling options available in Iowa, you and your friends will surely create lasting memories during this special celebration.
4. Relaxing Retreats
If a laid-back weekend with your buddies sounds more appealing, you're lucky, as Iowa boasts over 900 beautiful lakes and countless scenic parks, perfect for a relaxing retreat.
The state is ranked 4th in the nation for its number of public parks per capita!
With so many tranquil escapes, you'll have no trouble finding cozy hideaways to unwind and enjoy quality time with your closest friends.
Lake Okoboji: This popular vacation spot offers pristine waters, sandy beaches, and plenty of opportunities for boating and fishing.
Maquoketa Caves State Park: Get lost in nature as you explore this park's unique cave system, hike through lush forests, and marvel at stunning rock formations.
Ledges State Park: Relax amidst dramatic sandstone cliffs along the Des Moines River; this picturesque destination is perfect for picnicking or hiking.
Honey Creek Resort State Park: Treat yourselves to comfortable accommodations at this resort while enjoying outdoor activities like golfing or kayaking on Rathbun Lake.
No matter which option you choose for your bachelor party getaway in Iowa, you can rest assured that it will be an unforgettable experience filled with camaraderie and relaxation.
So gather your friends and plan the ultimate bonding weekend in one of these idyllic locations!
5. Unique Experiences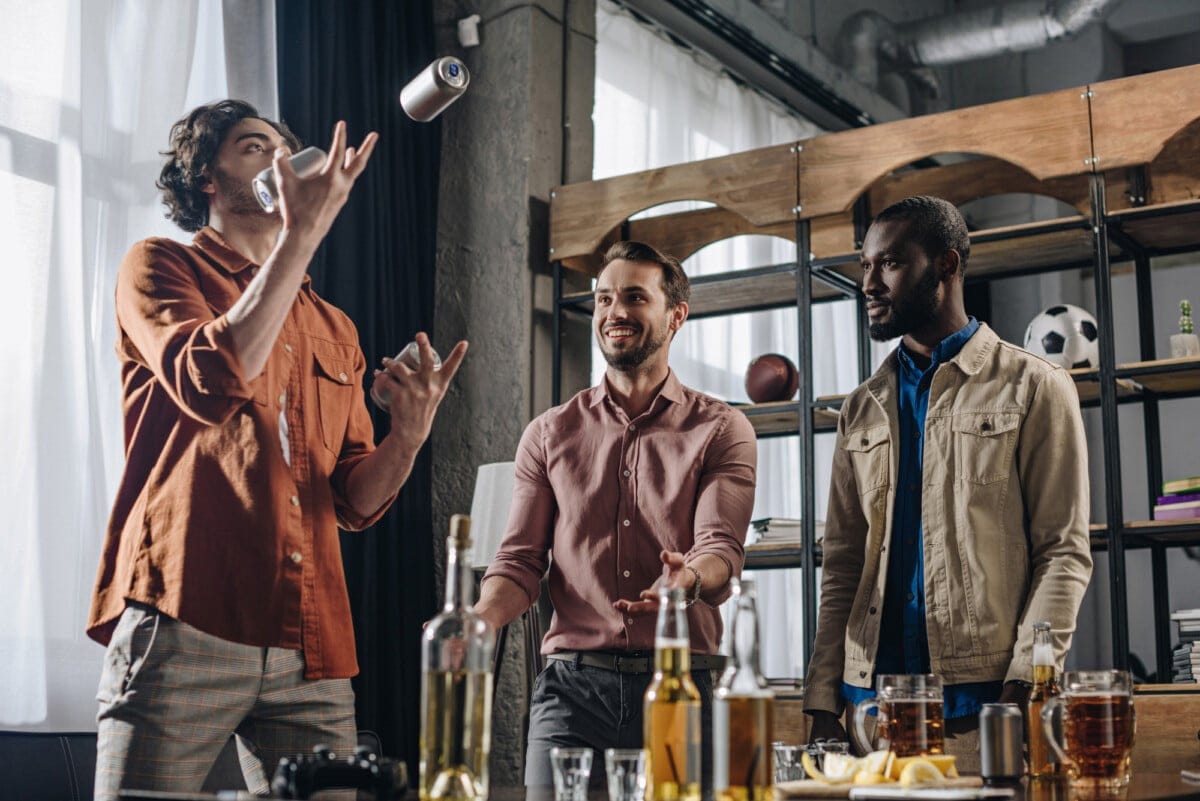 Ready for something truly memorable?
Let's dive into some unique experiences that'll make your weekend with the guys unforgettable.
Iowa has a lot to offer regarding one-of-a-kind adventures, and if your crew is up for a bit of culinary exploration or art immersion, you're in for a treat.
For the foodies in your group, embark on a culinary exploration by visiting local breweries, wineries, and farm-to-table restaurants throughout Iowa.
Sample craft beers at Toppling Goliath Brewery in Decorah or Exile Brewing Company in Des Moines. 
If wine is more your style, check out Stone Cliff Winery in Dubuque or Tassel Ridge Winery near Oskaloosa.
Indulge in delicious farm-to-table meals at eateries like Pullman Bar & Diner in Iowa City or The Cheese Shop of Des Moines.
For an artistic twist on your bachelor party experience, dive into the vibrant arts scene with gallery crawls through neighborhoods like Des Moines' Historic East Village or Cedar Rapids' Czech Village/New Bohemia District.
Attend live performances at Hancher Auditorium (Iowa City) or Hoyt Sherman Place (Des Moines).
Whether it's tantalizing your taste buds with fresh flavors or immersing yourselves in creative masterpieces, these unique experiences will leave lasting memories and strengthen bonds among friends during your epic Iowa bachelor party adventure.
Final Thoughts
You might be surprised to learn that Iowa ranks as the 12th best state for beer drinkers in the U.S.
That's a reason to consider it for your bachelor party!
With an array of outdoor adventure activities, brewery and distillery tours, sports, entertainment, relaxing retreats, and unique experiences, you can't go wrong with a bachelor party in Iowa.
So grab your buddies and start planning the ultimate celebration in this underrated destination. Cheers to creating unforgettable memories before tying the knot!