If you're thinking about where to host this epic farewell to singlehood, consider the birthplace of America: Virginia!
Virginia, with its stunning beaches, exhilarating mountains, rich history, and electrifying nightlife, holds a treasure trove of bachelor party options that will create memories to last a lifetime.
This versatile state beautifully marries the tranquility of nature with the rush of city life, presenting a vast canvas for all kinds of bachelor parties.
From craft beer tastings in Richmond's thriving brewery scene to wild adventures in the Blue Ridge Mountains, fishing trips in the Chesapeake Bay, or thrilling NASCAR races in Richmond – Virginia has it all.
Whether your groom-to-be is a history buff, an adrenaline junkie, a lover of fine spirits, or a sports enthusiast, we've got the perfect bachelor party ideas lined up.
So, round up the crew, pack your bags, and get ready to embark on an unforgettable journey across the Old Dominion State.
Fasten your seat belts, gents – it's going to be a wild ride!
1. Brewery and Winery Tours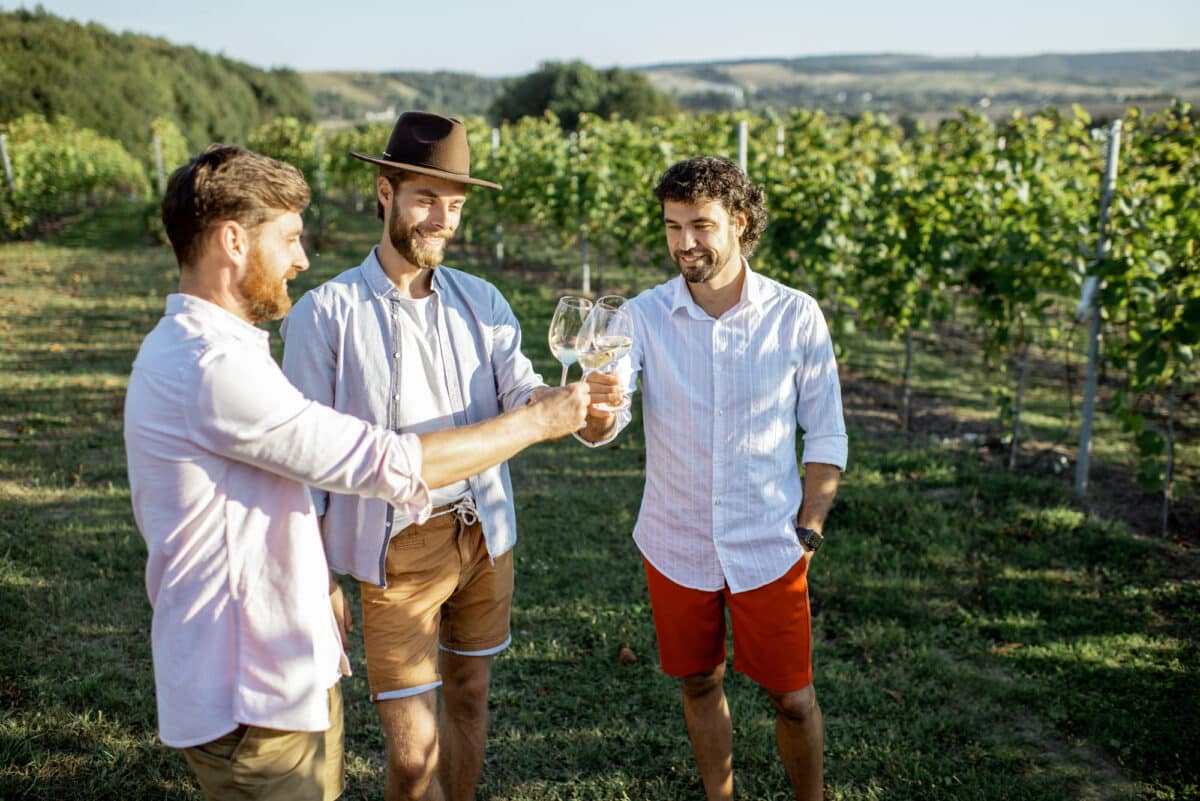 You'll absolutely love exploring the abundant brewery and winery tours available, offering unique experiences and delicious tastings!
Virginia is home to a plethora of craft breweries and award-winning wineries that will satisfy your thirst for adventure and camaraderie.
As you embark on these tours, you'll learn about tasting techniques from knowledgeable guides who are passionate about their craft.
They'll teach you how to swirl, sniff, sip, and savor each beverage like a pro.
Plus, they'll introduce you to pairing options that will elevate your taste buds to new heights.
Gather your crew and make lasting memories as you bond over shared experiences in picturesque settings.
Whether it's hopping between breweries or strolling through vineyards with stunning views, there's something for everyone in your group to enjoy.
You'll feel a sense of belonging as you laugh together while discovering new flavors and making unforgettable connections with fellow beer enthusiasts or wine connoisseurs.
So raise a glass to friendship and celebrate this special occasion by immersing yourself in Virginia's vibrant brewery and winery scene!
2. Outdoor Adventure Activities
Whether it's conquering rugged trails, navigating wild rapids, or soaring through the sky, there's no shortage of thrilling adventures awaiting you and your crew in this beautiful state.
From adrenaline-pumping river rafting to tactical paintball wars, Virginia offers a diverse range of outdoor activities that will bring your bachelor party to a whole new level of excitement and camaraderie.
River Rafting: Tackle the mighty James River or New River with a guided whitewater rafting trip that will have you and your friends battling exhilarating rapids and sharing unforgettable memories.
Paintball Wars: Unleash your inner warrior at one of Virginia's many paintball parks, where you can strategize, outmaneuver, and take down your opponents in a friendly yet competitive battle.
Mountain Biking: Explore the stunning Appalachian Mountains on two wheels by tackling challenging singletrack trails or cruising along scenic fire roads with breathtaking views.
Ziplining Canopy Tours: Soar high above the treetops as you glide from platform to platform on an exhilarating zipline adventure that will leave you feeling like Superman.
These heart-pounding experiences not only provide an opportunity for endless fun but also foster teamwork and camaraderie among your group—creating lasting memories that everyone will cherish long after the wedding day has passed.
So go ahead, embrace your adventurous spirit and plan an epic bachelor party in Virginia that's truly one for the books!
a. Golf Getaway Weekend
Ready for a golf getaway weekend that'll blow your mind?
Virginia has an impressive selection of golf courses, perfect for celebrating your bachelor party with friends.
A well-planned golf weekend will not only give you an opportunity to bond with your buddies but also provide swing improvement tips and challenges on some of the finest greens in the state.
From scenic mountain landscapes to lush coastal beauty, Virginia's diverse golf course selection ensures memorable rounds for every skill level.
After playing these outstanding courses during your bachelor party getaway, you and your friends will return home feeling more connected than ever – all while improving your swing!
3. City Nightlife Experience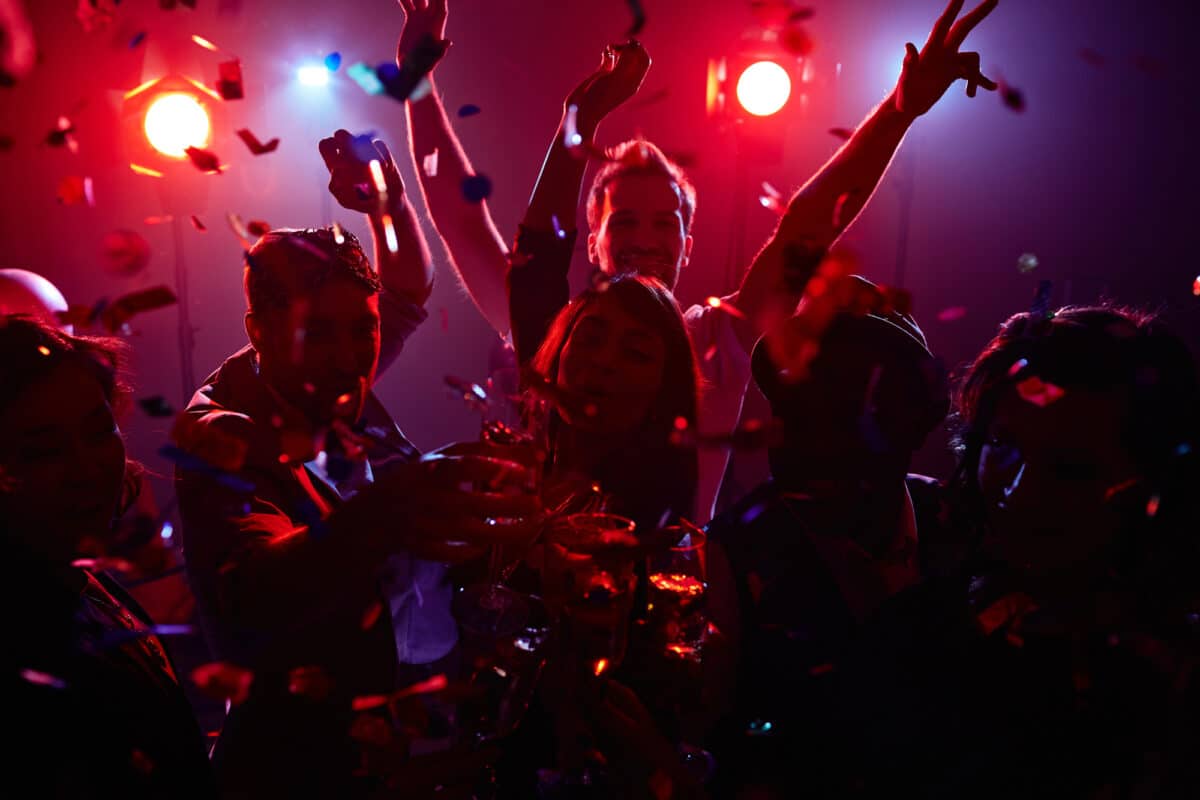 Prepare for an unforgettable night out in the city, where Virginia's nightlife scene offers a mind-blowing array of experiences that'll make your weekend one for the books!
Embrace urban exploration as you and your crew navigate through vibrant streets filled with lively bars, pulsating clubs, and trendy lounges.
Feel like kings when you hit up some of the most popular rooftop bars in town, sipping on craft cocktails while taking in stunning views of the skyline.
You'll find camaraderie among fellow party-goers as everyone celebrates together in perfect harmony.
When planning your city nightlife experience, consider starting off with a bang at upscale cocktail lounges to set the mood before diving into late-night dance clubs where you can show off your best moves.
In between venues, don't forget to indulge in some late-night bites from local food trucks or hidden gems tucked away within bustling neighborhoods – fuel for even more fun!
As the night unfolds and new friendships are forged over shared shots and laughter, you'll be reminded just how special it is to have this strong bond with your closest friends – making memories that will last a lifetime during this epic bachelor party experience.
4. Luxury Retreat and Relaxation
After all that excitement, it's time to unwind and pamper yourselves at a luxurious retreat, where relaxation and rejuvenation take center stage.
Virginia offers a variety of upscale destinations that cater to those seeking spa indulgence, gourmet dining, and stunning natural surroundings.
From the rolling hills of wine country to the serene shores of Chesapeake Bay, there's no shortage of options for you and your bachelor party crew to create lasting memories while enjoying some well-deserved rest and relaxation.
Here are four exceptional luxury retreats in Virginia that promise an unforgettable experience:
Lansdowne Resort & Spa: Located in Leesburg wine country, this resort offers a world-class spa, golf courses, fine dining restaurants, and beautiful accommodations overlooking the Potomac River.
The Omni Homestead Resort: Step back in time at this historic Hot Springs destination that has been welcoming guests since 1766. With two championship golf courses, a luxury spa with natural hot springs pools, horseback riding experiences and on-site gourmet dining options.
Salamander Resort & Spa: Nestled in the heart of Middleburg's horse country only one hour away from Washington D.C., Salamander Resort & Spa features equestrian-themed accommodations with private balconies or terraces surrounded by lush landscapes. Experience rejuvenating spa treatments as well as farm-to-table cuisine from their on-site restaurant Harrimans Grill.
Tides Inn: Escape to the tranquil shores of Chesapeake Bay at this Irvington gem that boasts waterfront views from every room. Unwind with signature spa treatments inspired by local botanicals before indulging your taste buds at their award-winning restaurant.
So go ahead – treat yourself!
Enjoy some quality bonding time with your friends while experiencing unparalleled comfort and luxury amidst the natural beauty of Virginia.
Final Thoughts
So, dust off your Walkman and get ready to make some unforgettable memories with your best buds in Virginia.
Whether you're into brewery hopping or just kicking back in luxury, there's something for everyone.
In the end, it's all about having a blast with your friends before taking that big leap into married life.
So, go ahead and start planning that epic bachelor party—Virginia's waiting for you!