Are you looking for the perfect wedding party entrance ideas for you and your bridal party? An entrance that's simple yet enjoyable and engaging?
Below, we have 51 really fun wedding reception entrance ideas for the bridal party. We also have bridal party entrance ideas for the ceremony. Most of these ideas will blow your guests minds!
Key Takeaways

1. The Bridal Party's Entrance Matters: Not just a momentary spectacle, the bridal party's entrance can set the tone for an epic wedding ceremony and reception. It's a chance to inject personality and uniqueness into your special day.

2. Wedding Ceremony Ideas: From carrying adorable kittens or puppies instead of flowers to performing a lively dance or an engaging skit, there are myriad creative ways to make the bridal party's entrance memorable.

3. Wedding Reception Entrance Extravaganza: The reception is where the real party begins and the entrance is a prime opportunity to express individuality. Ideas range from a dance battle, wearing humorous masks, using props like sparklers and confetti, to arriving in style on horses or vintage cars. You can even switch things up by swapping clothes or incorporating movie themes.

4. Plan and Practice: Whether it's a simple entrance or a more elaborate one, planning and practicing with the bridal party, DJ, MC, and media crew is key. Ensure everyone is on the same page, especially about any last-minute changes.

5. Prop Safety: If you choose to incorporate props into the entrance, make sure they're safe and easy to handle. They should enhance the entrance, not cause confusion or distractions.

6. It's All About Fun: Regardless of the chosen entrance idea, the ultimate goal is to have fun and create unforgettable moments. However, always consider your budget and what is appropriate for the event.
It's your special day, and the grand entrance is your chance to leave an unforgettable impression.
But before the newly wedded couple steps into the reception, the bridal party must first set the tone with their entrance.
In fact, many will agree that the bridal party's entrance is the foundation for an epic grand entrance.
Read on to discover some fun entrance ideas for a bridal party to a wedding ceremony and wedding reception.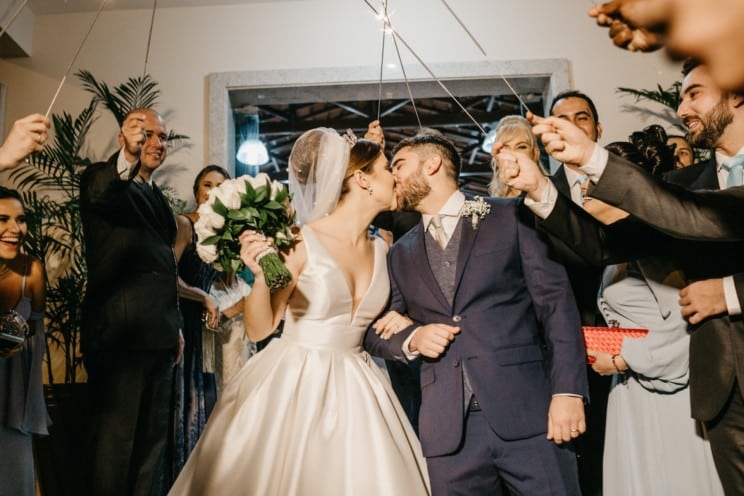 51 Fun and Unique Wedding Party Entrance Ideas To Wedding Ceremony or Reception
Although wedding ceremonies are typically solemn and formal, you can still spice things up a little.
Traditionally, the bridal party can either enter from the side or march down the aisle to a song of choice.
Ensure a memorable start to your wedding festivities with our selection of grand entrance songs for your wedding.
However, sometimes a couple might want to switch things up by opting for a grand entrance that better reflects their personalities.
If that couple is you, take a look at these ideas.
1. Walking Down a Staircase Lit with Candles on Each Step
Indulge in an ethereal experience as you descend down a staircase adorned with flickering candles. This enchanting entrance not only illuminates your path but sets a warm, inviting atmosphere for the entire celebration. It's a scene plucked right from a fairytale, where each candle signifies a step closer to the new chapter of your life.
2. Entering Through a Grand Archway Covered in Flowers
Picture a grand archway festooned with your favorite blooms, a botanical masterpiece that marks the start of your marital journey. As you pass under this floral arc, the vivid hues and sweet fragrances symbolize the blossoming of your love and the beauty of the promises you're about to make.
3. Making a Surprise Entrance from a Giant Present Box
In a playful twist, surprise your guests by popping out of a gigantic gift box. This fun-filled entrance encapsulates the joy of a wedding day and reflects that love is indeed the greatest gift of all. Each unfolding layer represents a new surprise, just as in the journey of marriage.
4. Walking Down an Aisle of Sparklers Held by the Guests
An avenue of sparklers, held aloft by your friends and family, creates an unforgettable path towards your partner. The warm glow and the twinkling sparks serve as a tribute to your shining love story, adding a touch of magic to your grand entrance.
5. Using Photo Booth Props for a Quirky Entrance
Put on a pair of oversized glasses, grab a speech bubble prop, or wield a playful sign as you make your quirky entrance. This lighthearted and personal touch creates an atmosphere of fun and celebrates your unique personalities, inviting your guests to join in the joy.
6. Performing a Short Skit
Showcase your storytelling chops by performing a mini-skit that narrates your love story. This dramatic entrance is a testament to your shared journey, allowing your guests to partake in the narrative. It's not only entertaining but also a heartfelt display of your joint creativity.
7. Swapping Outfits with Your Partner for a Fun Twist
Inject a dose of humor and surprise into your grand entrance by swapping outfits with your partner. This unexpected twist not only gets a chuckle from your guests but also symbolizes your shared experiences and understanding, in a fun and unique way.
8. Displaying a Filmed Music Video as an Intro
Before setting foot into the venue, build anticipation by screening a pre-recorded music video. This creative intro gives a nod to your shared interests and chronicles your journey together, effectively engaging your guests even before you make your physical entrance.
9. Carrying Sparklers for a Dramatic Effect
Elevate your entrance to a spectacle by holding high a lit sparkler. This radiant display infuses the moment with an air of enchantment, while the fiery spark symbolizes your burning love and passion.
10. Crossing a "Finish Line" as a Symbol of Starting a New Chapter Together
A symbolic 'finish line' can serve as a testament to the journey you've embarked on together. As you cross it, it marks the culmination of your dating years and the exciting beginning of your life as a married couple, symbolizing that you're ready to take on the world together.
11. Entry with a Dance-Off
Bust a move as you enter the venue with a thrilling dance-off. This energetic entrance engages your guests immediately, setting a lively tone for the festivities to come. Your synchronized moves symbolize your ability to work in unison, emphasizing the strength of your partnership.
12. Themed Entrance with Costumes
Immerse your guests in a narrative by making a themed entrance in costumes. Whether it's a recreation of a scene from your favorite movie or an homage to a historical period, this type of entrance transforms your wedding into a grand spectacle, adding a layer of fantasy and fun.
13. Showing a Projection Screen with a Video or Photo Montage
Let your love story unfold on a big screen with a montage of your best moments together. This audiovisual presentation not only builds anticipation for your grand entrance but also creates an intimate bond with your guests, giving them a glimpse into your journey of love.
14. Shower of Confetti as You Enter
A shower of vibrant confetti adds an exuberant touch to your grand entrance. As the colorful pieces rain down on you, they create a lively and joyful atmosphere, setting the stage for a celebration filled with love, laughter, and happiness.
15. Line Dancing Their Way In
Get your boots on and line dance your way into the venue! This coordinated dance entrance not only puts on a show for your guests but also adds a unique cultural flair to your celebration. It's a great way to embody your shared passion and connect with your roots.
16. Dressing as Superheroes for a Fun, Themed Entrance
Embrace your inner comic book enthusiasts and make an entrance dressed as your favorite superheroes. This fun-filled, thematic entrance not only brings out the child in each of you, but it also signifies that together, you're ready to conquer any challenge that comes your way.
17. Rolling out a Red Carpet for a Celebrity-style Entrance
Turn your wedding day into a glitzy affair by unrolling a red carpet for your grand entrance. It gives you and your partner a chance to bask in the limelight, offering a Hollywood-style entrance where you're the stars of the show. It's all about glamour, elegance, and that touch of extravagance.
18. Walking Through a Customized Light Curtain
Illuminate your path with a mesmerizing light curtain, casting a magical glow on your entrance. Each beam of light represents the guiding principles in your relationship, lighting the way forward for your shared journey. It's an enchanting touch that sets a romantic ambiance for the entire celebration.
19. Creating a Balloon Drop
Kick off your celebration with a spectacular balloon drop as you make your entrance. As colorful balloons descend, they fill the venue with joy, fun, and a burst of excitement. It's a cheerful, festive start to a day filled with love and merriment.
20. Performing a Flash Mob
Electrify your entrance with a high-energy flash mob performance. This coordinated surprise will not only wow your guests, but it's also a wonderful way to showcase your shared passions and interests. It's a dynamic, interactive way to celebrate the start of your life together.
21. Making an Entrance Via a Slide
Add an element of playful fun to your wedding by sliding into your ceremony. This unexpected and exhilarating entrance is a joyful nod to your shared sense of humor, reminding everyone that love is not only profound but also full of joy and childlike fun.
22. Arriving with a Wagon
Delight your guests by making your grand entrance in a classic wagon. This rustic and charming choice is an homage to simpler times, making it perfect for a countryside or vintage-themed wedding. It's a quaint and romantic way to begin your matrimonial journey.
23. Entering with Live Music Playing
As you make your grand entrance, let a live band set the tempo. This resonant and vibrant introduction fills the venue with your favorite melodies, weaving a musical narrative that sets the tone for the festivities to come. It's an auditory feast that creates an immediate connection with your guests.
24. Riding in on a Classic Bicycle, Possibly a Tandem for Two
Bring a dash of nostalgia to your special day by riding in on a classic bicycle, or better yet, a tandem built for two. This environmentally-friendly entrance not only shows off your shared love for cycling but also signifies your readiness to pedal together through life's journey.
25. Arriving in an Antique Car
Make a statement by arriving in a vintage motorcar. This grand entrance exudes an air of timeless elegance, while the gentle hum of the engine announces your arrival in style. It's a perfect nod to the past as you look forward to your shared future.
26. Making an Entrance on Roller Skates or Rollerblades
Roll into your new life together with a spirited entrance on roller skates or rollerblades. This energetic, playful entrance showcases your shared love for adventure and fun. It adds a whimsical touch to the ceremony, and guarantees a memorable start to the celebrations.
27. Riding in on a Tractor
For couples with a love for the countryside or farming, making an entrance on a tractor can be both sentimental and heartwarming. This rustic, down-to-earth method of arrival encapsulates a sense of simplicity and authenticity, grounding your wedding day in your shared love for nature and the outdoors.
28. Arriving on the Back of a Harley Davidson Motorcycle
Channel your inner rebels and make your grand entrance on a classic Harley Davidson motorcycle. The rumble of the engine announces your arrival, as you rev into your wedding with a statement of independence, freedom, and shared passion for life's thrilling journeys.
29. Entering Under an Arch of Sabers for a Military Wedding
Honor your service and dedication with a grand entrance under an arch of sabers. This military tradition not only showcases your commitment to each other but also to your country. It's a solemn, deeply meaningful entrance that imbues your celebration with a sense of respect and patriotism.
30. Arriving in a Vintage Car
Add a dash of old-world charm to your wedding with an entrance in a vintage car. This stylish, elegant entry harks back to a bygone era, infusing your ceremony with a sense of timeless love and romance. It's a picture-perfect start to your forever together.
31. Grand Entrance in a Fire Truck
Make a heroic entrance in a fire truck, an especially touching tribute if one or both of you serve as firefighters. This unique, meaningful entrance not only adds a dash of excitement, but also honors your dedication to serving the community. It's a tribute to courage, commitment, and love that burns bright.
32. Coming in on a Float in a Parade
Transform your wedding into a public celebration by making your entrance on a parade float. This grand, jubilant entrance turns your special day into a community event, filled with joy and shared happiness. It's a lively, festive start to your journey of love.
33. Arriving in a Classic London-Style Double-Decker Bus
Embrace the charm of the British capital by arriving in a classic, London-style double-decker bus. This grand, distinctive entrance offers a hint of British flair, adding a unique cultural touch to your ceremony. It's a delightful, distinctive way to kick-start your wedding festivities.
34. Riding in on a Sleigh for a Winter Wedding
For a winter-themed wedding, nothing can be more magical than making your entrance on a sleigh. As the sleigh glides over the snow, it creates a perfect picture of romance and enchantment, setting the stage for a beautiful, fairy-tale wedding ceremony.
35. Making an Entrance on a Speed Boat
Celebrate your love for the open waters by making your entrance on a speed boat. This adventurous, exhilarating entrance adds a splash of excitement and a dash of nautical charm to your wedding. It's a unique, thrilling start to your matrimonial voyage.
36. Arriving in a Sidecar of a Vintage Motorcycle
Journey into your new life together with a sidecar ride on a vintage motorcycle. This nostalgic and quirky entrance harkens back to simpler times, brimming with charm and character. It offers a unique blend of adventure and vintage style, making your wedding stand out in the memory of your guests.
37. Firing off Fireworks as You Enter
Begin your celebration with a literal bang by firing off fireworks as you make your entrance. This dazzling spectacle not only adds a sense of grandeur but also beautifully symbolizes the sparks flying in your relationship. It's a bright, unforgettable start to your matrimonial celebrations.
38. Having a Masquerade-Themed Entrance
Add an air of mystery and glamour to your wedding by having a masquerade-themed entrance. With you and your partner donning elegant masks, this entrance not only creates a sense of anticipation but also pays homage to the classic tradition of the masquerade ball, elevating your ceremony to a romantic, enchanting spectacle.
39. Riding in on a Horse
Give your wedding a traditional, noble touch by riding in on a horse. This majestic entrance adds a regal quality to your ceremony and is sure to leave a lasting impression on your guests. It's a grand, noble gesture that beautifully symbolizes the beginning of your journey together.
40. Swinging in on a Rope Like Tarzan and Jane
Add an element of excitement and adventure to your wedding by swinging in on a rope like Tarzan and Jane. This playful, daring entrance not only reflects your adventurous spirit but also adds a unique, thrilling touch to your ceremony that is sure to captivate your guests.
41. Entering Through a Secret Passage in a Castle Wedding
Elevate the romance and intrigue at your castle wedding by making your entrance through a secret passage. This entrance not only adds a touch of mystery and fascination but also beautifully complements the grandeur and history of a castle wedding, creating a fairy-tale-like atmosphere.
42. Floating in on a Gondola for a Venetian Style Wedding
Celebrate your love in true Venetian style by floating in on a gondola. This romantic, serene entrance imbues your wedding with an authentic Italian charm, creating a memorable and beautiful start to your ceremony. It's a serene, magical way to begin your journey together.
43. Arriving on a Camel for a Desert or Middle Eastern-Themed Wedding
For a desert or Middle Eastern-themed wedding, make your entrance on a camel. This unique, culturally rich entrance not only adds authenticity to your theme but also ensures a memorable and distinctive start to your ceremony. It's a bold, unforgettable way to embark on your marital journey.
44. Making an Entrance on a Carousel or Merry-Go-Round
Imbue your wedding with a sense of joy and nostalgia by making your entrance on a carousel or merry-go-round. This whimsical, delightful entrance captures the magic of childhood memories and brings an element of playfulness and charm to your celebration.
45. Arriving on the Back of an Elephant in Traditional Indian Style
Embrace the grandeur and richness of Indian tradition by arriving on the back of an elephant. This grand, traditional entrance not only adds a touch of cultural heritage but also makes for a truly majestic start to your celebration. It's an opulent, unforgettable beginning to your shared journey.
46. Parachuting into the Venue
Make a sky-high statement by parachuting into your wedding venue. This daring and thrilling entrance takes wedding arrivals to new heights, literally. Given its complexity, you'll need to ensure the venue has a suitable landing area and that you have professional skydiving guidance. Not to mention, a prior experience or two in skydiving would be ideal for a safe, exciting landing.
47. Ziplining into the Venue
Swoop into your special day with an adrenaline-pumping zipline entrance. This action-packed arrival method guarantees a memorable start to the celebrations. To accomplish this, engage a professional adventure activity provider to install and supervise the zipline, ensuring all safety measures are in place for a thrilling, safe, and unforgettable entrance.
48. Helicopter Landing
Elevate your wedding entrance to a cinematic level by arriving via helicopter. This grand, awe-inspiring entrance screams luxury and leaves an indelible impression. To achieve this, liaise with a local aviation company for charter services and check with your venue for landing permissions, ensuring an impressive, seamless arrival.
49. Entering in a Hot Air Balloon
Arrive at your wedding in fairytale fashion by floating in a hot air balloon. This enchanting entrance adds a touch of romance and whimsy to your special day. Given the requirements, you'd need to collaborate with a professional hot air balloon operator and confirm with your venue that there's ample space for a safe landing.
50. Walking Down a Spiral Staircase
Emanate elegance and grandeur by making your entrance walking down a spiral staircase. This classic, stylish entrance adds a regal touch to your wedding. If your venue doesn't already have a spiral staircase, consider hiring a professional staging company that can help set up a temporary, secure structure for your grand entrance.
51. Making an Entrance on a Carousel or Merry-Go-Round
Bring whimsy and childlike joy to your wedding by making an entrance on a carousel or merry-go-round. This charming entrance ensures a lighthearted start to your celebrations. If your venue doesn't already have one of these, consider hiring a carnival ride rental company to install a merry-go-round for your special day. Just make sure there's sufficient space and resources to accommodate this setup.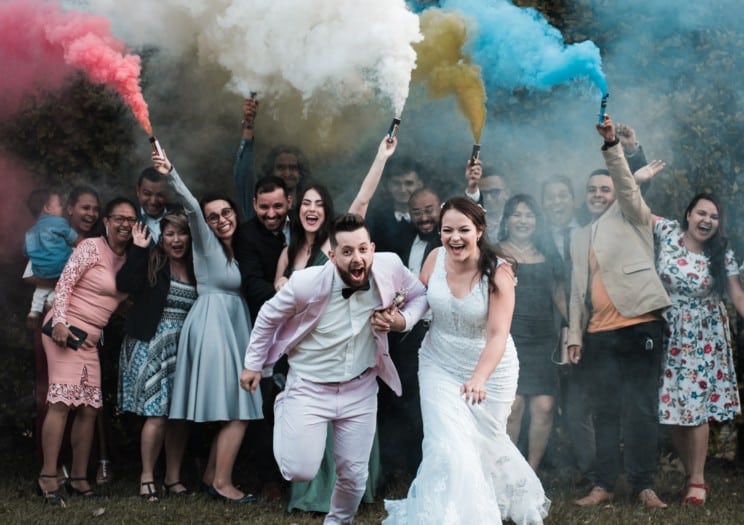 Wedding Party Entrance: 6 DOs and DON'Ts
I've shared some fun entrance ideas for bridal parties. Here are some extra tips that'll help you pull it off perfectly.
1. Build Rapport
Not everyone in the bridal party will be acquainted; most of them will be meeting each other for the first time during the wedding planning.
Encouraging them to bond by working together and sharing opinions will help them feel relaxed and remove every form of awkwardness at your wedding.
2. Be Careful With the Props
Props are an excellent addition to your wedding party.
Ensure that whatever props you choose to incorporate fit into the wedding and are easy to navigate and safe.
You wouldn't want your bridal party or guest to be more focused on handling a prop during your grand entrance.
3. Keep It Short and Simple
Whatever fun entrance idea you pick, ensure you stick to the script and make it sweet and fun for your guests.
Have fun with it and own it as much as you can.
4. Plan With Your Media Crew
Pictures and videos allow us to freeze time and relive memories. And believe me, your bridal party's entrance is one you'd love to relive.
Discuss angles and ideas with your media team, and let them know your entrance plans to ensure maximum coverage.
5. Carry Your DJ and MC Along
Plan your entrance with your bridal party and your DJ and MC for the best results. Give your DJ a list of every member of your bridal train.
Going over it with him will help void mispronounced names.
Also, plan your music arrangement with the DJ. Do you want to use the same song for all the announcements, or do you want different songs?
Having all these things arranged will eliminate delays and make your reception fun.
6. Inform Your Bridal Party of Last Minute Changes
Lastly, coordinate with the bridal party and ensure everyone is on the same page with any last-minute decisions or changes.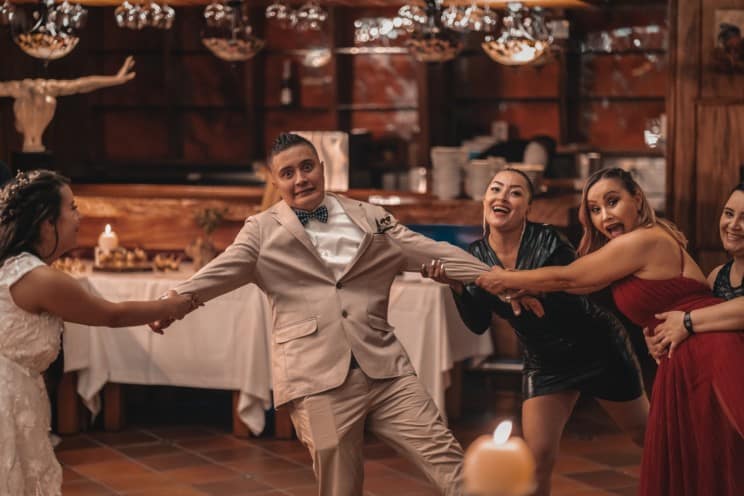 Frequently Asked Questions
How does the bridal party walk into the reception?
The order is dependent on you, but ideally, it should be the parents of the bride and groom, the flower girl and ring bearer, the best man and maid of honor, and then the bride and groom.
What is the best song for a wedding entrance?
When it comes to wedding entrance songs, there are several options and not many rules.
What is most important is choosing a song you and your partner love—one that you could easily dance into the reception with.
In what order should the bridal party be introduced?
While there's no golden rule to this, most weddings use the order below:
– Identify the bride's parents: you can say, "If I may ask that you kindly bring your hands together for the bride's mother and father [names]."
– Announce the parents of the groom: you can say, "Welcome, [names] mother and father of the groom."
 
– Identify the other parties to the wedding: Let's give the bridesmaids (name them) and groomsmen a round of applause. (Name them) and accompanied by the matron of honor and best man.
– You can also go ahead and name the flower girls and pageboys. 
Final Thoughts on Wedding Party Entrance Ideas
The wedding party entrance is the part of the wedding people are anxious to see and experience. It is up to you to make it worthwhile. 
Entrances made by the bridal party are a fun way to inject some personality and lighten the mood.
Try things out of the box and incorporate one or more of the fun entrance ideas shared in this article.
Keep in mind that you should only select an option that is appropriate for you!
Also, pay attention to your budget.