Are you looking for the perfect entrance idea for your wedding party? An entrance that's simple yet enjoyable and engaging?
Below, we have 3 really fun bridal party entrance ideas for the ceremony and 15 great ideas for how your bridal party can enter the wedding reception.
It's your special day, and the grand entrance is your chance to leave an unforgettable impression.
But before the newly wedded couple steps into the reception, the bridal party must first set the tone with their entrance.
In fact, many will agree that the bridal party's entrance is the foundation for an epic grand entrance.
Read on to discover some fun entrance ideas for a bridal party to a wedding ceremony and wedding reception.
3 Fun Entrance Ideas For Bridal Party To Wedding Ceremony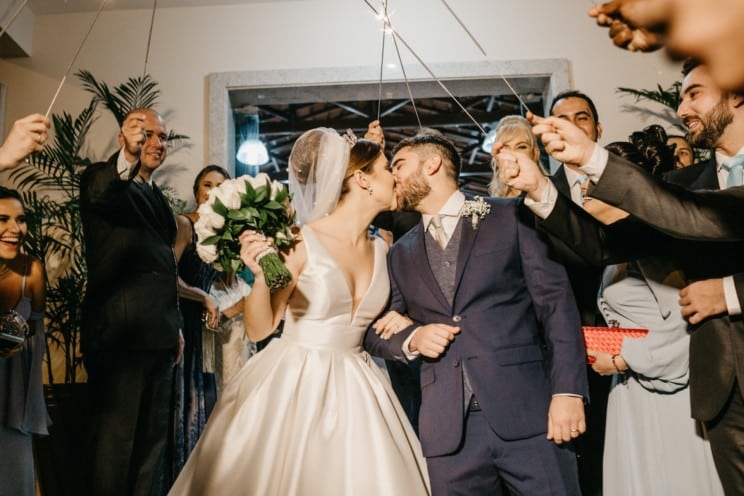 Although wedding ceremonies are typically solemn and formal, you can still spice things up a little.
Traditionally, the bridal party can either enter from the side or march down the aisle to a song of choice.
However, sometimes a couple might want to switch things up by opting for an entrance that better reflects their personalities.
If that couple is you, take a look at these ideas.
1. Switch Your Bridesmaids Flowers For Puppies Or Kittens
The first idea on our list is for animal lovers.
Instead of flowers, have your bridesmaids march into the venue holding kittens or puppies from a shelter.
You'll have your guests awwing at the cuteness of the moment, and who knows, some lucky pup or feline might find an owner.
2. Have Your Bridal Party Dance In
If you're in the mood for something rowdier, you could have your bridal party dance down the aisle.
You could use your wedding theme song or have your DJ do a mix. I recommend that it be something upbeat and lively.
Bonus Tip: You could draw some inspiration from this famous episode of The Office.
3. Add A Little Drama
Consider adding a little skit to your bridal party's entrance if you're one for drama.
For example, you could have the groomsmen hand their bridesmaid partner a flower while marching down the aisle or do a little skit before taking their positions.
The possibilities are endless.
Feel free to combine these ideas to form the bridal party wedding ceremony entrance that best reflects your personality and interests.
Fun Entrance Ideas For Bridal Party To Wedding Reception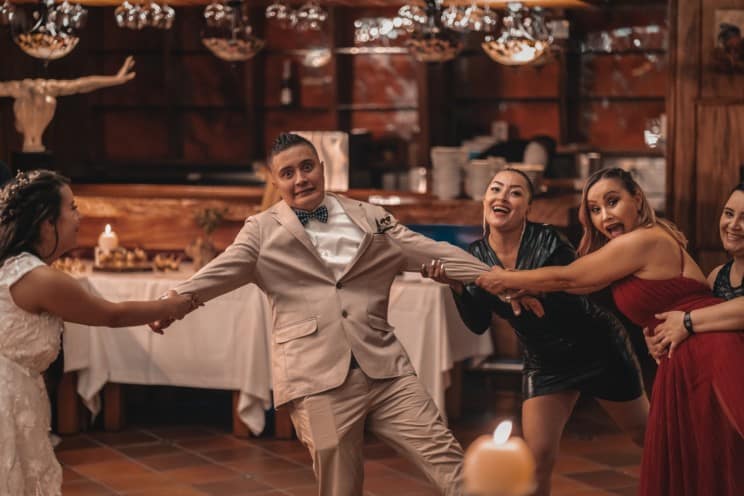 You'll agree that the reception is where the real party starts. It's also where you have ample space to get creative and express yourself.
There are several fun ways for your bridal party to enter your wedding reception in style.
While some won't cost a thing, others might require you to set aside a part of your wedding budget.
The entrance ideas on this list are so fun that they'll have your guests talking for weeks.
1. Have A Dance Battle
In the mood for a bit of competition?
Have your bridal party face off in a dance battle. This idea puts a competitive spin on the traditional bridal party entrance.
You can shuffle songs or decide to use one song for every pair.
Also, you could choose to have them battle per pair or have the entire groomsmen face off against the bridesmaids.
Whichever you choose will undoubtedly get people's attention and get the celebration started.
2. Choreograph Some Epic Dance Moves
There's a long list of simple and fun dance moves your bridal party could incorporate into their entrance.
We've got The Twist, The Running Man, The Hammer Dance, The Cabbage Patch, and many others.
They could even learn entire choreographies like "The Thriller" by Michael Jackson.
3. Wear Large Funny Faced Masks
You can have your bridal party wear funny, oversized masks as they dance in.
These masks will surely crack your guests off. And best of all, they aren't just a one-time thing.
They can be used as props in your bridal shower, house party, birthday celebration, or any other get-together where you'd like to have a little laugh.
4. Sparklers! Confetti!! Balloons!!!
Asides from funny masks, your bridal party could incorporate several other props into their entrance.
Sparklers, for example, are a splendid idea. Dim the lights as your bridal party enters.
You can either have them hold the sparklers as they dance in or have your guests wave the sparklers.
Another amazing prop idea is colored confetti or balloons. Your bridal party could make their entrance amidst released balloons or sprayed confetti.
Whatever props you choose, make sure they are safe.
5. Have The Bridal Party Enter While Cheering And Drinking
Another fun entrance idea is to have the bridal party enter while cheering and drinking if this suits your style.
You can use this to tease the wedding party and give them an idea of what you've planned for the rest of the reception.
To add to the fun, each member could make a toast when the DJ called their name.
6. Put on a skit
You can also have your bridal party add a little drama or replicate funny scenes from your favorite shows as they enter the reception.
7. Do a couple's dance!
Another terrific idea is having each bridal party pair do a couple's dance on their way in (maybe salsa, tango).
Although this might require a little more work (and perhaps some dance lessons), the result is well worth the stress.
You could assign different dance styles to each couple or have them do the same choreographed number.
While excellence is always great, they don't necessarily have to get the steps down pat. What's most important is that they have fun while at it.
8. Have them arrive on a horse
If you're a fan of the wild wild west or a cowboy at heart, why not have your bridal party arrive at the reception horses.
This idea is lovely when implemented in outdoor weddings.
Each member of your bridal party could arrive on their horses, or you could have them all arrive in a tastefully adorned wagon (for a fall wedding, imagine hay bundles and gourds) and make a show of descending from them.
9. Dirt Bikes!
Not a fan of horses? How about they arrive on dirt bikes?
While this may not work for everyone, it does make quite an impression.
The best part of this idea is that you don't need to have an outdoor reception to implement this.
You could have them ride their dirt bikes into the venue.
Additional Tip: make sure you check with your venue manager first before making plans for this.
10. Have Them Arrive in a Vintage Car
If understated elegance is more your style, then you and your bridal party could make an entrance using vintage cars.
They could spice it up by stepping out of the car with some drama and swagger.
An entrance like this will fit perfectly into an outdoor wedding where all the guests can watch them step out in style.
11. Have A Mini Talent Show
What better way to have fun than to turn your bridal party into a mini talent show?
Have members of your bridal party sing for the crowd, break dance, or even do some acrobatics as they make their way onto the dance floor.
12. Piggyback Ride
Staging a piggyback ride is another fun entrance idea for a bridal party.
Have each groomsman piggyback a bridesmaid into the reception while the DJ plays upbeat songs.
13. Incorporate Movie Themes
Fan of movies? Why not incorporate your favorite movie into your bridal party's entrance?
There are several fun ways to do this.
Have your bridal party enter in threes and strike the Charlie's Angels pose.
Or give them lightsabers and have them stage a short battle as they enter the reception (Star Wars).
You could also recreate the hilarious wedding entrance from Jim and Pam's wedding in The Office.
From soundtracks to costume ideas and scene recreation, the possibilities are truly endless.
14. Get Sporty
If you're a fan of the NBA or sports in general, you could have your MC introduce the members of your bridal party like the NBA announces the starting lineup.
15. Switch Clothes
Switching clothes is another fun entrance idea for the bridal party at a wedding.
Get your bridal party to exchange dresses with the opposite sex and see how the faces of your wedding guests light up.
Wedding Party Entrance: 6 DOs and DON'Ts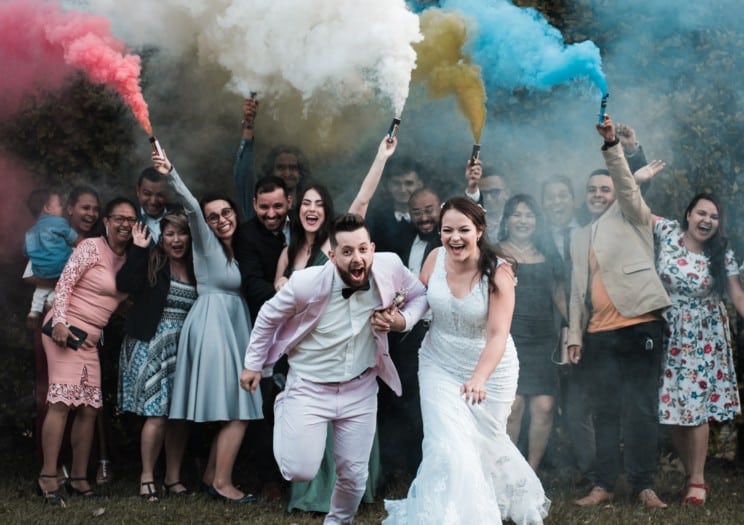 I've shared some fun entrance ideas for bridal parties. Here are some extra tips that'll help you pull it off perfectly.
1. Build Rapport
Not everyone in the bridal party will be acquainted; most of them will be meeting each other for the first time during the wedding planning.
Encouraging them to bond by working together and sharing opinions will help them feel relaxed and remove every form of awkwardness at your wedding.
2. Be Careful With the Props
Props are an excellent addition to your wedding party.
Ensure that whatever props you choose to incorporate fit into the wedding and are easy to navigate and safe.
You wouldn't want your bridal party or guest to be more focused on handling a prop during your grand entrance.
3. Keep It Short and Simple
Whatever fun entrance idea you pick, ensure you stick to the script and make it sweet and fun for your guests.
Have fun with it and own it as much as you can.
4. Plan With Your Media Crew
Pictures and videos allow us to freeze time and relive memories. And believe me, your bridal party's entrance is one you'd love to relive.
Discuss angles and ideas with your media team, and let them know your entrance plans to ensure maximum coverage.
5. Carry Your DJ and MC Along
Plan your entrance with your bridal party and your DJ and MC for the best results. Give your DJ a list of every member of your bridal train.
Going over it with him will help void mispronounced names.
Also, plan your music arrangement with the DJ. Do you want to use the same song for all the announcements, or do you want different songs?
Having all these things arranged will eliminate delays and make your reception fun.
6. Inform Your Bridal Party of Last Minute Changes
Lastly, coordinate with the bridal party and ensure everyone is on the same page with any last-minute decisions or changes.
Frequently Asked Questions
How does the bridal party walk into the reception?
The order is dependent on you, but ideally, it should be the parents of the bride and groom, the flower girl and ring bearer, the best man and maid of honor, and then the bride and groom.
What is the best song for a wedding entrance?
When it comes to wedding entrance songs, there are several options and not many rules.
What is most important is choosing a song you and your partner love—one that you could easily dance into the reception with.
In what order should the bridal party be introduced?
While there's no golden rule to this, most weddings use the order below:
– Identify the bride's parents: you can say, "If I may ask that you kindly bring your hands together for the bride's mother and father [names]."
– Announce the parents of the groom: you can say, "Welcome, [names] mother and father of the groom."
 
– Identify the other parties to the wedding: Let's give the bridesmaids (name them) and groomsmen a round of applause. (Name them) and accompanied by the matron of honor and best man.
– You can also go ahead and name the flower girls and pageboys. 
Final Thoughts
The wedding entrance is the part of the wedding people are anxious to see and experience. It is up to you to make it worthwhile.
Entrances made by the bridal party are a fun way to inject some personality and lighten the mood.
Try things out of the box and incorporate one or more of the fun entrance ideas shared in this article.
Keep in mind that you should only select an option that is appropriate for you!
Also, pay attention to your budget.