So your sister is getting married, and she's asked you to be her maid of honor.
Depending on your personality, you are either really nervous or completely confident.
But no matter your disposition, one thing is for sure; you've got to deliver, and you've got to deliver well.
No need to sweat it though; we're here for you. Behold, your ultimate guide to writing and delivering a maid of honor speech that's as warm as it's funny.
This post will give tips for delivering a stellar maid of honor speech.
We've also included some samples of funny maid of honor speeches for sisters to get your creative juices flowing.
Tips For Your Maid of Honor Speech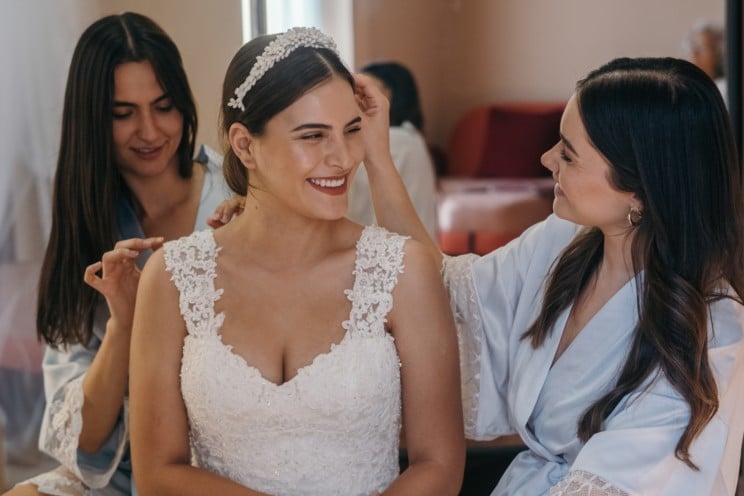 Be yourself
While it's great to be funny and all, it's more important to be yourself; if you're one to work up the crowd, go for it.
If you'd rather insert a few jokes, that's fine too. Just make sure you're comfortable speaking.
Don't be afraid to get personal
It's alright to get personal.
Talk about how much your sister means to you and how grateful you are that she found someone who would love her as much as the groom does.
Take a trip down memory lane
An excellent tool for a bridesmaids' speech is reminiscing on some of your favorite memories together.
Be audible
There's no point giving a speech if no one can hear you. Try your best to be audible.
If you're using a mic, make sure to speak into the mic. If the room is small, ensure you raise your voice, so it carries through the crowd.
Don't crack offensive jokes
Funny is good but don't forget that there are people at the wedding with different sexual orientations, ethnicities, and opinions.
Stay away from jokes about sensitive topics to avoid the greatly feared "awkward silence."
Stay sober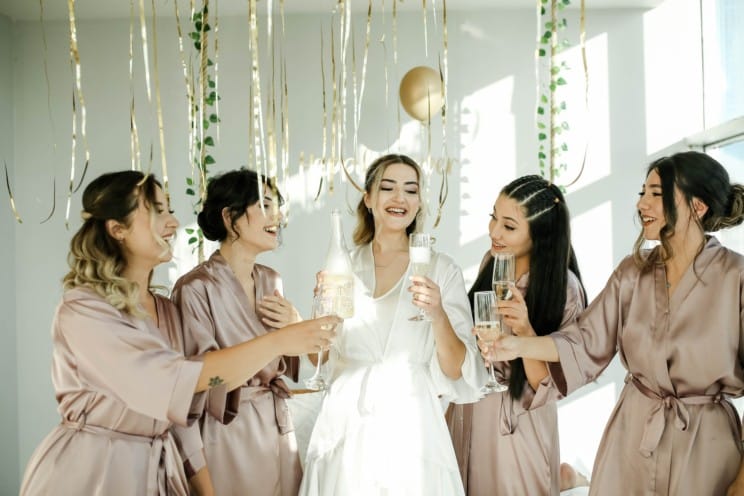 This might seem like a given, but it isn't always.
Try not to get carried away by the merriment before your speech. Very few things are worse than a drunk maid of honor's speech.
Don't be a party pooper
In your speech, be careful not to divulge any information or say anything that makes the couple uncomfortable.
Avoid sore subjects by all means.
Avoid inside jokes
Sure, the bride is your sister, and you've got a lot of inside jokes.
But, remember that there are other guests present too, guests who do not share the same bond that you and your sister share.
Inside jokes will be lost on such guests, and while your sister may find it funny, you won't be carrying the other guests along.
If you must crack an inside joke, make it brief and limit it to one.
Keep it bride-centered
It's the bride's day. As a result, try not to dwell too much on yourself. Instead, talk about the bride and, if you can, the groom.
Talk about how beautiful their relationship is, highlight your sister's strengths, and how she comes through for you.
Do not talk about her flaws; today is not that day.
End on a strong note
You should put a lot of thought into your closing. Consider ending with a toast or a famous quote.
Samples of Funny Maid of Honor Speech for Sister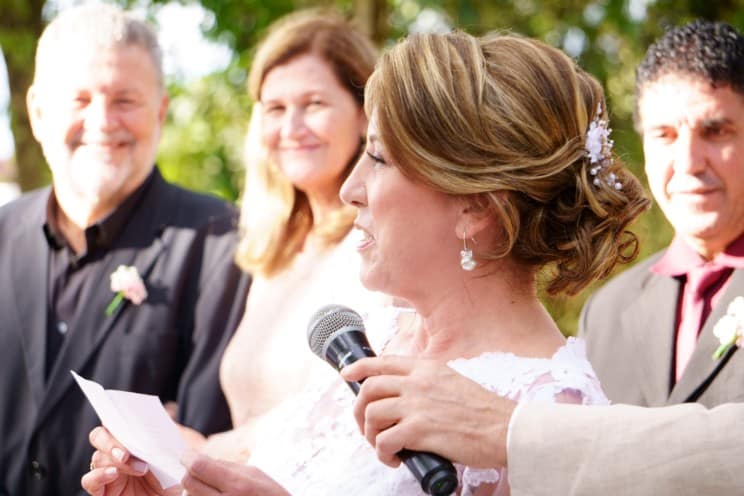 Sample 1: A Funny Maid Of Honor Speech By A Smart-Mouthed Younger Sister
"Hello everyone, I'm Abby, Chloe's cute younger sister, who doubles as her best friend, gossip partner, shoulder to cry on, and today, her maid of honor.
I am so delighted to be here today. Thank you all for making time to celebrate Chloe and Ben's love.
When I first met Chloe, I was in diapers, and even though she was as well (there's only a two-year gap between us), she didn't pass up the opportunity to give me the stinky eye.
But then, I doubt anyone would have done better. I was a 7-pound beauty with dreamy eyes and a captivating smile, even at two days.
However, growing up with Chloe was a dream.
In you, I found more than just a sister. You've been my bully and then my defender.
My friend, teacher, confidante, shoulder to cry on, party partner, and closet (you have such excellent taste, and we're the same size, what's a girl to do?).
You've always been so confident and sure of yourself that it only made sense that I'd follow in your footsteps.
When you first met Ben, I remember you coming home that night and saying you'd met your soulmate on a subway, of all places.
And since I've always followed your footsteps, I guess I'll be hitting the subway more often now.
But, on a more serious note, I'm thrilled you found your soulmate in such a wonderful guy. With Ben by your side, I'm sure you're in safe hands.
He's the sweet to your sour, the calm to your loud, and above all, he's crazy about you. I would know since I'm crazy about you too.
And now that you're going off to start a new life with Ben, I've got to admit I've got mixed feelings about this.
Not because of Ben, Ben's a great guy, but because I'm going to miss you so much it hurts.
But like I said, Ben is a great guy, and I have no reservations about leaving you in his care.
I trust him to love you, care for you, and manage your mood swings like a pro (I gave him the rundown).
I can't wait to see all the great things you'll accomplish as a team and, of course, meet my little nieces and nephews.
Your future together holds so much promise.
Here's to Chloe and Ben's long and fruitful life together. Like the great writer said, if music be the food of love, play on.
Cheers."
Sample 2: When Your Elder Sister Is Finally Marrying Her Best Friend, And You're Her Maid Of Honor
"Hope we are all having a wonderful time. My name is Abby. I'm the sister of the bride and her maid of honor.
I must admit that it came as a surprise when my sister asked me to be her maid of honor. I mean, she has so many great friends, and we're always at each other's throats.
But I guess that's how we express our love for each other. And honestly, there's nowhere I'd rather be than here.
As some of you can tell already, I'm pretty nervous, and public speaking isn't exactly my forte, but as maid of honor, I must give the speech, so here goes nothing.
Ben and Chloe have been best friends for as long as I can remember.
Growing up, Ben was at my house so much that several people mistook him for our cousin or brother.
Heck, even I mistook him for my brother at some point.
You'd think that going to separate schools would have weakened their bond, but alas, It only made it stronger.
I've always known Chloe and Ben were perfect for each other. When we were kids, I used to mercilessly tease Chloe about Ben.
It always got a rise out of her and usually ended with her chasing me around the house with the first thing she could lay her hands on.
But fast forward to a few years later, and guess who's saying "I Do" to her best friend? Haha!
Chloe, you've been my sister, best friend, and everything in between.
Even though we don't see eye to eye on many things, I've always known that I could trust you to show up when it mattered the most.
And honestly, I've never seen a more beautiful bride.
Ben, you've not just been my sister's best friend; you've been the older brother I never had.
You've defended me, encouraged me, and been the voice of reason when Chloe and I were at each other's throats growing up.
I couldn't have asked for a better brother-in-law.
You guys have been a team for so long that I can't remember a time when you weren't. And as you start this new life together, I've got three pieces of advice for you:
You were friends before you became lovers. Yes, you had your fair share of spats and quarrels, but nothing you went through was ever able to diminish the quality of your friendship or weaken your bond. Remember this when things get rocky.
Talk about everything. Even though you've spent a good part of your life together, this is the first time you'll be living as man and wife. There are sides of yourself you might just now be discovering. You're going to grow old together, so don't forget to grow together.
Make sure to name your first child after me. It's the least you could do since I predicted this union from the start.
Can we all raise our glasses as I propose a toast to Chloe and Ben?
May your days be long and your love ever young.
To Chloe and Ben.
Sample 3: A Funny Maid Of Honor Speech By The Older Sister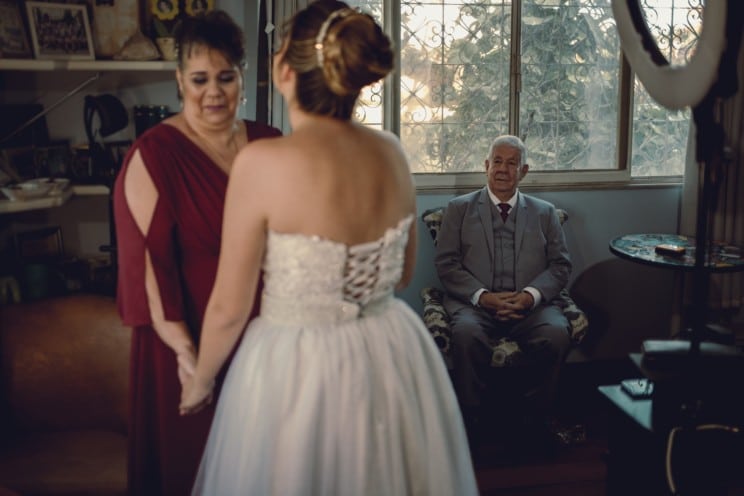 Let me start by thanking you all for coming today. I know it means so much to Ella and Tony. It means so much to me as well.
For all who don't know me, my name is Becky, and I'm the older sister of this stunning bride. I know I don't look like it, but I promise you it's true.
Ella watching you grow into this wonderful, self-sufficient, confident, and beautiful woman has been a joy.
I know we weren't always close. Growing up, I was busy being intelligent and popular while you were always the quiet, sensitive, and homely one.
And it wasn't until we both went to college that our relationship blossomed into what some would call inseparable today.
But from the moment we hit it off, we've celebrated every victory and mourned every loss together. I couldn't be more grateful.
As the older one, I've always tried to be there for you, protect you, comfort you, and call you out when you were out of line.
But I've got to admit that you've been all that and more to me.
You've always been the kinder and softer of both of us—the voice of reason and calm when everything was going to hell in a handbasket.
And you've no idea how grateful I am that you now have Tony to share life with.
When Ella first met Tony, she came home that night with a twinkle in her eyes, telling me she'd met the guy with the dreamiest smile.
You see, Ella's kryptonite has always been a great smile.
Of course, I laughed it off. There are tons of guys with great smiles, right? Wrong! Else Tony wouldn't be here today.
I knew Tony was IT when Ella agreed to get all dressed up, even wear heels, for their first date.
Anyone who knows Ella knows she hates those contraptions called heels, not my words but hers.
In fact, I'm willing to bet she's got slippers underneath this gown, haha.
At that time, I remember wondering what was so great about Tony anyway.
Then I'd only seen his picture, and while Tony is pretty easy on the eyes, I have seen my fair share of devastatingly handsome men (all on TV, of course).
But meeting Tony changed everything.
Tony, you're kind, sincere, and utterly in love with my sister. Heck, even a blind man could see it. I see how you steal glances at her and make excuses to touch her.
I've also observed how you challenge her to be her best self, how you support her dreams, and how concerned you are about her growth.
I honestly could not have asked for a better man for my sister. And, of course, it doesn't hurt that you've got a big fat bank account.
You're both so blessed to have found each other. Your love is so beautiful, and I can't wait to see how your story plays out.
Can we raise our glasses in a toast?
To Ella and Tony.
I wish you a long and fruitful love. May your story be of the caliber that's etched into the sands of time for eternity.
May your accounts overflow with abundance, and your children surround your table.
I love you both. Cheers!
Sample 4: A Funny Maid Of Honor Speech By A Twin Sister
Good evening everyone. Thank you so much for making time out of your busy schedules to share in Bela and David's joy.
Bela and David, thank you for hosting us. I think we can all agree that we're having a swell time.
The music is excellent, and the food is fantastic (I should know, I chose the menu myself).
For those who've been wondering, no, you're not in some alternate universe where the bride can split into two different people.
You're still on planet earth, and this hot replica of the bride is her twin. So hi everyone, I'm Nuella, Bela's twin.
Before I go any further, I'd like to make sure everyone has a drink in their hand. The tipsier you are, the funnier you'll find me… hopefully…
Really though, I already have a hard enough time being funny in private. How else am I to pull this off in front of you all when I'm so bad at public speaking?
Oh well, here goes nothing.
When I first met Bela, we were in my mom's womb, well, obviously.
And while Bela has always been the sharp, funny, and outgoing one, I was more of the introverted, quiet, genius one.
But Bela never let me step back or cut myself short. She never allowed me to miss out on life because I "liked my space."
Instead, she was always there for me, pushing and cheering me on. I've been bold enough to chase my dreams because Bela has always been there to propel me forward.
Bela and I have shared almost everything for as long as I can remember.
We shared a womb for nine months, shared a room for 18 years, shared clothes, shoes, make-up, the craziest experiences (all instigated by Bela, of course), and everything in between.
And, Belz, like I love to call you, I can boldly confess that you've been my biggest cheerleader and best friend. Not just because we're twins but because you're a genuinely good person.
You have a large heart and are always ready to help anyone. You literally light up the whole room.
And that's why I was so excited when Bela brought David home for dinner last year.
Although I'd heard all about him (believe me when I say all, you don't want to know how much), meeting him in person was still a breath of fresh air.
From the lingering glances to the quiet conversations and subtle touches and all those other weird stuff we see in romance movies but don't believe actually happens in real life, I could tell that they were madly in love with each other.
I also observed how David put Bela first on so many occasions. How he genuinely rooted for her and supported her dreams and ambitions.
I could see why Bela fell in love with David. I honestly could not have asked for a better match for my twin.
So thank you, David, for loving Ella unconditionally and making her so happy. I know my sister is safe in your hands.
As you start this new phase together, I wish you both a lifetime of happiness. It's my genuine desire that 40, 50 years from now, your love doesn't water down.
Instead, I hope it blossoms and deepens and becomes more and more like the stuff movies talk about.
To Bela and David!
May your love, like fine wine, get better with age. I love you both so much. Welcome to the family, Dave.
Sample 5: A Sentimental Yet Funny Maid Of Honor Speech By An Adopted Sister
I hope you're all having a wonderful time. My name is Lisa, and I'm the bride's sister. Yes, I know what you're thinking.
No, I'm not her step-sister; I was adopted by the Smith family when I was eight.
Today I'm her maid of honor and have been handed the privilege of giving a speech.
Ann has always known I'm shy when it comes to public speeches.
When she told me about this, I felt it was her getting back at me for the debate prank I played on her in her penultimate college year.
Thankfully, Google is still actively in business, right?
I consider myself lucky to have Ann as a sister. Even though I was adopted and we were the same age, she never once made me feel like I wasn't part of the family.
She's been everything I'd need in a sister and more.
Growing up, she was annoyingly fond of dragging me along with her prim and proper way of life.
She disturbed my sleep every time, never allowing me to sleep in or miss classes. And we all know how important sleep is.
When John came into her life, she'd come back from their nights out gushing about how amazing the date went. And even though I had not met John, I felt like I knew him already.
Still, I was ready to go the extra mile to verify if he was the right one — we've always been protective of each other. It was the least I could do.
But I soon discovered there was no need.
John is the kind of man every woman should have for keeps. He is everything she has ever dreamed of, and he makes Ann so happy.
And whenever I saw the way John looked at my sister with so much love and passion, I couldn't blame those who envied them from a distance.
I remember one time when Ann caught a cold, and John drove all the way to Seattle to take care of her.
I had never seen anyone as concerned about my sister as he was that day. That, for me, was the icing on the cake.
John and Ann, your love is pure. Your care and respect for each other is so evident in how you relate to each other.
I'll round off my speech with this piece of advice.
Never forget that marriage is about discovering passion, even in the purest of friendship. A solid marriage is one where forgiveness and tolerance flow freely.
Can't believe how smart that made me sound. Thank you, google!
To Ann and John
Cheers to a beautiful union!
Sample 6: A Funny Maid Of Honor Speech By A Sister Who Adores The Bride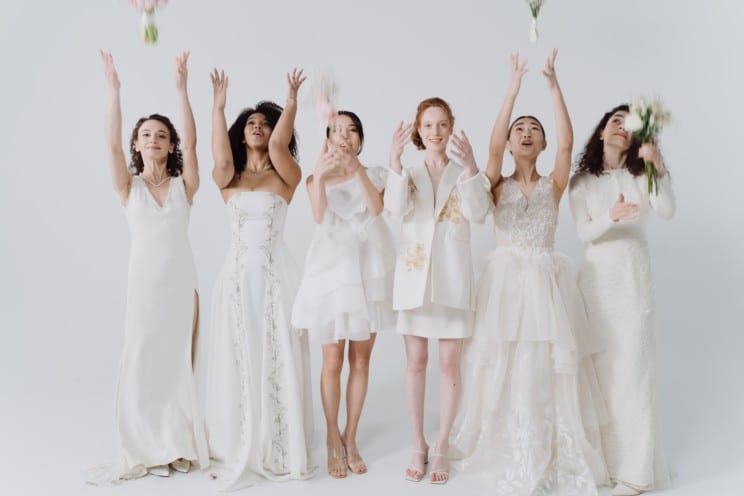 Good evening everyone.
For those who don't know me, my name is Cherry, or as Kendal calls me, "cupcake." And I'm the bride's younger sister slash maid of honor.
I'm so excited to be standing before you today. Kendal and I have imagined this day a thousand times, and I almost can't believe it's happening.
Growing up, I idolized Kendal. I remember tagging along and copying her every chance I got.
I would cut my hair the exact way she cut hers, throw a tantrum when I wasn't allowed to hang out with her and her friends, and even try to talk and walk the way she did.
I was probably a bit annoying. Well, more than a bit, really.
But no matter how annoying I was or how much I got in her way, Kendall never pushed me aside or complained.
She was always the perfect example of patience and endurance. And believe me, she endured a lot; I wasn't an easy kid.
Kendall is always so concerned and ready to help. I'm sure everyone here has experienced her kindness at least once.
One scenario that comes to mind was when I was way behind schedule on my thesis defense.
Kendall would come back from work tired and still stay up all night to help me study.
She'd help me with my research and even went as far as helping me type them; please don't tell my school authorities. She didn't have to, but she did!
I've met a lot of nice people, but Kendall stands tall. She's amazing! And I'm not saying this because she's my sister.
She has always set an example for me to follow, and I can say that I am the happiest to see she has now found an example to follow.
I'm delighted she has found someone who can match the love she gives. That's one of the reasons why I'm so pro this union.
Although I must admit that I didn't think their platonic friendship would ever lead to marriage, here we are six years later, listening to two lovers read out their vows to each other, saying "I do" forever.
To think back to their first ever date. She wasn't as enthusiastic about him as she is now.
I had to get the gown and the shoes; it took loads and loads of encouragement from her friends to try it.
I vividly remember her worrying that things could go sour and ruin their great friendship. But look how things turned out, straight out of a Hollywood love story.
It's pretty rare to find a couple that complements each other so easily.
John's her knight in shining armor, and it's obvious he meets all her needs – a listening ear and a shoulder to lean on.
As I round off my speech, I'd like to drop this beautiful quote I saw on the internet while trying to piece this speech together.
It says, "A perfect marriage is just two imperfect people who refuse to give up on each other."
To John and Kendal, I say, never give up on each other. I may not be experienced in marriage, but I want to see the love you guys share last a lifetime.
On this day, Kendal, I wish you and John the very best.
Cheers to an amazing couple!
Cheers to a lifetime of passionate friendship
Cheers to Kendal and John
Frequently Asked Questions
Is the maid of honor's speech compulsory?
As with almost anything pertaining to a wedding ceremony and reception, the Maid of Honors Speech though traditional, is not compulsory.
It depends on the bride. However, if your sister does want it, it would be rude to turn her down, won't it?
How long should a maid of honor's speech be?
Three to five minutes should do the trick. It should be long enough to communicate your message (how special the bride is to you and how happy you are for her) but not too long that it begins to bore the other guests. 
Does the maid of honor speech have to be funny?
The maid of honor speech doesn't have to be open mic event funny. However, it shouldn't be so serious that it becomes boring either.
What is most important is that you infuse some personality into it. If you're an outright funny person, feel free to go all in with the jokes.
If you're not, one or two jokes could suffice. 
Final Thoughts
Composing a maid of honor speech can be scary, especially if you're not a fan of public speaking.
However, remember that the best maid of honor speeches are those that are sincere, honest, and full of warmth.
Introduce yourself, tell the bride how much she means to you, and share a story or two.
Let the guests know how happy you are that the couple found each other and end with a toast. With this outline, you can't go wrong.
Final tip? Practice before the big day.
Repeatedly practicing your speech will help you commit it to memory. It will also help you sound more natural on the big day.
If you can, you should also get someone to listen to you practice your maid of honor speech. Second opinions always prove helpful.