When it comes to wedding readings, there are endless possibilities. But if you're looking for something a bit different, why not consider a literary reading?
Literature has long been a source of inspiration for couples tying the knot, and there are plenty of beautiful passages to choose from.
Whether you're looking for something funny, romantic, or thought-provoking, you'll be sure to find the perfect reading in this list.
Examples of Literary Wedding Readings to Spice Your Ceremony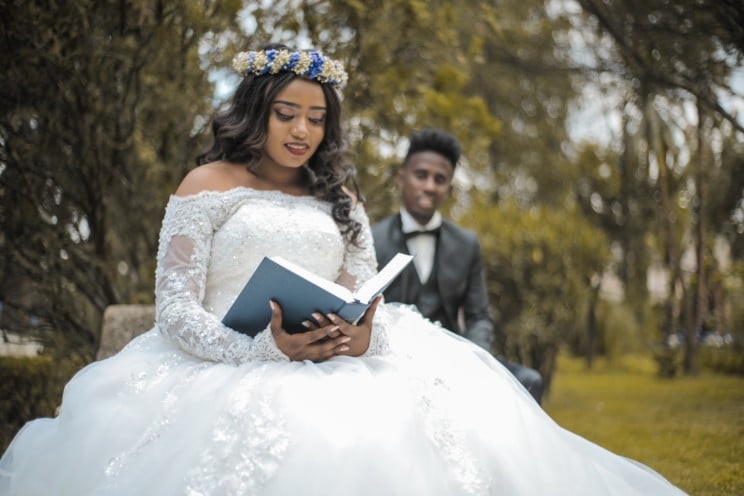 1. Us Two – A.A. Milne
Wherever I am, there's always Pooh,
There's always Pooh and Me.
Whatever I do, he wants to do,
"Where are you going today?" says Pooh: "Well,
that's very odd 'cos I was too.
Let's go together," says Pooh, says he.
"Let's go together," says Pooh.
"What's twice eleven?" I said to Pooh.
("Twice what?" said Pooh to Me.)
"I think it ought to be twenty-two."
"Just what I think myself," said Pooh.
"It wasn't an easy sum to do,
But that's what it is," said Pooh, said he.
"That's what it is," said Pooh.
"Let's look for dragons," I said to Pooh.
"Yes, let's," said Pooh to Me.
We crossed the river and found a few-
"Yes, those are dragons all right," said Pooh.
"As soon as I saw their beaks I knew.
That's what they are," said Pooh, said he.
"That's what they are," said Pooh.
"Let's frighten the dragons," I said to Pooh.
"That's right," said Pooh to Me.
"I'm not afraid," I said to Pooh,
And I held his paw and I shouted "Shoo!
Silly old dragons!"- and off they flew.
"I wasn't afraid," said Pooh, said he,
"I'm never afraid with you."
So wherever I am, there's always Pooh,
There's always Pooh and Me.
"What would I do?" I said to Pooh,
"If it wasn't for you," and Pooh said: "True,
It isn't much fun for One, but Two,
Can stick together, says Pooh, says he.
"That's how it is," says Pooh.
2. Tiny Beautiful Things – Cheryl Strayed
My mother's last word to me clanks inside me like an iron bell that someone beats at dinnertime: love, love, love, love, love.
Be brave.
Be authentic.
Practice saying the word "love" to the people you love so when it matters most to say it, you will.
3. Something Wicked This Way Comes – Ray Bradbury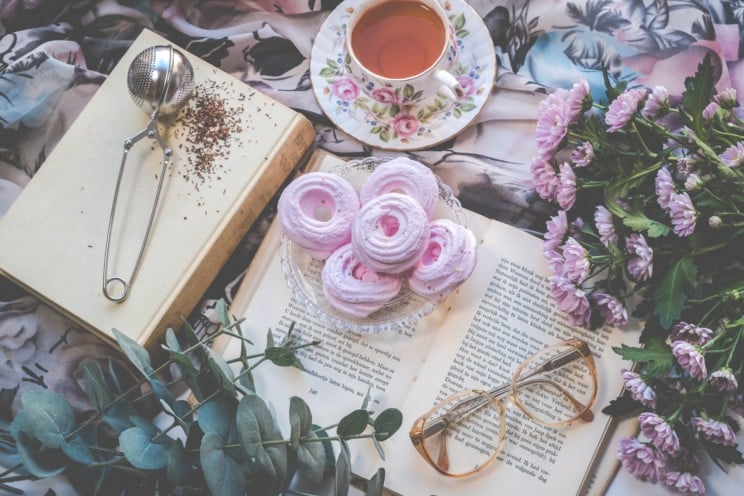 Why love the woman who is your wife? Her nose breathes in the air of a world that I know; therefore I love that nose.
Her ears hear music I might sing half the night through; therefore I love her ears. Her eyes delight in seasons of the land; and so I love those eyes.
Her tongue knows quince, peach, chokeberry, mint and lime; I love to hear it speaking. Because her flesh knows heat, cold, affliction, I know fire, snow, and pain.
Shared and once again shared experience.
4. The Shipping News – Annie Proulx
For if Jack Buggit could escape from the pickle jar, if a bird with a broken neck could fly away, what else might be possible?
Water may be older than light, diamonds crack in hot goat's blood, mountaintops give off cold fire, forests appear in mid-ocean, it may happen that a crab is caught with the shadow of a hand on its back, and that the wind be imprisoned in a bit of knotted string.
And it may be that love sometimes occurs without pain or misery.
5. The Sandman, Vol. 9: The Kindly Ones – Neil Gaiman
Have you ever been in love? Horrible isn't it? It makes you so vulnerable. It opens your chest and it opens up your heart and it means that someone can get inside you and mess you up.
You build up all these defenses, you build up a whole suit of armor, so that nothing can hurt you, then one stupid person, no different from any other stupid person, wanders into your stupid life …
You give them a piece of you. They didn't ask for it. They did something dumb one day, like kiss you or smile at you, and then your life isn't your own anymore.
Love takes hostages. It gets inside you.
6. Extract from Captain Corelli's Mandolin – Louis de Bernieres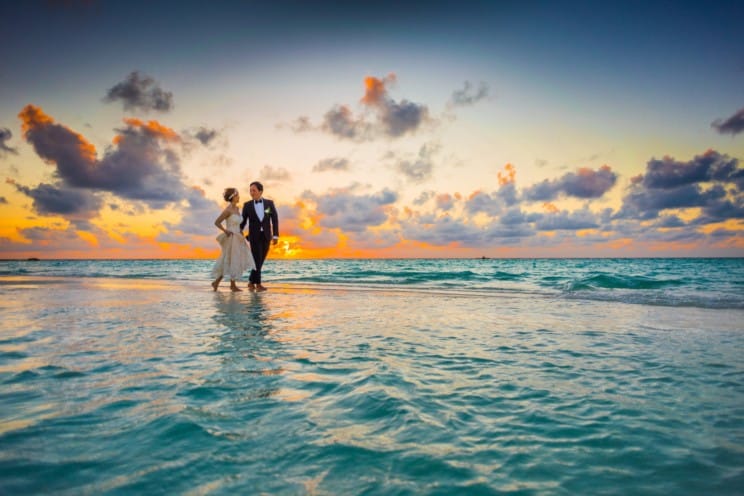 Love is a temporary madness, it erupts like volcanoes and then subsides. And when it subsides you have to make a decision.
You have to work out whether your root was so entwined together that it is inconceivable that you should ever part. Because this is what love is.
Love is not breathlessness, it is not excitement, it is not the promulgation of promises of eternal passion. That is just being in love, which any fool can do.
Love itself is what is left over when being in love has burned away, and this is both an art and a fortunate accident.
Those that truly love have roots that grow towards each other underground, and when all the pretty blossoms have fallen from their branches, they find that they are one tree and not two.
7. The Art of Marriage – Wilfred A Peterson
A good marriage must be created.
In the marriage, the little things are the big things.
It is never being too old to hold hands.
It is remembering to say "I love you" at least once each day,
It is never going to sleep angry.
It is having a mutual sense of values and objectives.
It is standing together and facing the world.
It is forming a circle of love that gathers in the whole family.
It is speaking words of appreciation and demonstrating gratitude in thoughtful ways.
It is having the capacity to forgive and forget.
It is giving each other an atmosphere in which each person can grow.
It is a common search for the good and the beautiful.
It is not only marrying the right person
It is being the right partner.
8. Oh! The Places You'll Go! – Dr Seuss
Congratulations!
Today is your day.
You're off to Great Places!
You're off and away!
You have brains in your head.
You have feet in your shoes.
You can steer yourself any direction you choose.
You're on your own. And you know what you know. And YOU are the guy who'll decide where to go.
You'll look up and down streets. Look'em over with care.
About some you will say, "I don't choose to go there." With your head full of brains and your shoes full of feet, you're too smart to go down a not-so-good street.
And you may not find any you'll want to go down. In that case, of course, you'll head straight out of town. It's opener there in the wide open air.
Out there things can happen and frequently do to people as brainy and footsy as you.
And when things start to happen, don't worry. Don't stew. Just go right along. You'll start happening too.
Oh! The Places You'll Go!
You'll be on your way up!
You'll be seeing great sights!
You'll join the high fliers who soar to high heights.
You won't lag behind, because you'll have the speed. You'll pass the whole gang and you'll soon take the lead.
Wherever you fly, you'll be best of the best. Wherever you go, you will top all the rest.
Except when you don't.
Because, sometimes, you won't.
You'll get mixed up, of course, as you already know. You'll get mixed up with many strange birds as you go.
So be sure when you step.
Step with care and great tact and remember that Life's a Great Balancing Act. Just never forget to be dexterous and deft. And never mix up your right foot with your left.
And will you succeed?
Yes! You will, indeed!
(98 and ¾ percent guaranteed.)
Kid, you'll move mountains!
So…be your name Buxbaum or Bixby or Bray or Mordecai Ale Van Allen O'Shea, you're off to Great Places!
Today is your day!
Your mountain is waiting.
So…get on your way!
9. The Journals of Sylvia Plath – Sylvia Plath
I feel good with my husband: I like his warmth and his bigness and his being-there and his making and his jokes and stories and what he reads and how he likes fishing and walks and pigs and foxes and little animals and is honest and not vain or fame-crazy and how he shows his gladness for what I cook him and joy for when I make him something, a poem or a cake, and how he is troubled when I am unhappy and wants to do anything so I can fight out my soul-battles and grow up with courage and a philosophical ease.
I love his good smell and his body that fits with mine as if they were made in the same body-shop to do just that. What is only pieces, doled out here and there to this boy and that boy, that made me like pieces of them, is all jammed together in my husband.
So I don't want to look around anymore: I don't need to look around for anything.
10. The Amber Spyglass by Phillip Pullman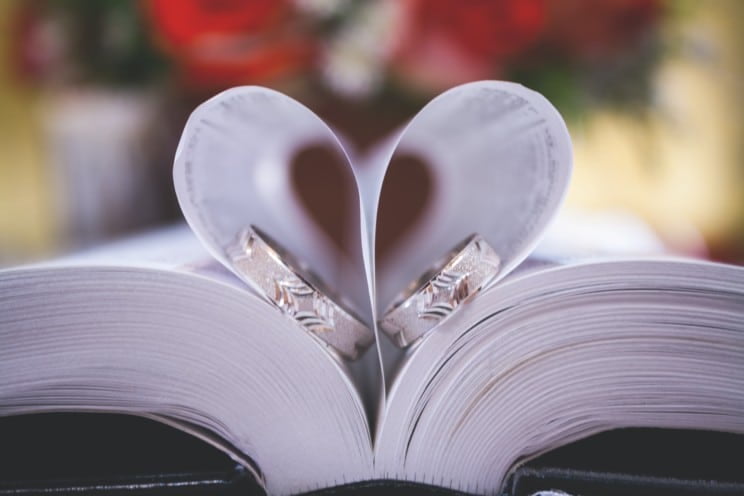 I will love you forever; whatever happens. Till I die and after I die, and when I find my way out of the land of the dead, I'll drift about forever, all my atoms, till I find you again…
I'll be looking for you, every moment, every single moment. And when we do find each other again, we'll cling together so tight that nothing and no one'll ever tear us apart.
Every atom of me and every atom of you… We'll live in birds and flowers and dragonflies and pine trees and in clouds and in those little specks of light you see floating in sunbeams…
And when they use our atoms to make new lives, they won't just be able to take one, they'll have to take two, one of you and one of me.
11. The Princess Bride by William Goldman
Do I love you? My God, if your love were a grain of sand, mine would be a universe of beaches…
I have stayed these years in my hovel because of you. I have taught myself languages because of you.
I have made my body strong because I thought you might be pleased by a strong body. I have lived my life with only the prayer that some sudden dawn you might glance in my direction.
I have not known a moment in years when the sight of you did not send my heart careening against my rib cage.
I have not known a night when your visage did not accompany me to sleep. There has not been a morning when you did not flutter behind my waking eyelids…
I love you. Okay? Want it louder? I love you. Spell it out, should I? I ell-oh-vee-ee why-oh-you. Want it backward? You love I.
12. Habitation by Margaret Atwood
Marriage is not
a house or even a tent
it is before that, and colder:
the edge of the forest, the edge
of the desert
the unpainted stairs
at the back where we squat
outside, eating popcorn
the edge of the receding glacier
where painfully and with wonder
at having survived even
this far
we are learning to make fire
13. Your Personal Penguin by Sandra Boynton
I like you a lot
You're funny and kind
So let me explain
What I have in mind
I want to be Your Personal Penguin
I want to walk right by your side
I want to be Your Personal Penguin
I want to travel with you far and wide
Wherever you go, I'll go there too
Here and there and ev'rywhere
And always with you
I want to be Your Personal Penguin
From now on
14. Extract from The Bridge Across Forever – Richard Bach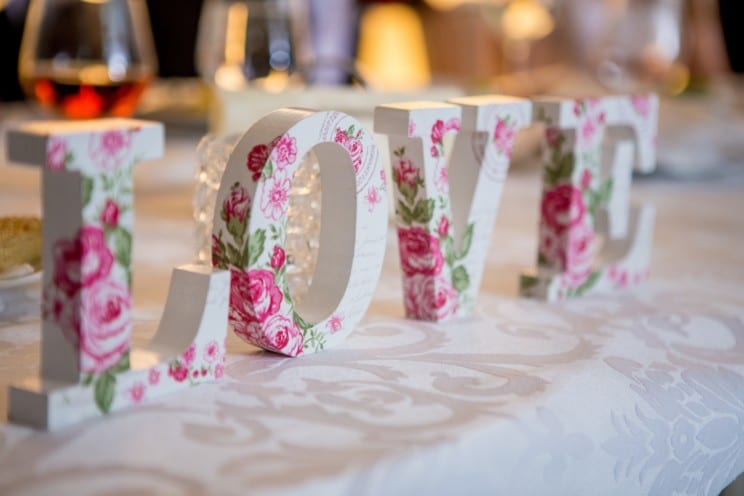 A soul mate is someone who has locks that fit our keys, and keys to fit our locks.
When we feel safe enough to open the locks, our truest selves step out
and we can be completely and honestly who we are;
we can be loved for who we are
and not for who we're pretending to be.
Each unveils the best part of the other. No matter what else goes wrong around us,
with that one person we're safe in our own paradise.
Our soul mate is someone who shares our deepest longings, our sense of direction.
When we're two balloons, and together our direction is up,
chances are we've found the right person.
Our soul mate is the one who makes life come to life.
15. Love – Bob Marley
She's not perfect – you aren't either, and the two of you may never be perfect together – but if she can make you laugh, cause you to think twice, and admit to being human and making mistakes, hold on to her and give her the most you can.
She may not be thinking about you every second of the day, but she will give you a part of her that she knows you can break – her heart.
So don't hurt her, don't change her, don't analyse and don't expect more than she can give.
Smile when she makes you happy, let her know when she makes you mad, and miss her when she's not there.
16. Extract from One Day – David Nicholls
'What are you going to do with your life?'
In one way or another it seemed that people had been asking her this forever; teachers, her parents, friends at three in the morning, but the question had never seemed this pressing and still she was no nearer an answer…
'Live each day as if it's your last', that was the conventional advice, but really, who had the energy for that? What if it rained or you felt a bit glandy? It just wasn't practical.
Better by far to be good and courageous and bold and to make difference.
Not change the world exactly, but the bit around you. Cherish your friends, stay true to your principles, live passionately and fully and well.
Experience new things. Love and be loved, if you ever get the chance.
17. Love Is a Great Thing – Thomas à Kempis
Love is a great thing, yea, a great and thorough good. By itself it makes that is heavy light; and it bears evenly all that is uneven.
It carries a burden which is no burden; it will not be kept back by anything low and mean; it desires to be free from all wordly affections, and not to be entangled by any outward prosperity, or by any adversity subdued.
Love feels no burden, thinks nothing of trouble, attempts what is above its strength, pleads no excuse of impossibility.
It is therefore able to undertake all things, and it completes many things, and warrants them to take effect, where he who does not love would faint and lie down.
Though weary, it is not tired; though pressed it is not straitened; though alarmed, it is not confounded; but as a living flame it forces itself upwards and securely passes through all.
Love is active and sincere, courageous, patient, faithful, prudent and manly.
Final Thoughts
These are just a portion of many beautiful literary readings perfect for your wedding ceremony. Whatever your style, there will be a reading that speaks to you and your partner.
So take some time to browse through these options, and choose the one that feels most special to you. Congratulations on your upcoming wedding!