It's finally here, the day you've been waiting for.
Your best friend is getting married! And, of course, you're her maid of honor.
Sure, being maid of honor is a beautiful opportunity, but it also has its fair share of responsibilities.
One of these responsibilities is giving a smashing maid of honor speech.
It's okay to find this a little daunting, especially if you're not good at public speaking or you've never done it before.
That's what this post is for.
Here, we've explored the ins and outs of writing a funny maid of honor speech for best friend that will leave your listeners as entertained as they are moved.
Maid of Honor Speech Outline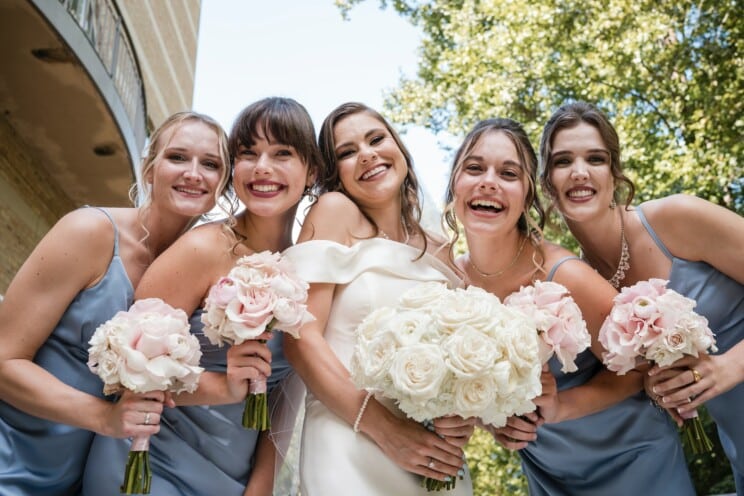 Start by introducing yourself to the guests
Next, thank them for coming
Tell them how you met the bride and throw a little light on how close you are. Don't be shy to share a story or two.
Talk about her partner and the quality of their relationship. How they met, her partner's good qualities, and how well they work together.
If you'd like, you can chip in some advice here.
Round it off with good wishes and a toast to them.
Tips For Giving A Killer Maid Of Honor Speech
1. Be yourself
A maid of honor speech can take different tones. It can be heartfelt, dramatic, funny, or all three.
What's important is that you be yourself. If you're the shy type, you could stick to funny stories rather than outright jokes.
If you're very outgoing and extroverted, then, by all means, work up the crowd. What's most important is that you're comfortable while giving the speech.
2. Keep it bride-centric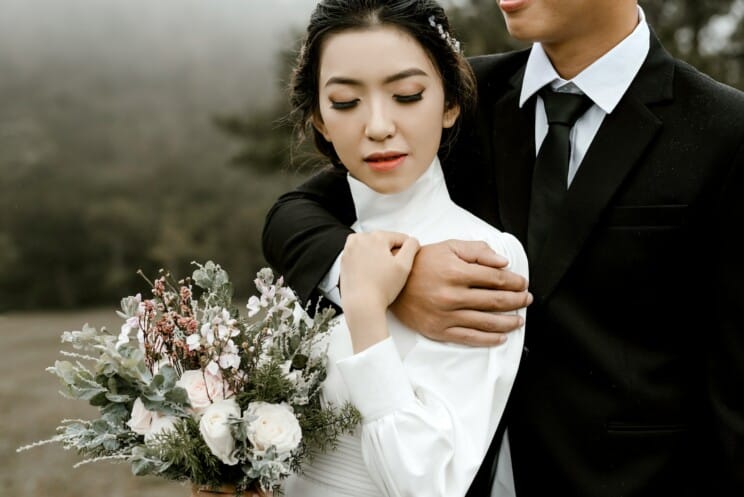 Whatever you do, don't forget it's the bride's day. Quickly introduce yourself and move on to the bride.
Tell the guests how you met the bride, talk about her best qualities, and throw some light on the bond you share.
3. Don't spill unnecessary dirt!
You should put a lot of thought into what you intend to say in your speech. Stay away from jokes or stories that the bride may find offensive.
If there's an embarrassing but funny memory you'd like to share, you should seek permission from the bride or stay away from it entirely.
4. Avoid controversial subjects
To avoid awkward moments, stay away from politically dicey concepts and socially awkward topics.
Keep your speech light and entertaining.
5. Don't be scared to get emotional
The bride is your best friend, and she's about to get married; of course, you should be emotional.
Don't be scared to portray the depth of your relationship via the speech.
6. Practice, practice, practice
You should start practicing your speech at least a week before the wedding. The more you practice, the better you'll get at delivering it.
Record yourself and play it back so you can hear how you sound. You could also have a group of friends listen to you to see if they'll laugh at your jokes.
7. Save the drinks till after the speech
Whatever you do, ensure you stay sober until after your speech by limiting your drinks to a glass or two.
Contrary to popular opinion, alcohol won't make you less nervous. And honestly, there are few things worse than a drunk maid of honor giving a speech.
Funny Maid of Honor speech For Best Friend Samples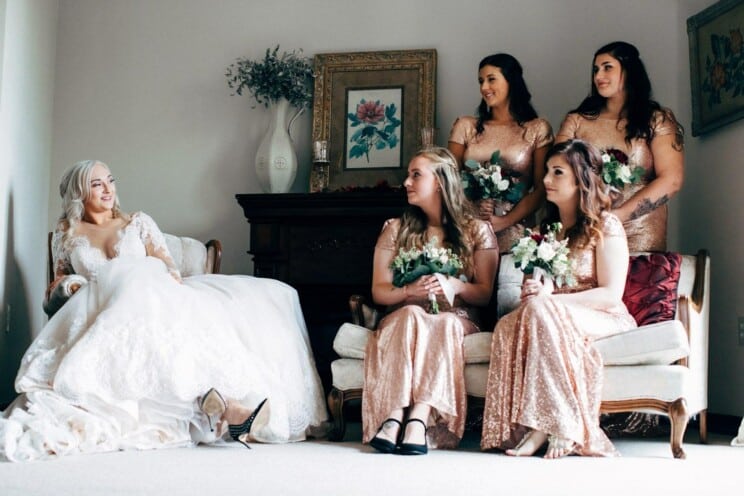 Sample 1
Hi everyone. I hope you're having a swell time tonight. My name is Kayla. I'm Bela's best friend, and today, I get the privilege of being her maid of honor.
Before going any further, can we rise to our feet? Please take a step backward, two steps to the right, another to the left. Please have your seats.
So I was told that the secret to a banging speech is to move the audience, but I seem to be missing something. Any pointers?
Bela and I met while in college.
I was a freshman trying to figure out the ins and outs of NYU., and even though Bela was a freshman too, she had already figured her way around the school.
But, of course, that's not a surprise to anyone who knows Bela. She's a master planner who is rarely caught off guard.
I recall walking up to you to ask for directions because, unlike most freshers, you looked like you knew what you were doing.
Little did I know that the girl I was walking up to was going to be an integral part of the rest of my life.
Bela, you're as tenacious as you are kind. You literally light up the room when you walk in.
You don't know how often I've been inspired to keep pushing simply by watching you.
I remember when my mum was in the hospital, Bela was there with me all the way. She'd visit the hospital every day after class, bring me coffee and a change of clothes.
She'd even watch my mum for me while I went home to freshen up. All for a woman she'd never met before.
You've got a giant heart Belz, and you deserve to be with someone with a heart just as massive.
You can't imagine how excited I was when you told me about Jerry—the guy you met while staying over at your aunt's place.
I must admit, listening to you gush and fawn over him made me extra protective and maybe a little jealous.
However, the moment I met him, I understood why you felt the way you did.
And you were right; you guys click in a way not many people discover in this lifetime. If there really is such a thing as soulmates, then I can boldly say you guys are "it."
Is it how you finish each other's sentences or how you're both so intentional about making your relationship work?
You guys are like something straight out of a Hollywood movie, and I'm so grateful I've got front-row tickets.
As you embark on this next phase of life together, I've two pieces of advice for you:
Number one: Talk about everything. When you're overwhelmed, talk about it. When you're overjoyed, talk about it. When you're annoyed, rather than fight or hold it in, talk about it.
Number 2: This one is the most important. Don't you dare forget to name me godmother of your kids!
That's it for my speech guys. I hope I didn't bore y'all too much.
To Jerry and Bela everyone!
Sample 2
Hello everyone. I'm Elise, the maid of honor for this beautiful occasion.
To be fair, when Jane asked me to be her maid of honor, I wasn't the least surprised. I mean, we've been best friends since we met in sixth grade.
But after the initial excitement came the nerves. I was actually going to give this speech. So erm, here goes nothing.
Jane, you became my best friend before I even knew what friendship was. You're hands down the fiercest and most loyal person I've ever met.
You're genuinely kind and so incredibly beautiful. The past twenty years spent as your best friend have been the best years of my life.
Jake, I couldn't think of anyone more deserving of true love and happiness than you both. I've seen how you care for Jane and support her dreams and ambitions.
I've also seen how you look at Jane like the sun rises and sets at her command. It's obvious to everyone who meets you that you're head over heels in love with each other.
I honestly can't wait to see what the future holds for you two.
On this great day, I'd like us to raise a toast to Jane and Jake.
May your days be long, your love stay strong, and your years be filled with laughter and good cheer.
I love you both so much. Congratulations again!
Sample 3
Hi all, I'm Clarisa, Izzy's best friend and the maid of honor.
I hope you're having a swell time. Thank you so much for coming from far and wide to honor the beautiful couple.
I was 12 years old when Izzy and I met. My parents and I had just moved to Brooklyn, and I was still trying to figure my way around my new school.
It was my first day of school, and I was standing in the hallway, probably looking like a lost puppy, when Izzy walked up to me and offered to show me around.
From that day, Izzy and I became inseparable.
Anyone who knows Izzy knows she has the largest heart around. She's warm, kind, intelligent, and very determined.
I can't count the times Izzy defended me from some bully or helped me with my class assignments.
Or is it how she never hesitated to run over whenever I needed a shoulder to cry on? To be honest, everyone needs an Izzy in their life.
I remember the first time you met Tony. You sent me a text saying you'd met the man you would marry.
I remember asking you to calm down while laughing so hard that I spilled my drink. But fast forward to today, and look who you walked down the aisle with.
So today, I'm officially handing you over to Tony (with lots of mixed feelings).
Tony with kind eyes and a warm smile. Tony, who today became my best friend's husband.
Anyone can see how much Tony loves you from a mile away. With him, I'm sure you're in good hands.
Thank you, Tony, for being so sure and reliable. Thank you for being so good to my Izzy.
Happy married life guys. I can't wait to have little Izzys and Tonies running around the house.
I love you both so much.
Cheers.
Sample 4
Hi everyone, I'm Becky, the maid of honor.
Thank you so much for making out time to be here today. I hope you are thoroughly enjoying yourselves.
I was more than a little nervous when Christy asked me to be her maid of honor.
Yes, I might be a professional singer, but public speeches have always scared me to pieces. Honestly, I don't think I'd do this for anyone else.
The first time I ever saw Christy was during the freshers' orientation week in college. I remember seeing her with her brother and thinking, "wow, that girl is so beautiful."
I never knew that "that girl" would be a solid part of my life in the shortest possible time.
I've always said that Christy is a better friend than I am, and that's the honest truth. Christy taught me to be a better person simply by watching how she lives.
She taught me to love, be selfless, put others before myself, and welcome people with an open heart.
I was so delighted when she called to inform me that she was getting married to Andrew, of all people.
Andrew, you've been in our circle for the longest time. Many times you've doubled as a friend and big brother.
I can't count the number of times you showed up for Christy and me. And yeah, I wasn't shocked when Christy informed me you two were dating.
Even a blind man could see your feelings for her from a mile away.
Still, seeing the both of you together, growing more in love by the day, gladdens my heart in no small way.
You guys are a perfect example of how true love can indeed conquer all.
As you start this phase of the journey together, I'd like you to know that there's someone here rooting and praying for you. That's how much you both mean to me.
Congratulations again, my dear friends. Welcome to the best phase of your life.
Sample 5
Good day everyone. I must say you all look splendid. I hope you're having a great time.
My name is Sylvia, and most of you know me as the groom's sister (yeah, I know, the resemblance is almost impossible to miss).
But I'm also the bride's best friend and maid of honor.
Hey Laura, it's here, the day we've been planning since we stumbled on your mom's wedding dress in the attic when we were six years old.
Laura and I have been friends since we were in diapers.
Our mothers met at a nursing mother's event; according to them, we've been inseparable from the moment we laid eyes on each other.
Honestly, I can't remember a time in my life when we weren't friends. All the major milestones I've achieved had her in them, one way or the other.
We had our first day in school together (please never show anyone those pictures), experienced our first crush together, rode the sinusoidal wave that is teenagehood as a team.
And even though we attended different colleges, we still managed to navigate college and our twenties together.
From sleepovers to summer camps, to wild parties and business lunches, there's almost no adventure we've not faced as a unit.
I've three biological brothers and no sister, but with you by my side, I never had to wonder what it feels like to have one. You're literally the sister I never had.
You can't imagine how psyched I was when you and Larry FINALLY (rolls eyes for dramatic effect) started dating.
I mean, I always knew Larry had the hots for you (I first noticed it the summer Larry came home from his first year in college), and I knew you liked him too (even though you refused to admit it).
My brother Larry is as kind as he's handsome, as warm as he's driven. Yeah, he can be pretty annoying, but aren't all big brothers?
I know he loves Laura; I think he even loves her more than me. And honestly? I don't mind.
Laura deserves to be loved with a man's entire being. She deserves to be put first, to be loved loudly and expressively, because that's exactly how she loves.
You guys deserve each other. I can't think of a more perfect pair. And I'm so grateful that I
get to share this wonderful day with you both.
Here's to a lifetime of love and fruitfulness. Congratulations on your wedding guys.
Sample 6
Good evening all, I'm Ale, and I'm sure you can tell I'm a bridesmaid from my outfit.
Well, here's what you don't know, I'm the maid of honor and Stella's best friend of over ten years.
Drats, my outfit probably gave the maid of honor part away too.
Just so you know, I'm pretty nervous. My hands are all shaky. Let's just pray I don't spill this drink on my gown.
Stella and I met when we were in high school.
And no, we didn't hit it off right away. On the contrary, we were both representing our respective schools at a math competition.
Haha, funny yeah, we were what some would call nerds back then.
I remember facing her in the competition and thinking, "this girl doesn't look like a nerd; she's way too pretty to be in the math club." And believe me, she was.
Where I was all limbs, frizzy hair, and oversize glasses, Stella was long legs, straight hair, and acne-free face.
I was so jealous. And then and there, I decided my team would beat hers just to spite her.
I know, I know, teenage girl problems.
If you must know, both our teams lost to some other nerdy-looking girl.
Fast-forward to the summer of that year; I ran into Stella again. It turned out that my neighbor was her grandmother, and Stella was spending the summer with her.
Somehow, someway, our paths kept crossing, and so our tentative friendship began.
As we grew closer, I saw Stella for who she was, a friend who sticks closer than a sister.
Hubert H. Humphrey once said that the greatest gift of life is friendship, and honestly, I couldn't agree more.
Stella, you remain one of the greatest gifts life has given me. Your friendship, companionship, and support.
Your advice, both the great and the crappy ones. Your crazy ideas. They've made the past ten years nothing short of amazing.
For me, the best part of our friendship is that we do not agree on many things.
Even though our tastes and tendencies are poles apart, even though we are very different people, I've never had to wonder if you get me.
It's funny how we've grown into our own people but are still so dependent on each other.
Like I always say, Stella, you'll forever be the salt to my pepper, the peanut butter to my jelly.
And while I know that it's always been you and I against the world, I'm glad you've found someone else to fight for and with you. I'm glad you've found Jace.
I must admit, when you first told me about him, I had my suspicions.
I mean, you're my best girl, and we've always been protective of each other. But those reservations quickly disappeared into thin air when I met him in person.
Jace, you're an all-around nice guy. And more importantly, you make Stella so happy. You should see how her face lights up when she talks about you.
In the past three years, you've spent as a couple, I've watched you gently but firmly encourage Stella to reach for her dreams.
I've seen you rub her feet when she's stressed, bring her meals when she's knee-deep in work and forgets to eat, and stay up all night with her when she's working a hard case.
I've seen you care for her like I trust very few people to do.
And this is how I know this marriage is a match made in heaven.
Not only because you love each other but because you look out for each other, respect each other, and are committed to one other.
Watching you together shows us that true love does exist, and we shouldn't settle for anything less.
I'm so glad you both have each other. And I'm super excited that I get to watch this love blossom into so much more.
And I'm going to round off with this piece of advice.
Stella, I know you're a hotshot surgeon, and Jace, I know your job as the district attorney can be pretty stressful.
But, no matter how busy life gets, don't forget to deliberately make time for each other.
Remember, marriage is not a ritual or an end. It's a long and intimate dance together.
Please join me in raising a glass in honor of the bride and groom. I wish you both a blissful journey together.
Cheers!
Sample 7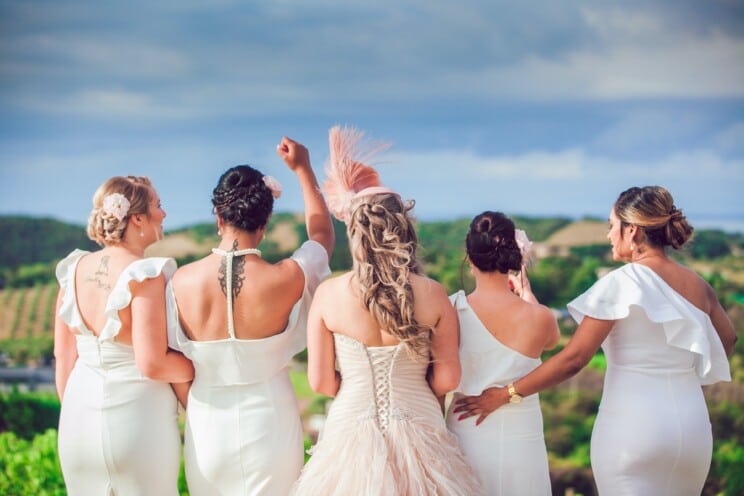 Good Evening everyone. I want to start my speech by introducing myself. My name is Janet, and I'm here for the food.
Okay, just kidding. I'm Lisa's best friend and, as you can probably tell, her maid of honor.
I thought giving this speech would be the most challenging part of the wedding, considering I'm pretty shy. B
ut, believe me, managing Lisa's train was an experience. My hands are still shaky!
And to think I voted this gown over the mermaid dress. Not my finest moment, I think. Just kidding!
I met Lisa when she joined the accounting firm I was working with. I had just been promoted, and she was one of the new intakes assigned to work under me.
Lisa was a hard worker and a great team player. Her willingness to learn and unbreakable optimism were the first things I noticed about her.
With time, I also discovered her sincere care and concern for others.
Add that to the mountain of things we had in common, and it did not take long for us to become best of friends.
Lisa, truth be told, it's almost impossible not to love you. Everyone who meets you is immediately drawn in by the warmth and kindness you emanate.
One morning Lisa walked into my office whining about how her parents had set her up on a blind date with "some guy".
In fact, she'd already told them she wouldn't be able to make it. Thankfully, I was able to convince her to try.
That "some guy" was Jake. I guess she was pretty blown away on the first date because, I mean… (gestures at the bride and groom).
Long story short, that was the first of many, many, many dates to come. And two years later, here we are, celebrating their love.
Jake, I love how you bring out the best in Lisa and set her up to succeed. If there was ever an example of commitment and loyalty, it's these two.
Yes, the past two years haven't been easy. You've had to adjust and readjust for each other.
You've loved and lost, won and been defeated. But whatever life threw at you, you've always faced it together.
Lisa has always been a strong woman, and I don't doubt that Jake makes her stronger. Both of you, together, make an unbeatable duo. You are such a great team.
And so, on this day, I've three pieces of advice for you. Lessons I've learned in my four years of marriage.
One, don't ever go to bed angry. Jake, I know Lisa can be more than a little hot-headed. Lisa, I know Jake will get on your nerves sometimes.
But whatever happens, no matter how bad it gets, don't let the sun go down on your anger. Instead, sort it out as soon as possible.
Two, talk about everything. It's good to be tolerant but don't sweep things under the carpet. Be vocal about how you want to be loved.
Be vocal about the things that matter to you. If you never say it, your partner may never know.
If you don't talk about everything, the little things may fester and eventually blow up in your faces.
Three, love is not a feeling; it's a choice. It is intentional. Intentionally love one another, especially now that you're married.
You see, marriage is not a destination; marriage is a journey. And it's those who love Intentionally that succeed on this journey.
I've watched this relationship blossom, and I have complete faith in the power of your love.
Shall we raise our glasses in a toast to this beautiful couple?
Cheers!
Frequently Asked Questions
How long should a maid of honor speech be?
A maid of honor speech should be about 3 to 5 minutes.
You don't want it to be too long and bore the guests. But you don't want it to be too short either.
You need enough time to express how you feel about the bride and her partner. 
Is the maid of honor speech compulsory?
Well, yes and no. The maid of honor speech is a popular wedding tradition.
However, whether you have to deliver it or not ultimately falls on the bride-to-be.
If the bride would love for you too,  then the least you could do is make her day by trying.
At what part of the wedding does the maid of honor speech come in? 
The maid of honor speech is traditionally given during the reception. But, sometimes the bride can ask that it be given at the rehearsal dinner instead.
Speeches given at the wedding reception usually come in after the guests have eaten, just before the party side of the event kicks off.
Final Thoughts
Finally, try to maintain eye contact with the guests while giving your speech.
You can focus on a familiar face in the crowd if you're on the shy side. But don't forget to turn to the bride and groom when you're addressing them.
Secondly, try to pause in between points. Pausing between points will make your speech easier to follow and more engaging.
Lastly, don't forget to have fun up there. A maid of honor speech should be sentimental yet funny.
Above all, it should keep the guests entertained while conveying just how much the bride means to you.
Good luck!