Have you ever dreamt of a fairytale wedding adorned with stunning decorations that sweep your guests off their feet but found your heart sink when you saw the price tag? 
Here, I'll explore how renting your decorations can be a game-changer for your big day, allowing you to transform your venue into a breathtaking wonderland while keeping your wallet intact.
So, let's dive in and unravel the magic of renting wedding decorations as we reveal the endless possibilities ahead!
Cost-Effective Solution for Wedding Decor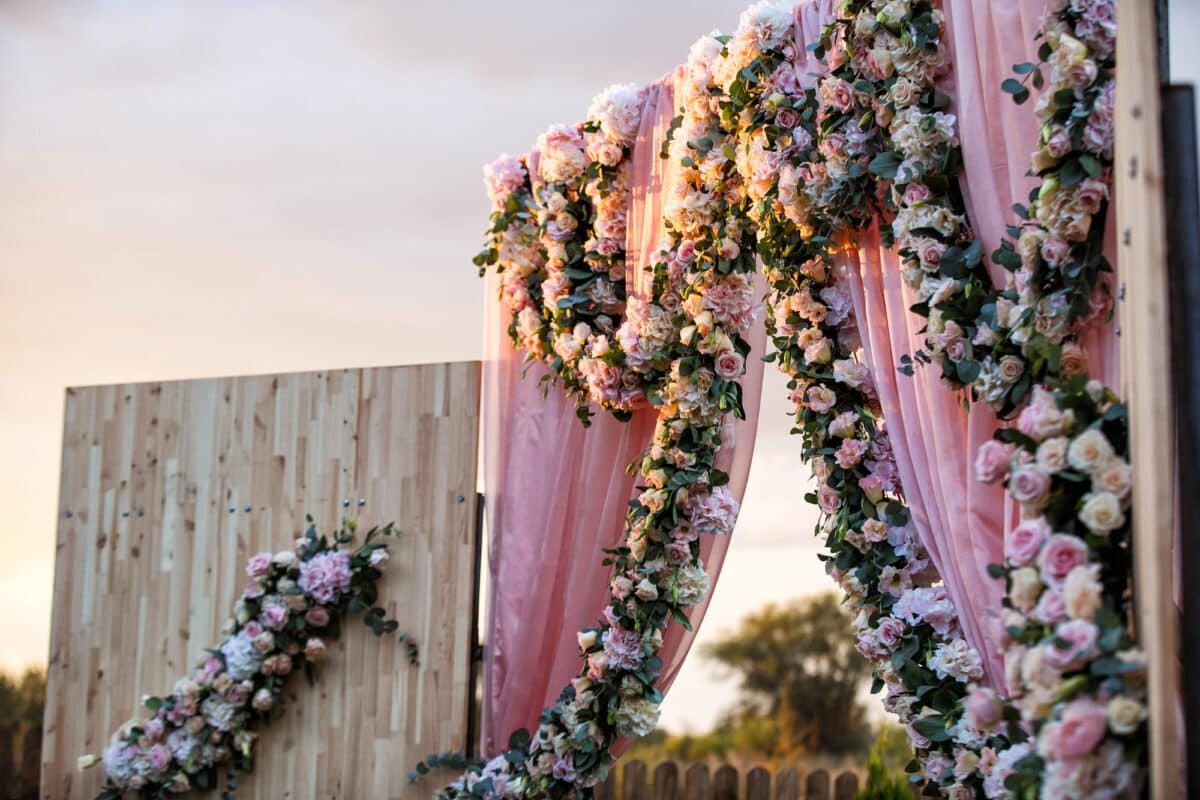 Renting allows you to have high-quality decor without breaking the bank.
Unlike buying event décor that will only be used once, renting gives you access to a wide range of stunning pieces at a fraction of the cost.
Since these items belong to the rental company, you'll save on storage space and maintenance fees.
DIY alternatives may seem enticing but often require more time and effort than anticipated.
There's also the risk of not achieving the desired results or even causing damage to valuable items in the process.
Renting eliminates this stress by providing you with pre-made options that fit seamlessly into any theme or color scheme.
If you're unsure where to start regarding rentals, seek vendor recommendations from trusted sources such as your wedding planner or venue coordinator.
These professionals work with various vendors regularly and can provide insight into which companies offer quality products and exceptional service at reasonable prices.
Flexibility for Last-Minute Changes
Personalization is one of the biggest benefits of renting wedding decorations. You can easily customize your event to your needs and preferences.
Cost-savings is also a great reason to rent decorations – you won't have to commit to buying expensive items that you may only use once. 
Renting decorations, furthermore allows for timeliness – you can make last-minute changes to your decorations if needed, meaning you don't have to worry about being locked into a design.
These benefits make renting wedding decorations a great choice for couples looking to perfect their special day.
Personalization
Renting allows you access to unique decor options that may not be available for purchase, giving your wedding an exclusive feel.
You can choose from various themes and styles, whether classic elegance or bohemian chic, depending on your preferences. 
Rental companies also often offer different packages and add-ons, such as lighting fixtures, centerpieces or flower arrangements, which will help bring everything together seamlessly.
Personalization doesn't just end with choosing certain pieces, it extends beyond that.
Renting wedding decorations allows you to change things around in case something falls out of place last minute. 
If there are any unexpected changes due to weather conditions or other unforeseen circumstances, you can easily swap out items without worrying about wasting money on unused purchases.
Renting wedding decorations provides numerous benefits, including cost savings and convenience, but perhaps one of the most significant advantages is the ability to personalize and customize according to individual tastes. 
Cost-Savings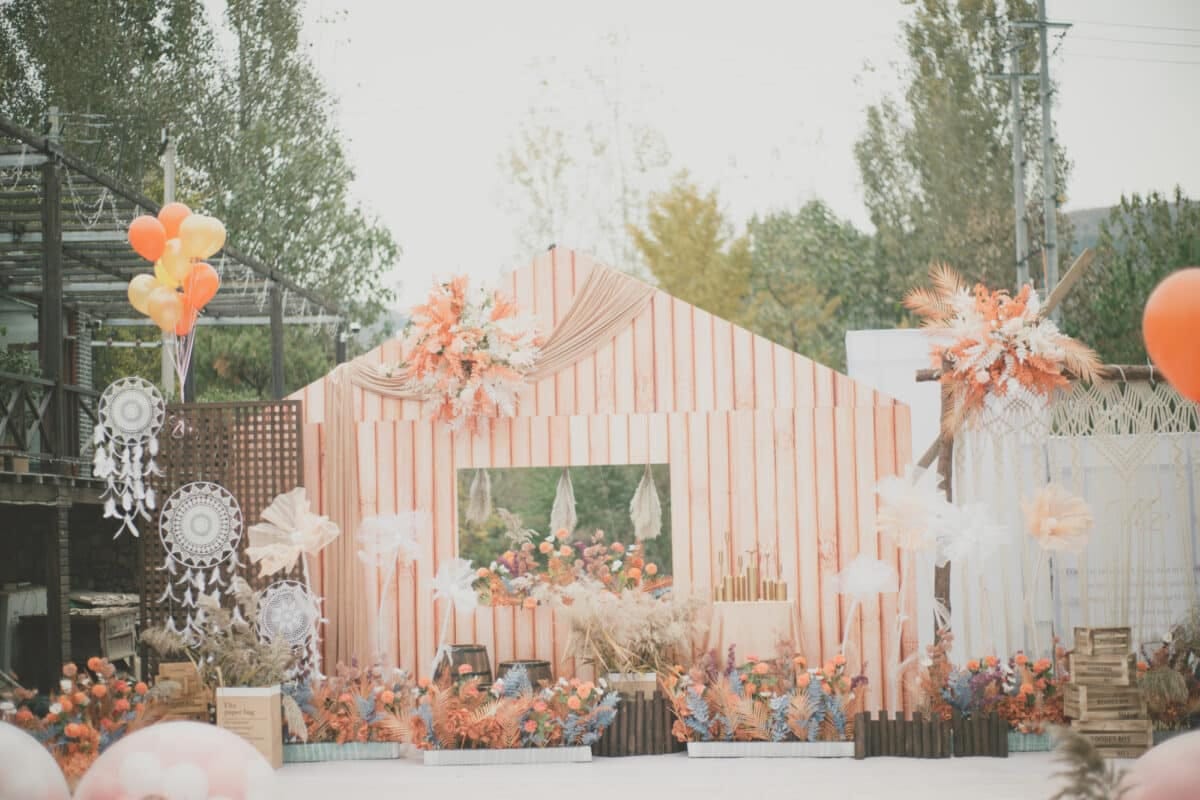 One significant advantage of renting wedding decorations is cost savings.
Buying all the decor pieces you need for your wedding can quickly add up, especially if you have specific themes or color schemes. 
Renting allows you to access high-quality items at a fraction of the price, giving you more room for other expenses like catering or photography.
Another benefit of opting for rentals rather than buying outright is flexibility regarding last-minute changes.
No matter how much planning goes into a wedding, unexpected issues can arise until the very last minute. 
For example, inclement weather could force you to move everything indoors quickly.
If you've bought all your decorations ahead of time, making adjustments on the fly will be difficult and costly.
However, swapping out pieces or even returning them all together becomes an easy option with rented items.
Flexibility extends beyond just handling unforeseen circumstances; renting allows you to experiment with different looks throughout the event.
You might find that something doesn't look quite right once set up in your venue space – perhaps specific colors clash, or some elements don't fit as well as expected.
Having rented items means that you can switch things around easily until everything feels perfect.
While each couple must weigh their preferences and budgets before deciding between DIY and rental options for their wedding decorations, renting has many advantages over purchasing outright.
Not only does it save money overall, it also provides peace of mind knowing that any last-minute changes or adjustments won't break the bank or require lots of extra work.
The flexibility and convenience that rented decorations offer to make them an excellent choice for any couple looking to create a beautiful and unforgettable wedding day.
Timeliness
Renting wedding decorations offers a lot of flexibility when handling last-minute changes.
However, one aspect that's worth exploring in more detail is the timeliness factor. When dealing with rented items, timing becomes even more critical than usual.
The benefits of renting vs buying wedding decorations for timeliness are many.
First and foremost, rental companies have vast inventories of products that can be quickly delivered to your venue if needed. 
This means that if something unexpected happens on your wedding day – a piece of equipment breaks or gets lost – you won't be left scrambling to find a replacement at the last minute.
Another advantage of renting over buying is that rental companies often offer set-up and tear-down services as part of their packages.
This means that not only will they drop off all the decorations you need right on time, but they'll also handle putting everything together and cleaning up afterward. 
Having professionals take care of these tasks ensures that everything runs smoothly and efficiently, giving you peace of mind on your big day.
Of course, there are some cons to consider as well. For example, finding reliable rental options may be challenging, depending on where you live.
It's essential to do your research ahead of time and read reviews from other couples who have used similar services in your area.
You should also remember that while rentals may save money overall compared to purchasing outright, they still come with fees associated with delivery, setup, and service charges.
There are pros and cons to both DIYing and renting wedding decorations when it comes to timeliness concerns.
Research ahead of time and read reviews from other couples in your area who have had positive experiences with specific vendors. 
Working with rental companies provides access to high-quality items without having ownership costs overheads while ensuring efficient set-up/tear-down services.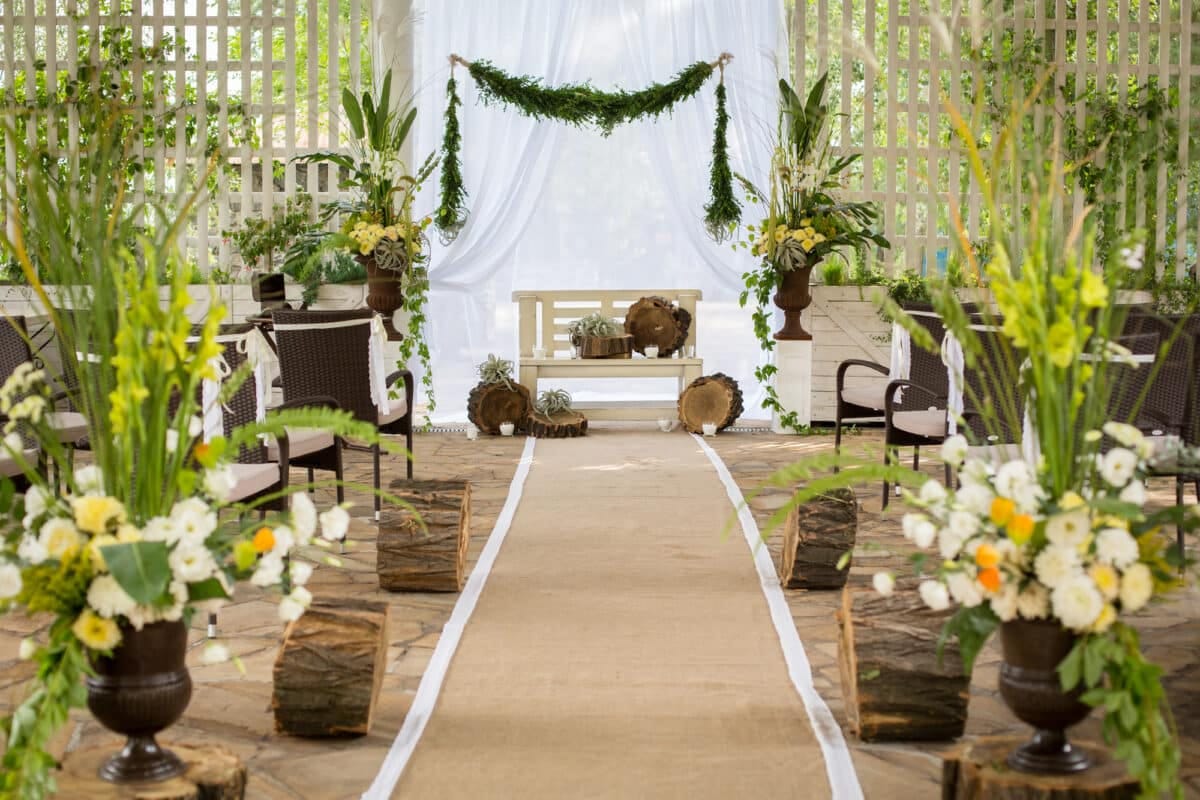 Frequently Asked Questions
What Types of Decorations are Typically Available to Rent for Weddings?
From towering floral arrangements to elegant table settings, there's no shortage of ways to add a touch of magic to your special day.
But with so many choices available, it can be hard to know where to start. That's where renting comes in. 
By opting for rental decorations instead of buying them outright, you'll save money and gain access to some truly stunning pieces that might otherwise be out of reach. 
Popular rental wedding decorations include everything from vintage-inspired centerpieces and chandeliers to stylish lounge furniture and photo backdrops – all designed to make your big day unforgettable.
Are Rental Decorations Typically Less Expensive than Buying Your Own?
While rental options can often be less expensive than purchasing your décor, the quality of rented pieces may not always meet expectations.
DIY options provide a more hands-on approach for couples who want complete control over their wedding aesthetic. 
How Far in Advance Do You Need to Book Rental Decorations for Your Wedding?
The benefits of early booking are plenty: it gives you ample time to decide on your theme and style, guarantees that the items you need will be available, and even offers discounts from some vendors.
The availability of last-minute rentals can still provide options for those who may have missed out on their preferred choices or had an unexpected change of plans. 
Do Rental Companies Offer Delivery and Setup Services?
Many rental companies offer these options as part of their packages, saving you time and stress on your big day.
It's essential to discuss delivery times and locations with your rental company in advance so that everything arrives at the right place at the right time. 
Inquire about their setup services, including whether they will arrange everything for you or simply deliver the items to a designated location. 
Can You Rent Decorations for Outdoor Weddings or Only Indoor Venues?
From elegant lighting and rustic centerpieces to whimsical floral arrangements and unique seating options, there are endless possibilities for transforming any outdoor space into a romantic paradise. 
The best rental companies for wedding decorations will offer a wide range of options that suit your style and budget while providing delivery and setup services to ensure everything is executed flawlessly on your special day. 
Final Thoughts
Renting decorations is typically less expensive than buying your own, especially when considering the cost of storage and transportation.
When planning an outdoor wedding, many couples worry about the logistics of decorating their space.
However, rental companies often have specialized outdoor decor, such as tents or string lights, to make any venue feel magical. 
Whether you're looking to cut costs or simply want to avoid storing unwanted decor after your wedding day, renting decorations is an intelligent choice to elevate your celebration while keeping things stress-free.