A gentle breeze rustles the leaves as you walk down the aisle, the sun casts a golden glow on your love story, and laughter fills the air as you and your partner exchange heartfelt vows.
These precious moments, forever etched in time, are the ones you'll want to relive again and again.
Ensure a smooth and memorable wedding day by understanding how to select the perfect wedding vendors with our comprehensive guide.
But how do you capture the magic and emotion of your wedding day in a way that does justice to your unique love story?
Enter the wedding videographer—your personal visual storyteller who will breathe life into your memories, transforming them into a cinematic masterpiece.
So, grab your popcorn and let's embark on this exciting journey to discover how to choose the wedding videographer who will not only capture your special day in all its splendor but also create a visual love letter that transports you back to those cherished moments, time and time again.
Determine Your Wedding Videography Needs
As you plan your wedding, it's essential to consider hiring a professional videographer.
They can capture the day's special moments and create a lasting memory you'll cherish for years. However, before choosing a videographer, there are several factors to consider.
First of all, you need to determine what videography style best suits your preferences. Do you want cinematic footage with dramatic music, or do you prefer a more documentary-style approach?
Research different styles and watch sample videos from potential candidates to get an idea of their work.
You will also need to consider whether you'll require additional assistance on the day.
For instance, if your ceremony and reception venues are in separate locations or have limited parking space, having an assistant may be necessary to ensure everything runs smoothly.
Set a Realistic Budget
This will help you narrow down your options and find a quality videographer that fits within your financial limitations.
Many couples make the mistake of choosing a videographer solely based on price, which can lead to disappointment with the final product.
Once you have established a budget, it's time to research potential videographers. Don't just settle for the first one you come across – explore all alternatives in order to find someone who truly matches your vision and style.
Look at their past work, read reviews from previous clients, and ask about their experience filming weddings. It's also important to ensure they are available on your wedding date.
Look for videographers whose style aligns with yours
Check out their portfolio
Read client reviews
Research and Compare Videographers
One of the most important steps in choosing a wedding videographer is researching and comparing your options.
While it may be tempting to choose the first one that catches your eye, doing some research can help ensure that you find someone who truly fits your needs and preferences.
Consider scheduling interviews with each videographer on your shortlist. This will allow you to ask questions about their experience, equipment, and filming process.
Some interview questions could include:
How long have you been working as a wedding videographer?
What equipment do you use? Do you bring backup gear?
Can we see full-length videos from past weddings?
How would you describe your filming style?
Evaluate Their Style and Approach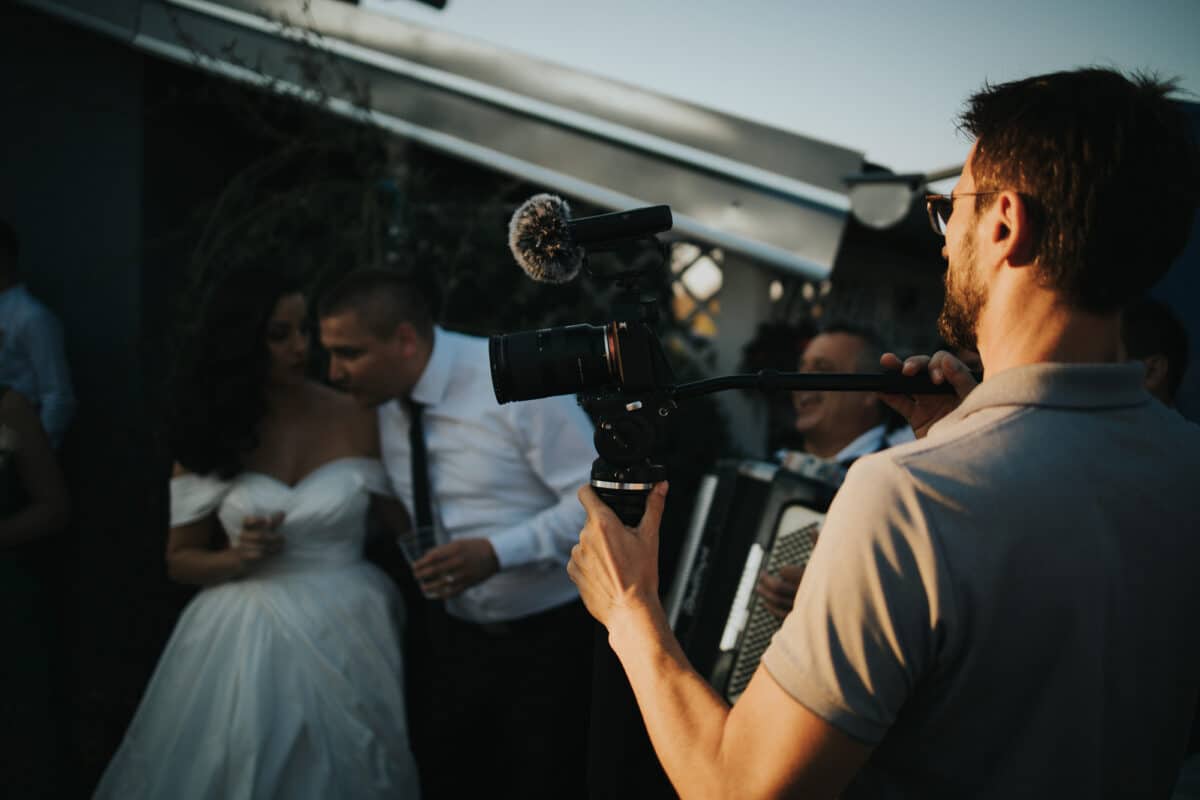 One of the biggest decisions you'll need to make is whether you want an innovative or traditional video.
A traditional video will follow the standard format of straightforward capturing moments like the ceremony, speeches, dances, and cake-cutting.
On the other hand, a creative video will be edited with more unique shots, angles and effects that showcase your personality and love story.
Pay attention to how they capture lighting, sound quality, camera movement, transitions between scenes, and overall storytelling ability.
Choosing a wedding videographer comes down to personal preference. It's essential to find someone who understands your vision and can bring it to life through their artistry while also providing guidance throughout the process.
By evaluating their style and approach early on in your search, you'll have peace of mind knowing that you've selected the right person for this monumental task.
Review Their Portfolio and Previous Work
When it comes to choosing a wedding videographer, one of the most important factors to consider is their portfolio and previous work.
The quality of their past projects can give you an idea of what they are capable of and whether or not their style aligns with your vision for your own wedding video.
Another factor to consider is the filming techniques used by the videographer. Do they use multiple cameras? Are they able to capture clear audio during vows and speeches?
These details may seem small but can make a big difference in how well your final product turns out. Take note of whether or not the shots captured are steady and well-framed, as these elements contribute greatly to creating a polished end result.
Inquire About Equipment and Backup Plans
The quality of a videographer's equipment can greatly affect the final product of your wedding video.
It's crucial that they have high-quality cameras, microphones, lighting equipment, and other accessories necessary for capturing all the special moments of your big day.
A good videographer will always come prepared with extra batteries, memory cards, lenses, and even an additional camera just in case.
This ensures that if any technical difficulties arise during filming, there won't be any interruptions in coverage.
By asking the right questions and looking for certain qualities in their gear and approach to filming, you'll ensure that you end up with a beautiful wedding video that captures every moment perfectly.
Look for a videographer who has experience shooting weddings similar to yours.
Make sure they use high-quality cameras, microphones, lighting equipment, etc.
Confirm that they have backup gear available in case anything malfunctions.
Discuss their contingency plans for unexpected scenarios like bad weather or power outages.
Don't hesitate to ask for references from past clients to get an idea of how well-prepared they are for various situations.
Read Reviews and Ask for References
Reading reviews and asking for references is the best way to find the right wedding videographer for you.
Reviews give you insight into their work and references allow you to ask about their experience.
I always recommend reading reviews from multiple sources, so you get an accurate idea of what you're getting.
And most importantly, don't be afraid to ask for references and reach out to past clients for their honest opinions.
Sign a Contract and Confirm the Details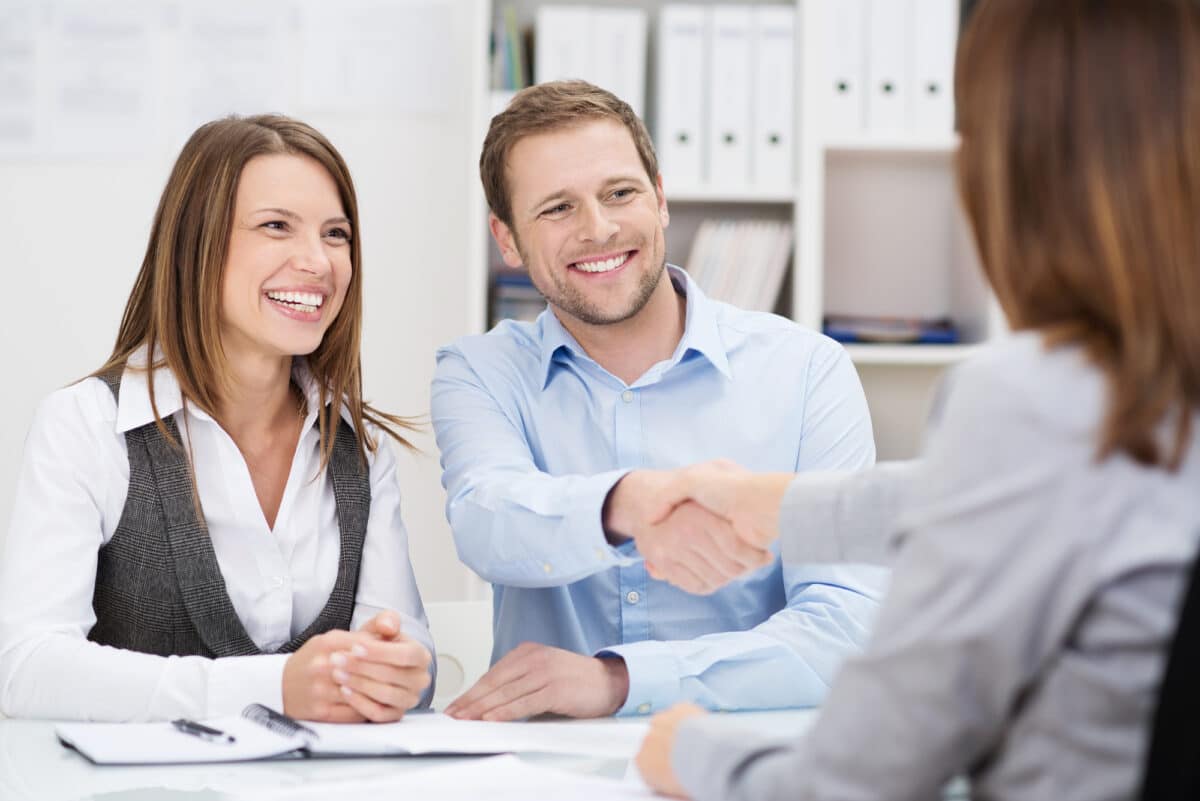 It is essential to understand the legal agreement between you and your videographer clearly.
This includes outlining payment terms, delivery dates, and cancellation policies. Make sure all parties agree to these terms before signing the contract.
Effective communication between you and your videographer is also crucial throughout filming. Be upfront about your expectations and ask questions if something isn't clear.
Establish preferred methods of contact (e.g., email or phone) in case of urgent matters or changes.
Unforeseen circumstances can happen at any event, too. So prepare yourself by creating contingency plans with your videographer in case of unexpected events such as weather conditions or technical difficulties.
Frequently Asked Questions
How Long Does it Typically Take for a Videographer to Edit and Deliver the Final Wedding Video?
The length of your final video will determine how long it takes to edit.
An experienced videographer typically takes 3-6 weeks to deliver the final product, but this can vary depending on their workload and schedule. 
Some videographers offer rush services if you need your video sooner than usual. 
Will the Videographer Work with Specific Music Choices, or is it up to Them to Choose the Soundtrack for the Video?
If you have certain songs or genres in mind for your video, discuss this with your potential videographer beforehand. 
Personalizing your wedding video can add an extra touch of sentimentality and is something that many couples enjoy doing. So don't be afraid to ask about customization options!
What Kind of Input Can the Couple Have in the Creative Process of Making the Video?
A good videographer will work with you every step of the way, listening to your ideas and incorporating them into the final product. 
Whether you want a traditional video or something more unique, a collaborative process ensures that your vision comes to life on screen.
Don't hesitate to ask about customization options when choosing a wedding videographer – it's your big day, after all!
Are there any additional travel fees or Overtime on the wedding day?
Overtime charges can also increase quickly, especially if your wedding runs longer than expected.
It is recommended that you discuss all potential fees with your chosen videographer and make sure everything is outlined in writing before signing any contracts. 
Final thoughts
Consider their editing timeline, music choices, and willingness to collaborate with you on the creative process; and don't forget to ask about any potential additional fees for travel or overtime.
But even the most prepared couple can encounter unexpected issues on their big day.
That's why it's important to choose a videographer who is experienced in handling any situation that may arise, from bad weather to equipment malfunctions.
With the right videographer by your side, you can relive every moment of your special day for years to come.