Are you wondering about the rules regarding exchanging rings at a courthouse wedding? Or, wondering if you need wedding rings to get married?
Look no further; we've got you covered.
Do you need rings to get married at the courthouse? No, having rings for a courthouse wedding is not a requirement. It is entirely optional and at the discretion and personal wishes of the couple who are getting married. Ensure the ceremony officiant is aware of your decision in advance.
Couples have a bit of flexibility within their wedding plans when they opt for a courthouse wedding.
After they gather the required documents and apply for their marriage license, the couple can then decide whether they will opt to exchange wedding rings or not.
The required documents you'll need for a marriage license might include things like your birth certificate, proof of your residency, social security number, and, a valid photo identification.
This list is not exhaustive, and you should check with your particular City or State regulations.
These document requirements apply to marriage certificate applications for a city hall wedding or a courthouse ceremony.
Let's take a quick look at the pros and cons of exchanging rings at a courthouse wedding. There are a few factors to take into account for ring exchanges during a civil ceremony.
Hopefully, this guide will help you to make a decision either way.
At least for now, you know, it entirely comes down to your personal preferences whether or not you opt to have wedding rings included in the civil marriage ceremony.
By the way, if you're searching for an epic list of nerdy wedding readings, we've got you covered here.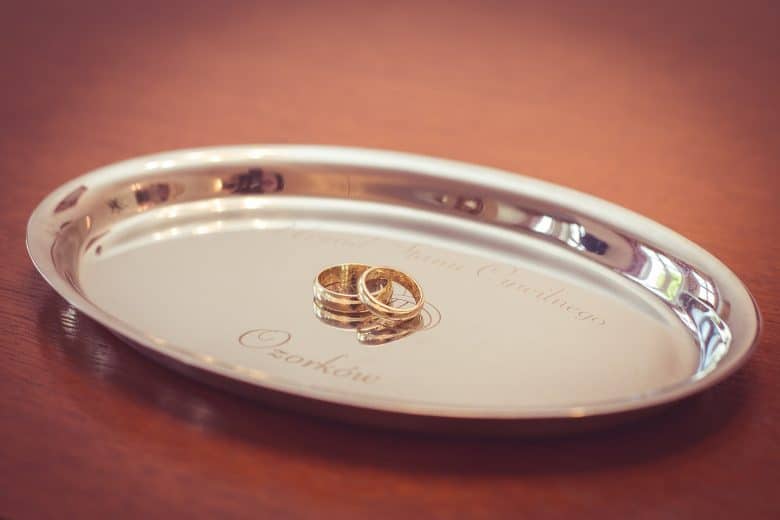 What happens if you want to exchange rings to get married at the courthouse?
Many couples have no interest in a traditional religious ceremony in a wedding chapel.
From the very beginning of their wedding plans, they'll have their hearts set on having a courthouse wedding ceremony.
This desire can be for various reasons, but I believe the majority of people opt for courthouse weddings to save money. After all, a wedding day can get expensive. Less so for a civil union.
If a couple wants to exchange rings during their courthouse wedding ceremony, they first need to notify the officiant, clerk, or marriage registrar.
The private ceremony can include personalized wedding vows, the ring exchange, and family or friends' readings.
In other words, the civil ceremony can consist of traditional wedding aspects at a lower cost.
If they don't want to, the couple doesn't need to be concerned about the formalities.
As long as they're following the rules set out by the country clerk or Deputy Marriage Commissioner, they will have a delightful (and legal) wedding.
What about if you want to have a courthouse wedding and NOT exchange rings?
A courthouse wedding without rings is a popular choice for some couples because perhaps they cannot afford proper wedding rings at that point.
That's completely fine. Sometimes, these couples opt to have a civil wedding at the courthouse and formally get married and not tell their family and friends.
They'll need to have legal witnesses, though—a little bit like an elopement.
So, if they opt not to exchange rings, it's so that they don't give their secret away to family and friends.
I know that some couples will use cheaper token rings to give each other at a courthouse wedding.
Then, once they have a bit of money saved, they may wish to exchange rings in a more intimate ceremony at a later point in time.
Final Thoughts on Ring Exchanges at the Court House
Another point to note is that you will find information about local civil weddings in your county clerk's office or your city/state's official website. It's a good idea to check that out.
You'll also find details there about how much it costs to get married at the courthouse. Different US states have varying marriage license fees. Your local circuit court should also be able to advise.
There's no need to bother the judge because the staff working at the country clerk's office are used to helping couples with their wedding planning questions!
The bottom line for exchanging wedding rings at the courthouse is that it's completely optional. You don't need to exchange rings if you don't want to.