If you're planning an alternative outdoor wedding, you might be wondering about the additional costs of renting dishes, plates, and cutlery.
But first, did you know about these surprisingly low-cost deals on wedding dinnerware sets?
If you're having your wedding reception in a hotel, you probably don't need to worry about renting silverware because it's typically included as part of the package.
As part of my research, I've contacted some wedding rental companies and asked them about their costs.
Costs of renting plates, flatware, and glassware for a Wedding
What are the costs of renting plates, flatware, and glassware for a wedding?
Dishware (plates, dishes, bowls, etc.) will typically cost between 37 to 90 cents for each item. At the lower end, the plates will be plain colored. The higher-end options include a more decorative styled plate.
Flatware (cutlery like knives, forks, spoons, etc.) will cost between 33 cents and $1.15 for each item. The price difference will come down to the finish on the flatware. So, for example, the lower end will typically be stainless steel, and the higher end will often be silver or a premium equivalent.
Glassware (glasses, champagne flute, stemware like goblets or stemmed glasses) will cost between 40 cents up to $1.85 for each item. Standard glasses at the lower end and crystal at the higher end.
This pricing all sounds reasonable on a per-item basis. However, once you start multiplying the unit cost by the total number of guests (you'll also need to round up to allow for a few extra), the price can vary significantly.
Another factor to consider is the number of courses that will be served. An extra course being served will require additional dishware and flatware.
The price variation mostly comes down to the style preference and theme that you may have in mind for your wedding.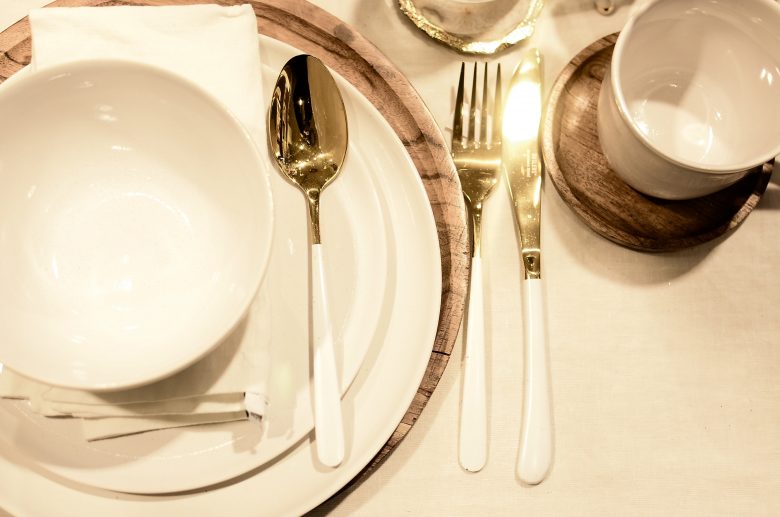 Dishware Rental Options & Pricing
I found the number of options a little overwhelming, to be honest! The pricing varies depending on the particular rental company, their location, whether they are dropping off the rented items, or whether they are being picked up from their warehouse.
So, this pricing is a rough guide of what it costs to rent plates and silverware for your wedding.
Plain white plates cost 37 to 55 cents per item
Plain cream plates cost 60 to 85 cents per item
Cup and saucer cost anywhere from $1 to $2 per set. This sometimes includes the spoon.
Soup bowls/starter dishes cost 60 to 85 cents per item
Starter plates (bread) cost 60 to 85 cents per item
Salad plates cost 55 to 80 cents per item
The dessert plate cost 60 to 85 cents per item
Gold-rimmed dishware with pearl finish cost 80 to 90 cents per item
Flatware Rental Costs
The pricing for flatware/cutlery varied a lot. If you're looking for something plain and straightforward, the stainless steel items are priced at the lower end of the range.
If you're looking for more elaborately embellished items, be prepared to spend a lot more when renting flatware for your wedding.
Here's a breakdown of the average pricing for flatware rental:
Plain stainless steel dinner fork, knife, spoon: 33 to 65 cents per item
Premium cutlery (heavier stainless steel): 60 to 80 cents per item
Gold-plated flatware: $1.15 per item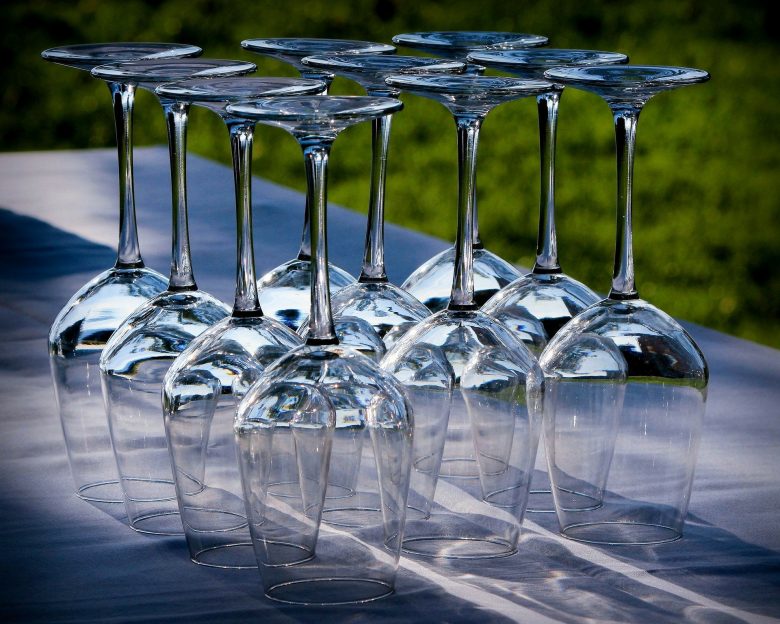 Glassware Rental Costs
I thought I was overwhelmed after going through the dishware options! There are a mind-boggling number of different options when it comes to hiring out glassware for a wedding.
For the purposes of simplicity, I've kept things simple here and will just list the more popular types of glasses.
At a wedding reception, most guests will usually drink from wine glasses and standard tumblers for water and soft drinks.
You'll also need to cater for shot glasses, shorts, pints, beer, and larger and other specialty drink glasses such as champagne glasses.
It might be possible to hire in a bar, and they will have their own separate options for glassware.
My tip is to only hire expensive glassware for use very early in the day. These can be put away for safekeeping as the day goes on, and you can use cheaper glassware from thereon.
As alcohol sets in, guests won't really notice or care.
Here is some of the pricing I found for hiring wedding glassware:
Pouring
Water Jug Plain 2 Litre – 60 cent per item
Glass Decanter $4 per item
Bar & Specialty
Brandy Balloon 9oz – $11 for 25
Champagne Coupe Glass – 40 cents
Champagne Sorbet Glass – $22 for 25
Slim Jim 10.25oz – $21 for 36
Gin Balloon 19.75oz – $17
Glass Decanter – $4
Half Pint Glass 10oz – $13 for 26
Salto Glass – $10 for 25
Wide Rim Tumbler 5oz – $9 for 25
Liqueur Glass 0.5oz – $4 for 10
Margarita Cocktail Glass – $20 for 16
Martini Glass – $21 for 16
Port Glass – 45 cents per item
Pint Glass 20oz – $10 for 25
Salto Glass Clear 12oz – $15 for 25
Sherry Glass – $4 for 10
Shot Glass 1oz – $4 for 10
Slim Jim 10oz – $12 for 36
Tankard Glass with Handle – $36 for 36
Tulip Champagne Flute 6oz – $20 each
Whiskey Tumbler 8oz – $10 for 25
Water and Juice Glasses
Silver Rim Water Glass – $1.50 each
Crystal Water Glass 8oz – $2 each
Salto Glass Black 11oz – $10 for 25
Diva Water Glass 16oz – €30 for 25
Wine Glasses
Silver Rim White Wine Glass – $2
Black Stem Wine Glass 8oz – $1
Crystal Wine Glass 4oz – $2
Diva Red Wine Glass 15oz – $30 for 25
Victoria Gold Rim Red Wine Glass 10oz – $2
Champagne Glasses
Silver Rim Champagne Glass – $2
Black Stem Champagne Flute 4oz – $1
Champagne Sorbet Glass 4oz – $1
Crystal Champagne Glass (4oz) – $2
Diva Champagne Flute 7oz – $1.20
Beer Glasses
Half Pint Glass 10oz – 50 cent
Pint Glass 20oz – $10 for 25
Tankard Glass with Handle – $1 per item
How to work out how many glasses you're going to need?
A rough rule of thumb to calculate the total number of glasses required is as follows:
For Dinner: 1 glass per guest for each drink type served during dinner
For Cocktail Hour: 1.5 glasses per guest per type of drink

Calculating The Total Cost of Hiring Dishware, Flatware, and Glassware for a Wedding
As you can see above, the costs are going to quickly add up. Depending on the hiring company and location, you might be subject to a delivery charge.
Some rental companies have this factored into their cost, so be sure to ask.
Also, ask for a detailed account of delivery times. Again, ask if there is an option for you to collect the items to save on the delivery costs.
Ask if you need to return the items cleaned or uncleaned. Some companies will have cleaning worked into their costs. If you need to clean them yourself, you should work out how much time it will take to clean each dinner plate and glass. It might be well worth paying extra for that.
The wedding decor rental company should also advise you if there are any minimum numbers that you'll need to pay.
This is one reason why it makes sense to use the same company to rent all of your plates, dishware, flatware, and glasses.
Ask about their breakage policy. You'll likely have to cover such costs. You might need to consider adding this to your wedding insurance because the replacement cost for these items might quickly add up.
How Much Should You Spend on Wedding Dish Rentals?
This will depend on your budget, wedding theme, and the type of wedding day you are planning.
A simple outdoor wedding will usually involve a lower budget. Guests probably wouldn't blink at a paper plate being used instead of an expensive bread plate. You'll need to figure out what is important to you.
Is renting dishes a priority for your special event? Will guests notice or even care if they are eating from disposable plates or other disposable tableware?
For most couples, renting the standard options will be completely fine. Instead of spending a small fortune on top-of-the-range rentals, they would prefer to put their wedding budget into hiring a good wedding videographer, for example.
On the other hand, a luxurious wedding with a higher budget will look better with premium dishware, flatware, and glassware. Ultimately, the decision will come down to personal taste and budget.
When is the best time to rent dishes and glassware for a wedding?
Firstly, it might not be necessary to rent. If you're having your reception in a hotel, these items are usually provided by the wedding venue.
If you have an outdoor or backyard wedding in a marquee or tent, you'll need to consider hiring your dishware and flatware.
From talking to the various rental companies, most advised me that you should be talking to them somewhere between 2 to 6 months out from the wedding.
Hiring companies will need notice, especially during the busier season between May and September when wedding rentals are very busy.
Where Will I Find a Good Wedding Rental Company?
If you're a member of any wedding planning Facebook groups, ask for recommendations there. If you have newly married friends or family, they might be able to suggest.
If you're having a wedding planner, they'll also be able to make recommendations.
Make sure that you do your research before hiring any company, even if just hiring plastic plates.
Questions to Ask Company Before Renting Dishes and Glasses
Be sure to ask for a detailed breakdown of pricing and delivery charges. Ask about their minimum order quantities, taxes, and if there will be a service charge.
Ask about the costs of hiring wedding linen (a tablecloth for each table) and if they do chair rental.
What about buying dishes for the wedding (instead of renting)?
This is an excellent alternative to hiring out rental items. Your first stop should be Amazon, Costco, or IKEA.
They often sell items such as dishware, glassware, and other tableware in bulk at a lower cost. You might also be able to source your table linens from these stores.
Check out these surprisingly low-cost deals on wedding dinnerware sets:
Final Thoughts
As you can see, the entire subject of working out the cost of renting dishes, etc., for your wedding can get complicated quite quickly.
I recommend you keep things simple by focussing on the essential items that you need to hire.
Going premium for everything will make your total wedding dinnerware rental two or three times more expensive than going with standard options.